2004 Wake Forest Game Analysis
by Will Stewart, TechSideline.com, 10/12/04
Click here for TSL's game recap with stats
TSL Defensive Player
of the Game


picture: hokiesports.com
#45 Mikal Baaqee
LB, 5-10, 224, rSr.
Score: 25.6 points

Click here for an explanation of the award and how the scoring is done

Mikal Baaqee won his third-ever Defensive Player of the Game Award (Rutgers 2002, Marshall 2002), edging out Jimmy Williams by a mere 10th of a point. Baaqee had 10 solo tackles, 3 assists, including 1 TFL for a 3-yard loss
Total: 25.6 points.

2nd: Jimmy Williams, 25.5 points (5 solo tackles, 1 assisted tackle, 1 INT for 15 yards, 1 pass defensed).
Now that all is said and done, tell the truth: you didn't think Wake Forest could beat Virginia Tech, did you? Sure, there was a lot of pre-game talk about respect and how tough Wake is and what a great coach Jim Grobe is, but when push came to shove, you didn't really seriously believe that the Demon Deacons could beat Virginia Tech, did you? Well, it appears to me that the Virginia Tech coaching staff thought they could.
After this game was over, after Mike Daniels had knocked down the last pass of the game to seal the win for the Hokies, I watched the VT coaches. There was a lot of smiling and hugging going on. Bud Foster didn't tackle James Griffin with joy, as he did in the waning moments of the WVU game, but he did give a big old hug to Charley Wiles as the team was walking off to the locker room. In short, the VT coaching staff looked relieved and elated to escape Winston-Salem with a win.
As for me, even after Wake's Cory Randolph ran a QB draw that moved the ball from the VT 12 down to the 5-yard line to set up a 2nd and 3 with 21 seconds to go, I felt the Hokies were going to pull it out. I'm not sure why I felt that way. Maybe it was lack of respect for Wake (that would be hard to figure), or maybe it was confidence in the Hokies, something I lacked after the NC State loss.
Or maybe it was a total lack of willingness to consider the alternative: a loss, a 1-2 record in the conference, and near elimination from the bowl race. Way back in 1995, after VT lost their first two games and were facing the powerful Miami Hurricanes in game #3, people asked me what I was "going to do" if Tech lost to fall to 0-3. I told them, "I don't want to think about it." So, I didn't, and when the Hokies won that game, I was pleased but not ecstatic, because I had never really considered the alternative. Victory over the Canes was the only outcome I had allowed to enter my mind.
Likewise, on Saturday, even with Wake Forest parked at Tech's 5-yard line, I wasn't thinking about the loss. I was just wondering how the Hokies were going to win. The answer was with defense, which is rapidly becoming their calling card. And with the victory sewn up, Tech goes to 4-2 (2-1), and dreams of finishing high in the ACC and going to a good bowl continue on.
Later, pondering the game, one thought came to the surface: why was this game as close as it was? A scan of the stat sheet reveals a lot of things going VT's way: Bryan Randall completing 12 of 18 passes with no interceptions, Mike Imoh running for 100 yards, and the Hokies holding Wake almost 100 yards below their rushing average. If you had laid out that scenario for me before the game, I would have predicted a 27-10 Tech win, not 17-10.
Raleigh Hokie has already done the heavy lifting with his X-and-O based "Keys to the Game," so I'll take a different approach, breaking down the flow of the game and the plays that made a difference.

Tech Controls the Early Going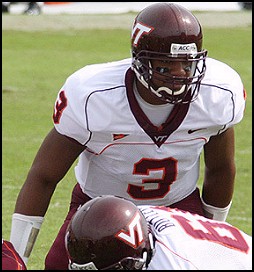 VT came out running the ball straight at Wake Forest in an attempt to establish the running game, and in the early going, it worked well. The Hokies had 100 yards of offense in the first 8 minutes and finished the first quarter with 126 yards of offense, split almost evenly between rushing (64 yards) and passing (62 yards).
Meanwhile, Wake Forest had 61 yards of offense in the quarter, consisting of (-5) yards rushing and 66 yards passing, most of it coming from a 53-yard pass to Nate Morton on the Deacons' second possession. VT had run 24 plays to 12 for Wake Forest, and the Hokies held the ball for 11:10, versus just 3:50 for Wake. The large majority of the quarter had taken place on Wake's side of the field, and the Hokies, holding a 7-0 lead, were completely in control.
The domination continued into the second quarter. Tech's first four possessions of the game averaged a whopping 9 plays and 49 yards, while Wake's averaged 5 plays and 24.5 yards.
The only moments that went against the Hokies for most of the first half were the 53-yard completion by Wake and a fumble by Cedric Humes on the Wake 18-yard line. But the Hokies immediately got it back when Jimmy Williams picked off a Randolph pass and returned it to the 50-yard line, whereupon the Hokies drove for a field goal to make it 10-0, Tech, with 7:37 left to go in the half.
At this point, the Hokies had 10 first downs to Wake Forest's 2. VT was threatening to run away with the ball game.
So what happened? Wake finally got the rushing game going. After VT went up 10-0, the Deacons drove from their 21 to the Tech 47 before a Jason Lallis sack ended the drive, and Wake punted for a touchback.
Wake hadn't scored, but they had reversed the field position battle, and that was critically important for the last 3:07 of the first half. In that brief time period, despite getting completely outplayed for most of the half, the Demon Deacons first stuffed the VT offense, then went on a TD drive to close the gap to 10-7. Here's how it happened:
Starting on their 20, holding a 10-0 lead, the Hokies demonstrated why Frank Beamer often loves to just run the clock out at the end of the first half. VT decided to go for the throat on first down, and Bryan Randall took a deep drop and looked downfield. Jimmy Martin at left tackle was beaten by defensive end Bryan Andrews, and Randall was sacked for a 10-yard loss.
On second down, Tech tried a handoff to Justin Hamilton up the middle, and left guard Reggie Butler and fullback John Kinzer decided not to block linebacker Jonathan Abbate, who came right up the middle and dropped Hamilton for no gain.
On third down, the Hokies lined up in the shotgun and took another deep drop. The Deacons lined up linebacker Caron Bracy across from Butler, and Bracy stunted on Butler, went to the middle, and easily beat him to sack Randall. Butler made contact with Bracy early on the play, he just didn't lock him up and keep him in place, and he didn't move his feet well enough to stay with him when he stunted.
The result was a sack of Randall all the way down to the 1-yard line, and the Hokies had to punt from there. Wake had wisely called timeout after second and third down, so they took over on the Tech 45 with over two minutes left.
The Deacons' first play was a pass right down the middle to Kevin Marion, who caught it at the Tech 15. Five plays later, boom-boom-boom, Wake Forest scored on a 1-yard run by Chris Barclay, and what do you know, it's 10-7 Hokies, with 25 seconds left to go in the half.
At half time, Wake Forest had 173 yards of offense, and 83 of it had come on two plays. Their vaunted rushing offense had amassed just 43 yards in the half, but thanks to some questionable play-calling and poor execution on the part of the Hokies offensively, plus some great clock management and opportunistic offense by Wake, it was a close game.

Second Half a Different Story
The two sacks at the end of the first half threw the Hokie offense into a funk that lasted most of the second half. At half time, VT had 176 yards of offense (81 rushing, 95 passing), but for the first 25 minutes of the second half, they were only able to add 67 more yards to that. Whereas their first four possessions of the game rocked, their first four possessions of the second half stunk:
Tech's First Four Second-Half Possessions

Plays

Yards

How it ended

6

2

Punt -- Hokies commit false start, then lose 4 yards on a screen to set up a 3rd and 19 they can't convert.

7

52

Fumble -- After rushing for 49 yards on 4 carries, Justin Hamilton fumbles at the Wake 1-yard line on his fifth carry of the drive.

3

3

Punt -- Randall is sacked on first down for an 8-yard loss, and the offense can't pick it up after that.

3

4

Punt -- A 4-yard Imoh run is followed up by two straight incompletions.
The fumble, of course, was the one that hurt. The Hokie defense was still keeping the Wake offense in check, and Hamilton's fumble on a great hit by Abbate ruined a chance to go up 17-7.
The problem with that last 3-and-out possession is that it started at the Hokie 3-yard line, so when VT punted it back, Wake took over at their own 43, suddenly found holes in the middle of the Hokie defense, and ran the ball down to the Tech 8-yard line. VT stiffened just in time to force the field goal, but that made it 10-10 with 6:15 left.
In a game the Hokies felt they had controlled to that point, they suddenly found themselves in a dogfight. The offense had gone into a funk with penalties, fumbles and sacks, allowing Wake to work from a short field two times for their 10 points.

The Game-Winning Drive
Finally, after two and a half years as starting quarterback, Bryan Randall led the Hokies on his first game-winning drive, and it was a drive in which he did most of the work. The Hokies had their best drive of the day on their last possession, and it was all Randall. The team drove 78 yards in 10 plays, and of those 78 yards, Randall picked up 69 of them, on a pass to Jeff King (24 yards), two scrambles (12 yards each), and a QB draw (21 yards).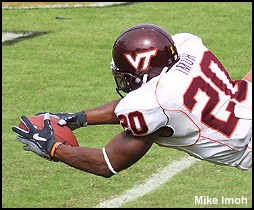 It wasn't a cake, down-the-field drive, either – it required that some clutch plays be made. Randall picked up first down on 3rd and 7 with a 12-yard scramble, and the Hokies overcame a 1st and 17 (after Jeff King was flagged for holding) to get the first down on two straight runs by Randall.
Randall's last run put the ball at the Wake 11-yard line, and Wake coach Jim Grobe called timeout to give the troops a chance to rally. It didn't work, as Mike Imoh scored in two plays, the second of which was a he-man run where he juked and powered his way to a 7-yard TD, stretching his little … uh, short, not little … frame out to reach the ball over the goal line. 17-10, Hokies, 2:10 to go.
Wake did an excellent job responding, going to their passing game and moving the ball down to the Hokie 12-yard line. From there, Randolph executed a QB draw to the 5, and that left Wake with 2nd and 3 from there.
2nd and 3: Randolph throws a fade route to Jason Anderson, which VT defends well. Jimmy Williams comes down with the ball, but the refs rule he was out of bounds.


3rd and 3: Randolph narrowly misses an open Anderson streaking across the back of the end zone.


4th and 3: Wake fakes a swing pass to the tailback left (the VT defensive end, who I think was Chris Ellis, was all over it) and comes back to the middle of the field to Anderson. Mike Daniels is waiting for him and knocks the pass down.
Kisses and hugs all around.

Lack of Execution by the Offense
Enough of the play-by-play, that's what game recaps are for. But I went through the game to try to figure out why VT, though they appeared to be controlling it, didn't win by more.
The Hokies did something very unusual in this game: they outscored Wake Forest and generally outplayed them in the first half. Coming into this game, Wake had outscored their opponents 86-26 in the first half, with only Clemson outscoring them in the first half, 19-17. Boston College was the only other team to even score on Wake in the first half.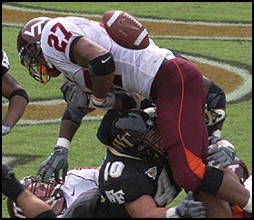 The Hokie offense, which did well early in the game, fell prey to sacks, penalties, and turnovers. It's interesting to note that VT only had 10 true possessions in this game. There were two others that ended the first half and the game, but they don't count, because the Hokies weren't trying to score.
Of the 10 possessions by Tech, three ended in scores, and two ended in turnovers. That leaves five other possessions. They failed for the following reasons:
Wake's Eric King throws Imoh for an 8-yard loss on a 2nd and 10 screen, resulting in 3rd and 18. VT throws incomplete. Brandon Pace misses a 47-yard field goal.


Randall is sacked for a 10-yard loss on 1st and 10 and for an 11-yard loss on 3rd and 18.


Jon Dunn is called for holding on 2nd and 10. On 2nd and 15, Imoh is tackled for a 4-yard loss, and on 3rd and 19, Randall scrambles for no gain.


Randall is sacked for an 8-yard loss on 1st and 10, throws an incompletion on 2nd down, and scrambles for 11 yards on 3rd and 18.


Imoh rushes for 4 yards on 1st down and then Randall throws two straight incompletions.
Sacks and penalties killed 3 of those 5 non-scoring drives. The Hokie offense doesn't recover well from lost yardage, so penalties and sacks are killers. Every time the Hokies had to go more than 10 yards for a first down in this game, they didn't get it – except for one time, during the last drive when they faced a 1st and 17 and picked it up.
It is critical that this offense move forward and not back up. If it starts backing up, it's in big trouble. By now, we all know the book on Tech. It's called "pressure the QB," and it was written by Duke and turned into a horror movie by NC State. WVU didn't have the players or the scheme to implement that game plan, but Wake did a pretty good job, throwing Randall for 29 yards in losses on three sacks (the average of nearly 10 yards per sack tells you they were getting to him on the deep drops).
Offensive line execution, particularly at the guard spot, is a problem. Left guard Reggie Butler, who is starting for the first time this season, is struggling the most, and he's about to lose his starting position. In last week's WVU game, all five VT starters played the full 84 or 85 snaps, with the exception of Butler, who got just 45 snaps while backup Jason Murphy took 40.
In this game, Murphy spent a lot of time on the field again, and it will be interesting to see what the snap totals are for each player. Bryan Stinespring vowed after the game to look at the guard position, so don't be surprised if Butler becomes a second-stringer.
VT's play-calling and run/pass mix weren't tricky in this game. A look at the play breakdown for Tech reveals runs when you expected them and passes when you expected them:
VT Offensive Play Selection vs. Wake
(excluding game-ending kneel-down plays)

Situation

Runs

Passes

1st down

22

6

2nd and short (1-3 yards)

1

1

2nd and middle (4-6 yards)

7

2

2nd and long (7 yards or more)

7

5

3rd and short (1-3 yards)

4

1

3rd and middle (4-6 yards)

1

1

3rd and long (7 yards or more)

3

5

Overall

45

21

Note: Pass play selection includes 18 passes and 3 sacks.
The chart shows that the only scenario in which VT passed more than they ran was 3rd and long. In all other situations, they ran more than they passed. For comparisons sake, against WVU VT ran 22 times and passed 12 on first down, and in this game, run-oriented Wake Forest ran 18 times and passed 10 on first down.
(Interesting side note: of Wake's three sacks, two of them came when VT tried to pass on first down. The Hokies completed their other four first-down passes.)
The VT game plan was obviously centered around the run, and up the middle in particular. The Hokies didn't try much of that misdirection that I love so much, and did you notice the return of the deep handoff? The one where Randall holds the ball way out from his body, and the running back (Imoh) takes it about 3 yards deep in the backfield? To my recollection, this is the first time this year we've seen much of the deep handoff, and we saw it quite a bit in this game.
Tech's offensive game plan was straight-ahead, conservative, and run-oriented. Only one pass was actually thrown deep – many more may have been called -- that was the one that Eddie Royal dropped on the last drive. The offensive game plan wasn't something to write home about, but it was good enough and would have been better had the OL executed better and had the two fumbles not occurred.
One last note: Tony Ball handed out grades for his wide receivers on BeamerBall.com Monday, and the grades were all 79% or higher, with the exception of Josh Morgan, whose grade was not given. This is in stark contrast to Ball's grades for a game earlier this season (Western Michigan, game 2), in which the highest grade was 76% and the rest of the grades were in the 60s, 50s, or worse.

The Defense
The defense pulled the old "bend but don't break" in this game, which beats the heck out of the "bend and then snap like a twig" performances of the last couple of years. Wake scored a TD on their first trip inside the red zone, but only got a field goal out of their last two trips inside the zone, which came on their last two possessions.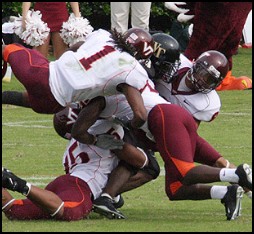 The defensive coaches seemed pleased with their players' performances, so despite the fact that Wake accumulated 347 yards, that ought to tell you something. The Demon Deacons are going to get their yards. Just keep them out of the end zone, and that's what Tech did. The Hokies held Wake to 139 rushing yards, about a hundred yards below their average, and it's just the second time anyone else has held them below 200 (Boston College, 159 yards).
Mikal Baaqee really stepped it up in this game with 13 tackles, a season-high one-game total for the Hokies. Darryl Tapp, Jonathan Lewis, and Jim Davis are separating themselves from the pack on the defensive line. Tapp (6 tackles, 2 TFL, 1 sack) and Lewis (6 tackles, 3 TFL, 2 sacks) combined for 5 of Tech's 8 tackles for loss and 3 of their 4 sacks.
In what has become a statistical oddity, Davis is contributing greatly without showing up much in the box score. Against WVU, he had just one assist, and against Wake Forest, he had just one solo tackle. Two tackles over two games doesn't begin to tell the tale of Davis, who, for example, came up the middle in the third quarter and forced Randolph out of the pocket, leading to a sack for Tapp (who I would say owes Davis a dinner). The box score shows a sack by Tapp, but the game film shows Jim Davis making a play.
Many Hokie fans thought Jimmy Williams, who was denied a two-interception game by a referee's judgment call, had his best game at cornerback yet, and Lorenzo Ward verified that, saying as much on BeamerBall.com.
Vince Hall had a quiet game. It's tough for freshmen to play against an offense like Wake's – heck, it's tough for seniors – and that showed in Hall's performance. He had four tackles but was often fooled by Wake's misdirection, particularly in the passing game. Late in this game, the Demon Deacons were having a lot of success running up the middle, as Hall had difficulty reading the plays.
Overall, it was a solid performance by the defense, who did what they had to do. No more, no less. They held Wake to their lowest point total of the year and stopped the Deacons when they had to.

Confidence Going Forward
This team has now won two close games in a row and has progressively gotten better at game-ending situations. First, they lost a close one to a good opponent (NC State). Then they won a close one over a pretty good opponent (WVU), but it was more of a "hold on for the win" variety. In this game (WFU), they scored a game-winning TD in the fourth on a solid opponent and then held them off on defense.
The next step is a come-from-behind win against a solid opponent like Georgia Tech or Maryland, or a close win over a good opponent like Virginia or Miami.
Once the team is done dispatching of overmatched Florida A&M this coming weekend, they run a season-ending gauntlet of @GT, @UNC, Maryland, Virginia, and @Miami. Many of those games, perhaps all of them, will be close, and the knowledge that they can win a close one is a key factor for this team down the stretch.
You could tell by the post-game reaction of the coaches that this game was a big one. Conference road wins always are (Temple, Rutgers, and Duke not withstanding). Moving forward, the Hokies need to get better on the offensive line and hope that they don't continue to squander red-zone scoring opportunities.