Keys to the Game: Wake Forest
by Raleigh Hokie, 10/8/04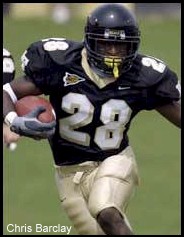 With West Virginia in the rear-view mirror, the Hokies move on to bigger and more important targets with a conference road game against Wake Forest. This will be Tech's first true road game of the season, and it comes against a conference foe that is vastly underrated by many fans, media, and other college football observers.
Wake Forest may be limited athletically at some positions, but they play smart, tough, physical football and they will not beat themselves. They can't match Tech's team speed, but they are efficient and their execution is technically sound and consistent.
To say Tech should win because they have superior athletes at more positions would be overly simplistic, as well as inaccurate. For sure, the Hokies have certain matchup advantages on both sides of the ball, but those athletes will have to counter the precision of the Demon Deacons in all phases of the game. It's a matchup of athletes vs. technicians, and many of those technicians are pretty athletic as well.
Let's break it down a bit further and identify the key factors for a Tech victory. Acknowledging the importance of special teams and turnovers to any win or loss, the focus here once again will be on the offense and defense.
When Tech is on Defense
Offensively, Wake Forest is well known for their scheme. They do a little bit of everything from power to option to shotgun to screens to misdirection. I've heard their offense described as the "super sized" version of Tech's offense with a few added twists. The two teams have shared ideas over the years, so it's no surprise that there are similarities. Wake typically brings a little more into each game plan and they will try a lot of different things, particularly in the first half of games. They tend to narrow it down as the game advances into the second half, focusing on what is working from earlier in the game. So, the scheme is their identity, but in my opinion, the key to their success isn't so much their scheme, it's the precise and consistent execution of a wide and varied game plan.
Key #1: Discipline at DE and LB
Wake Forest is going to test the discipline of Tech's defensive ends and linebackers early and often. If the Tech DE's are too aggressive in pursuit, then look for option and reverses off the power game. If they are too aggressive in contain, then look for big doses of trap blocks and Chris Barclay between the tackles. Mentally, this might be Darryl Tapp's toughest assignment of the year. Wake will try several things to take advantage of his relentless play. In this game, patience and focus will be big for him. He must guard against trying to do too much and not get frustrated by some of the tactics Wake will use against him.
On the other side of the line, Wake likes to use one of their TE's as an H-back that pulls from the strongside to take out the weakside defensive end with a trap block. Against that formation, look for Tech to jump into a familiar 8-man front to force Wake to run into numbers or to audible out of the play. It will be important for Noland Burchette (and Chris Ellis) to attack that trap block and allow the Mike and Whip linebackers to secure their gaps. One adjustment Wake might make is to utilize flanker reverse action, using the H-back trap block as a false key against Tech's weakside defenders. The cat and mouse game will be interesting to watch. In the meantime, Wake will send Cory Randolph on a quick QB draw or run a power isolation with Barclay right up the middle, either one with pinpoint execution.
Key #2: Adjusting to cut blocks
Wake's offensive line isn't as big as some, but they play hard and physical football. In watching the NC State game film, I was impressed by how well they executed as a unit. It's not a surprise that they are at or near the top of the conference in rushing statistics. That all starts up front, and as I mentioned earlier there is no better example of their precise and consistent execution than the offensive line.
One thing to look for is Wake's tendency to cut block, both from the front and side of defensive players. The objective is to neutralize any size or speed advantages by sweeping defenders off their feet. It gets to be borderline and controversial in the trenches because defenders are often engaged up top with an offensive lineman when another blocker goes low with the cut block. This combination block is called a chop block and it is not legal in the college game (nor in the pro's for that matter). Darryl Tapp is particularly vulnerable here because Wake likes to use their TE to cut the strongside defensive end and there will be times when he will be engaged with the right offensive tackle as well. Tech's defenders have to stay alert and not let their feet get planted at bad angles. Most of all, they need to stay poised because chop blocks are hard to see in the trenches and they often go uncalled.
Key #3: Collapse on the run and short passing game
All year, Frank Beamer has been preaching to his defense to eliminate the big play and force the offense to snap the ball. This is a game where he and the defensive coaching staff will be tempted to do the exact opposite. The Hokie game plan of old would seem to be the way to go -- load up the box, stop the run, and make the QB beat you by staying in the pocket and taking deep shots down the field against single coverage. Wake has good skill at WR, but forcing Cory Randolph to make those throws has to be at the front of Bud Foster's thought process.
James Griffin's status for this game may tip the game plan even further in that direction. Look for Mike Daniels to get quality snaps at Rover in this game. Daniels is a physical player that likes to mix it up at the line of scrimmage (remember his starting days as the Whip LB?) and he is less effective down the field where his limited speed is a liability. Going with an 8-man front as the base defense will force Wake into certain tendencies they may not like as much as some others. In addition to forcing some shots down the field, they would tend to try more option, which would be a good matchup for Tech's defense when Ben Mauk is in at QB. Mauk is a good runner, but if I'm Bud Foster, I want to see him on the edge with a decision to keep it or pitch it against Tech's speed on defense.
While we may see a lot of 8-man fronts, I would not expect a lot of all-out blitzes. We may see one or two, but the Hokies must respect Wake's screen game to the RB's and WR's from shotgun formations. I expect Tech to show 8-man fronts, but then drop out into underneath zones at the snap. Also look for the Hokies to use a zone blitz in certain situations. Given Wake's tendencies, look for the Hokies to drop out their defensive end on the opposite side from where the Wake RB is aligned.
Key #4: Expect the unexpected
Wake isn't a team that will run a lot of so-called "trick" plays, but they will set up plays by using false keys that are specifically intended to trigger certain defensive tendencies. Defenses can often bait offenses into certain hot reads and then jump the hot route for a big play (anyone remember Anthony Midget baiting Kenny Kelly and Miami in the 1999 game?). Wake does a similar thing on offense. They will bait defenses with certain keys and then counter with a false key. For example, they will trap block all day with their H-back and their RB will run in behind it. Then, they'll show a trap block but run a QB bootleg, misdirection option or WR reverse directly against conventional tendencies. They are very good at it and they will catch the Hokies with a few "false keys" in this game. It will be important for Tech's speedy defenders to close the window quickly in order to keep a good play from becoming a big play.
Key #5: Continue to play good defense "up the middle"
In baseball, there is an old saying that teams win with good defense "up the middle". The corollary is just as true -- teams lose with poor defense "up the middle". The same can be said for football (as Tech fans know all too well). So far this year, the improvement in the middle of the defense has been dramatic, particularly at defensive tackle with Jim Davis and Jonathan Lewis. Watch Jonathan Lewis in this game to see if he gets consistent penetration. So far, he has been playing on the other team's side of the ball a lot. Similar to WVU last week, Wake's line is experienced and they will try to be physical with him. If #56 is creating havoc behind the line of scrimmage, then it will be a frustrating day for Wake's running game.
When Tech is on Offense
Wake plays a straight 4-3 defense, with a lot of 2-deep looks. They are tough and they play hard, but they are a bit undersized and their depth is questionable. They held NC State scoreless for the first half last week, but then wilted in the second half when NC State decided to stop the cute stuff and run TA McClendon right at them. They're not particularly quick or fast and they're not flashy with what they do. They are a hard-nosed unit with good toughness and good experience, especially in the secondary. Their best cover corner, Eric King, is probably their best player on defense, but there is some question about his status for the game due to a concussion he suffered last week against NC State. His availability will be critical for Wake's defense -- it was no coincidence that NC State started to get things going right after King left the game.
Key #1: Time for the OL to shine
Although Tech's running game has been sputtering for much of the year, it got back on track last week behind Mike Imoh. Power football is the Hokies' bread and butter, and I expect that to be the primary element of Bryan Stinespring's game plan, particularly early to set the tone and late as Wake's defense starts to tire. It will be another war in the trenches, much like it was last week against West Virginia. It's the first true road game and penalties have been an issue, so look for the return of the fullback and the I-formation, with a dose of man blocking and isolation plays.
I believe this game will reveal a lot about the status of Tech's offensive line and their capabilities to be a dominating run blocking unit. If they struggle, particularly in the second half of this game, then that will not bode well heading into the second half of the season. The running game showed signs last week and it's very important to build on that this week. Tech's full complement of tailbacks are now in place, so it's important to take another step forward, especially against a defense that has shown a tendency to wear down later in games.
Key #2: Patience and execution in the pass game
The offense is overdue to hit some big plays down the field, but it will be risky against Wake's experienced corners (assuming King plays). Look for the Wake corners to challenge the Tech WR's one on one at the line of scrimmage. They are both excellent at playing the ball and they will try to get Bryan Randall to take shots against them. Randall must stay patient and not force anything against their corners.
Wake's pass defense is vulnerable in the middle and Tech must take advantage of that, even though it's normally not a strength of the passing game. Initially, look for the Tech offense to work the fullback and TE's against the Wake LB's underneath and the slot receivers against the limited speed at safety. Establishing the run game will force Wake to get out of their 2-deep looks and bring a safety up to support the run. That should give Tech some short and mid-range opportunities to the WR's outside against 3-deep coverage. Then, go for the home run when Wake presses with their corners and one of their safeties bites up on play action. Wake's defense is vulnerable to play action, so early on look for the Hokies to set it up with a couple of their own "false keys" against the Wake Forest safeties.
Key #3: Balance power with speed advantage
It will be important for the Tech offense to get into a rhythm, control the ball, and take advantage of the speed difference when the opportunities are there. Although Tech's defense has been playing well this year, I expect Wake's offense to put up some points, so the Tech offense will have to do its share in this game. I am expecting power football early and late. In between, look for a run/pass balance utilizing options, WR reverse action, rolling pockets, and passes that start underneath, then middle, then outside, then play action deep (as described above in Key #2).
Off the run game, look for the Hokies to get the ball to Mike Imoh with some swing passes so that he can utilize his speed and quickness advantage out in space against the Wake LB's. Watch for that to set up the wheel route when they get man coverage against a Wake LB.
Wake won't blitz as much as NC State did two weeks ago, but they will blitz more than West Virginia did last week. Wake is certain to challenge Tech's protection packages to see if they have improved from two weeks ago. Their speed on defense isn't close to NC State's, so look for some RB screens against Wake's blitz packages, regardless of which Tech tailback is in the game.
Key #4: New looks in the red zone
To win this game, Tech must get some touchdowns out of their red zone offense. Will we see some new wrinkles? Probably not, but look for a couple of things that we haven't seen in a few games, namely the play action TE and fullback drag routes from the I-formation. The Tech TE's could come up big in this game, particularly in the red zone. Inside the five, look for Tech to go straight at the Wake defense from the power I-formation. We should get our first good look at Mike Imoh's effectiveness as a goal line back in this game.
Another thing to look for is Wake's desire to blitz when Tech is in the red zone. Because of the confidence they have in their cornerbacks, look for Wake to use the back of the end zone as another defender and be more aggressive with blitzes. Bryan Randall's pre-snap reads and checks will be a key when Wake shows red zone pressure. Checks out of run plays will be available, particularly to the TE in the middle of the field. Look for that to be the first read rather than outside to a WR against the Wake corners.
Key #5: Production against zone coverages
When reading zone, the Tech offense should look to attack the Wake defense with an even run/pass balance. Play action can catch their LB's and their limited speed will impact how quickly they can recover into their drops. This will be some of the best opportunities for Bryan Randall to hit the WR's (particularly Josh Hyman) for big yardage as they should find themselves with a lot of space between the LB's and safeties. Look for Tech to use a lot of WR motion across the formation to read man vs zone coverage.
Both teams realize the importance of this game to their season goals and bowl prospects. I think both teams will play hard and physical and with a lot of emotion. I also think both teams will play well. I'm expecting to see another close, nail-biter that gets decided by a big play in the fourth quarter. I'll be there taking notes for the follow-up on Monday.