Watch Out for Land Mines
by Jim Alderson, 10/6/04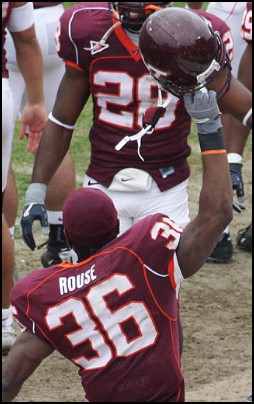 Please disregard my last column. It seems the team did not, however. After having spent a chunk of last week's column pointing out Tech's recent difficulties against good teams as well as their problems coming out on the long side of close games, the Tech team proceeded to go out and win a close game against a good team. I stand corrected.
It was a very good win against a quality team from WVU. Tech was obviously ready to play against what will very soon be a former rival and had taken not only my chiding to heart but, it would seem, those hints coming from the WVU coaching staff that the Tech team was 'soft.' It was good to see Tech winning again, along with playing what used to be a Tech staple, smash-mouth football.
The game was won with those old Beamerball staples, defense and special teams. The contributions from the offense were, well, just enough. There was that annoying tendency to continually screw up in the Red Zone and come away with three points instead of the seven that would have had this game put away long before Bryan Randall took a contest in which Tech appeared to be in solid control and again made a game of it by tossing that unfortunate interception. That ill-advised pass, coupled with one of the few defensive lapses of the day that allowed Rasheed Marshall to scamper entirely too far, created a high pucker factor among Tech fans there at the end. I suspect I wasn't the only Hokie around suddenly contemplating what a late WVU score, creating a second straight one-point loss for Tech, would have done to the psyche of this team. Thankfully, Vinnie Fuller put an immediate end to those black thoughts. A win is a win is a win, and this was a Tech win.
It was a victory sorely needed by this Tech squad. After the close call against USC and the excruciating defeat versus NC State, Tech badly needed to beat somebody of quality. And they did. There were some side benefits, such as sticking it to a border foe that had become quite an irritant, as well as providing the first building block in that five-year plan to consign the Li'l E to BCS oblivion. Mostly, though, Tech needed this win for their own confidence, which had taken some serious hits over the past twelve months. They can now approach the rest of the schedule with the knowledge that things are returning to some semblance of normal around the Tech football program. They will need it.
This week it is back to the ACC wars with a visit to what has fast become one of the more dangerous teams around, Wake Forest. While the automatic response to seeing Wake on the schedule is to think, "easy win," that ain't exactly the case no more. Wake is one tough bunch of Deacons. Jim Grobe is regarded by a lot of people, including this writer, as the best tactical coach in the ACC. He and his staff certainly figured out how to pierce that Wolfpack defense that gave Tech such fits, and did it with a squad containing far fewer heralded recruits than Tech's. Wake's option attack, which Grobe took with him following his stint as an assistant at Air Force, has proven to be a great equalizer. Wake is one of the few schools outside of the service academies that run the oddball thing, making it very difficult to defense since one rarely sees it. State Defensive Coordinator Reggie Herring may be in his first year in Raleigh, but he did have the benefit of the file all teams amass on their regular opponents that gave him some clues in how to defense Wake's offense, and he still had trouble stopping it. One of the handicaps Bud Foster will labor under this week is that Tech has no such body of information. That is one of the penalties you pay being the new kid on the conference block.
Grobe has done a terrific job making Wake Forest, which at one time occupied the ACC last-place jousting spot with Duke now held by North Carolina, into a very tough out. Grobe also has the good fortune of working for one of the best ADs in the business in Ron Wellman. To put it simply, Wellman is a guy who knows what he is doing. Ron Wellman excels at the biggest job facing any Athletic Director, hiring coaches. There is Grobe, and Wellman also hired Skip Prosser to coach Wake basketball. Prosser, operating in not only the toughest league for that sport in the country, but a state where basketball is regarded as something between the absolute most important sport ever devised by man and the meaning of life itself, and where coaching icons are in residence at most every exit along I-40, has managed to build a pretty fair program. If all of those graduates of UNC's Journalism school that comprise such a large portion of the ACC press corps can bring themselves to cast their votes for them, Wake basketball should be pre-season number one in the ACC. There are some pretty competent people populating the Wake Athletic Department.
Grobe has also been the beneficiary of a football philosophy put in place by Wellman for former coach Jim Caldwell. Wake's alumni base may be tiny, but they are wealthy, and Wellman was able to put enough of a bite on them to construct the Bridger Field House, a football support facility that, while not as posh as the Kenan Center at Carolina or the Murphy Center at NC State, easily rivals our own Merryman. Wellman and Caldwell figured correctly that Wake had little chance of recruiting to their small school with its small budget a sufficient number of blue-chip football players to compete in the ACC by conventional means. Instead Caldwell recruited just under the radar of the bigger schools and programs in both his state and the ACC, bringing in mostly second-tier prospects. The Wake policy was to then redshirt anything and everything that moved, consigning them to conditioning work in Bridger. The plan was for Wake to eventually end up with a team of older redshirt seniors. It worked well enough for Caldwell to actually take Wake to a bowl a year before Wellman fired him, the year after the first crop of redshirt seniors were gone and Caldwell went 2-9. Grobe then was hired, but the plan stayed in place and still does, even though Grobe is gradually using his program's success, relative though it may be at Wake Forest, to gradually build his recruiting base and bring in a better class of prospect. At Wake the athletics management has actually come up with a way for a small private school with limited means to actually compete in football. One does wonder when the same idea will finally cross somebody's mind at Duke.
Tech has a bit of a football history with Wake Forest. The Hokies have met the Deacons 32 times, with Tech winning 20. In the ACC, only NC State has played Tech more times [45] among those conference schools that do not have Hoos for a nick. The Tech-Wake series began in 1916 [52-0 Tech] and was last played in 1984 [21-20 Tech]. A couple of those games stand out in my mind. In 1972 I made my first visit to Wake's Groves Stadium to watch, in a pouring rain, Don Strock's last Tech game. Tech pounded Wake 44-9 that night. Bill Dooley's best team at Tech was in 1983, a team that went 9-2 but did not go to a bowl. The primary reason was that North Carolina flat refused to play Virginia Tech and their former coach Dooley in the Peach Bowl, and the Peach wanted Carolina more. I bet the folks in Atlanta feel a little differently about that these days. Tech's bowl prospects that year were not helped by a season-opening 13-6 home loss to a Wake team, coached by algroh of all people, that would end up 4-7. algroh was giving us problems even then.
Those traveling to Groves Stadium for the first time this Saturday will see a place that looks a lot like Lane used to. Of the three stadiums that were built around the same time [mid-Sixties] off of basically the same blueprint, Lane, Groves and Indiana's Memorial, Groves Stadium is the runt of the litter. Those who have been to Groves many times will also see a rarity, a full house. The capacity of Groves is variously listed as between 31-34k, depending on how many people pack onto the hill behind one end zone that is known as Deacon Hill. I suspect there will be a lot of maroon occupying it Saturday.
This will be Tech's second fan statement during this inaugural ACC season. The first, obviously, was that huge throng of Hokies that packed FedEx. This will be on a much smaller scale, but it will be a statement nonetheless. This is in North Carolina, where the ACC basically lives. The large number of Tech fans expected at Wake Saturday will be bringing our vaunted fan support right into the ACC's backyard. Groves needs to not only look like Lane but sound like it as well.
It will be important to make not only a big fan statement but an inspiring one as well. People at NC State are still buzzing not only about the impressive atmosphere they observed in Lane but the warm hospitality they received in the tailgating fields. We need to be just as cordial as we take our show on the road for the first time in our new conference home. Let there be no doubt, through either the numbers we bring or the way we behave, that inviting Tech into the ACC was the correct thing to do.
As for the Tech team, this game, like the one against WVU, is one Tech simply has to win. Tech has already lost one game to a team picked to finish lower in the conference standings; to lose to another one would be devastating and likely make continuing Tech's bowl streak very difficult. The Tech defense will have to play very well against an offense they rarely see and the offense will really need to score a few touchdowns rather than the constant parade of field goals seen against WVU. Tech will have a solid advantage in overall team speed they will need to maximize. Just as Tech had to pick themselves up emotionally after the tough loss against NC State, they now have to come down from the high experienced from the victory over WVU. Once again, Tech is playing a good team in what should be a close game. It's time to start a streak of winning them.