Keys to the Game: WVU
by Raleigh Hokie, 10/1/04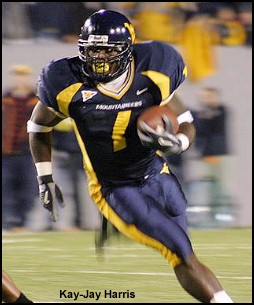 After a tough home loss to NC State, the Hokies now must get ready for West Virginia. The sixth ranked Mountaineers come to town undefeated, with confidence and a ton of experience on both sides of the ball. WVU has won the last two games in this rivalry primarily because they have won the physical battles at the line of scrimmage. Reversing those results this Saturday will be a tough challenge for the Hokies, but it is something they must do in order to pull off the upset over the talented Mountaineers.
Winning the battles up front is a key to most games and it certainly tops the list this week. The focus of this article is to dig down a little deeper and find the factors on both sides of the ball that are key to a Hokies victory. Although a lot of games come down to turnovers, big plays or special teams, the focus here will be on the offense and defense.
Keys When VT is on Defense
1. Handling WVU's zone blocking schemes. WVU's base offense is the power running game from spread formations with zone blocking up front. Their zone blocking schemes have been problematic for the Hokies the past two years, particularly last year up at Morgantown. Zone blocking counters the effects of movement and stunts along the defensive line. Tech's defensive tackles and inside linebackers have to come to play this week because the Mountaineer offensive line will be a huge challenge. Jonathan Lewis is having his best year so far and he must hold his own and make some plays in run support. The quickness of Jim Davis will create some problems inside for the Mountaineers, but both tackle spots must play physical for the entire game, something they have not done the last two years against WVU.
2. The defensive ends must play fast and disciplined. WVU likes to bounce their tailbacks against the flow. Darryl Tapp and Noland Burchette have to guard against the cutbacks. Kay Jay Harris is a big, fast tailback along the lines of TA McClendon. He is more of a read and react back, so it is key that the defensive ends play their containment responsibilities, while staying aggressive to the ball. Tapp is having an exceptional season to date. Look for him to be a major factor in this game, both in run support and in chasing down Rasheed Marshall.
3. Keep an eye on James Anderson in this game. WVU has had success blocking the Hokies weakside linebackers (Whip) with wide receivers in the run game to spring holes and cutback lanes. This has allowed their offensive line and tight end to work against the four defensive linemen and two inside linebackers of the Hokies. Any time six can isolate on six, the offense has the advantage. Combine that with the lack of playmakers at those defensive positions the last two years and it's easier to see how the Mountaineers have dominated the line of scrimmage against the Hokies defense. With James Anderson weakside, the Mountaineers will have to consider how they will matchup against him. If Anderson can beat the blocks of wide receivers and create some early havoc against the WVU run game, the Mountaineers will have to account for him differently in their blocking schemes. This adjustment will open up some space inside for Vince Hall to make more plays. Suddenly the numbers are no longer in WVU's favor and the yards will be tougher to come by. There has been a lot of discussion about the tweaks Bud Foster implemented this year and the change in duties to the Rover and Whip Linebacker positions. Those adjustments have paid dividends thus far, but the change to the Whip LB will likely have its biggest impact to date against the Mountaineers.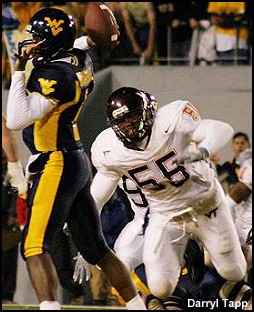 4. Watch for how well the Hokies contain Rasheed Marshall when he decides to run or scramble. Strong side containment is of particular interest. This is the Hokies first game this year against a running, scrambling QB. The strong side defense must be both aggressive and disciplined. Mikal Baaqee will have a difficult challenge to be disciplined in strong side coverage while keeping containment when Marshall scrambles from the pocket. It is in a game like this that the Hokies will really miss Xavier Adibi's speed and pursuit capabilities. From the strong safety (Rover) spot, James Griffin will be a key against Marshall's planned running plays. Keep an eye on him to see where he is aligned on most plays. Will he be back as a strong safety in a two-deep look or will he be up near the line of scrimmage in a pressure look? His alignment will be a key read for Marshall at the line of scrimmage.
5. Staying disciplined in the secondary. WVU runs a lot of plays from three and four WR formations. They like to run, run, run from these passing formations and then hit their WRs from play action. When they get the matchup they want, they have a system to check quickly to a play to exploit it. Watch Marshall as he gets ready to take a snap. Often, he will survey the defense, start his snap cadence and then look over to the sideline for signals from Rich Rodriquez. It will be on Vinnie Fuller to make sure the defense is in the right coverages, and he will have to be alert to WVU's checks and real-time play adjustments. WVU will take some shots deep hoping to catch the Hokies napping or sitting on hitch routes. Supposedly, Marshall is throwing the ball very well this year, so Jimmy Williams and Eric Green must stay disciplined in their assignments.
Keys When VT is on Offense
1. How will Bryan Randall respond after coming off a tough game against the Wolfpack? He led a great drive late in the game, but his day was also marked by some poor decisions and hesitation in the passing game. A few old habits reappeared as he was slow with his progressions and he showed reluctance to get the ball to his receivers against single coverage. But he overcame all of that, showed great character and toughness and nearly pulled out a victory. Those qualities will be key as he once again faces the team that has given him the most trouble in his career. How is his confidence coming into this game? Will he be thinking about his past problems with the WVU defense? Will he be thinking about last week and the ten sacks or will he be thinking about that last drive? It will be key for him to have a good start in this game to build confidence against a team that has been a thorn in his side and to remove any lingering effects from last week.
2. Can Mike Imoh relieve the burden on Bryan Randall and get the Hokie ground game back on track? The offensive line has not played well the last two weeks. WVU's defense will challenge the toughness of the offensive line from the very first snap. The line has to get into the WVU LB's and gain control of the line of scrimmage early in the game. Imoh's speed and quickness is critical for a unit that has struggled to put pressure on the perimeter of the defense. Establishing early success from the run game will be a key indicator as to who is winning the battles up front. Unless this game gets tilted by turnovers and turns into a feeding frenzy, don't look for a dominating Hokie ground game, but it will be key for the Hokies to get a solid, consistent game out of the tailback position.
3. Attacking WVU's 3-3-5 defense. The Hokies offense has struggled in both prior games against this scheme, but the secret hasn't been the scheme, it's been the play up front at the line of scrimmage. The Hokies must get into WVU's talented LB's and force WVU to commit an extra defender in run support. This will open up passing lanes outside and Randall has to show the willingness to get the ball out to his WRs against WVU's talented and experienced secondary. Reading coverages has been an issue in the previous two games, but the good news is that Randall's personal nemesis, Brian King, is no longer roaming the secondary for the Mountaineers. It's a cliché, but the key for the Hokies offense will be balance. The OL has to win up front, Randall has to be precise in his reads and protections calls, and Tech's playmakers must put pressure on the edges of their defense. Look for the option to be a major part of the game plan, as well as the WR reverse action from the I-formation. Randall will have to be successful with his legs, but he must also be precise in his option reads and get the ball pitched. With Mike Imoh, a well-timed option pitch has a chance to go for a very big play.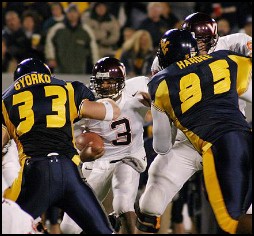 4. What is WVU's game plan on defense? Normally, they are not an attacking, pressure-style defense. But after watching the NC State game film, one has to assume that they will bring pressure at every opportunity. Certainly, the Hokies have had to spend more time than they wanted this week correcting the numerous errors they logged after film study on Sunday. Watch WVU's defense early to see how often they choose to bring pressure. They are the Top Ten team, so it follows that they will do what they do, and it's unlikely they will deviate much from what has been successful for them in the past. But the temptation has to be there. Should they decide to bring more pressure than usual, it will be key for the Hokies to take advantage of that and hit some big plays, much like WVU did last year when they beat VT's pressure for a 90+ yard touchdown.
I am confident that the Hokies will bounce back strongly this week. I suspect the game will be another hard fought, physical battle dictated by the defenses. Emotion will play a major role and the team that can stay poised and composed will be the team that executes the best. This game could come down to the wire, and Brandon Pace may get his chance at redemption. I'm sure he would welcome that opportunity.
I'll also be doing a quick post-game analysis, including a review of the "keys to the game". Look for that each Monday following the game.