Arms and Losses
by Jim Alderson, 9/29/04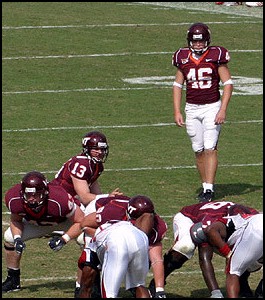 The best thing about freshmen and sophomores is that they eventually become seniors. This old coaching adage was certainly on display last Saturday as the game ended on a missed kick by sophomore Brandon Pace. That was a tremendous amount of pressure to place on a young man not too far removed from his Senior Prom. Hopefully there will be a game when a more mature and experienced Brandon Pace will have another opportunity.
As was forecast often during the run-up to this inaugural ACC season for Tech, the first game against one of the decent conference teams was a close nail-biting affair that came down to the final play of the game. We can expect many more games of this type. Unfortunately, winning this type of close, hard-fought game does not seem to be our strong suit.
Against the Wolfpack Tech might not have played particularly well, at least on offense, but they did seem to play hard and were in a position in the fourth quarter to win the game. As has often been the case against good teams, Tech did not. That it was a good effort, as it was against Southern Cal, counts for nothing in the record. Tech stands at 2-2 this season, 4-7 since last yearís trip to WVU. Of the four wins, the only one of consequence was against Miami, a great win to be sure, but the only one against a good team. The others were against what could charitably be described as the dregs of college football: Temple, a Directional Michigan and Duke.
Techís pattern continues to be that they can beat teams with vastly inferior talent but when the talent levels are even remotely close, they lose. When what turned out to be a grossly overrated Tech team last year amassed its gaudy early record and ranking, the victims were Central Florida, JMU, what turned out to be a very bad Texas A&M squad, UConn, Rutgers and Syracuse. There was not a bowl team among them. The losses were to WVU, Pitt, BC, the Hoos and Cal, all bowl teams. That trend is continuing this year; USC and State will likely be in bowls, WMU and Duke most definitely will not.
There is another disturbing trend that now clings to Tech football: the team has a very difficult time winning close games. Since Mike Vick migrated south, Techís record in games decided by a touchdown or less is 3-9, with wins over Temple [2003, 24-23], Boston College [2002, 28-23], and Air Force [2002, 20-17]. Techís recent history shows that in a close game against a good team, the odds are very much in favor of the other guy.
This is not the stuff of which elite programs are made. It can no longer be argued, at least by me, anyway, that Tech is an elite program. Those programs find ways to win games such as the one against NC State, not discover different methods to lose them. Tech is now in a league that will make it much more difficult to pad oneís record by feasting on dogs.
Much has been made of the youth of this Tech team. It is young, to be sure. There has been much spinning of what a bright future Tech has with so many good young players on hand. This is identical to what was heard in 2002. Letís hope the spin is correct this time. As far as I am concerned, any freshmen on the field is too many, much less the large numbers playing key roles on this Tech team. That there are so many would seem to indicate that previous recruiting classes have not been quite as good as advertised. Hopefully things will be a little different with this group.
What this Tech team acutely needs is a win against a quality opponent. That certainly will not be a particularly easy assignment with our old friends from WVU coming to town. Given the heated feelings that exist, perhaps a throwback game to our recent conference past is not exactly what the football doctor ordered in the next game following such a tough loss. But, that is the prescription. Strong medicine, to be sure.
The Tech-WVU game, for all of the emotion surrounding it, is now an OOC game. Tech has moved into its ACC athletics stage, one that will have us developing new rivalries. As of this year, our biggest games will be against teams from our current league, not leftovers from our former one. Two scheduled games remain against WVU, two too many as far as I am concerned, but two that nevertheless must be played, assuming Techís Athletic Director cannot find a way to get out of next yearís visit to Morgantown. This is a series that needs to take a break for a long time while Tech stakes out its place in the ACC. There are plenty of other teams to schedule for an OOC and I prefer that they be scheduled against schools whose fans are far enough up the evolutionary ladder to have begun walking erect.
Those who had the pleasure and good fortune of tailgating last Saturday with fans of NC State, as I did, got a first-hand look at how pleasurable an experience college athletics can be when it involves competition between fans and schools with a civilized respect for each other. That is not exactly the case these days with WVU.
The Mountaineers will come to Lane this Saturday still bearing a grudge about how the whole realignment thing went down. They seem to be yet harboring a grudge over Tech moving on to bigger and better things while they are stuck in the Liíl E. ĎSorry about thatí does not seem to mollify them. They will be an angry, emotional crowd and Tech will have to at least match the emotion.
Among the more interesting message board calls to arms I have read in the last few days was one comparing the Tech-WVU game to the Battle of Kursk. I hope Tech is playing the role of Red Army to WVUís Wehrmacht. All are aware, Iím sure, that the 1943 battle in the Kursk salient was the largest armored clash in history. It came on the heels of the RUTS Germany experienced at Stalingrad and had much to do with extending their losing streak, which now dates back to their last win in 1870 in the Franco-Prussian War when the Germans hung yet another defeat on the French. The loss at Kursk, along with the later defeat suffered against their other traditional rival at Normandy, signaled the beginning of the end of Germany as a top power. It led to the deep division of their fan base into factions that differed greatly over which system should be run. Come to think of it, we REALLY need to be the Red Army here.
Saturdayís clash with WVU is, of course, not one of the most cataclysmic battles of the most cataclysmic war in history, but a game. While Iím sure Frank and Bryan Stinespring would not mind deploying a few Soviet T-34 tanks along the offensive and defensive lines, as did Rokossovsky, we will most likely not see armor introduced. It would certainly help in containing the blitz and slowing down Kay Jay Harris, but there are bound to be NCAA rules prohibiting the use of battle tanks in football games. The Tech team will have to take on WVU on their own.
It will be a very tough task, especially for a Tech team emotionally reeling from the tough loss to NC State. Nevertheless, Tech badly needs a win. They need to win not only to hang a defeat on a former rival, but to salvage a season that looked pretty promising a month ago. Tech also badly needs to beat a good team, because, letís face it, that has not been done too often these days. See you Saturday.