2004 NC State Game Analysis
by Will Stewart, TechSideline.com, 9/28/04

Click here for TSL's game recap with stats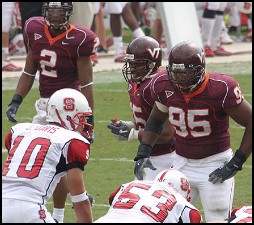 The Hokie offense was almost totally stifled, giving up 10 sacks, 16 total lost-yardage plays, and gaining only 192 yards. It was their worst offensive output since they absorbed a 42-3 drubbing in the 1997 Gator Bowl. Therefore, the focus of a game analysis is clear. The questions of what NC State did to cause that, and what the Hokies did to combat it (hint: the answer is "not much") will be answered here.
Sunday's Roanoke Times carried a column by Aaron McFarling titled "O-line must shoulder this loss." That's obviously an oversimplification. To be fair, columnists don't write the headlines, and the second headline on the article continuation added "Play-calling hampers effort against blitzes." And McFarling asked the questions "Where were the screens? The quick slants? The misdirections? There's got to be something in that playbook designed to burn blitzes."
VT offensive coordinator Bryan Stinespring has spent a lot of time on the hot seat since taking over Tech's OC duties in 2002. Last season, he slid off that hot seat, as his play-calling and game management improved and Bud Foster's defense sagged, drawing the ire of Hokie fans. But now Stiney is right back under the microscope.
With less than three minutes to go in the third quarter, after two straight sacks of Bryan Randall, the Hokies had a miserable 7 yards total offense. They hit Jeff King with a 24-yard pass (on 3rd and 33, unfortunately) and gained another 160 yards in the remainder of the game, but that 7 yards – 2 rushing yards and 5 passing yards – is ingrained in my mind as the epitome of Tech's offensive futility in the game.
Courtesy of the Roanoke Times, here are the ugly particulars:
As mentioned above, the 192 yards were the fewest since UNC destroyed Tech 42-3 in the Gator Bowl, and the Tarheels held VT to 185 yards.


The 10 sacks were the most recorded by a VT opponent since the NCAA started keeping the stat in 1989.


Tech's 36 rushing yards -- which includes the 78 yards lost in sack yardage -- was the Hokies' lowest total since the 38-7 blowout at the hands of Pittsburgh in 2001 (15 yards).


The Hokies had (-14) yards on 17 plays in the third quarter.
As good as NC State's defense is, and it is good, those numbers are hard to stomach. It's not so much that they happened, it's the way they happened. This wasn't brain surgery on the part of NC State. There was no finesse to it. They killed a gnat with a sledgehammer, flooding the backfield with blitzes and barely paying for it the whole game.
There are two questions to be answered here: how did the sacks happen, and what did VT do to combat State's blitzes?

The Sacks
On the surface, the reason VT gave up 10 sacks is simple: NC State blitzed play after play after play. They played man coverage with their junior and senior cornerbacks against VT's freshman receivers, and they blitzed with their safeties and linebackers.
But on any particularly play, blitzes work for different reasons. Perhaps the QB holds the ball too long, the receivers don't get open, or the offensive line and running backs blow a block.
Let's break down NC State's ten sacks by looking at VT's formation, the number of rushers, whether or not Tech had a tailback in to block, and how much time elapsed from the time the ball was snapped to the time Randall was sacked.
NC State Sacks

Qtr

Time

Formation

Rushers

Time

Comments

2

6:10

2 WR
2 TE
1 TB

6

4.3s

Justin Hamilton is the tailback. He releases to the right and is covered. Randall scrambles to the right, and on his blind side, Jeff King is beaten and his man sacks Randall from behind.

2

5:30

2 WR
1 TE
2 TB

4

4.9s

Both tailbacks go out into patterns. Randall holds the ball too long and is sacked.

3

14:54

2 WR
1 TE
2 TB

7

2.5s

One of the tailbacks is in the slot, the other stays back to block. Reggie Butler is beaten quickly for the sack, and Randall has nowhere to go.

3

11:19

3 WR
1 TE
1 TB

6

5.5s

The tailback stays in to block. Randall pulls the ball down after 2.5 seconds, dances around in the pocket, and gets sacked. Receivers are not open on the play.

3

8:28

4 WR
0 TE
1 TB

5

2.5s

Imoh flares out to the right, Randall doesn't throw to him, blitzer comes up the middle untouched for the sack.

3

4:23

2 WR
1 TE
2 TB

6

2.5s

Shotgun formation with the tailback in the slot, tight end split out wide, so it really looks like a 4-wide formation. Imoh is in the slot with his man 10 yards off the line of scrimmage, but VT doesn't hot read a throw to him (Note 1 below)

3

3:37

2 WR
1 TE
1 TB

7

3.8s

Shotgun, Randall rolls right, gets sacked quickly by multiple defenders. At the end of the play, 5 OL are standing around blocking nobody.

4

14:00

2 WR
1 TE
1 TB
1 FB

4

2.7s

Jimmy Martin blows his block and Randall gets sacked from the blind side.

4

4:50

2 WR
1 TE
1 TB
1 FB

5

4.4s

Shotgun, blocking is pretty good, Randall doesn't throw to an open receiver (King seemed to be open down the middle of the field). Randall breaks the pocket, gets sacked. (Note 2 below)

4

1:13

4 WR
0 TE
1 TB

5

2.3s

Shotgun, zone blitz, Randall never budges and is sacked. NC State overloads the left side of the line and springs a guy in untouched.

Key: Qtr = quarter; Time=time on game clock; Formation=VT's offensive formation on the play; Rushers = number of Rushers NC State brought on the play; Time = time from the snap of the ball until Randall was sacked.

Note 1: On this play, the other three receivers on the line (2 WRs and a TE) were covered man to man right at the line of scrimmage, but Imoh, who was in the slot, had ten yards of space between him and his defender. It would have been very easy for Randall to immediately fire the ball to Imoh right after the snap, giving him room to work. But instead, Imoh charged downfield into coverage and Randall was sacked in less than three seconds. This is a perfect example of giving up an easy pass to run a play that didn't work.

Note 2: Randall had plenty of time to throw to King down the middle. The TV replay was from behind the pocket, and it showed King breaking open about 15 yards downfield. Perhaps there was an extra safety not in the picture that Randall saw, making him not throw to King. But from what was visible on screen, Randall passed up the TE down the middle.
The sacks, as you can see, all happened for a variety of reasons, in a variety of formations, with a varying number of rushers.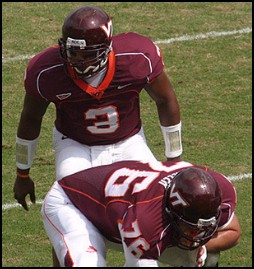 Two sacks happened with no blitz at all, just four rushers. Three more of the sacks happened with just five rushers, meaning that only half of the sacks came because of a heavy blitz (more than five rushers).
The five blitzes that occurred with just four or five rushers came about because Randall was holding the ball too long, Randall didn't use available receivers (back in the flat, tight end down the middle), or the offensive line blew a block or got overloaded on one side.
The other five sacks occurred with six or seven rushers. In those plays, the O-line either got overloaded or missed a block, or Randall held the ball too long, or no one was open.
Each individual sack happened for varying reasons. You can blame some plays on the OL, some on Randall for holding the ball or not throwing to a receiver, and some on the receivers themselves for not getting open.
On Monday's Hokie Hotline, Stinespring had the following to say when asked how the ten sacks happened:
"The sacks came this way: The offensive line for the day actually did a nice job in pass protection. They gave up one sack, and we gave up one hurry for the day. Another sack was incurred by the tight end, the backs were responsible for three, we had a receiver run a bad route and cause us not to get the ball off in time. That cost us one. Our quarterback was responsible for four or five himself.

"[How can the QB can be responsible?] There's an opportunity to get a protection set and be able to pick up the blitzes. If you're not able to pick the blitzes up because of the protection, then you've got to get rid of the ball quicker. There were two times he had a chance to set up protection, and get the blitz picked up, and we didn't get that done. They blitzed, and we didn't have any hots or sights because of that, and we got hit. A couple times, we didn't throw it on time."
There isn't any one answer why the sacks happened. Each one of you out there reading this has their own personal bugaboo: either you think Randall holds the ball too long, or you think the offensive line stinks, or you think the backs can't block, or you think the receivers can't get open. The truth is, the sacks themselves occurred for any one or more of those reasons at any given time.
Five times, Randall held the ball for more than 3 seconds. But five other times, he barely had time to set up shop (2.7 seconds or less), so either he didn't have a play that would succeed, the right protection wasn't set, his blockers didn't block well enough, he didn't have the guts to throw it to a covered receiver, or his receivers weren't open.
Let's get back to reason #1: "He didn't have a play that would succeed." Let's talk a little bit about what VT did to combat the heavy pressure being brought by State.

What the Hokies Did to Battle the Blitz
A lot of the complaining after the game centered on the fact that VT did "nothing" to combat the blitz. No screens, no passes to the backs out of the backfield, no throws to the tight end, no QB rollouts, etc.
Au contraire, VT did all of these things. But in studying what they did, I discovered something interesting.
What you look for in these instances is something other than "run up the middle" or "take a seven-step drop and stand in the pocket." So I went through the game film and counted and analyzed every play that did something other than that. I looked for options, rollouts, screens, reverses, throws to the tight ends, etc.
I may have missed a play here or there (because I was looking for a lot of stuff) but I counted 26 plays (out of 69 offensive plays) that I thought fit the category of trying to take advantage of a blitz or getting the offensive players away from pressure and into one-on-one situations. The plays were spread evenly throughout the game, with 9 of the 26, almost a third, coming in the fourth quarter.
Here's what I found:
Option (5): The Hokies ran the option five times for 18 yards. Every option play gained anywhere from 1 to 6 yards, and no option plays lost yardage. Randall pitched most of the time, which is rare for him, and Tech tried it with both Imoh and Humes.
QB Draw (2): Randall was stuffed for a 4-yard loss in an early QB draw (terrible blocking by the O-line), and in a 4th-quarter QB draw, he picked up 7 yards.
QB Rollouts (9): Randall rolled out 9 times throughout the course of the game. One was a designed run that went for 8 yards on Tech's first possession. The rest were passes. He was sacked on one of them (when Jeff King missed his block), and on the other five, he completed just one pass, the beautiful sideline catch by Duane Brown early in the game. Randall threw poorly on the rollouts in this game, missing open receivers and once, on the last drive of the game, throwing it straight to a defender who dropped it.
One rollout was perhaps VT's best play call and best execution of the day. It came on the touchdown to Kinzer. The Hokies used play-action (a fake handoff) up the middle on 3rd and 3 from State's 4-yard line, and Randall rolled out right. State bit on the play fake, Kinzer was wide open on the play, and Randall hit him for an easy TD.
Later, the Hokies tried something very similar, and State didn't bite on it. The Hokies faked a toss sweep left on 3rd and goal in the second quarter, and Randall rolled out right. NC State defended it well, greeting him with a couple of rushers, and he threw the ball through the back of the end zone. Tech kicked the field goal on the next play. Good play call, it just didn't work.
Throw to the tailback in the flat (2): On this play, the QB dumps the ball off to a tailback out in the flat either as a safety valve or by design. In this game, VT called designed flat passes to try to isolate the back against a linebacker on the perimeter. The Hokies ran one of these to Humes early in the game, but Jimmy Martin didn't get there in time to block the linebacker, and he nailed Humes for a 4-yard loss. Late in the game, the Hokies tried it again to Imoh, but it was knocked down at the line. The same situation was occurring with Martin not getting out quickly enough to protect Imoh, and Imoh would have immediately been confronted with a linebacker, just like Humes was.
End-around (1): In the second quarter, VT ran an end-around to Richard Johnson, and he was stopped for no gain.
Toss sweep (1): The Hokies ran this once for a gain of 2 yards. They faked it two other times, as detailed in the "QB Rollouts" section.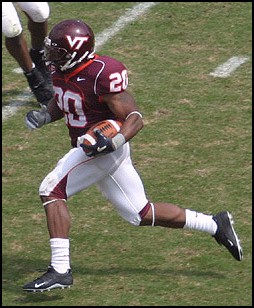 Delayed handoffs up the middle (3): In the third quarter, the Hokies ran a counter/draw play to Humes for a 1-yard gain. Later in the third, they handed off to Imoh out of the shotgun, and he was buried for a loss of four.
The third time was the charm. In the fourth quarter, the Hokies ran a misdirection play where the offense started out left, and Randall handed off to Imoh in the other direction. It was beautifully designed and blocked, and Imoh turned it into a 41-yard gain.
Tight end down the middle (1): A guaranteed blitz-buster. Late in the third quarter, from deep in VT territory, Randall hit King down the middle for 24 yards. The problem? It came on 3rd and 33.
As detailed in the "Sacks" section, I noted King running a pattern down the middle of the field another time, but for whatever reason, Randall didn't throw it to him.
Screen Pass (1): With 13 minutes to go in the fourth quarter in State territory, the Hokies ran their only true screen pass of the game, a play in which the OL releases and gets out in front of a running back, who is thrown a short pass. Tech ran a middle screen, dumping it off to Hamilton with an escort. Hamilton picked up 11 yards. The problem? It was 3rd and 15.
Shovel Pass (1): With 5:33 to go in the fourth quarter, on 2nd and 10, the Hokies called a shovel pass to Kinzer. It was set up beautifully, but Reggie Butler failed to get out in front of Kinzer and make a block on the only guy with a chance to tackle him. Butler missed the block, and Kinzer was tackled for a loss of one with all kinds of real estate in front of him.

Summing it Up
That's a lot to absorb, so here it is, boiled down. The best way to whip a blitzing team is to get the ball to the spots their linebackers and safeties have vacated. In State's case, their inside linebackers and safeties were clearing out of the middle of the field and coming up the middle.
The large majority of blitz-buster plays that Tech ran were to the perimeter. Option, QB rollouts, flare passes to the running backs … these didn't work. The few that did work used an element of misdirection first: a fake toss sweep, or a fake handoff up the middle. The TD to Kinzer came on such a play.
Contrary to what many people think, you don't usually beat an aggressive defense by going around it. You go right at it. That might get you knocked down two out of three times, but the third time, all hell breaks loose. One of my first realizations of this came back in 1993 when Rutgers' Terrell Willis busted right up the gut of a blitzing Tech defense for a 38-yard touchdown run on which he was barely touched.
Remember Reggie Bush's screen pass for a TD in the BCA Classic? USC went right at the blitzing Xavier Adibi and Vince Hall, dumping the ball off right behind them, and Bush did the rest.
Throughout the 90s, TV announcers and commentators said it over and over and over again. They would watch some poor hapless team run a sweep against Tech's defense, and they would say, "This defense is too fast. You don't beat it by trying to outrun it to the perimeter. You beat it by going straight at it and hoping you bust a big play."
The QB draws up the middle didn't work well for Tech, and two of the three delayed handoffs up the middle didn't work .. but boy, the last one did (41 yards by Imoh).
The tight end down the middle worked like a charm the one time Randall actually threw it. The middle screen worked well, too. (My only complaint there was personnel; Hamilton got 11 yards on the play, and I think Imoh would have gotten a bunch more.) The shovel pass would have gone for a ton of yards, too, if Reggie Butler had gotten out of traffic and made his block.
What was missing in this game plan were plays designed to attack the middle of the field. When the Hokies finally did that, starting late third quarter, they peeled off gains of 24 (King down the middle) 41 (misdirection inside handoff to Imoh), and 11 (middle screen to Hamilton) yards, and they almost killed State with a shovel pass.
But the three-step drops, the quick slants to the wide receivers? Absent. The pass down the middle to the tight end? Tried just once. A true screen pass, not just a flare pass to a running back? Tried just once. These are the bread and butter against the blitz.

"What Happened There?"
That's where the offensive coaching staff failed this team. They failed to burn State's blitz-happy defense. They failed to make the State coaching staff and players stop and think for just a split-second as they pinned their ears back and rushed hard.
The most disturbing thing of all were the quotes after the game:
"We have to watch the film, really, to see where all the pressure came from." – Jimmy Martin.

"I don't know exactly where all of them were coming from. Most of the time, we'd come back [to the huddle] and each man, like my left guard and right guard, we're like 'what happened there?' " – Will Montgomery.

"The blitzes and stuff just kind of messed with us. We had trouble picking it up." – Jimmy Martin again.

"I'm not sure if they just outmanned us or it we just didn't get them blocked very well." – Frank Beamer.

"I never thought they would handle us that way. Never, never, never thought that would happen." – Beamer again.
Knowing what happened and not being able to stop it is one thing. Many times over the years, VT has beaten up hapless teams like UAB, JMU, Akron, and Western Michigan.
But not being able to describe at the end of a game what just happened is worrisome. There's a coaching staff in Blacksburg that collectively gets paid over two million dollars a year, and if they can't recognize what's going on, communicate it to the players, and make adjustments, that doesn't bode well.
I much would have preferred hearing Martin or Montgomery say, "They brought six or seven guys on most plays, manning up on the receivers and bringing the safety and linebackers a lot. We just got outnumbered and had trouble making the plays to combat it. The stuff to the perimeter wasn't working as well as we thought it would, because they're so fast." Not "What happened there?"
The kids often can't tell in the hysteria of the game what's going on, but when they come to the sidelines, the coaching staff ought to pull them aside, explain things to them, and tell them what they're going to do to counter it.
I would have preferred hearing Beamer say, "They surprised me the way they came at us, because we hadn't seen that on film, but once we realized what they were doing – challenging our young receivers with their bigger, more mature defensive backs, and blitzing everybody else – we started working the middle of the field a little bit better, trying to take advantage of them." Not "I never thought they would handle us that way."
I'm just disappointed in a coaching staff that got caught with its pants down and didn't adjust offensively to stay competitive in the game. After the Duke game, the Hokies should have suspected that State would pin their ears back and try to maul a Hokie offense that so far this season has mostly left the fullback on the bench and has gone with spread formations and tried to let the QB do all the work. But they were unprepared for what they saw and had no answer for it. They were outcoached, because the let the other coaching staff and team do as they pleased all day long, without reprisal. The game was dictated to them. For VT, the adjustments that worked came too late.

Game Changers
In a close game like this, I like to review the plays that turned the tide and determined the outcome. It's usually about 5-8 plays, and in this game, there were 11 of them.
I'm not counting Brandon Pace's two missed field goals, because the nickname "Captain Obvious" isn't one that I want. Here are the other 11 plays I noted:
1.) NCSU 3rd and 15 on their first drive: Mikal Baaqee blitzes up the middle and misses the sack. Jay Davis dumps off to McLendon in the flat. Eric Green misses the tackle on McLendon, who rumbles for the first down. NCSU scores a field goal on that possession. 3-0, State.
2.) NCSU's 2nd drive: Vince Fuller picks off Davis and laterals to Green, who runs it to the State 39 yard line. VT misses a field goal. 3-0, State.
3.) Late first quarter: State backup QB Marcus Stone and McLendon have a poor handoff exchange, fumble recovered by Tech's Jim Davis on State's 36 yard line. Hokies get a TD out of it. 7-3, VT.
4.) Early second quarter: Eddie Royal returns a punt 58 yards to the State 15-yard line. Hokies get a field goal out of it. 10-3, VT.
5.) Late second quarter: two straight NC State sacks push the Hokies back to their own 2-yard line, and after the punt, State has the ball at VT 34. State gets a touchdown out of it. 10-10.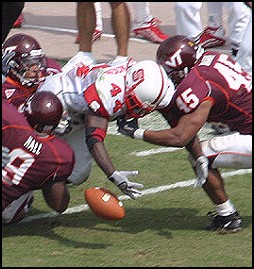 6.) 13:15 to go, third quarter: McLendon fumbles on the State 35, and it rolls out of bounds. Oh, if the Hokies had recovered that one …
7.) 11:34 to go, third quarter: Royal returns punt from the VT 8 to VT 48, changing the field position game.
8.) 5:50 to go, third quarter: Burns fumbles the snap on the VT 5 yard line. State gets a TD out of it. 17-10, State.
9.) 15:00 to go, fourth quarter: Imoh makes 41-yard run, VT gets a field goal. 17-13, State.
10.) 10:04 to go, fourth quarter: Eddie Royal makes diving catch for 32 yards to the State 29. VT gets a field goal out of it. State 17, VT 16.
11.) 0:35 to go, fourth quarter: Clowney with a 38 yard reception. Puts VT in position for the game winner. Unfortunately … (you know the rest).

Quick Hitters
I was impressed with the play of Jonathan Lewis Saturday. He pursued very well down the line and really got after it. Lewis "only" had four tackles, but it looked like more. He was very active and made the initial hit a number of times.


This isn't the first time Vinnie Burns dropped a snap deep in his own territory. In the 2001 Syracuse game, a 22-14 loss in Lane Stadium, Burns dropped a snap inside the 10-yard line with less than 10 seconds left to go in the first half. Burns was able to pick that one up, but Syracuse blocked it, recovered it on the VT 8-yard line with 7 seconds to go, and kicked a critical field goal.


Once again, Duane Brown flashed the athletic potential that has the Hokie coaches drooling. His toes-on-the-sideline catch in the first quarter was not something you'll see from many tight ends anywhere, at any level.


VT won the penalty battle, but unfortunately, it didn't help. Tech had 3 penalties for 14 yards, and State had 10 for 65. Two times NC State and Tech had offsetting penalties. One of them occurred when VT committed pass interference that would have given State a first down inside the Tech 30. Instead, State had an offsetting holding penalty, their drive stalled, and they punted.


Man, oh man, can Eddie Royal play. He just makes one big play after another. Three punt returns for 107 yards, and two catches for 47 yards, including that diving 32-yarder. Olu Hall was the #1-ranked player in the state last year, and Royal was #2. Hall's at Hargrave now, and Royal's making plays in orange and maroon. This isn't a slam on Hall, because he's a great kid (I've interviewed him) who may have a great college career. I'm just saying, I'd much rather have Royal right now.


Where this game started to break down: The Hokies were up 7-3 and had 1st and goal from the State 5-yard line with 11 minutes to go in the second quarter. They had the Wolfpack on their heels and failed to capitalize, getting only a field goal out of it. The Wolfpack got their first two sacks on VT's next possession, and after that, it was off to the races for the State defense.


The return of the whip blitz: Aaron Rouse and James Anderson both had tackles for loss from their whip linebacker position on plays where they blitzed. For those of us who remember the first whip linebackers on this team (Dwayne Knight and Brandon Semones), and how much they used to blitz, that's a welcome sight.


The Hokies also used the corner blitz. Eric Green blasted Marcus Stone on State's next to last possession, right after Stone released the ball.

Conclusions
There was a lot more to talk about in this game – the Hokie defense played very, very well and deserved some space in this article, and Randall and the receivers made some clutch plays late in the game -- but I wanted to concentrate on what State did defensively and what VT did in response.
The issue of game-time adjustments keeps coming up with this coaching staff. We didn't see the Hokies adjust to Heath Miller catching 13 passes in last year's UVa game. We saw USC make adjustments in the first game and come back for the win. We didn't see VT make adjustments in this game until it was too late.
Believe me, I want nothing more than to recap a situation in which VT did some things in the second half that led them to a come-from-behind win. But this team is 4-7 over its last 11 games, the duration of a college football season, with those wins coming against Miami (niiiiice!), Temple, Western Michigan, and Duke.
There will be more close games this year: WVU, Maryland, Virginia, and maybe Georgia Tech and Wake Forest. Miami may or may not be close. In those games, adjustments by the coaching staff can mean the difference between a bowl game and sitting at home. This NC State game was the first critical contest in Tech's bid to be competitive in the ACC this year, and they dropped it. It's an uphill climb from here. Fortunately, there are still 8 games to go, including 6 in the ACC.