Breaking Down the Depth Chart
by Chris James, 9/24/04

One can find some interesting facts when perusing the Hokie Huddler (I still canít call it hokiesports the newspaper). Whenever I first pick up the newest edition of the Huddler, the first thing I do is flip to the depth chart page. The depth chart page naturally shows the depth chart, but it also shows the number of plays that each player on the team played in the most recent game.
In a season where the Hokies have so many new faces in the lineup, it is interesting to see who is contributing and how much. While glancing through the data, I found some interesting numbers for some players at high profile positions. Letís take a look at the data at some of the positionsÖ.
Tailback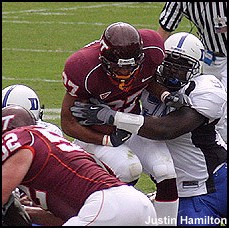 The running game hasnít exactly been lighting it up for the Hokies thus far. With Cedric Humes coming off an injury, and Justin Hamilton playing his first season at tailback, that is to be expected.
Taking a look at the numbers, Hamilton and Humes both played 33 downs against USC. Since that game however, Hamilton has played more snaps than Humes in both the Western Michigan and Duke games. Hamilton held a 28-21 play edge over Humes against Western Michigan and a 39-30 edge against Duke.
One reason for that is the fact that Hamilton is a superb pass blocker. With the Hokies throwing the ball around a little more this year, it makes sense to have your best pass blocker in the game. Also, if you have a copy of the Duke game, take a look at the first drive by the Hokies. Cedric Humes starts the game for Tech, but within the timeframe of a few plays he is replaced by Justin Hamilton. I may be reading a little too much into this, but that tells me that Humes isnít in football shape at this point in the season. After participating in only a couple of contact drills during August practice sessions, he shouldnít be. You might not see the real Cedric Humes running the football until later in the season, or possibly the 2005 season.
Mike Imoh will return for Tech for the NC State game. His return could mean a lot for the Tech offense. His speed and elusiveness will bring a lot to the table. The simple fact that he can line up at tailback, wide receiver, H-back or wingback will change the way defensive coordinators prepare for the Hokies.
Wide Receiver
The wide receiver position is by far the most youthful position on the team for the Hokies. Four freshmen, three of them true freshmen, have been seeing a lot of playing time for the Hokies.
R-freshman Josh Hyman has been the best and most consistent player in the rotation. Donít let his freshman status fool you though...Hyman is 21 years old, making him perhaps the most mature r-freshman in the country. After a year at prep school and a redshirt year, Hyman is playing like a veteran.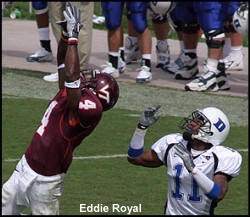 The other starter is true freshman Eddie Royal. After seeing 10 offensive snaps against USC, Royal took over the starting role at flanker and played 16 plays against Western Michigan and 35 plays against Duke. He has shown a knack for making big plays, and as he continues to learn the position he will get better and better.
Josh Morgan and Justin Harper are the other freshmen seeing time for Tech. They have been slower to pick up the offense than Eddie Royal, but they have great size and athleticism and have the potential to be special down the road.
The old man of the group, r-senior Richard Johnson, appears to have settled in as the 3rd receiver. Plagued by injuries in his first three seasons, Johnson is having a productive year for Tech, and not just on the field. His most important role on the team has been providing leadership to the other young receivers, and all reports indicate that he has done a great job in that regard.
Perhaps the surprise of the season is r-junior Chris Clifton. After drawing very good reviews in spring practice and preseason camp, Clifton dropped two critical passes in the USC game that sent him down the depth chart. After playing 47 plays against USC, Clifton has not played a snap offensively in the last two games.
The development of the wide receiving corps could make or break Techís season. With a running game that has been ineffective thus far, I expect more and more teams will stack the line and blitz Bryan Randall all day long, exactly like the Duke Blue Devils did, and force these young receivers to make quick decisions in their route running. Keep an eye on the short passing game against the Wolfpack. If it is working, then that is a sign that the receivers are making significant progress.
Fullback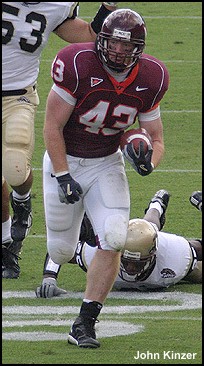 Despite earning positive reviews from running backs coach Billy Hite, r-freshman fullback John Kinzer isnít seeing as much action as a typical Virginia Tech starting fullback. Kinzer has played a total of 58 plays through the first 3 games of the season for the Hokies, which is not quite 20 plays per game. Breaking it down by each game, Kinzer played 21 snaps in the USC game, 17 plays against Western Michigan, and 20 against Duke.
Kinzerís backup, r-sophomore Jesse Allen, is seeing even less time. Allen played 8 snaps against USC, 11 against Western Michigan, and 4 against Duke. Thatís a total of 23 snaps in 3 games.
The Hokies get much more than 30 offensive snaps per game, so who else is playing fullback? The answer is nobody. Instead of the traditional Virginia Tech I-Formation, Bryan Stinespring is mixing some different formations into the offense this year, such as some 2 and 3 tight end sets. The 2 tight end set, which is being used often, features 2 wide receivers, 2 tight ends and 1 tailback. So in other words, the fullback is being taken off the field to make room for an extra tight end. The 3 tight end set features 1 wide receiver, 1 tailback and 3 tight ends. In this formation a wide receiver and the fullback are replaced by tight ends.
If you want to see how much Virginia Tech is favoring an extra tight end over the fullback this season, just take a look at the number of plays that 3rd string tight end Duane Brown has under his belt this season. Through 3 games, Brown has played 48 plays. If you throw out the USC game, in which Brown only played 2 plays, then he has 46 plays in the last two games. Kinzer does have more plays overall, but when comparing his total with that of the 3rd string tight end, it is quite telling. In fact, Brown played more plays in both the Western Michigan game and the Duke game than Kinzer did.
If youíre wondering why Kinzer is getting so little playing time, there are a couple of reasons. First and foremost, the Virginia Tech coaching staff has put an emphasis on getting their best players on the field, even if that means relying on some different formations. Itís called playing to your strengths, and right now fullback is not a strength. The other reason is that Kinzer is still learning the fullback position. Recruited to Tech as a tight end, Kinzer changed positions in the spring to offset the loss of seniors Doug Easlick and Steve Canter. Lead blocking from the backfield is a lot different than blocking from the tight end position and it will take some time. Kinzer is probably the greatest physical specimen Tech has had at fullback, and once he learns the position and gets a lot of reps under his belt he will be hard to handle.
Offensive Line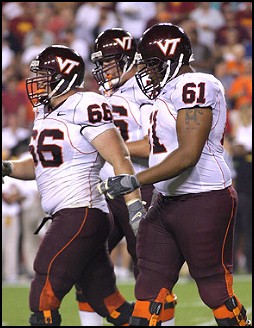 Except for the Western Michigan game, the Hokie offensive line has been playing their version of iron man football in 2004. Each starter played every single down against USC, and there was only one backup to see more than 7 snaps against Duke (Jason Murphy, 14)
In the 63-0 victory over Western Michigan, Tech was able to get their backup O-linemen a lot of reps. Left tackle Brandon Gore played 28 downs, left guard Jason Murphy played 27, center Danny McGrath played 18, right guard Mike Parham played 18, and right tackle Brandon Frye played 18. In the Duke game however, it was back to iron man football for most of the starters. As noted above, Jason Murphy played 14 snaps, while Danny McGrath had the 2nd most snaps of all the backups with 7. Gore, Parham and Frye each played 4 downs.
So as of right now, it looks as if Bryan Stinespring is very reluctant to substitute any of his backups, with the possible exception of Jason Murphy. Despite playing a poor team in Duke, Stinespring didnít have the confidence in his backups to give the starters a rest except in garbage time. Thatís not a good sign for the future of the offensive line.
The Hokies lose Jon Dunn and Jimmy Miller after the 2004 season, and Will Montgomery, Jimmy Martin and Reggie Butler depart after 2005. Top backup Jason Murphy will be finished after the 2005 season as well. Point being, Tech better develop some offensive linemen, and they better do it quickly, or having young studs George Bell, Brandon Ore and Elan Lewis running the football wonít mean anything.
Cornerback
At cornerback, itís been tough to get Eric Green and Jimmy Williams off the field. Both guys have a lot of experience and a lot of ability (Jimmy Williams is especially talented), and they are backed up by a r-freshman and two true freshmen.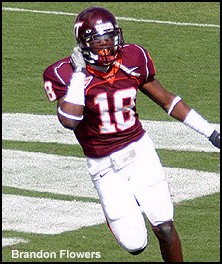 Lorenzo Ward used the Western Michigan and Duke games to get some quality snaps for his young backups. Roland Minor has played 17 plays in each of the last two games, while D.J. Parker saw 15 snaps against Western Michigan and 11 against Duke. Brandon Flowers saw the field for 19 plays against Western Michigan. He did not play against Duke because of an injury.
If you are a Tech fan, youíre probably a little worried about this position after the 2004 season. Eric Green will exhaust his eligibility this year, and Jimmy Williams has NFL talent. If Williams has a season that matches his talent level, he could very well take the next step.
Minor had an outstanding spring for the Hokies, but he hasnít figured into the rotation quite as much as many thought he would. Itís no big deal to plug him in for 17 plays against Western Michigan and Duke, but he only played 5 plays against USC. However, thatís more plays than Flowers or Parker saw against the Trojans. Neither player played a down on the defensive side of the ball (Parker did play on special teams).
In their limited work, the backup who has shown the most has been Brandon Flowers. In the one game that he played in this year, Flowers returned an interception for a touchdown. Looking at the tape however, that wasnít his most impressive play of the game. The interception was thrown right at himÖall he had to do was catch the ball and run to the end zone. His best play was a pass breakup against Western Michigan. Flowers sat back in coverage and immediately recognized where the quarterback wanted to throw the ball. However, instead of immediately coming up into coverage, he baited the quarterback into thinking he had enough room to make the throw. When the quarterback threw the ball, Flowers was ready. He broke in front of the receiver and nearly got his 2nd interception of the game. As a former cornerback, that really caught my eye.
Conclusion
Coming into the 2004 season, Tech fans expected to see quite a lot of youth and new faces on the field for the Hokies. That has proven true at some positions, such as wide receiver. However, there are other positions where the younger players arenít getting a lot of playing time.
It will be interesting to see how the playing time is distributed when the Hokies crank up the schedule once again against NC State on Saturday. We saw against USC that the coaching staff was hesitant to put a lot of younger players on the field. For example, Justin Harper only played one play and Josh Morgan didnít play at all, while Chris Clifton played 47 snaps. That changed against Western Michigan and Duke, where a lot of young players for Tech were thrown into the fire.
It remains to be seen whether or not the coaching staff will remain as confident in freshmen against NC State and West Virginia. Itís entirely possible that Chris Clifton will be back on the field against NC State, just because Frank Beamer trusts the experience factor.
One thing is certain, and that is that whoever sees a lot of playing time against NC State will likely see a lot of playing time for the remainder of the season, unless they play poorly. The NC State game will be a measuring stick for the 2004 HokiesÖnot just to see how good of a team Tech has, but to see how the playing time shakes out as well.
So in conclusion, when you take your seat in Lane Stadium on Saturday afternoon (or rather stand on your seat), prepare for an education, because you are going to learn a lot about the 2004 Hokies.