Got RUTS?
by Jim Alderson, 9/15/04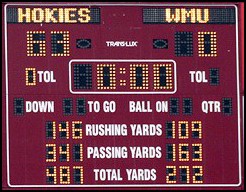 A Virginia Tech football team that had been amassing losses at a rate far too frequent for both its own well-being and the mental health of its fans discovered the sure-fire cure for excessive losing. The 'When all else fails, schedule a MAC team' strategy worked like a charm. Western Michigan strode onto the field at Lane Stadium last Saturday professing some rather modest goals. The Broncos desired to score, a rather basic element of football that had eluded them in their previous two battles with the Hokies. It didn't happen.
WMU not only failed to avenge two losses to Tech incurred in the 2001-02 seasons, they managed to lose 63-0, a total that beat the sum of the other two. A three-year Tech cumulative score of 124-0 over Western speaks for itself. Tech never even managed that feat against Rutgers.
One would think WMU coach Gary Darnell would have picked some other Li'l E role model to prepare for Tech other than the one that Tech flat owned for the eleven years of Big East conference play, RUTSgers. But, after a man-eating Tech defense had knocked the Broncos starting quarterback Blayne Baggett silly early on, Darnell trotted out Rutgers transfer Ryan Cubit to face that defense. That Darnell was forced to turn to a DORKS cast-off would seem a solid indication that things have not gone particularly well for him since that time in late 2000 when he had good reason to think he might have been coaching on the West side of Lane Stadium last Saturday. Tech fans can be thankful for not-so-small favors.
This should be the last time Darnell will have to stand on Lane's opposing sideline and not only take a beating but ponder what might have been. This was the last game scheduled between Tech and this particular Directional Michigan for what is likely to be some time. It seems that WMU Director of Athletics Kathy Beauregard met with our own AD after the game, no doubt to inform him that if he still wanted Gary Darnell he was welcome to him. Before leaving to encourage Frank Beamer to this time take the North Carolina job when it opens again this year, Ms. Beauregard thumbed her nose at an offer to play more games against Tech at $175k a pop. It would seem that while her football team is easy, it is not cheap. There are Big 11 and SEC teams willing to pony up $500-750k to pound the Broncos. Oh, well. The MAC is a big conference.
With the ritualistic beating of Western Michigan and the four-game losing streak out of the way, Tech now turns its attention to what a lot of us have been waiting for a long time. This Saturday, Tech will play its first Atlantic Coast Conference football game against Duke. It has been a long time coming, long enough in fact that one might have thought the ACC would have rounded up a little better opponent than Duke. This is not exactly Florida State that will be taking the field this weekend, or even Clemson. Instead we get Duke, the ACC's equivalent of Rutgers. Tech is definitely starting at the bottom as we begin ACC conference play.
I don't imagine they are too thrilled on Methodist Flats in Durham, either. It's not every ACC team that was scheduled to open the season with three straight road games, culminating in a trip to new conference member Virginia Tech, only the one that was the most strident opponent of expansion. It would seem ACC Commissioner John Swofford does indeed have a sense of humor, one that runs towards the gallows variety, as evidenced by this game as well as the placing of Duke and fellow expansion killjoy Carolina in the same football division as Tech and Miami. That will teach them.
The Blue Devils come to Lane with a positively Duke-like record of 0-2. An 0-2 record is not exactly uncharted waters at Duke, a bunch that have gone 0-11 three times over the last eight years, a remarkable track record of futility that not even good old Rutgers from our former conference could match. As good as Duke has been in basketball, that is how bad they have been in football. 15-75 since their last bowl appearance in 1994 speaks for itself. It was supposed to be different this year.
I would imagine that when Duke AD Joe Aleva a while back scheduled road OOC games against a service academy and a UConn team that he figured would still be wet behind its Division I-A ears, 0-2 was not what he had in mind. So much for scheduling for success, Duke-style. Aleva probably also wasn't figuring that after having opened with two road games, the ACC would then send his football team to Lane Stadium to welcome Tech into the conference, either.
During this past off season there had been about as much football hoopla as you are ever going to see around Duke. There was a modicum of excitement around Duke. Or perhaps it was an attempt at diverting attention from Luol Deng leaving early for the NBA. Duke came into this season thinking they had a reason to feel a bit of confidence that this was the year some improvement would be noticed. Coach Ted Roof had taken over last year when an exasperated Aleva fired Carl Franks following a disgraceful 13-42 loss to Wake Forest. Franks joined the long list of fired Duke coaches since Bill Murray concluded his successful run in the mid-60s, a group that includes them all, with the exception of Steve Spurrier. Visor Boy somehow won an ACC championship at Duke in the pre-FSU days of 1989 and promptly got out of Durham so fast that the vacuum created by the speed of his departure caused Final Four banners to be sucked from the rafters in Cameron Indoor Stadium.
Since then, as it had been for the couple of decades before Spurrier got there, it has been one losing season after another at Duke. Roof had given them reason for hope. After being promoted from Defensive Coordinator to Interim Head Coach following the abrupt firing of Franks, Roof had gotten the Devils to at least play respectably last season in tough losses to NC State and Tennessee before springing a solid upset of bowl-bound Georgia Tech. Roof then got the 'Interim' removed from his designation by trouncing Carolina in the season finale, something Duke had not done since Spurrier turned the trick in 1989. They felt pretty good about things in Durham heading into this year, and now they are the usual 0-2 and coming to Tech.
We will see Saturday whether there is new life in the dreadful Duke program, or if football season there turns into yet another opportunity for students to burnish their GPAs before spending the winter camped out at K-ville. There is some reason for optimism at what has been the ACC's worst program, at least until last year when John Bunting's rapid descent with the Carolina program shoved Duke out of the ACC cellar. Duke has beefed up its football spending recently, building a new training facility, since Coach K refused to let the Duke football team use his. Duke's Yoh Center looks remarkably like our own Merryman, since Aleva toured Tech's center for ideas. Carl Franks had been given the same latitude in dealing with Duke's rigorous admissions standards that Coach K has taken for granted for years. A fat lot of good it did Franks, but recruiting should be a bit easier for Roof.
We will see Saturday either a Duke team desperate to salvage what had been a promising season, at least by Duke standards, or yet another one that has given up the ghost and mailed in yet another lousy year. It will probably be the former. It shouldn't matter much, but let's face it: Tech has a rather long and undistinguished history of losing to inferior opposition. Tech's first ACC conference game is no time to continue that trend.
While Tech should win because it has better football players than does Duke, Tech's unpredictable nature against teams of this caliber always has to be considered, as does the weather. Saturday's game will quite possibly be the only one in the area with two Ivan's in attendance, our own Russian Hokie and another much less likable variety. The hurricane variety will not be welcome, or particularly good news for Tech. Bad weather generally favors the underdog, and early indications are that there will be plenty of bad weather on hand for this game. A good chunk of the passing game that Tech has displayed the first two games of the season will be neutralized. This would be an opportune time to get the kinks out of the running game.
It will be Tech's first football game as a member of the ACC, a proud and long-anticipated event for many Hokies. Hurricane or no, I plan on being in my seats early to observe John Swofford welcome Tech into the league and conduct the opening coin flip. Historic events aside, it will be interesting to see how the perfectly-manicured hair of Swofford holds up to whatever is left of Ivan [the hurricane]. It would also be nice to make our first conference appearance a memorable one. RUTS on the scale of that delivered to Western Michigan might be a bit much to hope for, but this is Duke, usually the ACC's worst team and a school that took a very dim view of Tech entering 'their' league, and still does. Stick it to them, Tech.