2004 Western Michigan Game Analysis
by Will Stewart, TechSideline.com, 9/13/04

Click here for TSL's game recap with stats
TSL Defensive Player
of the Game


picture: hokiesports.com
#91 Jason Lallis
DE, 6-0, 264, rSr.
Score: 39.8 points

Click here for an explanation of the award and how the scoring is done

Jason Lallis has been moved from DT back to DE this season, and his knack for making plays continues. Lallis had VT's only sack against WMU, plus he stripped the ball from a WMU offensive lineman and returned it 28 yards for a TD. He also had 1 unassisted tackle and knocked down a pass.
Total: 39.8 points.

2nd: Brandon Flowers, 38.8 points (1 solo tackle, 1 pass defensed, 1 INT returned 38 yards for a TD).
Saturday's romp over Western Michigan was about all you could ask for. The Hokies came out with intensity, maintained that intensity for 60 minutes, and dominated all phases of the game. They got valuable playing time for a young receiver corps, the backup offensive linemen, and the second-string quarterback. No one suffered a major injury, and with a 63-0 victory, the Hokies hope that they have set the tone for a successful 2004 football season.
While a 63-0 blowout, the largest margin of victory ever for a Frank Beamer coached Hokie team, is noteworthy, it appears to me that WMU coach Gary Darnell is in the process of running the WMU program into the ground. The Broncos won the MAC West championship in 1999 and 2000, but they went just 14-21 from 2001-2003, and the Bronco team that came into Lane Stadium Saturday looked completely devoid of talent and playmakers.
Still, the Hokies have played some very bad teams in the last 17 years under Frank Beamer, and they haven't spanked any of them as badly as they spanked WMU. That's got to count for something.
This game wasn't on TV, and with no game film to look at, I'm forced to go on memory and do an analysis that is more statistics-based. There's nothing wrong with that, because statistics often provide us with great insight into a game, so we'll dabble a little in the numbers, and see what they say.
Let's start by looking at those young receivers.
Royal, Hyman, Harper, and Morgan
Tech's quartet of freshmen wide receivers caught 11 of the 12 receptions by wide receivers – Richard Johnson had the other – and they scored both of the TDs thrown to wide receivers, with Eddie Royal catching a 35-yarder and Justin Harper turning a short catch into a 34-yard TD. Royal added another TD on a reverse, and Josh Hyman turned in the longest pass reception, a 42-yarder that started as a short out pattern but was turned into a long gainer when Hyman spun, lost a shoe, and broke away from the defense.
Morgan, who didn't even play against USC, caught his first two passes of the season, a 10-yarder from Bryan Randall and a 21-yarder from Sean Glennon.
Hyman caught 4 passes for 89 yards, Royal 2 for 67 yards and a TD, Harper 3 for 57 yards and a TD, and Morgan 2 for 31 yards. 11 receptions, 244 yards – an eye-opening 22.2 ypc – and 2 touchdowns. If Virginia Tech can get that from the receiving corps every game, they'll take it.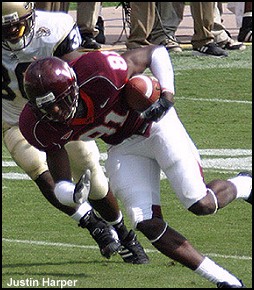 But how good of a performance was it? Fans see the highlight plays and the touchdowns, and they note that there were no drops, and they are impressed, but do the receivers do the little things? Do they make the right reads? Do they block well? Do they play a complete game? These things are harder to see.
In reviewing receivers coach Tony Ball's comments on BeamerBall.com, the answer is that while the freshmen turned in some good plays, their overall performance wasn't impressive. Ball gave the grades each receiver got, and the highest grade, a 76, came from Johnson. The other grades Ball handed out were less than impressive, to put it mildly, and a couple of them were even frightening. Remember, he's looking at how the players execute their assignments on each and every play, not just whether or not they dazzle the crowd with a nice catch or a nice run.
The freshmen receivers out-talented Western Michigan and showed that they can make plays, but in a tight game against a quality opponent, they are still at a stage where they can be a big liability. That's not a surprise, and from that standpoint, it's good that they got a lot of work in Saturday's game. They now have a lot of film they can review with Coach Ball.
One guy who didn't get any work, much less a lot, was Chris Clifton. Clifton, after dropping a couple of passes against USC, didn't play a single down against WMU. That doesn't mean Clifton will be in the dog house for good, and his pine time Saturday may have been injury-related, as he has been dealing with a hand injury. As a redshirt junior, Clifton knows the offense better than the young guys, and as the season continues and the skill level of the opponents increases, his knowledge becomes more valuable.
Speaking of Clifton, a big concern is how Richard Johnson and Clifton are handling the influx of freshmen who are taking their playing time. There were some encouraging quotes on that subject from a Sunday Roanoke Times article titled Beamer counts on frosh receivers:
Both Hyman and Royal credited senior Richard Johnson and junior Chris Clifton - the veterans who lost their starting jobs to the young upstarts - with preparing them for the game.

In fact, Clifton and Johnson pulled the receivers together moments before the team left a Roanoke hotel and headed to Lane Stadium for last minute instructions and a pep talk.

"We look up to those guys," Royal said. "We knew it was going to be a group effort."
It's good that Johnson and Clifton showed the class and teamwork to work with the young guys and get them ready, and if Clifton's lack of playing time was injury-related (which I suspect it was), then it shouldn't cause any problems.
QB Play
Bryan Randall continued his habit of shredding inferior teams. He was 15-of-21 for 253 yards, exceeding the highly desirable 10-yards-per-attempt threshold. He was sharp, he was accurate, and he stayed in the pocket and finished plays instead of bailing. The best example of this was his TD throw to Royal, a 35-yarder in which Randall was flushed up into the pocket, reset himself, and fired a bullet to Royal.
The Hokies barely ran the option in this game, if at all. Randall had a 1-yard run on Tech's third possession, and if memory serves, it was an option, which Randall (as usual) kept. His only other "rushing" attempt was a one-yard sack he suffered when the Hokies failed to pick up a blitz. Instead of running a lot and being forced to scramble a lot, Randall stayed in the pocket, as the Hokies worked on the passing game and the tailback rushing game.
Randall's biggest black mark in this game was a what-was-that interception that he fired to WMU linebacker Paul Tithof, a head-scratcher that left Hokie fans wondering what Randall was thinking. (But with the field populated with freshman wide receivers, it's possible that Randall was thinking the right thing, while a freshman receiver was out to lunch mentally, running off into the weeds somewhere. Don't always blame the QB.)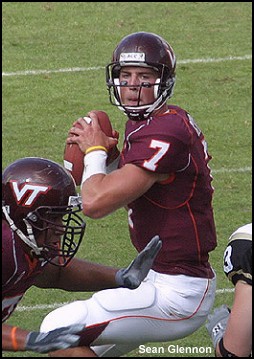 So Randall once again torched a lightweight team, as he did last year against UCF in the season opener (22-of-28, 278 yards, 3 TDs, 0 INTs). The true test of Randall's progress as a QB will come later, as the competition improves.

Sean Glennon officially took of

f the redshirt with 2:57 to go in the third quarter and the Hokies leading 35-0. After making three straight handoffs, Glennon stood up and fired a short pass to Harper, who turned it upfield for a 34-yard TD, giving Glennon a touchdown on his first college passing attempt.

Okay, he didn't exactly "fire" it. While the pass was accurate, it was rather wobbly. Freshman nerves will do that to you.

However, Glennon looked anything but nervous. He has been practicing with the Hokies for less than six weeks – think about that – and he ran the offense, what little of it they tasked him with, with poise and confidence. He got the team in and out of the huddle, got the ball snapped in time, didn't line up behind the guard, didn't fumble the snap, handed off cleanly, and delivered his passes with good form and accuracy. Those are not easy tasks for a true freshman quarterback this early in the season.

After Glennon's first wobbly pass, his others were tighter, culminating in a 33-yard pass to redshirt freshman tight end Duane Brown. All in all, a great effort from a true freshman. Compare that with Randall's first effort against UConn in 2001 (5-of-10 for 56 yards) and with Cory Holt's effort in the 2004 spring game (2-of-4 for 9 yards, and he tripped and fell backpedaling into the pocket on one attempt).

Let's not anoint Glennon the next star at quarterback for Virginia Tech, but it was a very promising debut, and he does appear to have the football sense that QB coach Kevin Rogers spoke of in the early fall. Glennon has put some space between himself and Holt, and if he plays more in the weeks to come, the gap will widen. Frank Beamer has favored more mobile QBs like Holt over pocket guys like Glennon (though Holt is no Vick or Randall when it comes to running), but Glennon may reverse the trend.

The Defense

The Hokie defense played with intensity and got the shutout, a well-documented third straight shutout over WMU. They fought off three solid WMU scoring attempts – my game recap was incorrect when it said WMU had just two good scoring chances; they actually had three – turning the Broncos away after they had first and goal at the 2, first and goal at the 10, and 4th and 5 at the 16.

Statistically, it wasn't one of the most impressive games the Hokie defense has had. They gave up 272 yards, including 109 rushing on 31 attempts (3.5 ypc); the WMU QBs were 26-of-39 (66.7%); WMU held the ball for 32:25; WMU was 5-of-9 on third downs in the first half; and the Hokies only had one sack.

But on the positive side of the ledger, WMU averaged a paltry 4.2 yards per passing attempt and just 6.3 yards per completion; the Broncos converted just 1-of-7 third downs in the second half; and WMU only got inside the Tech 40-yard line the three times mentioned previously.

In one of the true barometers of the impact of a defense, the Hokies knocked two key WMU offensive players out of the game, including starting QB Blayne Baggett and starting tailback Trovon Riley. Baggett was out of the game with a rib injury after taking an early shot, and Riley spent an entire half out of action after getting knocked silly on WMU's second series.

In their 1990's heydays, the Hokies used to send opposing players limping and wobbling off the field on a regular basis. It's something that's been missing in the last couple of years. Backup QB Ryan Cubit, the same Cubit who threw six interceptions against the Hokies in two games as Rutgers' QB in 2001 and 2002, had a keeper of a quote after the game:
"When a lot of teams hit you, you kind of bounce off. When they [VT] hit you, they drive you into the ground, and sometimes you feel like you're kind of imbedded into the grass."
VT kept good pressure on the QB, despite the lack of sacks. They only had one sack, but the fact that WMU had such a low yards-per-completion stat tells you that they were throwing the short stuff, quick hitters and three-step drops.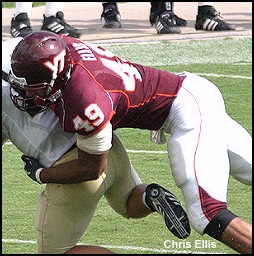 That bend-but-don't-break action is straight from some successful Hokie defenses of the past. The 1995, 1999, and 2001 Hokie defenses were known for strangling the life out of an opponent, but before that, back when the Hokies ran the wide-tackle six and ran it well in the late 80's and early 90's, they were known for bending but not breaking.
One of the most impressive players to me on this defense is redshirt freshman defensive end Chris Ellis. Ellis, out of Bethel High School in Hampton, was the #4-rated player in the state by TechSideline.com in 2003, and he was ranked as the 66th-best player in the country on SuperPrep's Elite 100 list. He hurt his shoulder shortly after arriving at Tech in the fall of 2003, which slowed his progress through his redshirt season, and then he earned some praise, but not rave reviews, in the spring and early fall.
But when Ellis is in the game, you notice him. He doesn't give up on plays, pursuing ball carriers with the same persistence that Cornell Brown and Corey Moore both had. Ellis is very energetic, and if he keeps progressing like he is, he could be a great one. The Hokies were only credited with three QB hurries Saturday, and Ellis had two of them, plus a tackle for loss. His emergence makes it easier for the Hokie coaches to leave Jim Davis at tackle, while Ellis, Darryl Tapp, and Noland Burchette hold down the end spots.
Quick Hitters
It's easy to see why the coaches are excited about the potential of tight end Duane Brown. On his TD reception, Brown showed soft hands and nifty footwork. If he can get the offense down and continue to improve his blocking, he could be a great one.
Speaking of the tight ends, they now have 7 receptions on the year, almost as half as many as they had last year in 13 games (16 catches). In addition to Brown's TD catch, Jeff King had one catch for 12 yards.
While it's true the Hokies gave up 109 yards rushing, 41 of it came on one play. If you play the game of "take away that play," the Hokies gave up 68 yards on WMU's other 30 rushes (2.3 ypc).
Playing that game in reverse: Justin Hamilton and Cedric Humes had 22 carries for 92 yards (Humes: 10 carries, 51 yards; Hamilton: 12 carries, 41 yards). But if you take away Humes' 21-yard TD run – a nifty jaunt – they only had 21 carries for 71 yards. That's 3.4 yards per carry, which is not bad against Miami, but not what you're looking for against Western Michigan. John Candelas led the Hokies with 10 carries for 52 yards.
Burns watch: Vinnie Burns punted twice for a 48.5 yard average, bringing him to 7 punts with a 46.6 yard average on the year. The VT record for punting average in a season is 45.1 yards per punt by Jimmy Kibble in 1997 (Kibble got a lot of practice punting that year, yuk-yuk).
Bryan Randall is still fourth on VT's career total offense list, with 5,747 yards. Barring injury, he should pass both Will Furrer (5,782 yards) and Don Strock (5,871 yards) against Duke this coming weekend. Maurice DeShazo is #1 with 6,105 yards.
If you thought VT's last two kickoffs were short and disappointing, fear not. That was the backup kickoff man, Jud Dunlevy (#83). Primary kickoff man Jared Develli (#98) continues to impress with three touchbacks in seven kickoffs, and two more inside the 5-yard line. One of Develli's other kickoffs came from the Hokie 20 after an unsportsmanlike conduct penalty against the Hokies, and Develli kicked that to the 12-yard line. Of the four Develli kickoffs that were returned, WMU averaged 18.8 yards per return, an acceptable number. WMU returned Dunlevy's two kickoffs for a total of 60 yards (25 yards and 35 yards).
Tech punted twice in the first quarter, but after that, nobody stopped the Hokies but the clock and themselves. In Tech's last 10 possessions, they scored 8 touchdowns, had the clock run out on them (end of the game), and threw an interception. Of course, two of those 10 "possessions" were Jason Lallis' fumble return for a touchdown and Brandon Flowers' interception return for a touchdown.
Speaking of possessions, here's a statistical oddity: when WMU missed a field goal to end the first half, the box score showed that VT took possession with 0:00 left on the clock, and the first-half clock ended VT's possession. So while Tech never actually lined up and did anything with the ball, it counted as a possession for them. (In the previous bullet point, however, I didn't count that as a possession.)
Conclusions
You really can't ask for much more than what you got on Saturday: a huge win with good execution in all phases of the game. That's what you would ideally like to see against a bad team like Western Michigan. The defense could have clamped down a little tighter from a yardage standpoint, but zero points is zero points.
The Hokies got important repetitions for their freshman receivers, true freshman quarterback and their backup offensive line, which entered the game in part in the third quarter and then was substituted in entirely in the fourth quarter. And lastly, they suffered no major injuries (backup rover D.J. Walton is out 2-3 weeks with a broken thumb, ouch). It was a good day all around.
It was the type of game that highly-rated versions of the Hokies have produced in recent years against teams like Arkansas State (63-7 in 2002), UConn (52-10 in 2001 and 47-13 in 2003), and Rutgers (50-0 in 2001). But the reaction from the Tech fan base is different this time, more subdued, because Hokie fans have learned from the past three seasons that knocking the snot out of a lightweight opponent is a good workout but means little else.
On the surface, beating a team 63-0 is remarkable. No Hokie team has beaten anybody that badly since Tech pasted Catholic University 73-0 in 1922. But all it really means is that the team continued to fine tune its game and get some valuable game reps for young players that needed it. Heading into the ACC opener against Duke next week, that's about all you can ask for, but the season is long and could take many twists and turns in the months ahead.