ESPN25: How Ordinary Hokie Fans Became Stars
by Jim Alderson, 9/8/04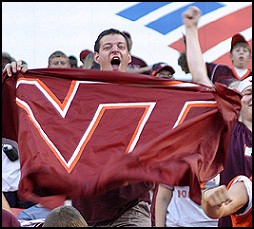 Naturally, all they showed of Tech was the McNabb pass. With my football-viewing holiday weekend marathon brought to a premature end by the RUTS applied by Frances to Florida, I found myself Monday night watching the ESPN 25th anniversary special. Although I would much rather have been observing whether Miami could make it six in a row over FSU, that has been put off for a bit. So, the homage paid itself by the Total Sports Network it was. More on ESPN later.
A chance to spend a long weekend zoned out in my recliner watching football on the tube is not going to come along again for a while. Over the next six weeks there are going to be six football Saturdays spent in stadiums, five in Lane and the jaunt down to Winston-Salem. I took advantage of the opportunity to observe, again, that other schools also play football.
Things kicked off Thursday night with Texas A&M playing at Utah. It is hard to believe that the Aggies were actually ranked when they came to Lane last year. Things have been heading straight down for aTm ever since, and their pounding at the hands of Utah looked a lot like rock bottom. The Wrecking Crew sure ain't no more.
Friday night brought us Washington State at New Mexico. I would assume there were people somewhere out West that actually were interested in this game, but I wasn't one of them. A scoreless first half had me sifting through my stack of DVDs. Clint Eastwood gunned down Angel Eyes around the time Washington State put away New Mexico.
Saturday's noon slot brought practically nothing in the way of interesting football. Hopefully the new ACC television contract will no longer cause viewers to be subjected to Oklahoma pounding some MAC dog. Considering the alternatives were the Hoos adding another nail to Temple's I-A football coffin or yet another MAC team getting waxed by Wisconsin [the networks sure get whatever contractual obligation they have to the MAC out of the way quick], I found watching Frances descend on Florida more compelling television. The plucky Florida residents were putting up a much better fight than were any of the noon football losers.
At 3:30 things got more interesting, as our conference got into high gear. Wake Forest and Clemson put on quite a show, with the Deacons again showing why Tech's October 9th trip to Groves Stadium scares me and why I consider Jim Grobe the ACC's best coach. That is one tough bunch to beat.
The prime time Saturday game was Oregon State at LSU. ESPN's Ron Franklin and Mike Gottfried are certainly seeing some excellent games to kick off this season. LSU escaped with the win, mostly because they got an SEC crew that had much different ideas about defensive holding in the secondary than what we saw last week. Where were these guys when Tech needed them?
Thirteen hours of Saturday college football television viewing ended on a high note around 1 AM as Notre Dame lost to BYU. The Irish usually wait until after the Michigan game to write off yet another season, but not this year.
The games picked right back up on Sunday, with the first offering looking a lot like the opening performance of the Paul Pasqualoni Farewell Tour. Li'l E Commissioner Mike Tranghese recently stated that teams from the weakened Li'l E would need to beef up their OOC schedules to compensate for their weakened situation, and that is exactly what the Orange did. With bad losses at the hands of Tech and Miami no longer available, Syracuse went right out and found a team from the Big 11 to RUTS them. I'm sure this is what Tranghese had in mind.
Sometime between the time Louisville was polishing off Kentucky yet again and Tennessee showed that you can indeed succeed with a true freshman at quarterback as long as you are playing a team from the Mountain West, Fox Sports Network snuck in a game. The only noteworthy item from Fresno State blasting Washington was the Fox announcers referring to Fresno State as a "baby Virginia Tech." What did that make Washington?
The football picking were quite slim on Monday. The only game available was Nevada at Louisiana Tech. It took about a half before the thought of "Why am I watching this?" popped into my head and I chose to watch the Baltimore Orioles knock off the Twins. You have to draw the line somewhere, and with me it is a couple of WAC teams.
There would have been the clash between future Li'l E titans Pitt and South Florida, but it had been postponed. This game did not quite carry the impact of the ACC's Florida State-Miami offering. I probably would not have watched it anyway, since I had something else planned. During the time the Pitt-USF game was not played I dragged my grill out of the garage and prepared some grilled octopus. This was a test run for that time during the season when I plan on discovering just how open are the minds and taste buds of those with whom I tailgate. It turned out pretty good, too, not bad for the first time I have ever followed a recipe that began with 'drain the ink.'
After my experiment with exotic tailgate fare I was ready to watch the FSU-Miami game that was not being played. That led me to the ESPN special. The shot of the McNabb pass aside, it was fairly interesting stuff. My favorite part was the look at the 'This Is Sportscenter' commercials. The Y2k spot that ended with a deranged-looking Charley Steiner exclaiming, "Follow me. Follow me to freedom" still cracks me up. As the show went on, however, and Chris Berman became more and more heavy-handed in ESPN's patting of itself on the back, I began to think about what was not mentioned during the show: the impact ESPN has had on Virginia Tech football. There have been numerous factors involved in Tech's rise in football stature over the last decade-plus, and ESPN ranks right up there. Tech football and ESPN have turned into good bedfellows.
ESPN, more than any other network, does an excellent job of incorporating the crowd into the game. In the process over the years, they have made stars of two sets of fans, those at Duke's Cameron Indoor Stadium and Tech's Lane Stadium. These are the two venues that have become closely identified with ESPN. Whether it is Dick Vitale gushing over the Cameron Crazies or Mike Tirico marveling at Tech fans filling Lane during a hurricane, the fans have become very much part of the show, providing great theatre.
From Tech's standpoint, its love affair with ESPN, and vice versa, can probably be traced not to the Hoo game of 1990 but the first prime time Thursday night game in Lane, in 1994 against West Virginia. That was the first showcase in what has become a staple of ESPN and a source of renown for Tech, the night game atmosphere at Tech. A large and raucous crowd provided a great television backdrop for Tech's 34-6 thrashing of WVU. Obviously ESPN executives liked what they saw, because they have been back a bunch of times since.
Virginia Tech in 1999 became ESPN's team. The network televised three Tech night games, against Clemson, Syracuse and Miami. Those telecasts played a huge role in raising Tech's national profile and creating the buzz that enabled poll voters to continually vote Tech higher and higher in the rankings. A sensation was created and the Tech fans that packed Lane and created such a terrific football environment became stars right behind Michael Vick and Corey Moore. A relationship has been created between Tech and ESPN that is still going strong five years later, including last year's Miami game and most recently demonstrated at Fed Ex. The Tech football program might not be nearly what it was in 1999, but the fans are.
It was interesting to note during my weekend of marathon football-viewing that there were no stadiums shown that matched the intensity of what is now routinely seen at Lane and was observed two weeks ago at FedEx. That includes the two prime-time games from the renowned SEC stadiums at LSU and Tennessee.
As we prepare to kick off another home season, it is worth noting, again, that Lane Stadium is a very special place with very special fans. As ESPN celebrated 25 years as an entity, it is also worth noting that the sports network has played a large role in the rise of Virginia Tech football.