The Real Winners
by Jim Alderson, 9/2/04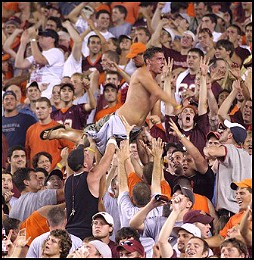 Florida and Georgia, eat your hearts out. The 2004 and presumably last BCA Classic was notable for a number of things. It was the last of the so-called preseason games, at least until the NCAA gets around to re-instituting them. It set an attendance record for the freshly-expanded FedEx Field. It was the largest crowd the Tech football or any other team had ever played in front of. The 75,000 or so Tech fans on hand constituted the largest gathering of Hokies in any one place.
The game demonstrated that perhaps pundits were a little quick in writing Tech off in football, along with an early lesson to USC as to exactly why there have been so few repeat winners of the MNC. And considering the extensive tailgating activities that took place in the expansive FedEx parking lot, it would seem that the designation of the annual Florida-Georgia game in Jacksonville as the World's Largest Outdoor Cocktail Party is no longer. The almost 92,000 at the Tech-USC game sure makes the 73,000 that gather at Alltel Stadium seem like a hoot.
The new World's Largest Outdoor Cocktail Party was just that, too. Aside from those USC fans in the neighboring RV to the one populated by our group, an upscale group of Trojans whose catered tailgate gala featured linen table service and a bartender, I do believe there was enough alcohol flowing both outside the stadium and in, despite the ludicrous price tag slapped on those FedEx beers for Virginia Tech and the fans of whatever the Trojans are calling themselves this weekb to lay claim to the title [those who experience difficulty breathing and reading run-on sentences at the same time can now exhale]. We might not have won the game, but the overwhelmingly pro-Tech crowd certainly was the largest neutral-site gathering for any college football game not called the Rose Bowl. Take that, Jacksonville.
While the Trojans did slink out of Landover with a zebra-assisted victory, the real winners last Saturday were the Tech fans. 75k popping out of the NOVA suburbs, the Roanoke and New River Valleys and points south and southeast of DC was an astounding example of the fan support given to the Virginia Tech football team. It was truly remarkable. This from a bunch of fans who had been told all summer that their program was one in a downward trajectory and they would lose this game badly. So? The Tech team might have proven to be an underachieving lot the last few years, but that mattered little to the Hokies who jammed Maryland hotels from Bethesda to College Park over the weekend. All of the Tech fans weren't from NOVA, something I couldn't help but notice Friday as we joined that caravan of vans and SUVs heading north on I-81 and then east on I-66. Let me tell you, there were a bunch of vehicles adorned with manifestations of Tech fealty on those interstates. The DC economy could use more games involving so-called 'declining' teams and its fans.
Many will recall that there was lot of pre-ACC expansion blather about how Tech brought nothing to the conference table. There sure was a lot of nothing roaming around the Maryland suburbs of Washington Friday, Saturday and Sunday morning. Contrary to the drivel spread by certain know-nothings, the Washington market was rather emphatically claimed as Tech territory. I suspect the television ratings weren't too bad, either.
During the expansion wars, I had several conversations with Duke buddies. A point I kept making was that Virginia Tech would teach people in this section of ACC geography how to become football fans. It took all of our first game as ACC members for that to be displayed in spades, or droves, as it were. A newspaper article from last week featured the promoter of the BCA Classic. He related that when the game was first scheduled he had hoped for a crowd of around 60k. Obviously he had the Tech fans confused with those of Maryland or the Hoos, which is about what the game would have drawn had either of those support-challenged teams participated. There was no other school in the ACC that could have placed that many warm bodies in FedEx last Saturday night. That fact will be lost on few decision-makers in college football.
I would imagine that a very interested observer of the game was Maryland Athletic Director Debbie Yow. There has been talk that perhaps the Tech-Maryland game could actually grab the World's Largest Outdoor Cocktail Party title on a regular basis by being played at FedEx. That seems doubtful, as in these days when Tech needs every nickel it can scrape together in order to field competitive ACC teams, it seems highly unlikely that our AD will give up the revenue from a game in Lane. Plus, Maryland will be in the opposite ACC division for us, at least during the early years, and the game is not planned to be an annual one, at least until they get around to changing the divisional alignments to a more logical geographical configuration, which I suspect they will shortly after an ACC football championship between Miami and Florida State draws around 35,000 fans in Charlotte. But that is down the road a ways.
What seems far more within the realm of possibility is Maryland moving a home game with Tech to FedEx. I imagine Ralph Freidgen would scream bloody murder at the idea of playing a 'home' game in front of a crowd consisting of at last fifty percent fans of the opposing team. Ms. Yow, however, charged with paying the bills for the Maryland athletic programs, could very possibly compare the numbers of FedEx seats that would be filled by Hokies to the numbers available in the smallish Byrd Stadium and decide that her budget could use the infusion of cash.
ACC Commissioner John Swofford now has another huge chip to play when discussions get under way for new bowl contracts. You can bet your VT car flag that the huge Tech throng that descended on Landover was noticed by bowl organizers. Swofford's job of securing more bowl tie-ins for our conference just got a lot easier. Are you sure you would have rather had Syracuse, John?
It's bound to cross somebody's mind in the future that perhaps FedEx would not be a bad place to stage a bowl. That miserable heat and humidity we experienced while tailgating last Saturday afternoon would not all be gone by late December, would it? Even if it was a bit chilly, it wouldn't be much worse than the cold, sleety December night I remember spending in Nashville in 1998. A bowl in Washington would certainly make more sense than the goofy Little Apple one being proposed by the Li'l E. At least the stadium is not a figment of someone's imagination.
The record books will show that Virginia Tech lost to USC in the 2004 BCA Classic. Yes, it stings, because this was game Tech could have and perhaps should have won. That's the way it goes in football sometimes. In the overall scheme of things, however, there will be positive results. The Tech team will improve on the experience of battling the nation's top-ranked squad toe-to-toe. There will be more to it than that. Tip your Tech hats to yourselves, Hokie fans. Creating a new World's Largest Outdoor Cocktail Party in the long run will make Virginia Tech and our new conference a winner.