BCA Classic Game Analysis
by Will Stewart, TechSideline.com, 9/1/04

Click here for TSL's game recap with stats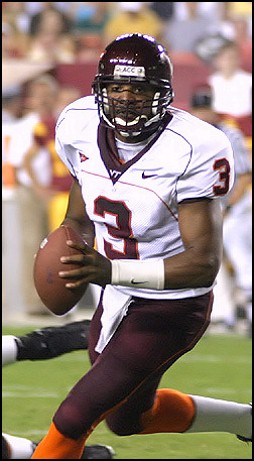 Coming into this game, I thought there were several trends that would manifest themselves. I thought we would see increased effort and enthusiasm from the Hokie defense, and I felt that it would keep the game close. But I figured that in the end, VT's youth would be their undoing, and USC would pull away late, either from their own undeniable talent, or costly mistakes by the Hokies.
I predicted 31-14, USC, and for the most part, I was right. I was one TD short for USC and one point short for VT. I can't say that I was surprised by anything I saw, but I did think there were a lot of encouraging signs for VT to build on from here on out.
It turns out that the "one for all, all for one" mantra that ran through the comments made by the team and the coaching staff since last season wasn't just whistling past the graveyard. This team really is together, really is playing hard, and really does get the importance of "TEAM" over "me."
Can a coach (Frank Beamer) return a program to its roots? Can chemistry be created simply by wearing T-shirts with catchy slogans and talking a lot about it? The answers, based on this one sample of data, appear to be "yes" for both questions. Sure, there's lots of testing yet to be done (games to be played), but something's definitely different.
While there were encouraging signs Saturday night, there were also some of the same old bugaboos that led to Tech's downfall in this contest. Blown assignments on defense cost the Hokies. After both teams showed their game plans and the opposition adjusted, the Hokies failed to counter those adjustments. And once again, in a trend that is disturbing since the year 2000, the Hokies found themselves in a one-score game and failed to come through in the clutch yet again, despite the presence of a senior quarterback.
The Effort Was There
The first thing we found out Saturday night is that the heart and soul of Virginia Tech football, its fan base, is still intact. Despite the late-season swoons of the last three years, the VT football fans continue to be a collection of nutjobs who respond to the call of duty at full throat.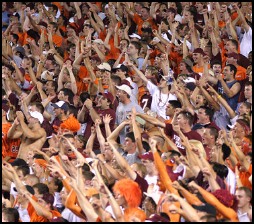 Anecdotal evidence of the intensity and size of VT's fan showing at FedEx Field is plentiful: Redskins season ticket holders saying they've never heard FedEx that loud; USC fans remarking that Hokie fans are a different type of fan than what they're used to seeing; the pre-game comments of ESPN analysts Mark May and Trev Alberts, who were positioned on the field, being completely drowned out by Hokie fans as the team ran out of the tunnel to "Enter Sandman."
Hokie fans can still bring it. This program continues to mature, and the fan base continues to push, press, and get behind the team.
On the field, I watched to see if the all-out defensive effort that had been missing the last few years had returned. Remember back in the '90's, if you could see a VT defender on your TV screen, he was going after the ball carrier full tilt, with his tongue hanging out? Runners and receivers often ended up at the bottom of a pile of 6-8 Hokie defenders.
The last few years, that effort and intensity was gone. It wasn't unusual to see a Hokie defender running alongside a play, watching as a teammate or two made the tackle. Or you might see a Hokie defender still standing bolt upright as a ball carrier was tackled at his feet. (In the old days, if you were a Hokie defender and you were close enough, by God, you piled on.)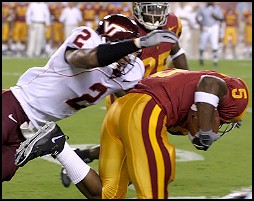 But on Saturday, they looked crazy again. They swarmed. They attacked. Sure, they made mistakes, but the effort was there. I saw defensive end Darryl Tapp make a tackle 23 yards downfield on a play that went to the opposite side. I saw Chris Ellis slash from off-screen to make a tackle on a play that had passed him by at least five yards. I saw defensive tackle Carlton Powell pursue Matt Leinart clear across field, then dive at his feet as he ran out of bounds. And I saw Powell's fellow redshirt freshman defensive tackle, Kory Robertson, accelerate out of traffic and make a tackle ten yards downfield.
Those are all examples of hustle plays by the defensive line, but I thought the linebackers and DBs hit hard, too. James Griffin tackled strong in the open field. Eric Green played like a man possessed. And Xavier Adibi, prior to his injury, showed great speed and range.
With the talent levels on so many teams in college football being so close, effort will get you far, and Saturday night, the Hokies got effort from their defense. That effort may make the difference in a season in which the ACC has a big crowd of similarly-talented teams bunched up in the middle of the pack. At the end of the season, the difference between NC State, VT, Virginia, Maryland, Clemson and Georgia Tech may simply be effort, and if the Hokies play as hard as they played Saturday night for the rest of the year, they'll do well in the ACC this year.
Hokies Rattle the Trojans
USC was rattled the entire first half. The Trojans had two delay of game penalties in the first half, had to call a timeout due to confusion on their last drive of the half, and generally struggled with getting in synch and getting plays off.
At one point, I saw Matt Leinart trot over to the sidelines to discuss something briefly with coach Pete Carroll, and then Leinart started towards the USC bench. There was one problem -- it was third down USC, and Carroll waved Leinart back onto the field. Somebody's head wasn't in the game.
"The first half, I was a little shaky," Leinart admitted after the game.
The Trojans were caught off guard by the ferocity of VT's defensive effort. Several times, VT defensive backs popped USC receivers on crossing patterns. Eric Green picked Reggie Bush up and slammed him to the turf.
Offensively, the Hokies got a lot of mileage out of Bryan Randall's legs in the first quarter. Randall had 87 yards on six carries. Some of those carries were option keepers, including a nifty new play in the VT playbook where Randall fakes the handoff into the line and then runs the option with a wide receiver as the pitch man. Some of those carries were designed QB keepers. Some of those carries were scrambles out of the pocket.
In the passing game, though, Randall was only 1-of-8 with an interception in the first quarter. Two of his incompletions were dropped passes by Chris Clifton. Clifton emerged as a leader in spring and fall practices, but in this game, he dropped two passes early: a short pass on VT's first possession, then a pass that would have gone down to USC 16-yard line on VT's second possession.
In the second quarter, which started with VT trailing 7-3, Randall got the offense clicking. He completed five straight passes in what was essentially a one-possession quarter for the Hokies. (Their second possession of the second quarter ended as they ran out the clock with two running plays.)
That one possession was a good one, going 80 yards in 10 plays. On the drive, Randall completed five passes for 65 yards, spreading the ball out to the tight end (Jeff King, 2 catches, 29 yards), the wide receivers (Richard Johnson, 1 catch for 16 yards, and Josh Hyman, 1 catch for 12 yards), and the fullback (John Kinzer, 1 catch for 8 yards).
The Hokies only needed to convert one third down on the drive, and that drive put them up 10-7 and put the Trojans on notice that they were going to have to play the full 60 minutes.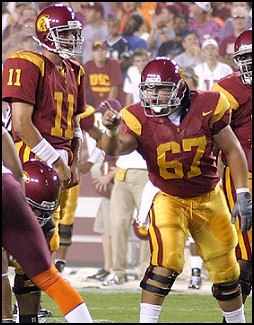 Trojans Come Back With Half Time Adjustments
As expected, USC made some adjustments at half time to straighten out the problems they were having with VT.
Offensively, the Trojans quit messing around and went to their star player for the night, Reggie Bush. For some reason, USC threw a ton of passes in the direction of true freshman wide receiver Dwayne Jarrett in the first half, and Jarrett did not come through, dropping a few and just generally failing to run crisp routes and get good position.
In the second half, the Trojans got the ball to Bush more. They worked the VT defense and got mismatches for Bush and wide receiver Steve Smith, exploiting those matchups for big plays. First Bush used his speed to burn Jimmy Williams on a bomb for a 53-yard TD, and later on, Smith blew past whip linebacker James Anderson and hauled in a 46-yard pass. The Trojans followed that up on the next play by isolating Bush on linebacker Blake Warren on a wheel route, and Bush beat Warren, who tripped, for a 29-yard game-sealing TD. (More on that later.)
USC did a much better job in the second half of shading Randall and shutting down Randall's running game. Randall had 8 carries for 96 yards in the first half, but in the second half, USC turned up the pressure and sacked him three times. Randall finished with 17 carries for 82 yards, which means his second half totals were 9 carries for -14 yards.
Without Randall's feet working, the Hokie offense struggled in the second half. The same unit that gained 11 first downs and 207 yards in the first half was held to 7 first downs and 87 yards in the second half, including an anemic 29 yards in the fourth quarter, with just 4 yards in their last three possessions.
Randall continued his hot passing from the second quarter into the third quarter, hitting his first two passes for 26 yards. He hit his eighth straight, a 32-yarder to Josh Hyman, but that was negated by a pass interference penalty on Hyman.
At that point, Randall was 8-of-15 for 110 yards, and he would go just 6-of-14 for 43 yards the rest of the way.
Did I mention that pass interference?
The Phantom Call That Changed the Game
When Bryan Randall dropped back to pass late in the third quarter and threw it strong down the left sideline in the direction of Josh Hyman, the Hokies had USC on the ropes. Tech was leading 10-7 and had only given up one score in USC's first six possessions. They had started on their own 6-yard line and had moved out smartly to the Trojan 44 when VT offensive coordinator Bryan Stinespring went for the throat.
Randall threw it short, and Hyman snuck in front of USC cornerback Ronald Nunn and hauled it in on the Trojan 12 yard line. USC was in deep trouble.
Flag. Offensive pass interference, #19.
The players put on a brave face after the game, giving all the usual canned quotes about how one play doesn't determine the outcome of the game. But there's no question that VT sagged after that. Forced into 1st and 25, the Hokie drive fizzled, and they punted.
With 2:36 to go in the third quarter, Reggie Bush caught a 59-yard Vinnie Burns punt on his 5-yard line. 41 seconds later, USC scored to take a lead they would never relinquish.
"I think thatís a big question mark," Hyman said of the call. "I disagree with that call. I didnít ask no questions. Just get back in the huddle, get ready for the next play. I adjusted to the ball well, got it at the highest point, came down with it."
"You can never blame the game on a call or on officials," Justin Hamilton said. "You have to be able to fight through that."
Darryl Tapp: "It did [change the game], but it comes back to us, we gotta concentrate and refocus, and we didnít do it as quickly as we need to do it."
No one knows what would have happened had the referees not called that penalty against Hyman. But despite the talk of the players, there's no question the call had a huge impact on the game. And there's no question it was a pretty bad call. The referee who called it was 20-25 yards behind the play, and though it looked at full speed like it might be pass interference, TV replays show that Hyman didn't push Nunn.
Blown Coverages
Reggie Bush had three touchdowns. The first, a 35-yard TD on a screen pass, was the perfect call against the VT defense. The Hokies blitzed Vince Hall and Xavier Adibi, and USC countered with a middle screen. They cleared out the guard and the tackle and they escorted Bush into the open field, where he scored easily. It wasn't really anyone's "fault," just one of those things.
Bush's second touchdown was a 53-yard bomb on which he burned Jimmy Williams in one-on-one coverage. Williams was by himself in coverage, and he failed to get himself turned and go with Bush, and he was beaten badly. Rover James Griffin might have been of some help, but Griffin was lined up ten yards off the ball and pretty far inside. USC didn't execute a run fake to freeze Griffin, or anything like that. To provide help, Griffin would have had to break on Bush's pattern right away. He didn't, Williams was left alone, and Bush blew past him.
On Bush's last touchdown, USC got a mismatch of Bush against Blake Warren. The receiver who was split wide right went to the middle on a pick play, taking Eric Green with him, and in attempting to get over to Bush, who ran a "wheel route" -- from the backfield looping to the sideline -- Warren tripped over the USC receiver. The trip didn't matter. Warren had very little chance of catching Bush.
Once again, Griffin wasn't any help. He probably should have read the wheel route and gone over immediately. That would have been the only chance VT had to stop the play. Griffin otherwise played a solid game, making some great tackles in the open field, but he doesn't yet read offenses quickly enough and get over to help in some situations. In this game, those situations turned into USC touchdowns, including the game-clincher.
In post-game comments on BeamerBall.com, defensive backs coach Lorenzo Ward singled out Williams as a disappointment for giving up the 53-yard TD. Whips and rovers coach Jim Cavanaugh said that Griffin made a critical error on a deep ball down the middle, most likely referring to the 46-yard reception by Smith that preceded Bush's wheel route TD. James Anderson received no deep help on the play and couldn't keep up with Smith.
The coaches expressed their displeasure with Williams and Griffin by elevating Roland Minor and Mike Daniels to co-starter status with Williams and Griffin, respectively. Williams and Griffin will spend the next two weeks of practice fighting for their starting jobs.
Failing to Come Through in the Clutch
The pass interference penalty on Hyman was key, but VT also failed to come through in the clutch late in the game, a disturbing trend since beating Pittsburgh 37-34 on a late field goal in the 2000 season.
Message board poster "AlfHokie" did some research on VT's last six games and came up with the following info:
The following is a breakdown of offensive possessions with the game on the line in crunch time. I defined "crunch time" by any offensive possession in the last 5 minutes of the game where the score was within 8 points.

In the last 6 games, Virginia Tech has had 9 such "crunch time" offensive possessions. In those 9 possessions, VT has scored on ONE drive (OT vs. Temple) and committed FIVE turnovers!

By comparison, Virginia Tech's opponents have had 11 "crunch time" offensive possessions in the last 6 games, and scored on EIGHT drives, while committing ZERO turnovers! That is astounding.
Needless to say, that's a trend that needs to stop now. There are too many blown assignments on defense -- a few are detailed above -- and in this game, there were two plays in a row where the Hokie offense could have come through in the clutch but didn't.
With the score 14-10 USC and the Hokies driving, they faced a 2nd and 11 at the USC 28-yard line. VT called a screen to Justin Hamilton, and it started out very promising. Randall lofted it out to Hamilton, who had some room and an escort, in the person of Jon Dunn and Jimmy Miller. Miller and Dunn both blew their blocks, and USC tackled Hamilton after just a three-yard gain.
On the next play, Randall was flushed from the pocket, and he rolled right, then saw a wide-open Johnson at the 12-yard line. Randall stopped, set his feet Ö and misfired badly. The Hokies kicked a field goal to make it 14-13, but a TD would have been a big momentum builder.
USC scored quickly to make it 21-13, and the Hokies went three and out, as AlfHokie mentioned above. Then they followed that up with two incomplete passes and a Randall fumble with 2:01 to go that iced the game.
With the score 14-13 and 7:55 to go, the Hokie offense in their next two possessions picked up zero first downs, threw four straight incompletions, and fumbled. USC, meanwhile, put together a 5-play, 86-yard drive that included two blown coverages (the 46-yarder to Smith and Bush's 29-yard TD).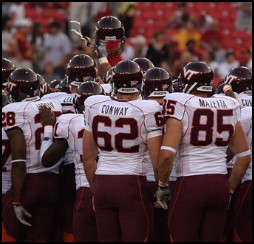 Summing It Up
This has gone on long enough, as I like to say, so let's boil it down.
Why VT almost won:
Good effort and intensity, particularly on defense. The return of VT football.
Good scrambling by Bryan Randall early on.
A nice hot passing streak by Randall in the second and third quarters.
Nice use of the tight ends (5 catches, 87 yards).
Good placekicking (2-for-2 on field goals), punting (45.8 yard average), and kickoffs (Jared Develli boomed 'em).
Good offensive line play against a great defense.
Why VT lost:
Blown assignments/mental breakdowns on defense.
Offense failing to come through in the clutch.
Critical -- and wrong -- pass interference call.
There are other reasons on both sides of the ledger, but those are the biggest ones, I think.
Other Thoughts
I absolutely loved VT's new uniforms Ö except for the orange on the socks.
USC's punter, Tom Malone, averaged 49 yards a kick in 2003. Against VT, he looked terrible, kicking knuckleball after knuckleball. Vinnie Burns outpunted Malone 45.8 yards to 42.8, but because so many of Malone's punts hit short and rolled, USC got a much better net punting average: 40.8 yards to 33.8 yards for VT.
The start of the game was critical. VT only got one first down on their first possession, but then they stopped USC on the Trojans' first possession, which kept the crowd and the Hokies in the game.
Cedric Humes still has a ways to go to recover from his broken leg. At times, he looked downright slow.
Late in the first quarter, the Hokies ran the throw back play to the tight end, where Randall rolls out right and throws back to a tight end on the left. Jared Mazzetta was wide open on the play, deep in USC territory, and Randall didn't see him.
Jim Davis was called for a widely-debated face mask penalty on an early sack. It kept USC's drive alive, but it didn't matter, from a points standpoint (USC missed a field goal on the drive) or a field position standpoint (Tech drove 80 yards on their next possession and scored).
It was odd that USC relied so much on throwing the ball to true freshman Dwayne Jarrett in the first half, including a short slant on 4th and 2 to end the first half. It was wise of them to go to their more experienced players later.
Bush had 2 catches for 41 yards and a TD in the first half, and 3 catches for 86 yards and 2 TDs in the second half.
USC had 93 yards rushing in first half, 8 yards in the second.
Vince Hall about Xavier Adibi's injury: "I didnít know it until halftime, because Chris Ellis told me. I went up to Xav, and he told me he was out for like 6 or 7 weeks, and I was like, ĎCome on man, we redshirted together, weíre supposed to be that 911, youíre supposed to be right there beside me.í I was just like, ĎMan Iím just gonna pray for you until you get better.'"
Justin Hamilton on the performance of VT's offensive line: "As a unit, they were exceptional tonight. [USC] has got 2 All-AmericansÖ.their linebackers run to the ball well, they play hard, they play physical, and our offensive line protected the quarterback all night long except for a few plays, and you canít ask for anymore than that. I thought they played hard, they played well, they fought for me, they fought for each other, they fought for everybody and you canít ask for anymore than that."