Bummin' in the 'Burg
by Will Stewart, TechSideline.com, 8/30/04


Sadly, a rare photo: Xavier Adibi in action in
a 2004 Hokie football game, here decking
USC QB Matt Leinart.
(TechSideline.com)
You've got to understand, after eight years of doing this, I've become much less of a "fan" of VT football and more of an impartial, analytical observer. My emotions over the years have become much more detached. So I was surprised Sunday morning when I woke up, thought of Xavier Adibi's season-ending injury … and got depressed.
Strategically, the loss of Adibi to a season-ending tear of his bicep tendon is huge. There isn't another linebacker in Tech's rotation of Mikes and Backers that has Adibi's combination of size, speed, aggressiveness and intelligence. He will be sorely missed.
The Hokies have lost important players to early-season injuries before. Just last year, defensive end Jim Davis was lost for the 2003 season to a pectoral tear that happened when he was playing golf in the offseason. I remember thinking, "Ah, that's a shame," but I immediately put a smiley face on it by realizing that VT had a couple of experienced DE's already in Nathaniel Adibi and Cols Colas, and Davis would actually be more valuable in 2004 than he would have been in 2003. (One game into the 2004 season, it looks like I'm right with that thought.)
I can't put a smiley face on X's injury, though. Whereas VT was pretty deep at DE last year, X is a one of a kind in the 2004 defense.
But … depressed? When I think of Xavier Adibi being out for the season, why does my heart sink, beyond the usual disappointment that the Hokies have lost a key defensive cog? I thought I was beyond that sort of thing.
I see by looking at the TSL message boards that I'm not alone. One poster summed up my own personal feelings when he said, "I'm more bothered by Adibi's injury than I am the loss." I nodded my head when I read that, and three other posters chimed in with comments like "Amen" and "Me, too."
I confessed my out-and-out depression to my traveling partner Sunday on the way back from the game, and he kiddingly accused me of being in love with Xavier. Nooooo, I don't play for that team (not that there's anything wrong with that, as the old Seinfeld joke goes), and as a matter of fact, I've never even met Xavier face to face.
So what is it?
It's not even the usual disappointment that a young man who has worked so hard got to play a mere one half of a football game before he was cruelly put on the shelf by fate until this time next year. When you're 19 like Xavier Adibi, a year is forever. So I feel for him there. But my own personal disappointment is bigger than simple empathy for a young man I don't even know.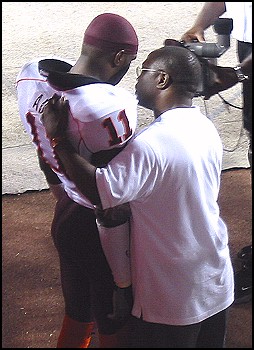 Dr. Abiodun Adibi consoles
his son after the injury.
(Bon Air Hokie)

Sure, I know his family. I have interviewed Nathaniel Adibi for the Rookie Diary series well over a dozen times now, and have shot the bull a couple other times, including one trip out to lunch for some face time. I've even met Nathaniel and Xavier's family, including their father, Abiodun Adibi, a professor at Hampton University whose physical size, or rather lack thereof, doesn't suggest that he could produce two football players the caliber of Nathaniel and Xavier (if that's the case, maybe my own sons, products of their 5-8, 155-pound father, will be good linebackers one day, after all). Abiodun Adibi is a kind man with a gentle, friendly nature. Overall, just a great family.

But that doesn't explain why I'm depressed that Xavier's hurt.

Perhaps you're waiting for me to provide the answer, but believe it or not, I can't. Maybe it's just because there's so much potential there with Xavier, that it's a crying shame to have to wait another year to see it on the field. X is one of those guys that has a presence on a football field. He straps on the gear and really stands out. Some guys just look the part, and Xavier is one of them.

He's got such a cool name: Xavier. Call him X. The X-man. The X-factor. The possibilities are endless, and the pairing of his #11 jersey with Vince Hall's #9 jersey for a "Call 9-1-1" combination at linebacker is just too juicy, too ripe for the plucking, to be true. But it is.

I think that Hokie fans are looking for the next great defensive superstar at Virginia Tech, a guy they can really rally around, and I think they were hoping X would mark that spot. (Argh, it's so … "Roanoke Times" of me to write that way, but I couldn't resist.) VT hasn't had a charismatic defensive superstar since the days of Corey Moore, and fans are breathlessly awaiting the next one. Ben Taylor wasn't that guy, DeAngelo Hall wasn't that guy, but Xavier Adibi, with his cool name, his speak-softly-and-carry-a-big-stick demeanor, and his in-on-every-play position of middle linebacker, was primed to step into that role.

Adibi represented something new and different at VT: a star linebacker. Tech has had some solid linebackers in the last few decades, but their true stars have come from the defensive end spot. Adibi was the first chance Tech had for a high-profile linebacker.

Is that it? Can a guy who had never played a down before Saturday night be looked to as a leader on this defense, and does it feel like the leader has fallen? Maybe there's some merit to that. This year was all about the young guys, and now one of the most visible ones is down for the count.

I don't know. I can't put my finger on it.

Sunday night, I did something I almost never do. I picked up the phone to call Nathaniel Adibi and just chat, to express my sympathies about Xavier and to ask what Nathaniel thought of the game. I like to keep our phone calls mostly business, but this time, I wanted to talk to a member of the Adibi family and let them know how bad I felt for Xavier.

I punched the speed-dial button for Nathaniel's cell number on my basement office phone, and as the numbers scrolled across my phone's display, I found myself wondering if I had just dialed a wrong number. Nathaniel switched cell phones recently, and I thought I had programmed his new number into my phone, but I couldn't remember which was the new one and which was the old one.

So I just hung on the line to see what would happen. The phone rang about four times, and a deep, young man's voice came on and said haltingly, "Hello?" Ay caramba, I thought, I just woke him up (it was about 10:00 at night.)

"Hi, Nathaniel?" I asked.

Pause. "Uh, no," came the reply.

Oops, wrong number. I apologized for disturbing him, said "Thanks, sorry to bother you," and went to hang the phone up and look up Nathaniel's new number. But just before I put the phone on the cradle, I heard the man on the other end say something.

I put the phone back to my ear. "I'm sorry, what was that?" I asked.

"My brother has a new phone number now," he repeated.

The gears in my head whirred. I had dialed Nathaniel's old number, a young man had answered and said his brother had a new phone number now …

"Xavier?" I asked.

"Yes," he said.

A bit taken aback, I introduced myself, told him I had interviewed Nathaniel many times and had met his parents, and I said, "Actually, I was calling your brother to tell him that I'd been thinking about you all day."

I expressed sympathy for his injury and then threw a bunch of platitudes at him about being patient and working hard, and it would be over before he knew it, and he'd be back on the football field.

He said thanks, but little else. After all, what would he say? He didn't know me from Adam (and like I said, I think I had woken him up.) He politely accepted the well wishes, and I said good luck and hung up.

I called Nathaniel, who got a big kick out of the story. "Tell

Xavier I'm not crazy," I laughed, knowing how off-guard I must have caught him.

Later that night, as I watched the film of the game, I saw the final play of Xavier Adibi's redshirt freshman season. It came with 3:43 left to go in the second quarter, and USC facing a 3rd and 1. The Trojans handed the ball off to LenDale White, who ran off tackle left. Adibi came hard from the right, not nearly in time to catch White in the backfield, and he turned to chase him upfield. Running into traffic, Adibi reached out with his right hand and placed it on the lower back of a USC offensive lineman as he attempted to negotiate the crowd.

The camera followed the ball, and Adibi disappeared off-screen left. Then he reappeared, his back to the camera, and then came that moment where he realized something wasn't right. He looked down at his right bicep, more with a demeanor of confusion than of pain. He looked at his arm with an attitude best described as, "What the heck … ?"

Cut to Bud Foster on the sidelines. Foster is shouting at a defensive player, then shifts his gaze slightly to someone still off screen. He waves the person into the sideline, and turns and motions for Tech trainer Mike Goforth to come over, that someone's hurt.

And Adibi walks on screen, his back still to the camera, still looking down at his arm with that look, more confusion than pain. Off to the bench he goes with Goforth.

Such do dreams get put on hold -- his, mine, and yours. Writing about it doesn't make it any better, doesn't clarify it in my mind. A hastily spoken introduction after a wrong number is dialed, followed by a get-well-soon message, doesn't make it any better. Only an operation, recovery, rehab, and endless waiting will make it better.

My guess is that Xavier Adibi will go on to have a very successful Tech football career, and may even make the leap to the NFL, and every once in a while, he'll tell reporters about how an injury his redshirt freshman season, just 26:17 into his college playing career, built his character. He'll say something like, "It was really tough, waiting for a year while my teammates played, but it taught me a lot about myself and about how much I love the game of football."

So in time, things will get better. Till then, I'm depressed. Bummin' in the 'Burg, wishing Xavier was back on the field.