Bringing Down Goliath
by Jim Alderson, 8/24/04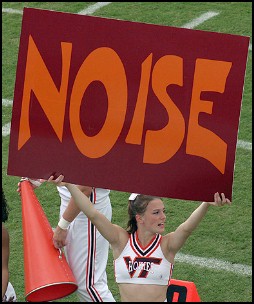 Is there any reason to play the game against Southern Cal? Aside from the obvious one of the large amounts of money that have been collected for the enterprise, it would seem the national media has declared Tech utterly unworthy of challenging the Trojans, or Men of Troy [or whatever they are going by this year in what appears to be an identity crisis last seen by us when some Pitt administrator decreed that Pitt should no longer be called Pitt. I paid no attention to Pittís desire to be referred to as something other than Pitt and will do the same here; sorry guys, youíre still Southern Cal and USC to me].
With the name game out of the way, back to the national mediaís coronation of the Trojans as the next really big thing in college football. According to the media, Pete Carroll has amassed an incredible array of talent, the likes of which has not been seen sinceÖ.. well, sinceÖ. well, golly gee, perhaps ever. Why, Southern Cal might never again lose a football game. The hype accorded to the Trojans is the greatest ever lavished on a football program since the last time it happened, which was last year. In fact, it seems to happen every year.
Southern Cal enters the Tech game and the '04 season ranked number one and holding media-appointed status as the Next Big Thing. Perhaps they are and will dominate college football to such an extent that all other teams will become mere jesters at the court of the Trojans, but history would seem to indicate otherwise. Over the last eight years there have been nine different schools claiming a share of the MNC. Southern Cal holds one-half of a share. Maybe we should just cancel the Orange Bowl and hand over the MNC trophy to the Trojans now, but history indicates that perhaps it would be wise to play the games. It would also seem to indicate that, like military generals preparing to fight the last war, media types prepare to play the previous season. Champions tend to do better in that one.
In 1996 Florida gave Steve Spurrier his only MNC with a 52-20 wax job of Florida State in the Sugar Bowl. The next year the Gators went 9-2 and played in the Citrus. Visor Boyís records after that were 10-2, 9-4, 10-3 and 10-2. The program slipped noticeably under Ron Zook after Spurrier left in 2001.
Nebraska finished its remarkable run of three titles in four years in 1997 by pounding Tennessee 42-17 in the Orange Bowl. The Cornhuskers slipped to 9-4 the following year and, except for 2001 when they were hammered by Miami for the MNC, the program hasnít been the same and are now on their second coach since Tom Osborne retired.
Tennessee rebounded from that Nebraska loss to win the whole shooting match in 1998, beating Florida State in the Fiesta Bowl. The Vols went 9-3 the next year and played in the Fiesta but havenít been to a BCS bowl since, and only one SEC championship game.
Florida State beat Tech in the Sugar Bowl following the 1999 season, winning the MNC. That was the high-water mark for the dominant FSU program. They did make it back to the MNC game the next year, losing to Oklahoma in the Orange Bowl, but havenít been the same since, turning decidedly un-Bowden-ish work sheets of 8-4, 8-5 and 10-3.
Bob Stoops of Oklahoma was hailed as the gameís next coaching genius after his Sooners beat FSU for the 2000 MNC. Stoops has done better than any of the previous four champions, going 11-2, 12-2 and 12-2 and remaining near the top of the polls. Two losses each season can hardly be classified as dominating college football, however.
In 2001 Miami finally made it all the way back and won the MNC by thrashing Nebraska in the Rose Bowl. Anybody remember all of the deafening hype lavished on the Canes the following season? It was not unlike that being received today by Southern Cal. Miami was going to be unbeatable seemingly forever. Forever lasted until next yearís Fiesta Bowl when they lost to Ohio State. Miami went 11-2 last year, including that notable Lane Stadium loss to the same Tech program that is being given no chance against the new fair-haired children from Southern California.
The Ohio State team that made Miamiís MNC stay a short one, like everybody else during recent history, could not follow up, going 11-2 last year. LSU and USC shared the MNC last year, and this year the Trojans are receiving the Los Angeles media-induced pre-season hype. Can they repeat? Sure they can, but history is against them. Nobody else has done it since Nebraska in 1994-95.
The 85 scholarship limit has made dynasties very difficult to build and maintain. Talent is more evenly distributed around the country among lots of teams. It tends to create a lot of very good teams capable in any given year of winning it all but few, and none for going on a decade, of dominating college football to even the extent of repeating as champion. Everybody loses and history indicates that Southern Cal will too.
Can Tech beat them? While it is fairly easy to forecast that somebody will beat the Trojans, it is really hard to look at this Tech team and say the Hokies will be the ones to do it. While upsets happen all the time, Techís history under Frank Beamer is that they are far more likely to be the ones upset by a huge underdog than the ones doing the upsetting. This is a Tech team missing a lot of talent from last yearís underachieving bunch. It is a team whose offense no longer has an All-American running back, instead entrusting this vital position in Techís offense to a guy who not too many months ago broke a leg, another guy who hasnít played the position in three years, since high school [USC defenders will be a little better than what Justin Hamilton saw in high school] and a couple of untested freshmen. There are no proven receivers on this Tech team as it enters its first game, a sure recipe for disaster for a Tech offense that is going to have to hit at least a few passes to have any chance whatsoever against the Trojans.
On defense, Bud Foster recently has been making most any opposing OC look like, well, Southern Cal offensive guru Norm Chow. That matchup is not pleasant to contemplate, but Bud has taken time from pointing fingers at his players to claim that things will be better this year. This heavy spin coming out of Tech blaming the players for last yearís collapse continues to rub me the wrong way. There was a time at Virginia Tech when Frank Beamer and his coaches took responsibility for the teamís performance. In spite of the fact that the chief reason for optimism is a couple of freshman linebackers, not the best situation for defensive improvement, Budís defense really needs to be better, or the USC game could turn out very ugly for the good guys.
In any event, despite Tech being a huge underdog against USC and basically written off by the media, there is a reason the games are played, and played by players rather than the SportsCenter guys. Anything can happen. I would not mind seeing something akin to the Miami game in 2001, the last time Tech was a big underdog against the countryís top-ranked team. Tech hung close into the fourth quarter, then blocked a kick and ended passing into the end zone with a chance to tie. Of course, I wouldnít mind Tech early on blowing Southern Cal right out of FedEx Field, either. Preseason optimism allows me to occasionally entertain such a fantasy.
The harsh reality that keeps intruding is that Tech is a big underdog given virtually no chance at winning. Weíll see. Another reality is that for the last eight years the defending national champion has lost to somebody. Letís play the game.