2004 Preseason ACC Predictions
by Jeff Ouellet, 8/23/04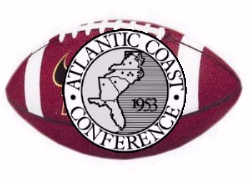 College football has undergone some radical changes in the past decade, but none that have loomed larger than the creation of the BCS and subsequent reconfiguration of the big six conferences. The end result for VT was an oft coveted, yet seemingly impossible, bid to the ACC. With the addition of Miami, VT and eventually BC, the ACC suddenly looks to be at worst one of the top three football conferences in the country and arguably the best.
While both Miami and FSU still deserve to be regarded as perennial favorites because of their overabundance of talent, the conference is legitimately nine deep this year with quality teams. That makes it foolhardy for anyone to attempt to predict accurately the outcome. So, here I go:

1. MIAMI
Until they lose a conference crown Ėwhatever conference they are in Ė Iím putting Miami first in the preseason. The fact that theyíve beaten FSU the last five years and get the Noles at the Orange Bowl makes me feel a little more confident about the prediction.
Areas of Strength: Umm, talent. Nineteen first round NFL draft picks in the last four years suggests the Canes know how to reload. As for specific strengths, I think the defensive line with Orien Harris and Baraka Atkins, among others, will be terrific. The offensive line will also be very good, and I expect the young wide receivers to play better than they did last year.
Areas of Concern: At quarterback, Brock Berlin did not get it done last year, and heíll be battling hotshot redshirt freshman Kyle Wright if he doesnít play better this fall. At linebacker, while Leon Williams and Roger McIntosh will be solid, all of the other prospects here are young and there has to be some concern over two true freshmen possibly figuring in for substantial playing time (Willie Williams and James Bryant). They will really miss Jon Vilma and D.J. Williams.
Key Game: At Virginia. I know, you think I should be committed right now. However, the Canes can lose to FSU on September 6th and still bounce back for a BCS bid. I really think traveling to Charlottesville against a talented UVa team with nothing to lose, on the heels of a tough game with Clemson, will be tough for Miami.
Fearless Predictions: Tyrone Moss will win the starting tailback job ahead of Frank Gore. I thought Gore was going to be the next truly great Miami back, and I still hope it happens, but two knee surgeries likely will ensure that he doesnít become the back he otherwise would have been. Eric Winston and Orien Harris both turn pro early and are first round picks. After cracking the two deep, Willie Williams takes Donna Shalala out for a lobster dinner.

2. FLORIDA STATE
Bird's-Eye View: On paper, they should be the favorite. They have the most overall experienced talent, an offense that is scary on paper and young studs on defense just waiting to emerge, like A.J. Nicholson, Ernie Sims, Antonio Cromartie.
Areas of Strength: The offensive line and the running backs. Alex Barron, David Castillo and Ray Willis all could be all conference up front, and Leon Washington and Lorenzo Booker are scary talents at tailback. Throw in tough guy B.J. Dean at fullback, and the makes for a great running game are all there. The secondary is deep and talented.
Areas of Concern: Iím just not sold on Chris Rix. He has great talent, but he seems to make a couple of killer mistakes in the key games. He needs to utilize running backs Booker and Washington as safety valves, as they provide electricity that hasnít been around Tallahassee since Warrick Dunn left. They can, and probably should, beat the Canes but they have to prove it.
Key Game: At Miami. If FSU can win, they will be firmly in the driverís seat for the conference crown.
Fearless Predictions: While FSU only returns one starter among their front seven, the group will be better by the end of the year than last yearís group. Nicholson and Sims will both have strong seasons. FSU has struggled with NC State in recent years, but this year they take care of the Pack in Raleigh comfortably. After losing to Miami again, Papa Bowden offers to trade Rix to Tommy for Charlie Whitehurst and a batch of Momís cookies. Tommy holds out for a kicker too.

3. VIRGINIA
Bird's-Eye View: This is the year Cav fans have been pointing towards ever since Al Groh landed his superstar 2002 recruiting class. He has a whole lot of experience and talent returning and the Wahoos deserve this ranking. If they have another five loss season, however, questions about the staff will emerge.
Areas of Strength: This is the best front seven in the ACC as six starters return. Canty, Blackstock, Brooks and Parham all have bright NFL futures. Hoffman and Schmidt are solid players too. The offensive line also should be a strength as all five starters return and finally have enough experience to be able to control the line of scrimmage. Lundy, Pearman and Michael Johnson are a solid tailback trio. Heath Miller is the best pass catching tight end in the country.
Areas of Concern: Can Marques Hagans be effective in a UVa system that has tended to be a drop back style? While the Cavs will use more bootleg action and roll outs, it will be tough for Hagans at 5í10Ē to make a lot of the traditional throws. The secondary has some talented athletes, but most are unproven. Safety in particular remains a concern, although Tony Franklin looks to have a bright future. Wide receiver also is a question mark going into the year.
Key Game: Home versus Maryland. With northern Virginia and D.C. a fertile recruiting ground, this game takes on extra significance. Maryland is the rising ACC power, and both the Cavs and the Hokies need to flex their muscles or risk losing some key regional recruits.
Fearless Predictions: UVa will have more players taken in the first two rounds of the next NFL draft than Miami as Brooks, Miller, and Blackstock decide to depart early and join Canty and Elton Brown in the blue chip rounds. Hagans gets benched at least once by Groh during the season because of inconsistent pocket passing. The Hoos beat one of the big two, but lose one they shouldnít in conference this year to prevent them from making a run to the top. And, finally, Al Groh decides to challenge Bobby Fischer to an exhibition chess match but is upset with the way the media characterizes Bobby so he refuses to talk to them after checkmate.

4. MARYLAND
Bird's-Eye View: The antithesis of FSU. You look at their roster, and they shouldnít be this high. The only have eight starters back, one true offensive weapon and are going to be playing a lot of sophomores and freshmen. But they have the Fridge and his 31-8 career record speaks for itself.
Areas of Strength: The Terps do a great job executing on the fly and thatís a tribute both to the coaching and the players. Few coaches have so many formation and plays that are run out of different blocking schemes (zone, man, traps, etc.). Personnel wise, the Terps are solid at tailback with Josh Allen and former OSU recruit Sammy Maldonado. The Terps probably have the best special teams in the conference.
Areas of Concern: Are the Terps really at the point where they can reload? They lost a lot of experience and are young at some key places, particularly at quarterback and in the secondary.
Key Game: At Virginia Tech. VT, in my opinion, has slightly more talent and more experience than the Terps. They also have the home field. However, the last coach that was this sophisticated on offense, Walt Harris, owned the Hokie D. This would be a big win for Maryland with no Miami on the schedule, so expect the Fridge to pull out the kitchen sink. This game also could have some recruiting implications with a significant number of key VT targets in the state of Maryland this year.
Fearless Predictions: True freshman Jordan Steffy will be starting for the Terps before the leaves change this fall. Two other youngsters to watch are Wes Jefferson at linebacker and Vernon Davis at tight end. Maryland will beat West Virginia Ė again. Ralph Freidgen will lose at least one recruit because he demands a commitment prior to offering a scholarship.
5. VIRGINIA TECH
Bird's-Eye View: This is a big homer pick, and Iíll be the first to admit it. VT probably has as good a shot at staying home during the bowl season as finishing fifth, but I just have a feeling that the new team chemistry will matter. In order for VT to finish this highly, they need to have some key guys stay healthy and have a lot of young players whose production matches their hype.
Areas of Strength: A favorable conference schedule that doesnít require VT to play either FSU or Clemson, and brings similarly situated programs UVa, Maylrand and N.C. State to Blacksburg. Three of VTís four conference road games are against three of the worst teams in most preseason polls (GT, Wake and UNC). The offensive line should be strong for the Hokies, and I think the defensive backfield will surprise. Once everyone is healthy and back from suspension, the running game will be strong.
Areas of Concern: Major depth problems exist at quarterback, offensive tackle, defensive end and rover. Injuries abound in the preseason, and this is an inexperienced team that canít afford to have key players lose reps. Defensive tackle may be the key to the entire defense this year. It is put up or shut up time for some of the experienced talent there. Special teams, particularly kicking, must improve or VT will lose a couple of games it shouldnít.
Key Game: Home versus N.C. State. This is almost a must win for VT. The Pack has talent, but they will have an inexperienced quarterback and the Hokies are at home. A win here is a springboard to bigger and better things and puts the team into a positive mindset going into a stretch with West Virginia and a tougher than you think Wake Forest team. We already know the late season slate is tough, but a slump in the middle of the year would be devastating.
Fearless Predictions: VT will beat the Cavs in Lane in late November, but will lose conference games at Miami, versus Maryland and at Georgia Tech. Bryan Randall will have a really solid year as the starting spot is his alone. Eddie Royal will have two touchdowns on returns this fall and show flashes of brilliance. Despite looking desperately, Frank canít find Helen to distract the men of Troy and the Hokies get roughed up in the opener by USC.

6. CLEMSON
Bird's-Eye View: Everyone loves the Tigers as the team on the rise after their finish last year, but I have some doubts. The no huddle has its benefits, particularly with a very good veteran QB, but Tommy Boy makes things tougher on his defense by passing so much.
Areas of Strength: The best quarterback in the conference and perhaps the best secondary (4 returning starters) are a good place to start. The defensive system is predicated on eight in the box so the Tigers likely will be strong against the run even with some inexperience in the front seven. In my opinion, they probably have the fourth most talent in the ACC.
Areas of weakness. Ugh, look at their schedule: they are the only team to go to Miami and Florida State, and they visit the Cavs too. Somebody at the league office doesnít like them. Itís not that hard to see them at 4-4 in conference despite having that talent. Iím also not sold on their coaching, as I think they have a shot to pull at least one defeat from the jaws of victory.
Key Game: At Virginia. Clemson thinks they can challenge the big two, but I think the game at Virginia will determine their season. I donít think theyíll catch the Noles napping after last seasonís beat down, and UM will be primed to smack Whitehurst in November. So, Virginia could be the game that determines whether this is a Gator Bowl year, or whether the Tigers are in scenic Boise for the Humanitarian.
Fearless Predictions: Justin Miller will show DeAngelo Hall flashes, both good and bad, this fall. He will emerge as a great return guy. Whitehurst will live up to his advanced billing. Jamal Fudge will have 140 plus tackles from strong safety this year as he crowds the box and comes off the corner. The Tigers will go as their d-line goes, and it will disappoint. Tommy wonít feel too secure by the end of the season, but heíll have four million reasons to stay in place next fall (thatís the amount of his buyout).

7. NC STATE
Bird's-Eye View: Perhaps the biggest wild card in the entire ACC race, but most seem to think (and I agree) that the loss of Philip Rivers will really sting. Rivers was probably the most accurate quarterback in college football last year, and his touch enabled the Pack to use a short passing game as an extended running play. T.A. McClendon benefited greatly. That wonít be the case this year.
Areas of Strength: Four returning starters on the offensive line, along with a strong tight end and McClendon should make this a potent running attack. On defense the linebackers are talented, led by Pat Thomas on the weakside, and the secondary has three of four starters back led by Andre Maddox.
Areas of Concern: Quarterback has to head the list. The loss of Rivers is huge, and the Pack will miss wide receiver Jerricho Cotchery as well. The guys up front on the defensive line have some talent, but they are green. A pass rush will need to come from rising star DE Mario Williams.
Key Game: At Wake Forest. The Pack will be coming off games back to back against Ohio State and in Blacksburg, so the Demon Deacons may sneak up on them. You know Jim Grobe will have his guys ready to play, and that could be a tough game to win.
Fearless Predictions: Marcus Stone will beat out Jay Davis for the starting quarterback job because of superior arm strength. McClendon wonít have a great year, but will jump to the NFL anyway because he feels a bevy of good young backs (Darrell Blackman, Bobby Washington) coming up through the ranks. Tramain Hall will be the best receiver, but Richard Washington will show everyone why he was a highly touted recruit out of Florida. Chuck Amato will decide to go shirtless for at least one conference game before getting reprimanded by John Swofford.

8. GEORGIA TECH
Bird's-Eye View: This is a team with some big name players and a lot of holes and depth issues. Jon Tenuta is rightfully the coordinator du jour in the conference, but the teamís success will rest on the shoulders of sophomore quarterback Reggie Ball.
Areas of Strength: This is a team that has some playmakers. P.J. Daniels was the leading rusher in the conference and three offensive line starters return. On defense, Eric Henderson and Travis Parker are outside pass rushers and Mansfield Wrotto controls the inside for an underrated defensive line. Wrotto is only a sophomore but he could be really good. The secondary is led by NFL player in waiting James Butler. Blue chip incoming freshman wide receiver Calvin Johnson could be a the answer to upgrading the passing game.
Areas of Concern: Ball has proven he is capable of playing at an ACC level competently. He now has to take the next step and prove that he is capable of winning games, not merely managing them. There is a whole lot of inexperience in the passing game generally, and the early departure of left (blind side) tackle Nat Dorsey is a concern.
Key Game: Home versus Virginia Tech. This is a year where things could go either way in Blacksburg, and itís not easy going to Atlanta and getting a win. Ask the Hoos. Georgia Tech needs this one, though, with games at Clemson and Maryland and against Miami in their first five.
Fearless Predictions: P.J. Daniels wonít finish in the top three in rushing in the conference this year, although heíll still break 1,000 yards. Depth along the defensive line will come from at least two true freshmen playing which bodes well for the future, not so well for today. Chan Gailey will gain another year of NFL experience just by coaching against Al Groh.

9. WAKE FOREST
Bird's-Eye View: The job Jim Grobe has done at Wake is miraculous. He inherited a program that was dead in the water and has them 18-18 over the last three years (by comparison, Al Groh is 22-17 and John Bunting is 13-24). Wake has acquired some nice pieces, but still suffered a significant talent gap from most of the teams in the conference.
Areas of Strength: Grobeís precise option attack eats up undisciplined teams, and heís got a terrific tailback in Chris Barclay and a seriously underrated weapon on the outside in Jason Anderson. Cory Randolph has experience at quarterback.
Areas of Concern: The front seven has gotten pushed around a lot in the running game and hasnít consistently pass rushed well either. There is finally some depth up front (particularly in the d-line) so improvement might be on the way. The secondary isnít that bad with three starters back, but itís tough to cover without a pass rush.
Key Game: Home versus Boston College. The Eagles, a future conference foe, were beaten at home last year by Wake, and Wake really could use a win here going into a stretch at State, versus VT and versus FSU. Dropping those four games would eliminate a bowl game from contention.
Fearless Predictions: Jason Anderson will make as many big plays for his team as any wide receiver not playing in Florida. Redshirt freshman Ben Mauk, who rewrote the Ohio High School record books, will take a lot of time for Randolph giving Grobe a two headed monster at QB (Randolph as the mobile QB, Mauk as the pocket passer). The defense will be slightly better, but the increased competition in conference will keep Wake from bowling. Grobe will place at least one call to Skip Prosser to see if Eric Williams is interested in playing left tackle.

10. NORTH CAROLINA
Bird's-Eye View: This program is really the sleeping giant in ACC football. It has a huge alumni base, very good academics, great facilities, terrific all around success in sports, and itís close to fertile recruiting grounds (including Tidewater). The program has also been laconic, if not downright comatose, for the past two years compiling a 5-19 record. The hot seat for John Bunting couldnít be any hotter.
Areas of Strength: Darian Durant is an experienced leader who has a very good group of wideouts including Derrele Mitchell, Jarwarski Pollock, Adarius Bowman and Jesse Holley. Ronnie McGill showed signs of being a solid tailback last year as a freshman.
Areas of weakness: Defense is the problem, plain and simple. There simply are not enough playmakers, particularly in the secondary, for this unit to be solid. The linebackers are all big, but perhaps not as mobile as they should be. Expect the Hargrave contingent, particularly Khalif Mitchell, to play early and often.
Key Game: Georgia Tech at home. Bunting needs to be bowl eligible to survive, and this is a winnable game at home early in the year. The Heels need this one to make sure the team doesnít tune out the staff.
Fearless Predictions: Bunting will be looking for work next year, but Steve Spurrier will not be his replacement. Former VT coach and current UNC offensive coordinator Gary Tranquill will land a QB coaching job elsewhere. Freshman kicker Connor Barth will be a highlight in an otherwise dreary season. More Hokie fans will turn out for November 6th game than UNC fans (and those there will be asking about whether the Blue or White should be favored in the Heels preseason b-ball scrimmages).

11. DUKE
Bird's-Eye View: I have no idea if Ted Roof will ultimately get the job done at Duke, but you have to love his approach. He took over the team for the last five games and led them to conference wins over Georgia Tech and UNC. He generally lit a fire under his players, and has vowed increased competition. He has carried that attitude on the recruiting trail as well, as Roof landed nine kids from Georgia, his home state, and has shown no intention of backing down when the big boys are after a player he wants.
Areas of Strength: The quarterback position has three possibilities, all who have some talent but bring something different to the table. QB Mike Schneider is a drop back passer who has some talent, but senior Chris Dapolito protects the ball better and is more mobile. Also factoring into the equation is Nebraska transfer Curt Dukes, a kid talented enough to have a final three of the Huskers, PSU and VT out of high school. Duke uses a lot of two tight end sets and Andy Roland and Ben Patrick are both very good.
Areas of Concern: Duke lost four starters from its offensive line, and the growing pains will be felt. On defense, there is a lot of experience back but not many playmakers other than solid pass rusher Patrick Alexander.
Key Game: At UConn. The Blue Devils still have a ways to go to compete with in the ACC, but UConn is a solid program with a very good quarterback. The out of conference slate is beefed up this year, so winning that game will be imperative if Duke wants to match last seasonís win total of four.
Fearless Predictions: Cedric Dargan will emerge from the shadow of Chris Douglas and break the 1,000 yard barrier as Roof emphasizes establishing the run. Curt Dukes makes an impact for the Blue Devils, but in a slash role where he plays a lot of wingback. After getting bounced in the first round of the NBA playoffs, the Lakers call Roof to see if heís interested in coaching Kobe.