Eleven Years Later, Some Similarities and Some Differences
by Jim Alderson, 8/19/04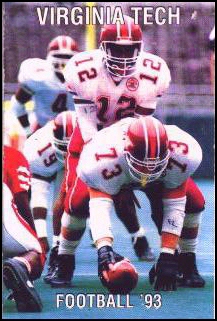 Remember the last time Tech began play in a new conference? It was 1993, the first year the fledgling Big East Football Conference played a round-robin schedule. The BEFC had been founded in time for the 1991 season, but it took until Ď93 for all members to rearrange their schedules in order to play each other. Tech had played only one conference foe in 1991, beating WVU in Morgantown in the Lightning Bowl. In 1992 Tech had played five, beating only Temple while losing to WVU, Miami, Rutgers of all people, and Syracuse. Expectations were not high for Tech heading into their first season of BEFC play. Some things havenít changed.
The 1992 Virginia Tech football season had been an unmitigated disaster. Tech had failed to gain any momentum from the six-win seasons of 1989-90 and the five-win close call of 1991. There were some expectations in Ď92- I well remember driving home from the opening RUTS of JMU listening to Bill Roth speculating on an undefeated season. They had fizzled, however, into a miserable 2-8-1 year that saw the Hokies blow fourth quarter lead after fourth quarter lead, primarily due to a defense that could not stop anybody. Something else hasnít changed.
Heading into the 1993 season expectations at Tech were very low. A prominent Richmond newspaper columnist wrote that Tech was over its head in the new BEFC. Tech was picked to joust with Temple for last place in its new league. There were also a lot of those following the program who expected 1993 to be Frank Beamerís last year at Tech.
Frank had narrowly avoided being fired following the 1992 debacle. These were the days before Frank had copped the million-dollar contract, the posh vacation home and near-total program autonomy. He actually had to pay attention to what the athletic director said, and what Dave Braine said was change the defense and lose a lot of the existing defensive staff who ran the Wide-Tackle Six that Frank had played under Jerry Claiborne in the Ď60s at Tech and had been coaching ever since.
While Frank had strongly defended the obsolete Wide-Tackle Six and professed strong loyalty to his defensive staff, many of whom had played with him at Tech and had been coaching with him ever since, the preservation of Frankís coaching neck required that he jettison his pals. Out they went, and in came new defensive coordinator Phil Elmassian to introduce the attacking style of defense, variations of which Tech and succeeding DC Bud Foster have run ever since. Even with the defensive changes, there were a lot of Hokies and media types who figured Braine had just postponed the inevitable and Frank would be fired following another poor Ď93 season.
The 1993 opener was a little tougher than the JMU squad that Tech had pounded to begin the previous two seasons. Bowling Green was summoned from the MAC to provide opening-day fodder and the Falcons obliged, losing 33-16. It was Techís third opening-game win in a row and, aside from the 1995 loss to a Boston College team that had the huge advantage of already having played a game, Tech hasnít lost an opening game since. If that streak continues it will be a surprise, to say the least.
Following their methodical dispatch of Bowling Green, Tech headed to Pittsburgh to play its first official conference game since it had left the Southern Conference twenty-eight years earlier. Pitt had declined from its glory years of the Ď70s and Ď80s. Top-shelf talent such as Tony Dorsett and Dan Marino were no longer to be found and the Pitt program had gradually fallen off. Former coach Johnny Majors, who had won the MNC at Pitt in 1976 then left for Tennessee, had come back to Pittsburgh after having been ousted by the Vols in a palace coup led by his former top assistant, Phil Fulmer.
Majors represented Pittís winning tradition, and had infused some excitement back into the program. Pitt had upset a pretty good Southern Miss team to open the season and were feeling pretty good about themselves when an underdog Tech team came to town. That changed in a hurry as Tech left town late that Saturday night having blasted Pitt 63-21. Everybody seemed surprised, including the media and more than a few Tech fans. The enthusiasm Majors had initially brought back to Pitt evaporated, and the Panthers only won twice more that season, naturally against Rutgers and Temple. Tech was off and running. Well, almost.
Tech went south to Miami the following week. The Canes had lost the MNC to Alabama in the Sugar Bowl the previous year and had embarrassed Tech 43-23 the previous year in Lane in a game that was out of hand after the first quarter. Elmassianís new defense gave a fine effort against Miami, keeping the game close until late in a 21-2 Tech loss. That was the beginning of what have turned into some pretty good defensive efforts against the Canes, with the exception of the 2002 game when Tech could do little more than wave at Miami running backs and wide receivers as they raced by.
With some road confidence under its belt, Tech came home to face Maryland. The Terps were a far cry at that time from what Tech will face this November 18th, a program where Ralph Friedgen has been ticking off ten-win seasons like clockwork. Tech blasted Maryland 55-28, the first bad loss for a Terps team that would lose the next week 70-7 to Penn State and only beat Duke and Wake Forest during a 2-9 year. The Tech rout of Maryland was punctuated by an on-field brawl between the players that was one of several around college football that day and received nationwide ESPN coverage. Legend has it that Maryland officials were incensed and AD Debbie Yow refused to schedule Tech again. The ACC office has taken that out of her hands.
Tech went back on the road the next week and lost to West Virginia 14-13 as the potential game-winning field goal missed as time expired. That WVU team would win a number of close games that year en route to an 11-0 season, Don Nehlenís second and last undefeated regular season, before the ĎEers were blitzed by Florida in the Sugar Bowl. It would be six years later before Tech would hit a game-winning last-second field goal against WVU.
As they had done against Miami, Tech rebounded from a hard-fought loss, came home and slapped Temple silly, 55-7. That was the year Temple had allowed Bill Cosby to hire their football coach. Ron Dickerson was the Cozís choice, one of the most disastrous coaching hires in the history of organized sports. That, however, was their problem.
Rutgers next came to Lane in what was a revenge game for Tech. Tech had lost to the Knights the previous year 50-49 on a last-second Hail Mary touchdown pass. I had considered that the most infuriating of Techís many losses in 1992, mainly because I had gone to New Jersey and watched Tech blow a twenty-point fourth quarter lead. I wanted revenge, and Iím sure the players and coaches felt the same. They almost didnít get it, as again Tech ran up a big lead only to see RU rally and come within a missed onsides kick of taking another game down to the wire.
As hard as it is to believe these days, Rutgers under Doug Graber actually had a fairly decent program. They had back-to-back winning seasons in 1991-92 and had come into the Tech game with a 4-2 record that was the same as Techís. After two close games between what looked like two pretty good teams, I continued to think what I had at the formation of the BEFC, that Tech and Rutgers were going to benefit the most from conference affiliation, and this game would become a very good rivalry. Of course, that was before somebody at Rutgers had the bright idea to fire Graber and bring in Terry Shea to completely trash the program, resulting in eleven straight Tech wins in games that have rarely been within three touchdowns and have put the RUTS in RUTSgers.
There was more revenge on the way for Tech. Next to venture into Lane Stadium was an East Carolina team that had beaten Tech twice in a row, dealing the í92 Hokies the first of their fourth quarter meltdowns. Tech/ECU was a good rivalry at the time; most of the games had been close, hard-fought affairs between two programs that were remarkably similar. That changed that rainy afternoon in Blacksburg, however. Tech knocked off the Pirates 31-12 and has gone on to beat them four straight times. Tech beat out ECU [and Louisville] for the eighth and last spot in the BEFC. Their first game after Tech made the cut marked the end of the drama of the series with ECU, as over the next decade the programs headed in different directions.
Tech was 6-2 and surprisingly bowl eligible as they traveled to Boston College. It was Tom Coughlinís last year at BC before he headed to the NFL and the Eagles hired Dan Henning to wreck their program. BC would go 8-3 that year, coming within a late turnover against WVU of claiming a share of the BEFC title. Coughlinís offense had little trouble with Elmassianís defense as BC won 48-34.
Tech was 6-3 and came home to face a 5-3-1 Syracuse team. This had become an important conference game in that a bowl bid was on the line. Tech overwhelmed the Orangepersons 45-24 that day in Lane Stadium to cement a bid to the Independence Bowl, Techís first under Frank Beamer. It had been a long dry spell since Tech had beaten NC State in the 1986 Peach Bowl, the last game under Bill Dooley.
Tech was 7-3 and headed to a bowl, but there was one piece of unfinished business left for that Tech team. Until 1993 Frank Beamer had never won in Hooville. At the time he was 1-5 overall against George Welsh and the Hoos, including 0-3 in Scott Stadium. Elmassianís defense played well that day, providing a goal line stand that aided greatly in Techís 20-17 win. Frank would win six of the next nine games against the Hoos and three of the next four in Hooville.
An 8-3 Tech team dismembered Indiana 45-20 in Shreveport. Television news reports after the game showed an exultant Frank Beamer in the locker room afterwards claiming that this was just the first. He was right about that, as there have been ten straight since that rout of the Hoosiers. Whether there will be a twelfth straight bowl for Frank Beamerís Tech program seems to be the topic of much discussion these days.
Tech heads into it first ACC season with more uncertainty surrounding the program than there has been since that first BEFC season. Expectations are about as low as they have been around Tech since 1993. Also as it was then, there are huge questions about the Tech defense. That defense collapsed down the stretch of the 2003 season and racked up numerous blown leads, the same as happened in 1992. This time around there have been no administratively-mandated staff changes and no radical new defensive scheme. Unlike 1993, Frank Beamer is firmly entrenched as head coach and his coaching staff seems to enjoy a level of job security similar to that found in a Japanese keiretsu.
This is also a very different Tech program than the one that entered the BEFC. Tech has now been to eleven straight bowl games, won three BEFC championships, played for the MNC, become a regular on ESPN, developed a strong fan following and generally established themselves as a power in college football. Tech has a football body of work that was the basis for their case for ACC inclusion, unlike the potential that had to be sold to gain admittance into the BEFC. That potential was realized.
Tech now faces its first ACC season. The challenge of play in a new conference is again there. There is no gun loaded, cocked and pointed at the head of Frank Beamer this time around, but once again there are many questions. Disappointment is a very relative term; in 1992 disappointment was two wins, while in 2003 it was eight. Such are the expectations Frank Beamer has created at Tech. Hopefully the coaching staff and this team will react to the adversity of the disappointing 2003 season as well as the 1993 one did and enter its first season of ACC play as well as they did their first in the BEFC. Iíll take nine wins.