Tech Trio Ready to Get Started at Hargrave
by Chris Horne, 8/18/04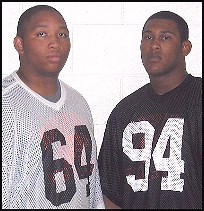 Hargrave Military Academyís postgraduate football program continues to bring in top talent from up and down the East coast (and a few from the mid-west this year). Head Coach Robert Prunty takes pride in the effort his staff has put into helping Hargrave become one of the premier prep programs in the country.
"We work harder," Prunty said. "We work hard at it. I mean, [Hargrave President] Colonel Baker and the guys work as a team here. I think itís that team effortÖweíve got that team atmosphere. Thatís whatís helping us. Weíre real excited our team atmosphere here."
The hard work, both on and off the field, has helped Hargrave earn the trust of many colleges. Colleges continue to place their top recruits and recommend prospects to the program Ė a sign college coaches respect what Prunty and company are accomplishing with these players.
"I think we have a good relationship with every college coach in the country," Prunty said. "I think they know the product that we have, and the product that we put out as far as the players go. Even the signed guys that come in that are good, they know theyíre going to get better. If you look at our schedule, we probably play the toughest prep schedule in the country, so theyíre going to get competition. Theyíre also going to get good coaching."
With 17 of Hargraveís 2004-2005 players having signed with Division I-A programs in February earlier this year, the squad could rival last yearís highly talented team. This yearís team looks to be extremely balanced, with almost every position looking strong. According to Prunty, there is only one possible area of concern heading into the season.
"I think that every position has got a lot of strength to it," Prunty said. "Defensive line is going to be very good. The linebackers are going to be very good. I think my main concern is going to be the secondary because we donít really have any big-name guys in the secondary. The offense is solid. Offensive line is solid, as is running backs, quarterbacks and receivers. So, secondary is the thing thatís worrying me a little bit."
Tech Trio Arrives
2004 Virginia Tech signees Brandon Holland and Sam Wheeler and commitment William Wall all arrived at Hargrave Military Academy last Thursday. Theyíre all in the program, and Coach Prunty is excited to have all three.
"Brandonís going to be great," Prunty said of Brandon Holland. "Sam Wheeler is now 250 at middle linebackerÖvery impressive. He moves well. He has great hip movement. Heís a very nice young man. Does a lot of things nice as far as communication goes. Heís team oriented. Gets along with a lot of his teammates. Just a real exciting guy to be around. Iím very excited about those guys and William Wall. Heís there too. Weíre excited about William being here. Just everybody coming together as a teamÖitís a great thing weíve got going here."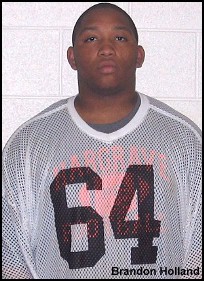 Hargrave Coaches like Hollandís Potential, Work Ethic
When asked about Brandon Holland, Hargrave assistant coach Brian White points out Hollandís physique, athleticism and work ethic.
"Not even from film, just from seeing him in person, the build on him Ė the shoulders, his trap muscles Ė just solid, and you know heís in decent shape," White said. "And heís got great feet. Heís the total package physically, which is good. Heís a great worker. Heís asking questions, heís trying to get involved with everything. We have him at guard now, and he seems to be doing real well thereÖgrasping everything real quick. Heís a quick study."
Holland says Tech likes him as an offensive guard as well. He appears to enjoy the position, which is one he never played before in high school.
"Right now, I play o-guard, which is what Techís looking at me to play up there too," Holland said. "Right now, Iím having fun with it. Itís a new position and I havenít played it before, but Iím learning it and Iím liking it right now."
Looking at Hargrave as a college-like experience, Holland feels there is a lot that can be gained in the coming months.
"I can learn a lot, because what we do here is the same thing that we do in college," Holland said. "I mean, down here they prepare you the best way they can, so when you get to college youíll be ready.
"I like it here. Itís a good environment. All the players are nice and they get along together. Everythingís going pretty good."
Academically, Brandon is holding out hope that he can enroll at Virginia Tech in January of 2005.
"I havenít really talked to the coaches about that yet," Holland said. "As far as I know, they want me to get up there as soon as I can. Basically, it depends on what I do here. The faster I bring my SAT scores up, the faster I can get there. Right now, my goal is to get there by January."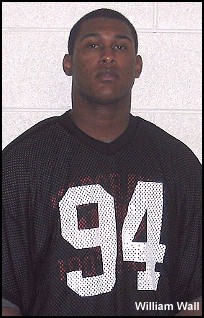 Wall Ready to Learn
One fact is clearÖWilliam Wall loves Hargrave.
"I love it," Wall said without hesitation. "I love it. I see itís going to make me a better person and help me out a lot. Iím looking forward to it."
Wall, who is listed at 6-5, 255-pounds, will play along the defensive line this year. He will primarily play defensive end, but may have the ability to play end or tackle on the next level. If he plays end for Tech, he feels heíll be ready after a year under Hargraveís coaches.
"A whole lot," Wall said when asked how much he thinks he will learn about playing defensive end this year. "Playing in high school, I really didnít learn too much about playing the position. I just played football. Here, Iíve got a great coach and they seem like they really know what theyíre talking about. I think Iím going to learn a whole lot about the position."
Wall, who has scored over 1,000 on the SAT, says he needs to complete three or four more classes before qualifying. It is likely he will have to stay an entire year at Hargrave before enrolling at Virginia Tech. He remains more than excited about signing with Virginia Tech in 2005.
"Oh yeah," Wall said when asked if heís anxious to get to Tech. "Iím thinking about nothing else. Thatís all I think about."
Wall has spoken with current Hokies cornerback Theodore Miller. Miller, a former teammate of Wallís at H.D. Woodson, appears to be doing well in Blacksburg.
"Iíve talked to him," Wall said. "He is enjoying himself a lot. Heís going to be all right. I canít wait to get up there with him."
Since committing to Tech with Miller last year, Wall has been in regular contact with the Tech staff. He appreciates the support he has received from the Tech coaches.
"I talk to them all the time," Wall said. "Especially Coach Ball. He stays on my back all the time. Theyíre putting a lot of time and a lot of work on me, and I appreciate that. Iím going to do what I got to do to get there."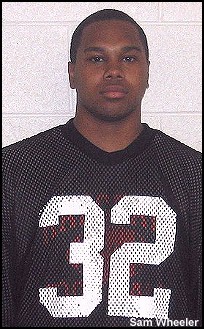 Versatile Wheeler Lines up at Middle Linebacker
Sam Wheeler has impressed the Hargrave coaches with his 6-3, 250-pound size and 4.6 40 speed. He will play middle linebacker for Hargrave, which was the position he played at Blacksburg High School throughout his high school career.
The physically talented Wheeler shows a lot of potential with his combination of size and speed. So what does he hope to improve upon over the next year?
"Getting a little bit more physical and trying to get quicker to the ball," Wheeler said. "Last year I hesitated a little bit or would take a false step, so Iíve got to learn to get a little quicker."
What should help him this season is the raised talent level around him. He will face top talent everyday in practice Ė an experience he feels will help him compete at Virginia Tech.
"Iíd say itís going to help me out," Wheeler said of playing for Hargrave. "Iím down here with guys my size, guys that are better. There are like 6-3, 280-pound linemen who can run a 4.7 in the 40. The talent out here is incredible. Itís going to help me get prepared for college and the ACC."
Over the summer, Wheeler worked heavily on his strength and speed. He is determined to arrive at Tech in excellent shape.
"This summer Iíve been hitting the weight room," Wheeler said. "Iím trying to get bigger, trying to get a little faster, stronger. When we get to Tech itís going to be an intense workout with intense conditioning. Iím trying to prepare myself so when I get there I wonít be out of shape or be behind everyone else."
Though he will play middle linebacker for Hargrave, Sam says his position on the next level has not yet been determined. The three positions mentioned most often include tight end, defensive end, and linebacker.
"They say once I get down there theyíd find out what theyíre missing or what they need and theyíd put me at the position they need me at," Wheeler said of Virginia Tech.
Wheeler has kept in touch with the Tech coaches since he signed in February. Expecting to stay at Hargrave for one year, he estimates he needs to raise his SAT score by about 20 points in order to qualify.
"After I signed I talked to them a little more," Wheeler said. "I asked them questions, asked what I needed to do, like what would it take for me to become a starter or put a name for myself up there, and all they told me was that it would be hard work and thatís all youíve got to do. No promises. Hard work, and weíll see what happens."
Other News and NotesÖ
Early Admission
Coach Prunty says Hargrave will continue to allow mid-year transfers to colleges.
"Our policy is that, if you qualify and we get a letter from the admissions office, then they can go to that school," Prunty said.
UVa does not have a history of accepting athletes at mid-year. Even if Albert and Hall both attain the needed test scores, then there still could be some question of whether or not they will be admitted in January of 2005.
Christian Johnson Hopes to Regain Attention
6-4, 305-pound Christian Johnson is ready for his new opportunity. Johnson, a productive talent for West Potomac High School, says he lost a lot of interest from colleges by not taking care of business in the classroom. This year, he hopes to regain those interested schools with a good year on and off the field.
"Basically my main goal is just to stay focused," Johnson said. "To get the job done on the field and off the field in the classroom. Iím looking forward to having a big season here. Basically, just playing all I can to help the team and getting good grades so I can get the offers and gain some faith back from the schools that lost faith since my grades dropped. To be honest, a lot of schools lost faith in me when my grades werenít good and I didnít make the SAT. I had Maryland, Virginia Tech, UVa, Clemson and West VirginiaÖ schools like that looking at me. When they found out my grades dropped, they kind of lost contact. So Iím coming here, hopefully to get it back."
Johnson, who will play offensive guard at Hargrave, made the most of his off-season by lifting weights and become stronger and bigger.
"Before I got here I was at the gym, basically every day, lifting weights to make sure I was strong," Johnson said. "I will admit I shouldíve run a little more because yesterday we did about 16 100s in practice so that had me a little tired. Iíve just been working a lotÖworking on my feet work, my explosiveness and stuff."
Academically and athletically, Johnson likes what Hargrave has to offer.
"Oh I like it," Johnson said of Hargrave. "I think itís going to make me more disciplined as an athlete and as a student. I think itís teaching us a lot of things. Itís teaching us how to grow up. This is our first time being away from home, so I think itís going to help us out a lot in life."
Curtis Brinkley Open?
Former West Catholic (Philadelphia, PA) star tailback Curtis Brinkley has decided to re-open his recruiting process according to Hargrave Military Academy Offensive Coordinator Ryan Sulkowski. The 5-10, 180-pound Brinkley signed with Syracuse in February of 2004.
"Heís in the mix," Sulkowski said of Brinkley. "He signed with Syracuse, and he made it clear yesterday that his family and him respect our policy not to let other people look, but they have decided to open recruiting back up. Iím not sure where heís looking right now."
Virginia Tech offered Brinkley last year, but Coach Sulkowski believes itís too early to tell which schools Curtis may be interested in, and vice versa. It wouldnít be surprising to see Tech in the mix once again.
In his final season at West Catholic, Brinkley had 327 carries for 2,294 yards and 30 touchdowns. He had 7,413 yards rushing for his high school career.
Other prospects to watchÖ
Coach Sulkowski went down a list of uncommitted players to keep an eye on for the 2004 season.
"[6-6, 280-pound defensive lineman] Brian Simmons already has an offer from Oklahoma on the table. He was uncommitted, didnít sign anywhere, and is just one of those guys whoís going to raise eyebrows and get somewhere."
"[6-2, 180-pound] Jason Burton. Heís a wide receiver from down in North Carolina. Heís a quick receiver. Heís one of the quickest guys weíve got out there. And weíre looking for big things from him."
"Christian JohnsonÖ I know both Tech and Virginia are keeping an eye on him."
"Another guy is [6-5, 285-pound center] Phillip Browning. Heís going to be an ACC-type guy. Heís got great size. Heís been here in the past as a student here, so he came back to repeat."
"[6-8, 300-pound offensive tackle] Seth Butler is another big offensive lineman. Heís unsigned. Heís impressive now. He came here in great shape. We just have to work on a little more technique, but he brings a lot to the table already."
"[6-1, 190-pound] Marcus Vareen is a wide receiver. I know right now NC State, UNC and Clemson are on him pretty hard, so heís going to be an ACC guy. He didnít sign."
"[6-1, 180-pound] Aubrey Norris is a kid from New York. Heís a real strong quarterback. He looks good. His name just hasnít gotten out. Heís going to get a good look from ACC/SEC schools. A very athletic kid."
"[6-1, 185-pound wide receiver] Deanco Oliver. I mean this kid, heís got arms. He can go up and snag any ball out of the air. Heís real good technique wise. Good speed. Another one of those guys whoís unsigned."
"[5-9, 190-pound running back] Chubb Small. This kid, heís from Florida. Heís drawn a lot of interest from SEC and ACC. He went unsigned, but the big deal is he will be a Division I-A back. I know that for a fact. Only question is, where is he going to go? Heís open as well."
"These are just the ones right now. Along the way, once we get more into it, weíll know a lot more about who the bigger prospects are going to be."