Hokie Men's Soccer Looking to Reach New Heights in 2004
by Jay Jenkins, 8/15/04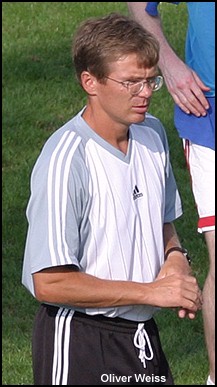 As soon as the final word came down that Virginia Tech had been accepted into the Atlantic Coast Conference, skeptics popped out of every nook and cranny saying that the Hokies would not perform up to the leagueís standards in Olympic sports.

They said they would not be able to compete with the powerhouses of the league in baseball, golf, tennis or track & field.

While that debate will be settled on the playing field, the Virginia Tech menís soccer team hopes to erase most of those doubts right off the bat - this fall.

One season removed from a school-record performance of 14 wins, Virginia Tech menís soccer coach Oliver Weiss is hoping to carry that momentum and a strong recruiting class into the 2004 season and take the ACC by storm.

At least one ACC coach took notice. In the leagueís preseason poll, as voted on by the respective coaches in the ACC, Virginia Tech received one first-place vote. The remainder of the coaches in the league must have disagreed in that lone opinion. They were ranked 7th out of eighth teams overall in the preseason poll.

ACC coaches beware. As everyone knows, adding fuel to a fire does not make sense in any situation and giving this Hokie team an extra motivating factor could prove costly. Why you ask? For starters, Weiss has proved that he knows what it takes to get to the NCAA Tournament. In only his second year as the head coach at Virginia Tech last year, Weiss propelled the program onto the national stage with seven regular season wins in Big East play and a first round NCAA Tournament victory on penalty kicks over Clemson, who is now a conference rival.

Apparently, Weiss was not satisfied with just making a tournament appearance in soccerís version of the Big Dance. So what did he do? Well, for starters he recruited the 8th-best class in the country for 2004, according to College Soccer News.

The class includes Gordon Bengtson, who holds the Rhode Island state high school record for goals in a season with 62, and a pair of players from the Top Drawer Soccerís Top 100 prospects list, Bryan Collier (Fayetteville, Ga.) and Marcus Reed (Chesapeake, Va.).

Weiss also benefited from Ian Taylorís decision to enroll early at Virginia Tech in January. That enabled the defender to play with the Hokies during the spring practice period.

Taylor did not disappoint.

"He played pretty much every minute in the center of back and did very well adjusting from not knowing anyone to becoming a very consistent member of our starting unit," Weiss was quoted by hokiesports.com following the Hokies 4-1-3 record in spring competitions.

Weiss knows that it will take more than just recruiting to get his team in place to win the ACC.

"As nice as it is to be recognized for the recruiting job we did, our goal is to be ranked at the end of the season ≠ when it matters most," Weiss told hokiesports.com.

In order to be ranked at the end of the season, Virginia Tech will need its returning players to put up repeat performances from the 2003 campaign.

Those needs could center on the play of rising sophomore Ben Nason. The Stafford, Virginia native erupted onto the college soccer scene last year with steady play at forward and in the midfield in the 21 games that he saw action in. He scored three goals and tallied nine assists on the season. Nason was also named the Big East Rookie of the Year and was picked as a selection on the Virginia Sports Information Directorís all-state first team.

In addition to Nason, Weiss and the Hokies return eight other starters from 2003 squad. Kevin Jonmaire and Chase Harrison were a key part of that lineup last season, and both were named to the VaSID all-state second team.

Jonmaire, a rising senior and native of East Aurora, N.Y., scored six goals and 14 points and proved he was a clutch scorer in the Dayton Flyer Classic as he kicked home the game-winning goal against IUPUI. He also added a pair of goals in the Virginia Tech Tournament against Georgia Southern.

Harrison, who will be a junior this year, was a mainstay at goalie last season and finished the season with a 1.13 goals against average. The Huntington, W.Va. native also made 90 saves and posted six shutouts, to move him into fifth place all-time in school history in that category with eight career shutouts.

Thanks to Harrisonís work between the pipes, Virginia Tech allowed two goals or less in 20 of the 22 matches they played in 2003. In a home match against St. Johnís, who was ranked No. 6 in the country at the time, Harrison made seven saves and lifted the Hokies to a 2-1 victory.

Even though Weiss knows that the cupboard is stocked with talented players, he still elected to challenge his players with a tough non-conference schedule. The Hokies have a road scheduled highlighted with Penn State and UNC Greensboro, and they are set to battle Coastal Carolina, Ohio State and St. Josephs on neutral surfaces.

And then comes the ACC.

The Hokies are faced with tough road tests at Clemson, Duke and North Carolina State. They do get the advantage of hosting Maryland, North Carolina and Wake Forest at the Virginia Tech Soccer Stadium in the regular season.

That leaves only one ACC opponent unnamed ≠ Virginia. The Hokies will play their in-state rival in their final home game. Despite playing 21 times since 1972, it will mark the first time that the two schools met on the pitch since 1999.

For the complete 2004 schedule,

see hokiesports.com.