Alderson's Guaranteed-True Predictions for 2004
by Jim Alderson, 8/12/04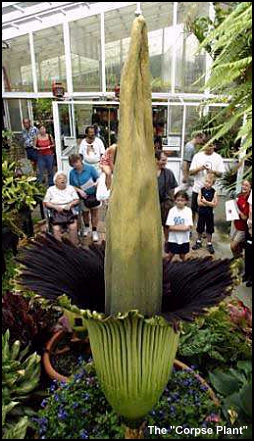 Thoughts, comments, opinions and predictions on the upcoming football season, otherwise known as cleaning out the Word file known as 'TSL' before the season starts. As usual, all predictions are guaranteed to be correct unless they are not.
It hasn't been so many months ago that I was confidently predicting a Tech victory over Southern Cal would be the coming-out party for Marcus Vick. I might have been wrong about that.
Somebody will compare Tech against Southern Cal to the smell of the Virginia Tech "corpse plant."
What a difference four years makes. Before the aborted 2000 BCA game, a Virginia Tech team thought to be an emerging national power faced a decent team in Georgia Tech. Before the 2004 BCA game, a Virginia Tech team hoping to be decent faces a Southern Cal team re-emerging as a national power.
The odds are that this BCA game will not be cancelled due to a storm, although by the Third Quarter some Hokies might wish it had been.
Cigar Guy will show up at FedEx.
Florida State beats Miami to begin and end the 2004 ACC race. There will be articles about the 'old guard' of the ACC asserting themselves.
Western Michigan did not score on Tech in either 2001 or 2002 and barely crossed mid-field. They will probably do a little better offensively this year, but not enough.
North Carolina coach John Bunting says he "loves August practice." Considering the Tar Heels have a stretch of games that includes the Hoos, Louisville, Florida State, NC State, Utah, Miami and Tech, it is no wonder.
Tech will play entirely too many true freshman. It will cost some games.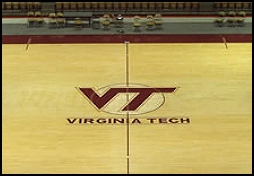 The spelling in Cassell probably is not a reaction by Tech to the problems with Marcus, Imoh and Hill.
Duke gives Tech a very tough game, causing waves of panic to ripple through the message board. No Duke officials make the trip, as they are attending the inauguration of new Duke President Richard Brodhead. Installing a new president on a football game day is not exactly how they do it at Tech.
The 'Fire Tommy' movement at Clemson will re-ignite after the Tigers lose at Texas A&M.
Without Phillip Rivers, NC State scales back the West Coast Offense that so befuddles Bud Foster in favor of an emphasis on running the ball. The Tech defense will hold TA McClendon to less than 100 yards as the Hokies beat State.
There will be some Wolfpack fans who really take a shine to Communion.
Somebody will get injured trying to climb the scaffolding on the West side. Authorities will claim alcohol was involved.
Tech beats WVU, causing Morgantown authorities to declare the area a 'couch-free' zone. After the season, Rich Rodriguez rides a BCS bid out of town to another job and becomes the first coach to escape the Li'l E, at least voluntarily.
Wake Forest's option offense gives Tech fits. Tech's late drive to attempt to win the game fizzles when Bryan Randall throws an end-zone interception. Frank Beamer extends his string of losing to at least one big underdog every year.
After Tech's first bad conference loss, somebody will post asking whether it was a mistake to join the ACC. It's not worth responding.
Stories about Wake beating Tech will be lost in the North Carolina papers due to the opening of basketball practice.
If the Florida A&M band shows up, my group might have to re-think our halftime tobacco consumption behind the West stands. Given all the construction, we might have to re-think it anyway.
The O16 game between the Hoos and Florida State will be a big one matching two undefeated and highly-ranked teams. FSU wins and the Hoos have trouble bouncing back.
After a wide open Tech receiver slips and falls on the second 'I' in the end zone people will wonder why Tech painted the end zones, or perhaps suggest the lettering match that in Cassell.
Miami lost to Florida State the last five times NC State coach Chuck Amato was on the 'Noles staff. Chuck makes it six in a row when the Wolfpack knocks off the Canes.
Georgia Tech Defensive Coordinator John Tenuta, who currently holds the 'Genius' belt formerly worn by Bud Foster, figures out a way to shut down Tech's offense and Reggie Ball leads the Yellow Jackets to a win.
There is much message board chatter about yet another Tech collapse.
At some point during the season, Matt Hayes will write that Tech does not belong in the ACC. It will be no better or worse than his usual ill-informed drivel.
Message board posters finally learn the difference between 'lose' and 'loose.' Or maybe not.
Franklin Street bars will do a land office business the morning of November 6.
After falling behind by fourteen points in the first half, Tech, in a complete reversal of November form, comes back to win a wild game over Darian Durant and North Carolina. After the White wins in the annual Blue-White game, Carolina AD Dick Baddour claims that Carolina has an excellent chance to go to the Final Four and announces that John Bunting will not be retained for next year.
With a few days off before the Thursday night Maryland game the Beamers, as is their habit, take some time to kick back at the Georgia lake house. Cheryl again laments that they rarely see the Friedgens anymore because Ralph is too busy working.
Ralph Freidgen becomes the first ACC coach to completely figure out Bud's defense ala Walt Harris as Maryland beats Tech.
Frank Beamer finally decides that maybe the continuing defensive problems aren't all the fault of the players.
After ESPN releases ratings that show the ACC the most-watched conference, Coach K will go off on another rant about how expansion has ruined the ACC.
Tech beats the Hoos in Lane. You were expecting otherwise?
Larry Coker is under more fire than Frank before Tech loses to Miami in front of 30,000 in the Orange Bowl. He still is after, too.
Hokiesports brags about twelve consecutive seasons of Tech winning 'at least seven games.'
Tech pounds UConn in the Tire Bowl. It will be a nice trip. In other ACC bowls, Florida State loses to Georgia in the Orange Bowl for the MNC, Miami lays RUTS on Notre Dame in the Gator, Clemson loses to Auburn in the Peach, the Hoos beat Texas Tech in the Tangerine and Maryland beats somebody in the Humanitarian.
John Swofford will describe ACC expansion as an "unqualified success."
Things will probably not go exactly as described above.