2004 VT Football Preview: Special Teams
by Jeff Ouellet, 8/10/04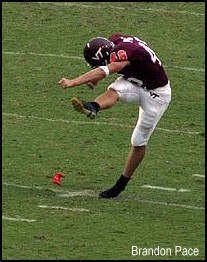 The defining characteristic of Virginia Tech football, to the casual national college fan, is special teams. The reputation of good special teams play precedes the Hokies, and Beamerball has become synonymous with opportunistic, field position based football. Unfortunately, however, the production has not matched the substance as VT as significantly fallen off in this area in recent years.
The most problematic of areas is the placekicking position. Since back problems limited Carter Warley after a solid debut in 2000, the placekicking slot has been a nightmare for the Hokies. Missed kicks have contributed directly to several losses (Syracuse in 2002, Cal last year), and indirectly in several other contests where Coach Beamer chose to punt or go on fourth down rather than risk a long (40+ yards) field goal.
Right now, VT has four candidates for its placekicking spot, but the leader is R-SO Brandon Pace. Beamer has praised Pace for kicking quickly and getting good distance. What he has lacked thus far is consistency in practice. There is also (of course) the element of transitioning practice success to the game. Pace has not kicked a regular season field goal yet, and it does not inspire confidence in the Hokie faithful that he wasnít given a chance last year against Cal with Warley obviously struggling.
The second string kicker is scholarship recipient R-SO Nic Schmitt. Schmitt is a jumbo kicker, weighing somewhere in the 260 range, and he has a leg. After being a highly touted recruit, he struggled as a backup to Warley as a true freshman and redshirted last year to work on his mechanics. Beamerís comments make it sound like Schmitt is more likely destined for punting duties than placekicking.
The other two candidates for the place kicking job are R-FR Judd Dunlevy and T-FR Jared Develli. Neither figures to win the job this year, but they do provide some competition and depth in case Pace and/or Schmitt falter.
The kickoff duties are as not settled either, but Develli, a recruited walk-on, is certainly turning some heads. He may have the strongest leg of any of the candidates, and with the difficulty the kickoff coverage had last year starting the opposing team at the 20 yard line, sounds like a solid plan to me. Schmitt and Dunlevy (in that order) both could win this job, but my guess is that Develli will end up being the guy.
Although it is far too early to know who will be on the kickoff coverage team, I have to believe that VT will be more solid in the area than it was last year. There are simply too many good young athletes on the defensive side of the ball for VT to continue to struggle with kick coverage. With the Hokiesí linebacker depth, expect to see a lot of whip/backer types on the coverage teams. Incoming freshman like Kent Hicks also appears to have great kickoff coverage measurables and could figure in prominently.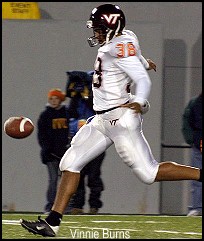 As for punting, Vinnie Burns is a senior returning starter. Burns has also suffered from inconsistency; he looked good early last year, but struggled as the year progressed. Burns will never have an enormous average (last year he had a 39.8 average on 57 punts) because VT believes in directional kicking, but sacrificing distance only makes sense if the coverage is solid.
Backing up Burns is VTís all purpose kicker Schmitt. Nic seems to have found a home as the heir apparent at punter. He looked great in the spring game as he combined distance and height. Again, consistency (and direction) seems to be his issue. Obviously, though, punters have more leeway in that regard than kickers, which is why Schmitt may fit long term better at punter than placekicker, the position for which he was originally recruited.
As for punt and kick returners, this season should be very interesting and competitive. With respect to punt returns, T-JR Jimmy Williams looked very capable in the spring game. He is a tremendous athlete and could certainly do the job; the emergence of R-FR Roland Minor as a viable backup boundary corner also may permit Jimmy to be used here.
Other candidates include R-SR Richard Johnson, who has experience but has not consistently demonstrated breakaway potential, and T-JR Mike Imoh, who would seem to be a great candidate but has reportedly struggled at times catching punts.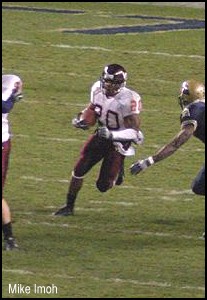 Several incoming recruits could figure in here as well, with Eddie Royal and Jeremy Gilchrest being the most likely (particularly Royal). Eddie is simply too good to sit, and he may take some time to learn the wide receiver sets, so punt returns would be a logical place for him to get some touches early in the campaign.
The overriding concern for Coach Beamer with any of the candidates, however, will be ball security. If they donít catch the ball, they wonít be back there. Ultimately, I think Royal wins the job if he catches the ball consistently.
Kickoff returns traditionally have been handled by backup tailbacks, and Imoh will be back there once his three game suspension has been served. Imoh averaged over 30 yards per return last year, including one touchdown, and heís got a great mix of moves, strength and speed. Heís dangerous in space.
The other spot is not as certain. My guess is that Royal joins Imoh back there to form a dynamite return tandem. One benefit of having similar type returners is that the guys upfront can adequately time their blocking schemes (i.e., you can expect Imoh and Royal to hit the seam at roughly the same time; such was not the case with Humes and Imoh last year). However, historically Coach Beamer is not afraid to take slightly slower, larger running backs and place them on kickoff return duty as well.
While Imoh is out, look for backup wide receivers (Josh Morgan, Robert Parker, David Clowney) to also get some reps at kick returner. If Brandon Ore doesnít take the Ďshirt, he could also get a look back there, much like Lee Suggs did early in his career.
Outlook
I am cautiously optimistic about the kicking game this year. Pace, Schmitt and Burns all went to a kicking camp this summer and did well. I think Pace may be ready to step up. The Hokies could play 4-5 games this year within a touchdown, and heíll have to make some big kicks (particularly in the swirling winds in Lane) for the Hokies to have a solid season. State, Maryland, West Virginia and Virginia are all potentially winnable home games, but they are the types of games that VT has lost in the past two years.
Burns seems to be on target for a solid senior season, and I like what Iím hearing about Develliís leg strength as a kickoff candidate. The athletes are there for coverage to be outstanding, and I expect improvement from both groups.
The return candidates are, for the most part, young, fast and talented. Many of them are fighting for playing time, which could lead to a little extra anxiety early in the year. Much like VTís backup tailbacks try to ďimpressĒ with their touches, leading to some fumblitis (see KJ two years ago and Humes last year), the youngsters will have to be particularly cognizant of ball security.
Coaching is also going to be important this year. Coach Beamer has done a great job schematically with his Pride and Joy unit (punt block), but heís going to have to coach up the coverage guys. He also may need to reevaluate his kickoff strategy of placing the ball inside the 5. While thatís fine in some cases, the fact is that with the talent available returning kickoffs in the ACC you are playing with fire by regularly kicking deep. If Develli can crank it 10 yards deep, that would be my preference. Iíll take my chances with the other team having to go 80 yards, rather than giving them a chance to return a kick with the best case scenario for VT being a stop at the 15, and the worst case being . . . never mind.
Coach Beamer calls special teams one-third of the game. With the amount of practice time, effort, talent and resources (Burns, Schmitt and punt/kick snapper Travis Conway, a R-SR, all have scholarships) spent here, this is one-third of the game that VT must win every week.