2004 VT Football Preview: Defense
by Jeff Ouellet, 8/6/04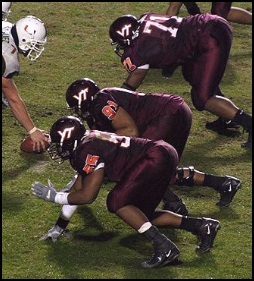 In the last five games of 2003, the VT defense gave up an average of approximately 35 points per game. The capper to Bud Foster's nightmare was a bowl performance in which the opposing quarterback was laughing because of the number of blown assignments. There is plenty of blame to go around for the collapse: players failed to play disciplined football, instead preferring to chase the ball; the scheme was exploited by opposing offensive coaches because VT lacked the defensive line and inside linebacker talent it was accustomed to; and, finally, some of the key players on the defense either were not that talented or did not perform as well as their talent would dictate.
As bad as the defense played at the conclusion of 2003, there is hope for optimism in 2004 because of several key changes. The first alteration is that VT will go to a more traditional 4-3 defensive approach, meaning the whip linebacker will be within five yards of the line of scrimmage regularly and will not have deep coverage responsibility. While I do think to some extent the impact the changes will have are being overblown by the VT faithful, clearly the modification in the whip's downfield coverage responsibilities will be a huge help to both James Anderson and Aaron Rouse.
Another change that should be beneficial is more situational substitutions. VT for years did not feel it was necessary to make situational changes, as essentially the Hokies could play either five in coverage or eight in the box (depending on where the whip and rover were assigned). The change to a more traditional defense is essentially an acknowledgement that it's tough to find hybrid athletes that can effectively cover guys in the slot and bring the heat on a blitz. I would anticipate situational pass rushing substitutions, and perhaps more nickel packages given the fact the ACC is more of a passing league than the Big East was.
Finally, and most importantly in my mind, there are a lot of good young athletes on defense that were redshirted last year. They are young and consequently will make mental mistakes, but there's no substitute for talent and our freshmen on defense have it. If the coaches can recruit a few prime time defensive ends this year, this defense could be really special in a couple of years.
Editor's Note: height and weight figures are the last available numbers prior to the latest roster being posted, to they may not be accurate. Time constraints didn't permit us to double-check the height and weight of every player against the latest roster, and for that, we apologize.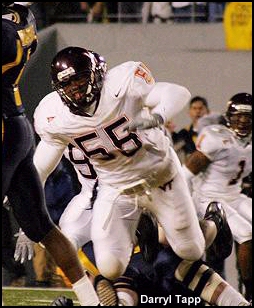 Defensive End
VT needs major production from this position this year, and the talent is there to do it. Statistically, I believe the ringleader in 2004 will be T-JR Darryl Tapp. The Tappinator has solid size for a VT end at 6'1", 264 lbs., and he's absolutely relentless on the field. He has committed himself to the weight room, and that additional strength will make him a force this season. What he will need to improve this fall is his discipline; rather than chasing the ball, he will have to make sure he plays containment defense. If he does that, he might very well receive some post season conference accolades.
The other preseason starter at defensive end is Noland Burchette,, a 6'2", 250 lb. R-SO who has a great burst around the end. Burchette had his moments last year, and he seems like he's got a very solid future ahead of him. If he can get better at utilizing his hands, he could become a top flight pass rusher. His 10 yard forty time is absolutely ridiculous, and many knowledgeable football people believe that is much more important than a 40 time (at least for a pass rusher).
R-SR Jim Davis (6'4", 276 lbs) was a returning starter at DE who was sorely missed last season when he took a redshirt year because of an injury. The time away was well spent, as he worked on putting on additional "good" weight and strength. Davis has NFL ability, and defensive line coach Charley Wiles is hoping everything comes together for Big Jim this fall. While Davis might not start from game one, expect him to eventually end up with as many snaps as anyone on the defensive line (although some may come at defensive tackle).
The newcomer to the group has the furthest to go but the best long range potential. If you could draw up a defensive end, it would be R-FR Chris Ellis: he's got size (6'4", 257), great speed (4.56) and athletic ability. His measurables are all there. As with nearly all young players, he needs to work on his strength at the point of attack. Ellis will be a real threat against many tackles on third down. His ability to succeed on first and second down will ultimately tell the tale of his season.
VT likes to have five defense ends available, and the fifth scholarship defensive end was former mike linebacker Jordan Trott. Trott, a R-JR, showed some flashes of being a solid contributor in the spring. He's got good height at 6'4", although he is slightly undersized (245 lbs.). Unfortunately, a preseason injury has clouded his availability, as he is out "indefinitely". Without Trott, depth becomes a serious question especially given the staff's hope to get Davis some time at tackle.
That leaves walk-on Bob Ruff, a R-SR, as a key player entering August. Ruff is 6'1", 238 lbs., and he's impressed the staff at times. He has some physical limitations, but he is tough, consistent and gives great effort. If he can provide 10 plays or so a game early in the year, he will be invaluable.
Former UNC transfer Isaac Montgomery has been moved from tackle to end. He has an impressive size/speed ratio, but for whatever reason things just haven't seemed to click for him. He did not appear to be in the mix as a R-SR at tackle, so the move to end will give him an opportunity to compete with Ruff for playing time.
VT has no recruits coming in this fall who appear likely to play at defense end. Even if someone like Maurice Reevey ends up here, he is a likely redshirt, and in the early going, Reevey has been slotted for tight end, anyway.
Defensive Tackle
The Lewis brothers are back again as starters at defensive tackle, and both need to improve on their play last season. Kevin, a 6'1", 288 lb. R-SR, did not have the kind of season many expected of him last year. At his best, he is a penetrating force that disrupts the opposing offense's timing.
T-JR Jonathan Lewis is slightly bigger than his brother at 300 lbs., and he has big time ability. He is capable of commanding a double team. Last year Jonathan was very inconsistent; this season he needs to develop into a bell cow on the line or things could get tough in the ACC. There is no reason Lewis shouldn't be a top 10 DT in the ACC. The fact he stayed in Blacksburg this summer improving his conditioning should bode well, as that was an issue last season.
The third tackle is 6'2", 287 lb. R-FR Carlton Powell. Powell nearly played last season, but Coach Wiles decided to keep the 'shirt on him. He is an impressive talent who has size, strength and surprisingly very good technique for such a young player. He should be able to compete at the ACC level right away, and that's no small compliment.
The fourth tackle is veteran Jason Lallis. Lallis, a R-SR, is undersized (6'0", 250 lbs.) but he gives great effort and plays with good leverage. The coaches know exactly what he will give them, and consistency is something coveted by the staff. Lallis also has experience at DE, and if Trott is out a while, don't be shocked if he gets some snaps there (assuming the DT rotation is progressing adequately).
Like defensive end, Coach Wiles likes to have five players rotate at tackle. The fifth spot is uncertain. The player with the most upside is R-FR Kory Robertson (6'2", 317 lbs.), but he was very inconsistent in the spring. If Coach Wiles can get Robertson to minimize his "bad plays", he could be a significant contributor. Robertson has shocking quickness for his size, but still needs more weight room time. Even if Robertson doesn't see the field much this year, he's got a very high ceiling.
R-JR Tim Sandidge has a significant amount of experience, and he's got solid size at 6'1", 301 lbs. He made a lot of "negative" plays – pushing the offense backwards, so that's a good thing -- as a redshirt freshman, but he seemed to regress last year. It seems like he's at his best when his snaps are limited. He could be the fifth tackle if the other newcomers aren't ready.
R-FR Barry Booker is also a solid long term prospect. Booker is tall (6'4"), agile and a better athlete than many defensive ends. However, he still has to develop the disposition necessary to compete consistently in the trenches, and he needs to add a significant amount of upper body strength.
R-SO Chris Burnett has impressive strength, but as an offensive line convert it seems unlikely he'll be ready to play this fall.
There is one incoming freshman at defensive tackle, and he is a very good one. Carl Howard is 6'4", 295 lbs. with a terrific wingspan and good athletic skills. Howard did not make any of the national "lists", but his offer sheet was impressive and his highlight tape even more so. He could be the best player in this recruiting class. Howard's dad also played in the NFL, so he has impressive lineage. If he grasp the schematic nuances from Coach Wiles, he could play this year.
The rotation on the defensive line this season is still in flux. There are only five scholarship defensive ends right now, including the converted Montgomery, two without any game experience at end, and four tackles that Coach Wiles is comfortable playing (again one without any game experience). That doesn't mean that other tackles won't step up their play, but it is an unknown.
Ideally, I think VT would like to situationally substitute to permit a line of Tapp, Burchette/Ellis, Davis and Lallis on third and long. Unfortunately, that may not happen because of depth concerns. The versatility of Davis and Lallis may help cover VT this fall as both can play defensive end or defensive tackle depending on the circumstance. The line has the potential to be one of the top four or five in the ACC, but they will have to prove it on the field.
Inside Linebackers
The Hokies' struggles against the run also raised questions about the inside linebackers in Blacksburg. Questions about instinctiveness, size, and technique have all been raised. Traditionally, the Hokies do not substitute their linebackers liberally, and that has contributed to the linebackers wearing down over the course of a 13 game season. I suspect you will see a regular substitution pattern in 2004.
The returning starter at mike is 5'10", 225 lb. R-SR Mikal Baaqee. Baaqee's weight has been a constant issue as he played too light as a sophomore and too heavy as a junior. Assuming he reports at 225, he will be at his optimum weight according to Coach Foster. Baaqee has struggled taking on blockers flush; he is at his best when he can flow to the ball and make plays on the ball. Baaqee runs well and is better than given credit for in pass coverage.
The future at mike is 6'0", 237 lb. R-FR Vince Hall. Hall is the prototype run stuffer: he has thick legs and is a very solid technique tackler. He's also got a reputation as a tough kid. Hall needs to continue to work hard in the weight room and understand pass coverage concepts better, but he could be a very special linebacker in time. Many have speculated that Hall could win the job outright. It could happen, but I doubt it occurs in the first half of the season. My guess is that Baaqee and Hall will split the snaps early, perhaps in a 2:1 ratio. They both would benefit from the rotation.
As for the backer position, the future is now. 6'2", 229 lb. R-FR Xavier Adibi may be second on the depth chart entering August, but I believe he'll be first by the time USC comes into FedEx Field (though a hamstring injury, the seriousness of which is unknown as we "go to press", could slow down his progress). Adibi just keeps receiving raves from the staff. He might be the fastest inside linebacker VT has had in the Beamer era – he certainly is since the departure of Ben Taylor – and he has a nasty disposition. Adibi flows to the ball well and can strike a blow. He also occasionally struggles in coverage, and he will need to improve in that regard. The talent is there, though.
JR Blake Warren has blossomed into a solid player and stands on the depth chart first right now. Warren has better size than any of the other inside linebackers (6'3", 246 lbs.), plus he has prior experience at safety so he understands coverage concepts better than either of the redshirt freshmen. Warren does a lot of things well, but ultimately I think Adibi wins the job because of superior athleticism. Regardless of who wins the job, the backup - whomever that may be - will still see a lot of field time.
Barring injury, I don't see freshmen Andrew Bowman (6'0", 230 lbs.) or Brett Warren (6'1", 225 lbs.) taking the field. Bowman was a highly sought after in-state prospect, but it will be tough for him to take time from Adibi and Blake Warren at backer. That position is solid. Brett Warren seems like a good fit system wise at VT, but he needs to take a redshirt year to improve his size/speed ratio. Much like his brother, with some time he could be a nice player for the Hokies.
Whip/Rover
Under the prior scheme it made sense to discuss these positions together because the physical requirements were similar. If the defensive changes are as dramatic as they have been described, it may make sense to discuss them separately but for now I'll still analyze them together.
Whip is the deepest position on the defense and looks to be in good hands over the next few years. Atop the depth chart after a stellar spring is 6'2", 222 lb. R-JR elite athlete James Anderson. Anderson was a special teams demon last year, as he demonstrated his ability to run and tackle in space. With the coverage aspect of whip being de-emphasized, he flourished in the spring. Anderson made a ton of negative plays this spring and probably played as well as anyone on the defensive side of the ball. The new scheme really plays to his strength.
Behind Anderson is R-SO Aaron Rouse. Rouse is a bigger hitter than his numbers (6'2", 210 lbs.) would indicate, and he simply finds a way to make plays. If Anderson slips from outstanding to just pretty good, he will have Rouse leapfrog him into the starting spot. Rouse still makes mental mistakes, but he knows how to lay the wood to an opposing ball carrier.
It has to be tough for R-SR Brandon Manning (6'0", 220 lbs.). A starter for virtually all of the last two years, he currently finds himself residing at third on the depth chart. Manning is better in pass coverage than Anderson or Rouse, and he makes a lot of fundamental plays. He simply lacks the big play capability of those in front of him, but make no mistake about it – Manning is capable of contributing significantly if called upon by Coach Cav. All of these whips also may be key special teams coverage players.
The responsibilities at rover are handled by SR James Griffin. Griffin is 6'1", 198 lbs., and he also likes to be around the ball. Griffin struggled a lot with the system and discipline required last year, but that is not uncommon for junior college transfers in their first season at VT. He was significantly improved in the spring, and with the summer in the weight room he could be primed for a nice season. VT often has senior rovers emerge like Kevin McCadam and Michael Crawford; the Hokies need that kind of effort from Griffin.
The backup rover position is very much unsettled going into the fall. The candidates are, in order of seniority, R-JR D.J. Walton (5'9", 193 lbs.), R-SO Cary Wade (5'10", 179) and true freshman Kent Hicks (6'2", 205 lbs.). Walton has less than ideal measurables, and his decision making could use some improvement as well.
Wade is a solid player who is probably a step or two slow to be a really top notch rover. He also hasn't been as consistent as the coaches would like, and he'll have to turn up that aspect of his game if he wants to claim the backup spot.
The magnitude of the late addition of Hicks to last year's recruiting class is probably lost on a lot of Hokie fans, but keep in mind that he was very likely one of VT's top five biggest recruiting "misses" in 2004. He has to be considered one of VT's top three or four incoming recruits, and he also plays a position with a significant long term need.
Physically, Hicks is superior to any of the other backup candidates. He's tall and rangy with the ability to punish ball carriers. Because of Griffin's impending departure, don't be surprised to see Hicks see the field this fall if he can grasp the system. On paper, he also seems like a great special teams candidate.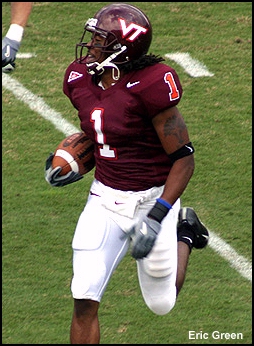 Corners/Free Safety
The grand experiment in Blacksburg this spring involved switching positions for two of VT's most experienced defenders. The early results are favorable, but the ultimate advisability of the decision will wait until fall.
VT's corners have the ability to range with any tandem in the conference. At boundary corner, VT's most physically gifted upperclassman holds down the fort. 6'3", 220 lbs. with 4.4 speed, Jimmy Williams should be a star. I hyped him mercilessly last year, and he disappointed at free safety. The staff believes simplifying his duties will allow Jimmy to perform at his best. He should be tremendous jamming opposing wide receivers, and he'll also be a force coming off the short corner in the event Coach Foster wants to corner blitz. I think he'll rebound with a very good junior season, and if he does, the NFL may come calling.
The field corner is R-SR Eric Green. Green, 6'0", 198 lbs., drew raves from the normally reserved Coach Ward after his performance this spring. He even predicted that with similar improvement/production this fall, Green could be ticketed for the first round of the NFL draft. Green is now 100% recovered from his knee injury, and he's always shown the ability to make plays with the ball in the air. With a renewed sense of purpose and better concentration, he appears ready to make the next step towards becoming an elite player.
The backups at both corner positions are freshmen. R-FR Roland Minor backs up Jimmy Williams, and he impressed a lot of the spring game crowd with some big hits and timely plays. Minor seems genuinely unimpressed by the big stage (a good thing), and he looks like he could add some quality depth this season.
At field corner is former Phoebus star D.J. Parker. Parker is only 6'0", 175 lbs., so he needs a lot of time in the weight room. That's not uncommon for a true freshman. What is uncommon is his ability to turn his hips and run, a trait that is imperative for a great corner. He's got a terrific upside, but Coach Ward will need to bring him along quickly this fall. It is very tough to play corner at an ACC level as a true freshman, but his season at prep school and going through a spring practice should help.
There are three other scholarship corners that could crack the two deep. R-SO Brian McPherson has solid strength and okay size (5'10", 189 lbs.), but hasn't shown the short memory needed to excel as a major college defensive back. He would be the fifth corner going into the fall.
Incoming freshmen Brandon Flowers (5'10", 175 lbs.) from Hargrave and Theodore Miller (6'2", 190 lbs.) from H.D. Woodson bring contrasting games and styles. Flowers is a polished defensive back from Florida with terrific footwork. He lacks ideal size, but he could play early because he's technically sound. Miller is a longer range prospect, but he's a terrific talent. H.D. Woodson's defensive coordinator called him more physically gifted than Roland Minor, quite an endorsement given the staff's positive opinion of Minor. While I love Miller's height and leaping ability at corner, I also have to think he will get eyeballed as a potential free safety candidate, especially if Corey Gordon gets moved.
At free safety, Vinnie Fuller is the starter. Fuller started out at VT as a free safety, and he returns to his old position as a R-SR. He has great range and a better understanding of the defense than Jimmy Williams apparently did. The only knock on Fuller that I can see is that he is a little lighter than ideal at 184 lbs. However, considering the fact the ACC is probably a less physical running league than the former Big East was, and we may see more two deep with freshmen corners playing, Fuller's run support may not be quite as important this year as it would have been last year.
The backup free safety is another R-SR Mike Daniels (6'0", 212 lbs.). Daniels started a couple of contests as a freshman, and appeared on his way to being a multi-year starter. That never happened, but he's still been a very valuable contributor on special teams and by providing depth. Every team needs veteran, experienced players like Daniels or Brandon Manning.
R-FR Corey Gordon has great size (6'2", 212 lbs.) and hits like a ton of bricks, but he still needs some polish and work on his coverage skills. He gets the benefit of sitting and learning behind two seniors. Hopefully he'll study hard because if he stays at free safety he will have a legitimate chance to start next season. Gordon is currently out with a hamstring injury.
Outlook
Coach Foster will face a challenge this year with all of the youth on the defense. He may have to scheme to protect the young corners, or substitute liberally to give the youngsters more rest because they aren't as strong as they will be in the future, but he also should deal with this year's growing pains confident that he's building something special for the future. I anticipate VT having no fewer than seven redshirt or true freshmen on the defensive two deep. Perhaps even more impressive is the fact that there might only be three redshirt freshmen that do not make the two deep – Kory Robertson, Barry Booker and Corey Gordon – and all appear to have solid futures as well. The long term prognosis looks good on defense; the question remains for how well that translates into this season.