2004 VT Football Preview: Offense
by Jeff Ouellet, 8/3/04

2003 in many regards was a season of expectation. The Virginia Tech players, coaches and fan base all thought the pieces were in place to have the type of season that the Hokies havenít had since Michael Vick departed for the NFL. Instead, after another strong start, VT finished its season losing five of its last seven games (and the Temple OT win felt like a loss).
The mantra for 2004 has to be uncertainty. While the very nature of college football necessitates its transience, at least in personnel terms, the Hokies lost more top shelf talent to the NFL than they ever have before. Couple those personnel losses with the unfamiliarity of a new, and much tougher, league, and most preseason publications tab VT for seventh or eighth place in the ACC. Based on results from last year and returning starters (the criteria most use to predict conference finish preseason), VT deserves that ranking.
With that being said, VT still has some top shelf talent on hand; enough, in fact, to match up reasonably well with all of its ACC brethren save Miami and Florida State. However, no VT team in recent memory has had as many gaping holes depth wise. Itís one thing to have inexperienced backups; itís another to have young and inexperienced backups at key positions. A few key injuries and the Hokiesí bowl streak is in serious jeopardy.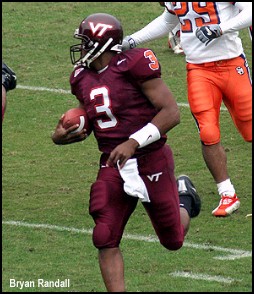 Quarterback
In the spring I suggested it would be best if the QB controversy was solved once and for all. Well it was, but certainly not in the way anyone hoped. The plusses for SR Bryan Randall are many: he is experienced, tough, and a great leader. Every year he has improved his ability to read defenses, and he has shown a solid command of the short passing game. What Randall has yet to demonstrate is the ability to consistently hit the deep ball, and that will be a necessity this fall. He also needs some help from his wide receivers; it will be imperative that VT obtain more yards after the catch than they have in recent years.
As everyone already knows, backing up Randall are two true freshmen. Both have good height (6í4"), a nice touch and good prospects for the future. Their outlook for this year, however, is not as incandescent. Both need to work to add weight and strength, and improve their pocket presence.
Cory Holt was in Blacksburg for spring practice, so he presumably will have the edge over Sean Glennon going into August. However, word out of Blacksburg is that Glennon is a quick study and will have a legitimate chance to be the backup. I donít know who will win the backup job, but I guarantee it will be the player that shows the ability to do the little things correctly. It is fine to recruit based on upside and potential, but the staff will be choosing the backup in the first two weeks of camp based on the respective candidate's ability, relatively speaking, to avoid making key mistakes.
There may not be a single player in college football more important to his teamís fate than Bryan Randall. His presence in the lineup could mean as many as four additional victories for VT. The QB situation has to alter the play calling of Coach Stinespring. VT has used the option effectively in recent years as a mechanism for getting running backs to the corner. In my opinion, the use of the option will be greatly curtailed this fall. Likewise, the Hokies will call fewer quarterback draws. My supposition is that VT will use the short passing game, particularly to the running backs and tight end, to try to compensate. The flexibility of players like Jeff King, John Kinzer, and Justin Hamilton should make things easier.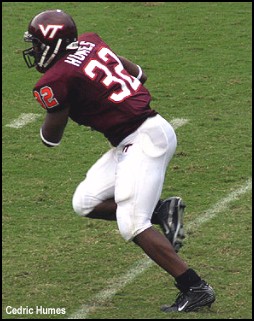 Running Back
The tailback position is a train wreck heading into the season, but it could resolve itself very quickly into a strength. While R-JR Cedric Humes is not Lee Suggs or Kevin Jones, he is a very good back who will break 1,000 yards if he is healthy. Humes is big and physical, yet he has a shiftiness that belies his 225 pound frame. Ball security has been an issue, as is his ability to produce in the passing game. Humes is recovering from a broken leg, and that clouds his future for USC (although reportedly Humes has done very well thus far with his rehab).
The backup tailback, in theory, is T-JR Mike Imoh. Imoh is quick to the hole with a great burst, and heís also incredibly strong given his 5í7", 195 lb. dimensions. He is terrific in open space, and his hands are some of the best on the team. He is a perfect third down back, and he may have the most "big play" potential of anyone on the offense this year. He needs 20 touches per game via returns, receptions and rushes. Of course, Imoh will be absent from the first three games of the year because of off the field difficulties.
Last yearís leading returning receiver, R-JR Justin Hamilton, would likely be the starting tailback if the Hokies lined up against USC in the first week in August. Hamilton is a terrific athlete with great size (6í3", 219); in running style he is a "glider" that runs more upright than Humes or Imoh. While Justin is extremely capable, it will be a terrific adjustment for him to get used to running inside effectively while protecting the ball. On the plus side, Hamilton gives VT great versatility as he can play tailback in the traditional I formation, he has the ability to run out of a split back set, and he can go in motion and be very effective against a linebacker or a safety when covered man-to-man.
Given Humesí injury and Imohís suspension, there is a better than even chance of one of the two true freshman tailbacks playing this year. The more highly recruited, George Bell, apparently has had a tremendous summer. Bell was a true national blue chipper until he suffered a serious knee injury as a high school junior, and only now is he truly rounding back into form. Bell is chiseled, and he runs with great power. He also shows nice footwork, and, pre-injury, good speed. The jury is still out on whether Bell can regain his lost step, but he still could be valuable in short yardage situations if Humes is struggling. Bell also has the advantage of having been coached in VT's blocking schemes (blitz pickup is an even greater issue this year than it is normally).
The other freshman tailback, Brandon Ore, has been overlooked by a lot of people. Thatís a mistake. Ore is a great talent, and he has added a significant amount of muscle since his high school season ended. The issue with him is not ability, but, rather, can he assimilate all of the necessary nuances of his position (blocking, the passing game, avoiding mental mistakes in the heat of battle) in only a month. As of now, Bell would appear to have a significant edge in the race to play this fall.
The fullback race is still wide open going into August. The putative leader, R-FR John Kinzer, was a highly recruited in-state player that was initially ticketed for TE. However, at 6í2", he had less than ideal height for the position, and his physical skills suggested he could be a terrific blocker/receiver from the fullback position. Kinzerís measurables are fantastic; however, he still has a lot to learn about leverage and generally he hasnít been as consistent as long time running backs coach Billy Hite would like him. Consequently, the door has been left ajar for other candidates.
Second on the depth chart among the returnees is walk-on Jesse Allen. Towards the end of the spring it appeared that Allen finally started mastering some of the blocking techniques essential to the position, and Coach Hite was very pleased with his progression. His physical numbers, as demonstrated by his weight room prowess, were never in question. If he continues to do the little things well, Allen appears to have a legitimate shot to win the job and continue the VT walk-on tradition at fullback. At the very least, he has put himself in a position to get some quality playing time.
One of two incoming freshmen also could figure in at fullback. 5í10", 210 lb. human bowling ball Purnell Sturdivant apparently will get a look the first few days of practice at fullback. Sturdivant was highly recruited and is well regarded by the staff, and his reputation as a hitter proceeds him. It was a surprise to most recruitniks that Sturdivant is going to be given his first shot at fullback Ė many had him penciled in at rover Ė but he apparently will start on the offensive side of the ball.
Fullback candidate Michael Green, a freshman from New Jersey, has ideal size at 6í1", 230 lbs. Green strikes a blow whether running or blocking, and he also appears to have the selfless attitude needed to succeed at fullback. Green also could project on defense as an inside linebacker.
My guess is that one of the freshman eventually plays with the ability to play special teams perhaps being the deciding factor between the two of them. However, I would not anticipate either one rising to the top of the depth chart. Fullback is a more complicated position than many give it credit for, and one blown blitz assignment could be the difference between a solid bowl season and competing with UNC and Duke.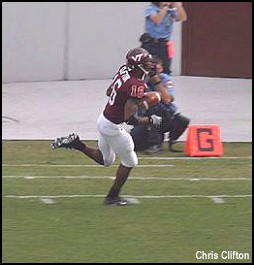 Wide Receivers
Wide receiver is the most intriguing offensive position to me. VT has a bunch of new faces that all appear to be good enough to make significant contributions this season, but, as with any young player, they will make mistakes (dropped passes, blown routes, missed blocks) on one play and dazzle the next. Letís hope they save the dazzlers for third down.
The experienced player who seems most likely to take a step up is R-JR Chris Clifton. Clifton is a tall target (6í4") with athleticism and impressive stopwatch speed. He also has some game experience. He needs to experience a Wilfordian jump in production from his sophomore to junior seasons given the inexperience that abounds elsewhere, and he appears to be capable. The knock on Clifton going into the fall is that he lacks the consistency that receivers coach Tony Ball demands from the position. Hopefully, Clifton can emerge as a steady playmaker to take some pressure off all the youngsters.
Backing up Clifton is true freshman Justin Harper. Harper enrolled early after a stint at Hargrave, and his impact was felt during spring practice. Harper has been described by some as a more athletic Earnest Wilford, and you can see why. He has great size, speed and the ability to separate. His basketball experience also enables him to understand that he needs to meet the ball rather than letting the ball come to him. Harper added some significant weight, roughly 20 lbs., so he now weighs over 200 on his 6í4" frame. I think Harper plays this year and puts up some numbers.
Another freshman that could see time is Josh Morgan, another early enrollee that participated in spring practice. Morgan prepped at Fork Union, and he came to VT with a reputation as a physical specimen that wasnít afraid to get mix it up. The book on Morgan proved to be accurate. He is already roughly 220 lbs., and unless someone has Jimmy Williams size he is going to be very difficult to jam at the line in bump and run once he improves his technique. Morgan also has good hands. Morgan is a solid bet to play this fall, although part of me would love to see him get a chance on the defensive side of the ball at rover or whip given the long term depth issues there.
At the split end position, the two leading candidates are both from the class of 2003. R-FR Josh Hyman seems to have it all. He is fast with good hands and a toughness that endears him to Coach Ball. Coach Ball raved about Hymanís play during the spring, and he also impressed a lot of teammates during his scout team season. Hyman just strikes me as a great football player, and I have high hopes that heíll eventually become a go to guy for the Hokies. Donít be surprised to see him touch the ball on a few reverses this fall.
The returning speed merchant of the group is T-SO David Clowney. Clowney was the only true freshman to play last year for the Hokies, likely because he has legitimate track speed on the football field. Even if Clowney doesnít start, he does have the ability to be a key component to the Hokies passing game.
The top two other returnees are R-SR Richard Johnson and R-SO Robert Parker. Johnson was the most highly recruited player in the VT class of 1999, but he simply has never found his niche. He has been slowed by injuries and plagued by inconsistency. While he could certainly make a last push this year, it seems likely less experienced players will pass him on the depth chart.
As for Parker, heís an interesting case. He won this yearís VT Ironman competition, an impressive feat, and he seems to have the ability to play somewhere. He is fast, strong and dedicated. What he hasnít been thus far is consistently healthy. He could factor in as a kickoff returner/special teams demon. If the freshmen play well at wide receiver, he could work his way towards the defensive side of the ball.
The two true freshmen that werenít in Blacksburg for the spring, Eddie Royal and Jeremy Gilchrist, are similar in statute and explosiveness. Royal, regarded by most as the best pure talent among last yearís Virginia HS seniors, is a 5í10", 175 lb. blur with the football. He has gamebreaking speed and moves and would certainly add some kick to the VT short passing game.
Gilchrist is similarly built to Royal but isnít as stopwatch fast. However, when he puts on the pads he can really run. His field speed is also helped by the fact he has very nice footwork and gets in and out of his cuts quickly. Both of them are very dangerous kick returners and figure to be in the mix to replace DeAngelo Hall.
Royal appears to be more likely to play this year, especially if Glennon wins the backup job given their existing camaraderie, but with the punt return duties possibly hanging in the balance, special teams aptitude may also determine which one plays. Given their size, blocking may be an issue for them as well.
Tight End
VT has two experienced, solid tight ends and two young tight ends in the program that appear to have a good future. The depth chart is not particularly long, but this position, barring injury, is not a concern for 2004.
The starter will be Jeff King. King, a R-JR, is a terrific blocker and a pretty good receiver as well. He is under appreciated by many outsiders, but his contributions are not lost on the staff or his teammates. If King got more passes thrown his way he would have a chance for some conference recognition.
Jared Mazzetta is also a very good, experienced football player. As a R-SR, Mazzetta has contributed on special teams, in the running game, and occasionally even as a pass receiver. Like King, heís over 250 lbs. and a solid run blocker. You know what you are getting with Jared.
The future is in the hands of a pair of redshirt freshman, 6í5", 265 lb. Duane Brown and 6í4", 250 lb. Matt Roan. Brown is a former basketball standpoint that has very good footwork and great hands. His straight ahead speed is good, meaning he could be a factor in the short passing game.
Roan, on the other hand, projects more as a seam route pass catching type tight end. He has the ability to get down the field and make plays. Both freshmen need experience, but they have the coaches intrigued by their potential. Brown in particular looks to be a guy who, if he turns up the wick, could be a big time player.
Although nothing is set in stone, the latest I have heard is that enigmatic recruit Maurice Reevey is going to be started on the offensive side of the ball at tight end. Reevey is a bundle of potential, as heís fast, quick and generally athletically gifted. Some think heís the best athlete in the entire incoming freshman class. Unfortunately, however, Reevey has not played a lot of football and will likely take a redshirt year regardless of where he ends up playing. He has a long way to go before heíll be ready to hit the field, but if it comes together for him he could be a special player. Personally, I would like to see Reevey settle in at defensive end given VTís long term needs there, but I believe he will get his first snaps at tight end in August.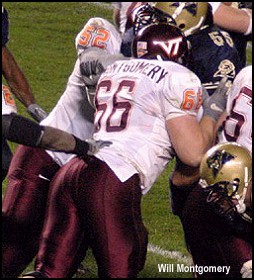 Offensive Line
Everyone knows VT is paper thin at quarterback, and experience-deprived in the backfield at tailback (for the first few games) and fullback. Few people, however, have focused on VTís offensive line depth at tackle, which is nearly as troubling.
The starters at tackle are both quite capable, and I think they will have excellent years. Left tackle Jimmy Martin is a T-JR who has started most of his career, and heís had an excellent offseason in the weight room. He should be a capable blind side protector for Bryan Randall. Martin lacks ideal weight (6í5", 295 lbs.), but his footwork is excellent and his experience makes him a key to VTís offense.
Mammoth R-SR Jon Dunn (6í7", 341 lbs.) is a good right tackle as well. Dunnís weight room numbers, or lack thereof, have been slightly overblown: he has solid technique and has shown the occasional ability to engulf people at the point of attack. If Dunn progresses this year as he did last season, heíll get a serious look from some NFL folks. His pass protection has been solid, but he does tend to have lapses in concentration.
There is very little depth at tackle. R-JR Reggie Butler (6í5", 340 lbs.) is currently listed as a co-starter at guard, but he is in my opinion desperately needed as a swing tackle. He has some experience and he has the size to combat some of the ACCís best pass rushers. I really like Butlerís upside and potential, but I would have some concerns if he had to split time at guard and also be the primary tackle backup.
The other backup tackle, R-SO defensive convert Brandon Frye, has very little experience and below average tackle size (6í4", 290 lbs.). On the plus side of the ledger, Frye is a much better athlete than the typical tackle and has solid weight room numbers. He may explode this year, given his first opportunity to play.
There are no other pure tackles in the system that appear to be ready to play. Freshman Nick Marshman brings an intriguing frame and skill set to the position, but he needs to be Gentrified this season. Other offensive linemen might be able to be converted in a pinch, like Tripp Carroll or Matt Welsh, but neither are best suited for the outside. Martin and Dunn need to stay healthy for the Hokies.
The interior of the Virginia Tech offensive line is anchored by R-JR Will Montgomery. Montgomery is 6í3", 296 lbs. and he has the perfect temperament to deal with defensive tackles (M-E-A-N). Heís a very good guard, but the coaches experimented with him playing center this spring. The move was understandable in light of the importance of the center position and Montgomeryís talent, and he adapted well to the change. It appears as though the change is permanent, although my preference would be to have him stay at guard so he could use his footwork a little more to get down the field (paging Tripp Carroll). Regardless of his final position, if I was asked to pick the most likely Hokie to make first team all ACC on offense, my moneyís on Monty.
If Montgomery remains slated at center, the favorites at guard are R-SR James Miller (6í5", 300), R-SO Brandon Gore (6í5", 345 lbs.), R-JR Jason Murphy (6í2", 303 lbs.) and Butler. My guess is that VT will eventually use Butler as a utility man (much like Jacob Gibson was previously used), but I still think heíll really have to focus at tackle because of lack of depth. That leaves Miller, Gore and Murphy as the "pure" guards competing.
Miller is solid and has the most experience. He figures to be a starter early in the season, and if he performs well he may never relinquish his spot. Gore came to VT very highly recruited and has some serious road grader potential on the inside. If Gore had stayed healthy this spring, my guess is he would have won a starting position outright. I still figure him to be a starter this fall, although perhaps not from day one, and I think he could be a pleasant surprise. Murphy has shown a significant amount of improvement technically since he moved from defensive tackle, but he still needs to work on maintaining his balance.
Perhaps the name to watch on the VT offensive line is Tripp Carroll. Carroll reportedly had an absurd number of scholarship offers coming out of high school (80 plus), and he was a very highly regarded prospect. After suffering through the initial shock of big time college football, he has started to progress nicely and is showing signs of being a significant contributor this season. If he can provide quality snaps, enabling Montgomery to play at what likely is his best position (guard), the entire line will benefit.
Incoming freshman center prospect Ryan Shuman has the VT coaches really excited, but it seems unlikely that heíll be asked to play this year. He is undersized right now at about 260 lbs.
The offensive line should be strong this fall, and it will have to be for VT to overachieve this year. The starters are above average, and the health of that unit, plus the development of the second string, likely will tell the tale over a grueling 12 game season.
If all the key players stay healthy, the offense could be better than expected. One key injury to Bryan Randall and the VT playbook will shrink and things could get very tough for the Hokies.