Fantasy Campers Hang With the Coaches, Storm the Field
by Will Stewart, TechSideline.com, 7/30/04

Images from Frank Beamer's
2004 Football Fantasy Camp
(click to enlarge)
(A big thank you goes out to fellow campers
for providing these photos)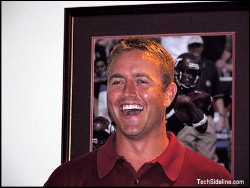 Friday night: Kirk Herbstreit's reaction
after a camper asked, "So, Kirk, who knows
more about football? You or Mark May?"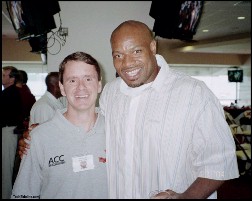 Friday night: Cornell and I go way back.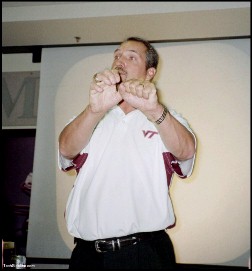 Friday night: Bud Foster demonstrating
what he'd like to do to Walt Harris.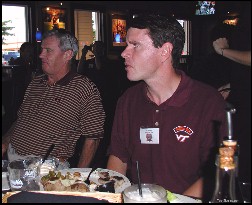 Saturday night: Hangin' with Coach
at Beamer's.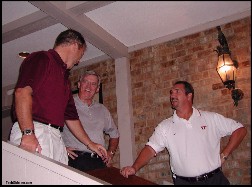 Sunday morning: Stinespring, Beamer,
and Foster chuckling at the appearance
of their "team," prior to breakfast.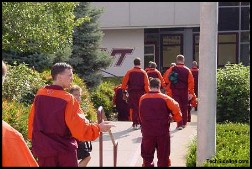 Sunday morning: We arrive at Merryman
in our team sweats.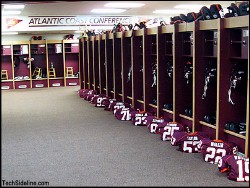 Sunday morning: Our football gear laid
out in the team locker room.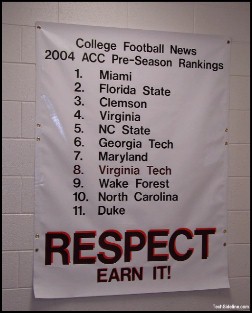 Motivation for the Hokies.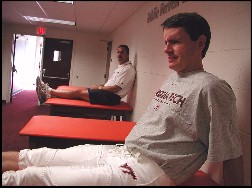 As Foster looks on, I think to myself,
"Why are they taping my ankles together?"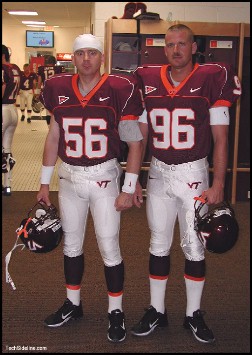 The Mike linebacker and defensive end
the Hokies have been missing for
the last three years have arrived!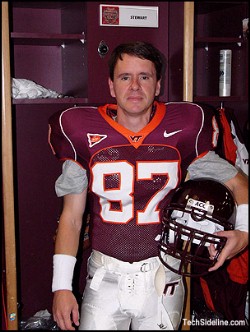 Uh, tuck in the sleeves, Will.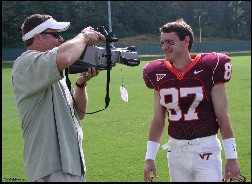 "I tell you what ... putting on the uniform
makes you want to go hit somebody."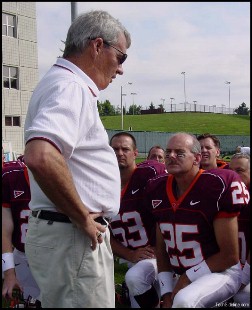 "I don't give speeches."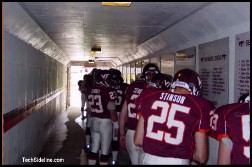 Waiting in the tunnel.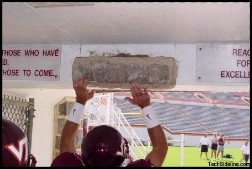 "For those who have passed, for those
to come ... reach for excellence."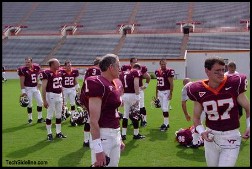 "Where are all the fans?"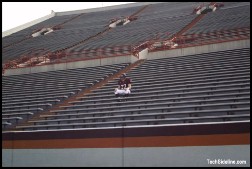 "Put me in, Coach!"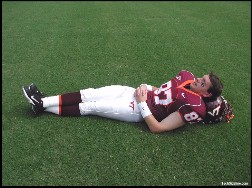 Think Beamer would make his players
run laps if they did this?
Okay, take a bunch of desk jockeys who would get killed by a real football player, put them in pads and a helmet, and run them out onto Worsham Field to piped in crowd noise. Slap the Hokie stone, run the gauntlet, low fives all around. Sounds silly, right? You would be surprised how cool it can be, and it was hands down the highlight of Frank Beamer's first-ever Football Fantasy Camp, held last weekend.
At last year's Miami football, I was all but ordered to show up at a tailgate put on by message board poster F4EHokie, who somehow managed to get me to actually show up. I can be unreliable on game days, but as I recall, F4E hooked me with the line, "The ladies are expecting you to be there, so don't miss it." He also got help from my wife Nan in getting me to show up, and I when I arrived at F4E's tailgate, I was treated to a big surprise: an all-expenses paid trip to Frank Beamer's 2004 Football Fantasy Camp.
The idea was simple: pay $3,000 and get to spend a weekend with Frank and the VT coaches. Stay at the team hotel, eat team meals, attend film sessions, play golf Saturday, and suit up and take the field Sunday.
F4E had taken the germ of an idea from Nova Hokie 95 and had spearheaded a fund-raising campaign. Unbeknownst to me, a group of TSL posters ponied up donations to send me to the camp (for the full story from F4E, click here). I'm still stunned that people would raise that much money for me to go enjoy myself, so yes … I owe you guys an article. It's the least I can do.
Friday
We arrived at the team hotel, the Red Lion Inn in Blacksburg, Friday afternoon and were immediately greeted by John Ballein, the VT Associate Director of Athletics for Football Operations. Ballein is often referred to as Beamer's right-hand man, and the easiest way to describe John is to say that he does everything for Tech football: coordinates travel, recruiting, the football camps, clinics, and basically all the important administrative aspects of the football program. John is a ball of fire who has been with Coach Beamer since 1987.
The first thing Ballein did was convince me to play golf, which I had sworn I was not going to do. He started in on me the instant I arrived, and I realized the only way to make him let the issue drop was to agree to play. "Good, you can have my spot," Ballein said, and he even promised to bring his clubs the next day, so I could use them.
That settled, we gathered in the hotel lobby and mingled a little bit, then we caught the team bus for our first event: dinner in one of the South End Zone stadium clubs at Lane Stadium, with featured speaker Kirk Herbstreit of ESPN fame. We got off the bus and went into the West stadium club, where we filed past the VT assistant coaches and got our first chance to meet them. The bar was open, and for a little while, we got to mingle with the coaches before we were served a pretty tasty dinner.
Herbstreit didn't hang around long. He arrived shortly before his speech and departed immediately afterward, and I didn't get a chance to meet him. But his speech was interesting. After praising VT's fans, Herbie said that what he felt was missing from VT football the last few years was the team attitude. He said he had noticed a lot of the "I" attitude, and he felt that was dragging the program down. It doesn't take a rocket scientist to see that, and the coaches had probably already discussed it with him, but still, it was interesting to hear him say it. He got a loud round of applause on that point, by the way.
Herbstreit also talked about his great relationship with Lee Corso, and though Herbstreit is only in his mid-30's, he lamented the new generation of studio hosts (calling out ESPN's Stephen A. Smith in particular) and their often vindictive, in-your-face attitude. He also expressed open disdain of the knowledge and abilities (or lack thereof) of a couple of his fellow ESPN college football studio analysts, though he stopped short of calling out names there.
Cornell Brown, who never seems absent from Blacksburg for very long, was there. When I went to get my picture taken with him, I asked if anyone had a box for me to stand on, but sadly, no one did. I still think the shot came out all right, even though I felt small next to him. P.S. That dude's big.
Next we walked to the Merryman Center's team meeting room, where we spent the next hour and a half getting the rundown on the VT defense and offense from defensive coordinator Bud Foster and offensive coordinator Bryan Stinespring, respectively. The talks included overhead slides and game film.
We also spent an hour and a half Saturday morning in offensive and defensive breakdowns with the other assistant coaches, and to be honest, this part of it runs together for me. I came away with the following impressions and recollections from the coaches' talks:
1.) Football is an extremely complex sport, more complex than your average person can imagine. So much terminology was thrown at us that I found myself wondering how in the world a college student can take it all in, learn it, and apply it full speed on the field.
2.) Stinespring laid out his schedule for us, and it runs from roughly 7 a.m. to 9:30 p.m. every day, except for Wednesdays, which can go until 1 or 2 a.m., because that's the night he draws up his game plan and play lists for Saturday's game. I can tell you that Stinespring's schedule is very tightly mapped out, and there wasn't a single line in there that said "family time." It is a tough, demanding job. These guys work hard and sacrifice a lot.
3.) On the topic of offensive game planning, each game is laid out in minute detail. Stinespring breaks down film, charts the opponent's tendencies (with the aid of a computer), and comes up with lists of multiple plays for every situation -- every down and distance, position on the field, the two-minute drill, etc. Offensive coordinators don't sit there and decide on the fly what they're going to run. They do their homework ahead of time and have a list from which to choose.
4.) Defensive backs coach Whammy Ward answered the burning question, "Why don't the defensive backs look for the ball more often in man-on-man coverage?" The only time a DB is coached to play the ball and not the man is when the DB has the receiver against a boundary -- the sideline -- and "has him under control," or has his hip in front of the receiver's hip, with body contact. Only then is a DB coached to turn and look for the ball. Other than that -- in the middle of the field and when trailing the receiver -- DBs are coached to play the man, not the ball. This is common everywhere, not just at VT.
5.) Each coach showed several film examples of things going correctly. Jim Cavanaugh, for instance, discussed blitz packages and showed many instances of successful blitzes. I wanted to see some examples of plays that misfired, but no dice. Too bad, because that's just as interesting and educational, if not more so, than when things go right.
6.) Billy Hite went through the goal line offense, and I can report that Jake Grove is Nasty, with a capital N. And Will Montgomery is Nasty 2.
After the Foster/Stinespring talks Friday night, we were bussed back to the hotel, where we were issued a stern warning from Ballein: "This bus leaves at 8:10 in the morning, and it's your responsibility to be on it. I will leave your ass."
Typical Ballein.
Saturday
The next morning, we had an excellent buffet breakfast at the Red Lion, then headed back to Merryman for the offensive and defensive "breakout" sessions I mentioned earlier. We also received a short talk from Miller Safrit, a recruiting analyst for TheInsiders.com, but not before Whips and Rovers coach -- and ace recruiter -- Jim Cavanaugh said, "When he's done, I'm going to tell you about how everything he says is wrong."
One topic of discussion was the NCAA's new recruiting rules, which forbid flying recruits to campus for official visits in private planes, a common practice in the past. Miller Safrit said that he felt the new rule would hurt VT because of Blacksburg's relatively remote location and distance from the nearest airport in Roanoke. Cavanaugh later addressed that point, saying that a bigger concern was the problems it would create trying to get recruits who also play Friday night basketball games onto campus so they could participate in the whole weekend.
Cavanaugh rightly believes that it's important for a recruit to spend the whole weekend on campus, including valuable Friday night bonding time, and if he's recruiting a Tidewater kid who also plays basketball -- often on Friday nights -- it's next to impossible to get him to campus before Saturday, which rushes the rest of the visit and makes it hard for the recruit to bond with fellow recruits and his hosts.
Then we ate a lunch of barbecued pork and fried chicken -- man, my mouth waters just thinking of it -- and we got to meet Jim Davis, Vince Fuller, Bryan Randall, Jeff King, and John Kinzer, who ate lunch with us. We didn't have much time to chat with them before it was off to the River Course and golf, in captain's choice format.
I won't spend a whole lot of time talking about the golf. Each foursome had a coach in it, and the one I played in had graduate assistant and former center Steve DeMasi in it. DeMasi weighs 230, down a whopping 70 pounds from his late 90s playing weight.
I'm terrible at golf. I hit one usable tee shot, only to be out driven by a teammate, and around the 7th or 8th hole, gave up the charade of pretending I could hit off the tee or the fairway and stuck just to putting … which I did poorly. Oh well, I warned them not to let me play.
I carried my team to a 7th place finish out of 8 teams, good enough for a snazzy BeamerBall sweatshirt that I wanted to wear over my head in shame. My most remarkable achievement on the golf course was calling my teammate Bob Woods "Don" for the entire 18 holes, proving my often-made point that I'm terrible with names. So TSL'ers, always, always, always remind me of your name, even if I know you well. (It aggravates my mom, for example, to have to tell me, "I'm your mother" every time she sees me, but it does prevent me calling her "Dad" or "Reba" or something else that's totally wrong.)
You might think that the golf course is where the coaches would really let their guard down and dish the inside scoop on the program, but in my foursome, none of us pumped DeMasi for information. The guys I talked to in the other foursomes reported similar results. There's something about golf that makes you just concentrate on the game, I think, and it's a great equalizer, making you all golfing teammates, instead of "three fans and a coach."
And by the way, the River Course is stunning. Golf courses are beautiful places, but the River Course, even while it's undergoing construction to rework it, is an extraordinary place to be. Vast stretches of it run right along the river, which is mostly unspoiled natural scenery.
We showered and headed to Beamer's Restaurant in Christiansburg for dinner, where I had the pleasure of sitting next to Coach Beamer. To be honest, I don't remember a single shred of conversation from the meal. That's right, my thirty minutes right next to The Man, and I think we talked about movies and other mundane stuff, never touching the subject of Tech football. I'm pretty sure that at no point in the meal did I call him "Don," so that's good.
Then it was back to the Red Lion, where a handful of us, including Ballein and former WSLS Channel 10 sports anchor Greg Roberts, who now works on BeamerBall.com and other things, made sure the bartender kept busy until 1 a.m. She took the Coors Light I was carrying when I walked in and wouldn't give it back when I left. Silly ABC rules. But based on the way I felt the next day, that was definitely a good thing.
Sunday ("Game Day")
The next morning at 8 a.m., we donned our team sweats and headed to the team meal, or in our case, team breakfast. Ballein had promised us that the team's pre-game meal of spaghetti would be available, and sure enough, after a starter of French toast, many of the campers tapped into the spaghetti on hand. The coaches hung with us. I sat at Jim Cavanaugh's table and tweaked him by asking about Patrick Dosh, the QB recruit from Benedictine a few years back who bailed out on the Hokies at the last second and signed with Florida.
Cavanaugh talked about how he had liked Dosh, and said admiringly. "Man, that kid was tough. You could hit him in the mouth, and he'd get right back up." Someone at the table asked if Dosh had contacted Tech when he decided to transfer out of Florida (Dosh is at ECU now), and Cav chuckled. "No, I kind of left that door closed. I was pretty upset when he backed out on us so late, and I let him know it."
We got on board the team bus at 8:45 to head to the stadium, and that's when things started to get pretty cool. Our bus got a two-car police escort -- lights, sirens, the whole deal -- up to the front of Merryman, where Cavanaugh was standing at the entrance to the building, laughing himself silly at the sight of our bus arriving like royalty.
Down into the bowels of Merryman we went, where the single most memorable moment of the weekend occurred, according to several campers I talked to: we walked into the football locker room and were greeted by the sight of our jerseys, helmets, and pads, lined up in front of lockers with our name tags on them. None of us had played football in years and years, and to see a Virginia Tech uniform with our name on the back, and a Virginia Tech locker with our name tag on it … well, it's hard to put my finger on exactly what it does to you, but trust me, there's one instant where the fantasy part of this camp becomes real, and one instant where you do get into the role-playing a little bit, and that moment is it.
Then we actually had to put the uniforms on, and it became apparent that we didn't really know what we were doing. Probably the biggest mistake many of us made was letting our grey VT football T-shirt sleeves stick out from under our jerseys, a look that is sloppy at best, but several of the campers went around and remedied that by shoving sleeves back inside jerseys.
When we were done, a few of us actually looked like football players. Most of us didn't, causing Bud Foster to remark dryly, "Let me tell you, you guys look a lot different in uniform than what I'm used to."
"You gonna need therapy now, coach?" One camper asked, causing Foster to break out in laughter.
On his way out of the locker room, message board poster HOKIE 2, who is in his late 60's/early 70's and was the oldest among us, got carried away. He slammed himself into the walls, scared the bejeesus out of Ballein, and finally settled down when he crashed into a partition and sent it clattering to the floor. You haven't lived until you've seen a grey-haired guy who has recently been through a quintuple bypass and prostate surgery suiting up in a uniform and throwing himself into walls.
We trotted out onto the practice field for our team picture and pre-game speech. One of the guys had an official VT football, and we winged it around a little bit, and I can tell you that throwing a real NCAA VT football is a different experience than a $17 Wilson football from Wal-Mart. The official footballs are lighter, easier to throw farther and easier to catch. There's nothing like throwing a quality football around.
Standing out on the practice field, sporting the shoulder pads and holding a helmet, I warped back 25 years to the last time I played football, at age 14, and let's just say I got a strong desire to play a little tackle football. Greg Roberts was standing nearby with the BeamerBall.com video camera, and I said, "Hey, Greg, come here, I've got something for you." (Meaning for him to video tape me -- I wasn't planning on tackling him.)
"All right, hang on," Greg said. He sidled up with the camera and got in tight for a close up.
"I tell you what," I said seriously, looking into the camera, "putting the uniform on makes you want to go hit somebody."
And that was it. That was all I had. But Roberts left the camera on and got another few seconds of footage of me grinning, pretty pleased with my comment, then putting my helmet on -- chin strap sticking straight up in the air, camera dangling from my wrist (uh, just like the real football players do it) -- and heading off to shoot the team photo. It was pretty funny stuff. They posted it on BeamerBall.com, and my kids have asked to see it about 57 times.
(To see the video, which will be up on BeamerBall.com for a few more days, click here and look for the clip titled "Hokie Fan Favorite Will Stewart of TechSideLine.com at Men's Fantasy Football Camp". If the video is no longer posted, let me know, and I'll put a copy up on TSL).
After the team photo, Coach Beamer called us together for our pre-game speech. We gathered around him on one knee, and when one of the guys in the front looked down at the ground for an instant, Coach broke off his speech and said, "See now, if you look away from me, you do a few laps around this field" … perhaps disproving the notion that Beamer's soft on discipline?
Coach had to head off to the ACC media days down in Greensboro, so before leaving, he gave a little speech, which we campers referred to as his "I don't give speeches" speech, because he said that he's not a big believer in pre-game speeches. He thinks you prepare all week and get ready to play all week, and you're not going to affect the outcome greatly with a short speech right before the game.
Then, down into the tunnel.
Several of the guys got fired up as we stood at the tunnel exit, ready to run onto Worsham Field, and started chanting "Go Hokies!" and various things. With crowd noise piped in over the intercom, they played pre-recorded player introductions that Bill Roth had done (in my case, "Number 87, Will Stewart!"), and we slapped the Hokie stone and ran out onto the field. Most of the guys just charged out, but I gave it a little extra mustard, giving the BeamerBall.com camera man a little double-pistol shot (the kind you can get flagged for in NCAA football now).
Once everybody had been introduced and had run out, we hung around the field for a while -- the grass, by the way, looks better than I've seen it look at this time in years -- and chatted with the coaches a little more. VT sports photographer Dave Knachel was there, and he shot little isolated action shots of us, which I think are going to be used to make trading cards. Every day, I stand by the mailbox, eagerly anticipating my one-of-a-kind Will Stewart football card, but so far, no dice.
And then it was over. We headed back to the locker room -- undefeated, I might add, even though we only suited up 27 guys and didn't even have a kicker or a quarterback -- and changed back into our warm-up suits. A short bus ride later, we were back at the hotel, checking out and heading back home, our weekend over.
Impressions of the Camp
I emailed my fellow campers and asked them for their impressions of the camp: what they found most memorable, what surprised them the most, etc. Two themes ran through the comments: (1) the uniform/locker room thing on Sunday was very cool, and (2) the coaches were surprisingly open and down to earth, answering any and all questions honestly and directly.
John Ballein was there the whole weekend, of course, and Bud Foster, Bryan Stinespring, and Jim Cavanaugh put in a lot of face time, too. Cavanaugh likes to play the part of the curmudgeon, but I think he really likes the fans and gets a kick out of interacting with them.
Here are some of the comments from the campers. I'll present them as "Camper 1," etc., without using real names.
Camper #1:
During our round of golf, Kevin Rogers was asked who Frank Beamer's circle of friends was away from work - he replied that it was the coaches. I think it was very obvious the camaraderie our staff has with each other. There is a lot of respect as well as friendship there. I think that recruits that say our family atmosphere attracted them feel it from the top down. What a great group of people our coaches are - great representatives for our University.
Camper #2:
Best Parts of the Camp:
For one weekend, I truly felt that I was a part of the Virginia Tech football program; the coaches and staff went out of their way to make you feel a part of it
It was still possible to be a fan. I got pictures and autographs galore.
John Ballein put together and ran a first-class operation. And in the process I came to realize just how important a cog he is in the overall operation.
The coaches were very honest, and would tell you anything (within NCAA guidelines), including what they were thinking when making certain game calls. They told it as they saw it - the good, the bad and the ugly - rather than saying what we may have wanted to hear.
The stories - I heard some great stories, with the best being from Rogers, Stinespring, Hite, Cavanaugh and Ballein. It was worth the amount of the trip just to have dinner with Rogers, Stinespring and Hite, and listen to them exchange war stories.
Learning that the Tech coaches truly have a great relationship with each other; there was no acting involved, as best as I could tell
Suiting up was exactly as it was for Tech players, down to being taped for the game
The camp raised my appreciation for what the coaches go through.
Worst Part of the Camp
It will be tougher to question the coaches and be critical of their decisions. However, a few shots of Wild Turkey while tailgating will probably help restore this ability.
Other Memorable/Surprising Aspects
Every time I returned to my room, there was some new VT trinket waiting for me.
The golf outing was a great way to really get to know one of the coaches, regardless of golfing ability.
Hearing the coaches talk through X's and O's made me realize just how much I don't understand about being a football coach.
While there are many high tech things Tech does to prepare for a game, coaching is still very low tech when it comes down to it. Most of the coaches do most of their off-field teaching using whiteboards and pens.
Greg Roberts is an outstanding storyteller. I could tell the jokes he told, but I could not do them justice.
The fact that the game day meal is spaghetti due to Nutritionist recommendations, rather than any kind of player request, and that they eat this for breakfast on game days, was very surprising.
Coach Cavanaugh made it very clear how hard national recruiting is, and how the risks are much higher.
Camper #3:
I personally liked the quality time the coaches spent with us. I felt they were very generous with their time and willing to discuss many topics. Bud Foster and Bryan Stinespring presentations were also excellent and gave you a good feel of the quality of our coaches and why they believe our schemes/systems are right. I also personally enjoyed Sunday morning. It was a unique experience to run out of the tunnel in a Hokie uniform. You couldn't also help but notice what a first class weekend John Ballein set-up. His attention to all the little things he did for us was IMPRESSIVE. The camaraderie of the coaches and players was also apparent.
Camper #4:
I enjoyed the whole weekend. It is still a little amazing that we got the all day access we did with the coaches. John Ballein did a fantastic job. To me, I think the best part was getting taped up and ready for "the game". I never played football in high school (it is one of a few life regrets), so it really was a thrill. Watching HOKIE 2 take out that partition and almost knock down Ballein was maybe the most memorable moment.
Camper #5:
The feeling when we first walked in the locker room and saw OUR OWN Va Tech jersey with our name on the back sitting there on our pads stands out. Obviously, standing in the tunnel and the middle of the field as part of a few to be the first group to ever experience it. The cohesiveness of every member of our football staff comes through so strongly it is easy to see why recruits would feel at home when they visit.
Camper #6:
For me, the weekend was all about access -- access to the coaches and the facilities. Some of the stuff was a little 'hokie', but that kind of access for three days to the staff has to be pretty unique. I found the staff to be very open, not as guarded as expected. They even seemed to be willing to discuss the 'M' topic.
A great weekend, good stuff (although I can't figure out how to make the jersey look good without the pads).
Camper #7:
As far as memorable moments, obviously getting to dress in full uniform and run out onto the field was a big highlight.
One of my favorite parts of the camp was the informal times with the coaches -- talking at breakfast and dinner and hanging out at the bar after returning to the hotel. Their willingness to get to know all of us and "open themselves" up to us about nearly any subject was something very few fans get to experience. Also, witnessing the banter that goes on between them was a lot of fun for me.
Another one is just the overall experience of the camp and how John Ballein and the others paid attention to all the little things. Every little detail was accounted for -- we all got to experience just how good John is at what he does.
Funniest moments -- there were two for me (excluding the Greg Roberts jokes). The first was seeing Coach Cav in full laughter as we pulled up to Merryman with a police escort. He really got a big kick out of that. The other was HOKIE 2 slamming his helmet into the locker room walls, then running down to the hall and launching himself at John Ballein as he came around the corner. If only someone could have caught John's reaction -- like a kid going through a haunted house for the first time, and the scariest ghost just jumped out.
Will here again: For me the most memorable part of the weekend was suiting up. I really did want to hit somebody. (Sigh) Oh, to be young again…
And for those of you who are wondering, the VT coaches were very warm and kind to me, "Mr. TechSideline.com," Bryan Stinespring in particular. Stinespring and Beamer had met me before, but Bud Foster hadn't, and on the first night, in the South End Zone stadium club, he made it a point to come over and say, "Hey, I didn't realize who you were when you first introduced yourself," and he hung out and talked with me for a few minutes.
By the way, message board poster Raleigh Hokie, who has discussed the defensive schemes in depth a number of times on our board, was present, and Foster joked at one meal, "I've got to sit next to [Raleigh Hokie]. He knows more about my defense than I do!"
I had been around the coaches enough at recruiting roundups and that sort of thing to know how they are around the fans: they're genuine, and they don't hold back. A lot is made about them not wanting stuff to "appear on the Internet," but that doesn't stop them from being open and friendly with you, and answering whatever questions you had.
On Friday night, I asked Stinespring what the worst game he had ever called was, and what the best game he had ever called was. He said he thought the 2003 Boston College game was the worst he had ever called (not Pittsburgh 2002, which was my nomination), and the 2003 Miami game was his best.
The next morning, when we got together again, he brought it back up and clarified his answer: he didn't like the BC game because, after 250 yards of offense in the first quarter, he had allowed the team to slow down and hadn't gotten them back into a groove. Note that he made no mention of the QB change and didn't blame it on that. "I felt like I failed them," he said, "by not keeping them on track."
He liked the Miami game because he could tell early on that the defense "had it" that night, and his job was to play field-position football and not do anything offensively to turn the momentum. He felt like from that standpoint that he called a great game, right down to going for the kill and having Marcus Vick throw deep to Ernest Wilford for the TD that put the Hokies up 31-7 and effectively ended the game.
My point is, as busy as he was, Stinespring went home Friday night, thought about my question and his answer in more detail, and clarified himself the next day. The coaches made an honest effort all weekend long to interact with the fans in meaningful fashion and to answer their questions as accurately and honestly as they could.
As many attendees noted above, it was a tight, first-class operation, typical of a John Ballein production. From the time we arrived until the time we left, Ballein kept things moving along crisply. There were no flub-ups, no standing around, no wasted time, no people and supplies missing. Was it mistake-free? Not quite. Two of us, me included, were issued the wrong jersey numbers. I had asked for #87 and had been given #3. But Ballein and equipment manager Lester Karlin fixed that by taping my name to the back of David Clowney's jersey, so when you see me in photos from the camp, I'm actually wearing Clowney's jersey, not my own.
One thing the campers really liked was that every time they went back to their motel room, there was a new goody there. One time it was a personalized, signed copy of "Turn Up the Wick!" Another time it was a bracelet to take home to our "significant others." In addition to the gear we got for participating in the camp, we got a ton of extras and add-ons, too much to keep track of.
Oh, and the gear? Well, going in, that was one of the things I was most excited about. We got authentic VT helmets, game jerseys, team warm-up suits, game socks, sweat bands, team T-shirts, and team shorts. The helmets, jerseys, and warm-ups alone are worth hundreds of dollars, and though many people have one or more of those three things, I think there are only 27 people outside of the actual team and staff who have all three.
One last time: to those who pitched in to pay my way into the camp, thank you. As I have noted before, more impressive than the actual camp experience was the fact that people would raise $3,000 for me to go. Every time I realized that I was the only one there not actually paying for the camp, I felt a little guilty.
Is it worth $3,000? Well, that's your call. As a much-appreciated gift from the TSL faithful, it was absolutely a weekend well worth doing for me. And if you're looking for a one-of-a-kind experience with the VT coaches, including lots of gear and lots of memories, you'd be hard pressed to find something better. There were only 27 of us this year, but as word gets around from those of us who were there, I think that number will rise.