Coach Cav, VT's Top Gun
by Chris Horne, 7/29/04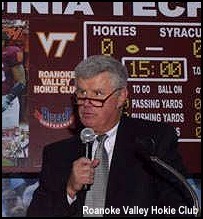 The names speak for themselves Ė Nathaniel Adibi, Xavier Adibi, Chris Ellis, Jonathan Lewis, Ernest Wilford, Marcus Vick and, of course, Michael Vick. In 2004, it was Andrew Bowman, Mike Green, Josh Morgan, Ryan Shuman, and Maurice Reevey. All of these players have one thing in commonÖJim Cavanaugh was the lead recruiter for each of them.
Cavanaugh, who is referred to most of the time simply as Coach Cav, is arguably the top recruiter on Virginia Techís staff. As recruiting coordinator, he has helped Virginia Tech consistently land good and sometimes great recruiting classes.
It all starts with experience. Coach Cav began coaching in 1970 when he coached for Newport News High School. 34 years later, he has become one of the most experienced and knowledgeable recruiters in the state of Virginia. He has used this experience to pull in some of the top in-state targets.
"I donít think thereís a coach with more experience than Coach Cavanaugh," Highland Springs Head Coach Scott Burton said. "I mean he has 30 years of coaching experience. Thereís not another coach that knows Virginia any better than he does. Thatís not a knock on the other coaches either. Itís a credit to him as a recruiter."
Central Virginia and the Tidewater area are Coach Cavís primary strongholds in the state. He will once again be right in the thick of things this year, especially with some of the stateís top prospects residing in these particular areas. Highland Springs star athlete Victor "Macho" Harris and Phoebus tailback Elan Lewis headline the list of Cavanaugh targets for the 2005 class.
Style
Cavanaugh has developed a reputation for being honest and straightforward with recruits and coaches alike. Former Tech star Nathaniel Adibi can attest to the Cavanaughís honesty within his own recruitment.
"His honesty is what stands out," Adibi said of Coach Cav. "To tell you the truth, he wasnít that aggressive of a recruiter. He was always trying to be open with you, though. He was honest with you. When he recruited me, I knew he was a good person and I trusted him."
Trust is a key issue in recruiting and itís something Phoebus Head Coach Bill Dee does not take for granted. Itís one of the many reasons Dee has so much respect for the Tech coach.
"I like Coach Cav because he doesnít mess around," Dee said. "Heís very professional. He does everything by the book. There have been times when he hasnít offered a player of mine that we disagree on, but thatís part of it. He doesnít tell you one thing and do another. In this new generation, someone will tell you they are interested in your player and youíll never hear from them again. I donít like that because I take the time to send that particular school a video tape and it wastes our time. Coach Cav will look at the tape, make his evaluation, and tell you what he thinks. Heís blunt at times but heís like me and I like to give it straight.
"All of the in-state schools do a great job of recruiting. But you really know what youíre getting with Coach Cav."
Dee says another thing that stands out about Cavanaugh is the way he works with the kids heís recruiting. Coach Cav is as straightforward with the kids he recruits as he is with the high school football coaches he deals with.
"He works hard with the kids," Dee said. "He does the things that need to be done. He establishes a relationship with them early on and keeps it going throughout. And of course heís selling a program that has taken good care of our kids in the past. He can show they took care of our past players such as a Nathaniel Adibi. Nathaniel had a great time at Virginia Tech and they did exactly what they said they were going to do with him. Kids can spot a phony. Coach Cav is not a phony. He does not always say things they want to hear. Heíll be blunt about anythingÖfootball, academics, anything. Heís honest to the kids and heís honest to me. I think the kids relate to that."
Coach Burton has seen similar happenings between Cavanaugh and his players. Tech has landed several Highland Springs players in recent years, including Jim Davis, Noland Burchette and Maurice Reevey. Burchette and Reevey both played under Burton.
"He doesnít badger kids, and I think kids appreciate that," Burton said. "He gives players their evaluation up front and tells them how itís going to be and he sticks to his game plan.
"Iím sure he has been [a factor with my kids]. I canít speak for Jim [Davis] because I wasnít around when they recruited him, but for Noland and Maurice I know he had an impact. Coach Cavanaugh has ties to people at our school. He develops personal relationships with our kids, and I guess the feel a sense of security with him because of his ties here. Jim was treated well at Tech so Noland may have seen that, and Noland has been treated well so Maurice may have seen that. Coach Cavanaugh has a good track record with our kids."
The honesty and integrity with which Cav conducts his recruiting is complimented by his meticulous attention to detail. This trait is important for every recruiter and especially a recruiting coordinator. Cavanaugh pays attention to every detail including keeping the high school coach up to speed on everything that is happening with their player.
"One thing Coach Cavanaugh is diligent in later on in the process is letting the coach know whatís going on," Burton said. "Heíll tell you whatís going on now and whatís going to happen next as the recruitment unfolds. He continues to tell you how everything will unfold even if you probably already know. Heís good at is kind of the mundane details of recruiting. Heíll know a playerís core GPA to the nth degree. Heíll know what will happen in any situation. Heís thorough in knowing if the kid will be eligible, if the school has a transcript, and things like that."
Out of State
While Cavanaugh is an obvious success in-state, out-of-state recruits have also boasted about him as a recruiter. For example, Washington Township (NJ) linebacker Hugh DíImperio raved about Cavanaugh throughout his recruiting process last year. Tech did not land DíImperio (who signed with Michigan State) but his primary recruiter left a noticeable impression on Hugh and his family.
"Coach Cavanaugh was just great to us," Donna DíImperio said last year. "He was truly great to Hugh. We had a great time talking to him throughout, and I know Hugh had nothing but the best things to say about him."
DíImperio had Tech at or near the top of his list throughout. He credited Coach Cav as the primary reason for Tech being right there.
"My two favorites are Virginia Tech and Michigan State," said D'Imperio during one of his updates last year. "Coach Cavanaugh from Virginia Tech calls all the time. I like the way he and the coach from Michigan State talk to me. Coach Cavanaugh told me that if I donít want to talk some days, just donít answer the phone. I can tell heís really good about it. Other coaches try and push me into visiting or something, but Michigan State and Virginia Tech kind of let me make up my mind about them by myself."
Though he narrowly missed on DíImperio, Cavanaugh did land fullback/linebacker recruit Mike Green out of Deptford High School in Westville, New Jersey. He again made a significant impression on the player and the playerís family.
"My parents felt comfortable with Coach Cavanaugh," Green said last year one month before committing to Tech. "They really liked it down there also."
Top Gun Recruiter
Jim Cavanaugh earned the title of TSL 2004 Top Gun recruiter following Signing Day 2004, continuing where he left off after being named TSL Top Gun recruiter in 2003.
Will he carry on his title? Well, Tech fans certainly hope he will be in serious contention for the top spot in 2005. With Harris, Lewis, Fitzgerald, and Friday among the players Cav is recruiting this year, having him at or near the top would be a welcome sight come early February.