Observing the ACC's Football Kickoff
by Jim Alderson, 7/27/04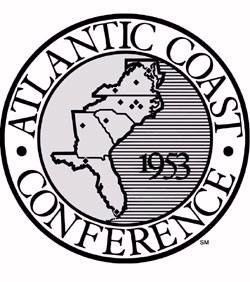 Finally, some rays of light have penetrated the sports blackness known as the Dead Zone. Reminding us that despite what seems to be never-ending days, weeks and months of sports oblivion, there will indeed be another football season, the ACC has held its annual Operation Football media gathering. In a little over a month the football teams of Virginia Tech and the rest of the ACC will be teeing up the ball and going at it. It will be about time.
The networks will finally have something to televise that people actually care about, unlike Lance Armstrong pedaling around the French countryside or the sleep-inducing methods by which the United States determines its participants in the Olympics. Cable executives will cease their competition to see who can be the first to introduce the Poker Channel and start preparing for hot Saturdays in the South. We only have to get through August.
T. S. Eliot wrote that April is the cruelest month, but he was wrong, for it is August. The sweltering days that comprise the eighth month of the year have little purpose in the overall scheme of things unless one owns coastal property. August is a time to be spent perusing the Web for the latest practice tidbits or scintillating sports columns and enduring the blatant cash-grab known as televised exhibition football. As the ACC reminded us however, the lousy month will one day end and we can get to the business of another football season. When I achieve omnipotence I will do away with the month of August and get right to September, but since I have not yet mastered it we will again be forced to wait out the month. Operation Football at least provided some relief.
The ACC held its preseason bash at the Grandover Resort in Greensboro. This must have come as a welcome change for new kids on the conference block, Frank Beamer and Larry Coker. Instead of looking out the nearest window and seeing a New Jersey chemical plant, they eyed the lush golf course that winds around the Grandover business park. It certainly caught the eye of Frank, who, as Frank tends to do these days, found the links to his liking and launched a tee shot that came within inches of a hole-in-one. Hopefully the Tech team will take to ACC competition as well as Frank did to the Grandover course.
All ACC football coaches attended Operation Football. This perfect attendance was in contrast to that of the neighboring SEC, where Phil Fulmer of Tennessee elected to have one of his boosters pay the $10k fine for being a no-show rather than meet an Alabama process server at the door of that league's Birmingham headquarters. It seems there are some folks in Alabama who feel the Tide's latest probation came as a result of Fulmer's ratting them out to the NCAA, and they desire to serve Fulmer with a subpoena requiring him to appear and provide testimony to the lawsuit that has been brought. Fulmer seemed to feel that avoiding the Alabama legal system and a Crimson-attired Silvio was in his best interest and plans on avoiding the state, much like Donna Shalala avoids Connecticut these days. It's a good thing the Vols have both Bama and Auburn at home. There may be some ACC coaches and schools not particularly fond of others, but nothing that compares to that zany SEC.
There was also nothing when the ACC coaches met the media that compared with the sterling performance given by Gary Barnett of Colorado at the Big XII media bash. Barnett looked the assembled reporters and television cameras straight in the eye and asked, "There have been problems at Colorado? When did this happen?" The best the ACC could do was Frank and Coker. The Miami coach, fresh from his published defense of his program's recruiting practices that read a lot like Richard Nixon's 'I am not a crook' speech, explained that Willie Williams was basically a fine upstanding citizen, despite those eleven arrests, and could benefit greatly from the Miami experience, almost as much as Coker's team will benefit from having him on the field. Coker also announced that Williams had not yet cleared Admissions at Miami, no doubt due to the school preferring to wait until things die down a bit. For his part, Frank finally had to climb through the Beamerball looking glass and address the Marcus Vick situation. Frank would only state the obvious, that Marcus is on indefinite suspension, with 'indefinite' likely Beamer-speak for "until the second loss."
We did not get to discover how other ACC coaches felt about their player arrests, since what seemed to be an obliging ACC media corps did not ask them. Bobby Bowden did not have to again present his 'boys will be boys' homily, with resisting arrest by assaulting a police officer being just another minor youthful indiscretion. I haven't read any answers from Clemson's Terry Bowden to questions about his feelings about having one of his players busted for allegedly possessing drugs with the intention of dealing them near a school. And algroh managed to avoid any discussion of how his players are keeping Albemarle police hopping. Matt Hayes seems to be rather selective when it comes to trashing schools and coaches.
The ACC writers used Operation Football to engage in that most favorite of sports journalistic pastimes, predicting the order of finish for the 2004 season. There was a surprise as, once again, Florida State was tabbed as the league favorite. It would seem there are some ACC writers unaware that expansion took place and Miami is now in the conference, or they were too busy writing about how Coach K and Roy are going to have to adjust their basketball recruiting to notice that Miami has beaten the Seminoles five straight times. The forecasting skills of those that cover the ACC will be tested right off the bat as FSU again tangles with the Canes in that charming nighttime Orange Bowl environment. Pa Bowden is going to have to earn yet another ACC championship.
Miami was picked second. It has been quite a while since the Canes were not picked to win their league, dating back to their Big East probation days. The last thing Miami needs is motivation from a perceived media slight.
The Hoos were picked third. This seems to be more of a nod to the impressive amount of talent algroh is assembling in Hooville than concerns about his iffy quarterback situation. If algroh can get production out of that most important of football positions, the Hoos could have a very good run.
Clemson was selected fourth. It would seem the Tigers' relatively lofty prediction has more to do with their upset of Florida State last year and their season-ending RUTS of South Carolina than it does with that drubbing they took at Wake Forest. Tommy Bowden went from out the door to the toast of Tigertown in a month. While riding high at the moment, the young Bowden can expect to find the wolves, or in this case, Tigers, back at his door at some point during a stretch of three straight away games against Texas A&M, Daddy's FSU and the Hoos.
Maryland was picked fifth. Frank's good buddy Ralph Friedgen has won ten games in all three of his seasons guiding the Terps. He is now running out of the pretty good players recruited by fired predecessor Ron Vanderlinden and moves to the next coaching stage, proving he can with his own. Life will be considerably easier for Maryland and the Fridge this year as they manage to dodge Miami.
Tech was picked sixth. It would seem that Frank Beamer has milked all of the preseason love he could out of the Michael Vick years. It is now time for what for most of this century has been the underachieving Hokies to prove things on the field. That would seem to be a tall order for a team that seemingly has talent and depth problems everywhere.
NC State was tabbed seventh by the ACC writers. I'm sure this comes as a surprise to fans of the Wolfpack who have little experience with replacing a top-notch quarterback. As Tech fans can relate, it ain't easy. For all of the excitement song-and-dance man Chuck Amato has brought to State football, they have been the ACC's Virginia Tech, never quite reaching the heights predicted for them. Amato has raised the State talent level, but it is likely to prove very difficult replacing Phillip Rivers this season.
Georgia Tech checked in at number eight. The Yellow Jackets were a mystifying bunch last season, taking Florida State to the wire before losing, beating NC State and then getting blasted by Duke. Go figure. Also figure on the other Tech having a solid defense under top-notch Defensive Coordinator John Tenuta. A quality defense can carry a team a long way, and if QB Reggie Ball continues his rapid development GT just might be the ACC's surprise team.
Wake Forest was selected to end up ninth. That a Deacon program that has become pretty tough under Jim Grobe was picked this low speaks volumes about the strength of the ACC. It also speaks volumes about the unpredictability of Wake, a team that could pound Clemson then weeks later lose to North Carolina and get hammered by UConn. Grobe runs the Air Force wishbone at Wake, a difficult offense to prepare for since very few teams run it. Be very wary of Tech's trip to Groves Stadium in mid-October.
North Carolina was picked tenth. The Tar Heels have bottomed out under John Bunting, spending the last two years dueling with Duke for the bottom of the ACC standings, actually losing to the Blue Devils last year for the first time since 1989. Bunting does have some talent around Chapel Hill, most notably quarterback Darian Durant, and Carolina lost a number of close games last year that could have led to a decent season. UNC, however, does not have the overall team speed to compete in the bulked-up ACC, and Bunting gives every indication that he is in over his head coaching a Division I-A program. The specter of Steve Spurrier lurking over his program this year is not going to make things any easier for Bunting.
Duke, as usual, was chosen to finish last. Like the selection of Florida State first, this pick seems to be out of habit. Duke did show a few signs of life last year after Ted Roof replaced the fired Carl Franks after a humiliating home loss to Wake Forest, quite possibly the worst football game I have ever attended. Duke beat Georgia Tech and Carolina late in the year and actually finished out of the league basement for the first time in ages. This is this year, however, and Duke is a very long way from being competitive in this conference, probably a distance that cannot be traversed. The Devils will get an early glimpse of life in the brave new ACC on S18 in Lane Stadium. This is Duke, where their major sports Web site is counting down the days, minutes and seconds to, not the start of football season, but that of basketball practice.
The ACC's Operation Football has provided an early look at the 2004 season. All that is left is to endure August, that most miserable, and cruelest of months. Tech won't even have to wait the entire month, as we get the jump on the season against Southern Cal. It will just seem like it.