A True Virginia Gentleman
by Jim Alderson, 7/20/04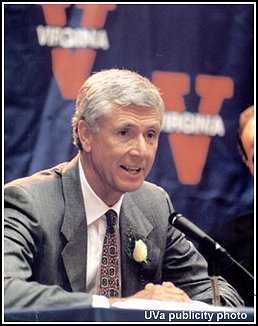 As a general rule, I am not fond of Hoo coaches. Along with their irksome penchant for beating Tech entirely too many times for my liking [one time is one too many for me], they have been on the whole not a particularly likable bunch of guys. There has been humor to be gleaned from them, such as the dour visage nearly always presented by George Welsh. Pete Gillen can provide much amusement, especially early in games as he often displays a look of sheer incomprehension as a carefully-crafted game plan sails out the window in the first two minutes, causing him to burn his times out. And most any picture of algroh cracks me up.
For the most part, however, they are the coaches of our biggest rival, so I don't like them and wish them nothing but bad luck on the playing fields and courts. There has been one exception.
I have always admired former Hoo basketball coach and later Athletic Director Terry Holland, who announced last week that he would retire from his position as special assistant to Hoo president John Casteen. Early on Holland was nicknamed the 'Virginia Gentleman' and it fit him perfectly. Holland won and exhibited much dignity and class while doing so. He was a credit to his profession.
A mantra for seemingly every program is a desire to achieve the 'next level' of competitiveness, playing for championships, both conference and national. In our state, Holland was the first coach to actually accomplish it. Nearly a decade before George Welsh had his brief stay at the top of the football polls and almost two before Frank Beamer took Tech football to unprecedented heights, Holland put together a Hoo basketball program that was among the nation's elite. It may be heresy for a Tech fan to admit, but I enjoyed those Hoo teams under Holland.
In the spring of 1974 there had been a general housecleaning in the Hoo athletic department. They had brought in as coaches of the flagship programs Sonny Randle for football and Terry Holland in basketball. Randle, like algroh an alum of Mr. Jefferson's university, came in bragging about how great of a coach he was [also like algroh] and how much he was going to win. Instead, he took a bad Hoo football program and made it worse, running the program straight into the ground. Randle was fired after two seasons.
Unlike Randle, Holland was a modest, unassuming guy who made no promises. Hoo basketball, like its football counterpart, had spent the first two decades of the ACC propping up the rest of the conference. They had experienced some success in the early Seventies under former coach Bill Gibson, mostly with guard Barry Parkhill, but for the most part Hoo basketball had been every bit the joke as had Hoo football. Holland was to change all of that.
Holland quickly served notice that things were going to be a little different on the Lawn in his second year when he surprisingly won the ACC Tournament. He would never win another one, but would come very close. Terry Holland also put an end to what during the Seventies had been a very competitive and exciting series between Tech and the Hoos. Holland would leave Tech in a cloud of dust from which we have not yet emerged.
In 1979 Holland scored a major recruiting coup when in-state prep superstar Ralph Sampson chose the Hoos over Kentucky, North Carolina and Tech. Much like Frank Beamer was to later accomplish with Michael Vick, Holland took Sampson and vaulted to the top of his sport. Hoo basketball became a fixture in the Top Ten and on television. Tech basketball had made a remarkable run to the NIT championship in 1973, at the time the greatest accomplishment of a team from our state. That was over a short tournament span, however, and then-Tech coach Don Devoe and later Charlie Moir could not match the overall heights to which Holland and Sampson took the Hoos over the course of several seasons. The Hoos were the state's first dominant program.
As Holland and the Hoos rocketed up the national rankings and ACC standings, the inevitable conflicts began as Holland began brushing up against the ACC's resident coaching legend, Dean Smith of North Carolina. The Hoos and Tar Heels vied for conference and national supremacy - in the early Eighties, the Hoo-Carolina games were the ACC's best and most anticipated. In 1981 Holland's Hoos swept Smith's Heels during the regular season, but Carolina won the ACC tournament. Both eventually made it to the Final Four, where Carolina beat Virginia and then lost in the championship game to Indiana. The next year Smith recruited Michael Jordan and won the national title. The championship game of the ACC tournament that year was the Hoos against the Tar Heels, what should have been a titanic clash between Sampson and Jordan. It didn't turn out that way, as Smith in the second half elected to hold onto the ball for the last eight minutes, and Holland decided not to force the action. Great talents such as Sampson, Jordan and future NBA star James Worthy of Carolina were mostly reduced to spectators in what was, IMHO, one of the dullest stretches of college basketball ever played. Certainly the hierarchy of the sport thought so, as this game was credited with the introduction of the shot clock into the college game.
The Hoos had been upset in the early rounds of the 1982 NCAA Tournament but were national favorites in 1983, Sampson's senior year. It was Holland's best team and probably should have won a national championship. The Hoos' title aspirations were derailed, first in the ACC semifinals, then in the Midwest Regional finals of the NCAA, by the terrific out-of-the-blue run made by NC State under Jim Valvano. The Wolfpack won the NCAA championship in 1983, not the Hoos, and Sampson left Hooville never having grabbed the brass ring.
Holland took a lot of heat from the state media for failing to win a championship, most of it deflected by the classy Holland to himself and away from the often-lackadaisical efforts turned in by Sampson. The next year, 1984, Holland then proved how high a caliber of coach he was by taking a Hoo team that relied mostly on munchkin guards Othell Wilson and future and former Tech coach Ricky Stokes back to the Final Four.
Holland could not maintain the excellence, however, and in the late Eighties his program began a slow decline. Holland became an early casualty of the dominant program Mike Krzyzewski was building at Duke. Holland had built his program on in-state recruiting, and two of the state's best high school players, Tommy Amaker and Grant Hill, both went to Duke. It took a toll on Holland's program and by the end of the Eighties he was fielding middle-of-pack ACC teams or worse. This decline coincided with the emergence of George Welsh's Hoo football teams as a national power. It also highlighted the often-contentious relationship between Holland and Welsh.
In 1986, North Carolina had changed the dynamics of ACC basketball by building the Dean Dome. Holland, whose program at the time was on a par with Smith's Carolina one, felt that he also needed a replacement for University Hall, a place that was obsolete almost from the moment it was opened. He didn't get one. His boss at the time as Hoo Athletic Director was Jim Copeland. Copeland was a football guy, a former Hoo player. The Hoos had spent millions expanding Scott Stadium for what seemed to be no other reasons than Tech was expanding Lane and to provide more tickets for Hokie fans every other year. Copeland, in 1982 and at the height of Holland's basketball success, brought in George Welsh as football coach. Instead of building a new basketball arena, Copeland showered Welsh's nascent program with money, giving him a huge budget that in those days came largely from money generated by Holland's profitable basketball program. It naturally rankled Holland that he was not given what he deemed necessary to compete in the basketball-driven ACC, while football was handed just about whatever George wanted.
In 1990 Holland quit as Hoo basketball coach after sixteen seasons to accept the position of Athletic Director at his alma mater Davidson. Although he emphatically denied it at the time, and still does, many Hoos have claimed that that the seeming relegation of his program to a secondary position under football at Hoo U was the reason. We have seen struggles at Tech for alpha male status in the athletic department between Frank Beamer and the Athletic Director. The same thing happened at Hooville.
Holland might have been cooling his heels at Davidson, but his name remained in play. At the 1992 Metro Conference basketball tournament in Roanoke, there was a strong rumor that Holland would replace the soon-to-be-fired Tech coach Frankie Allen. That did not happen. What did happen three years later was Hooville infighting between AD Jim Copeland and high-dollar Hoos that caused Copeland to suddenly quit to take the AD job at SMU, not exactly a lateral move. Terry Holland came back to Hooville, this time as Athletic Director. He was now George's boss, and it was time to build the new basketball arena he had been denied over a decade earlier. There was, however, a problem.
Basketball coaches to a man take a very dim view of the emphasis on football at most schools, and Terry Holland was no exception. He quickly discovered, however, the difference in perspective between being a coach calling for increased funding and an Athletic Director who has to sign the checks. At the same time Holland authorized preliminary work on a U-Hall replacement, good old George popped back up and demanded another addition to Scott Stadium. While Holland's initial reaction was to exclaim, "Football again?" a quick look at the books convinced him that economically, Scott had to be expanded first. That, and George going behind his back to arrange for a $25 million check from Hoo alumnus Carl Smith for the football expansion. Once again, Holland's basketball arena was on the back burner.
Terry Holland might have recognized that fiscal prudence demanded that the big-bucks expansion to Scott Stadium be built, but that did not mean he had to like it, and according to some Hoo friends of mine, he didn't. They claim that Holland's public toying in 1999 with the job of basketball coach at Minnesota was his way of expressing it. Whether that was the case or not, Holland turned down the job and the message seemed to have been received in Hooville. The next year, 2000, turned out to be the last one for George Welsh. Midway during that season, the second in which George's Hoo program was playing a decided second fiddle to Frank Beamer's Tech juggernaut, Holland announced that George would be retiring at the end of that campaign. When an angry Welsh reacted by claiming that was news to him, Holland responded by saying that George could continue to coach the Hoos as long as he wanted, so long as he only wanted to coach for the rest of the 2000 season. George finally accepted things and vacated the Scott sideline.
George was finally gone but it wasn't long before Holland was too, as the next year, 2001, he resigned as Hoo Athletic Director to become a special assistant to Dr. Casteen. He devoted himself to his cherished dream of over two decades, finally financing and building the new basketball facility. The John Paul Jones Arena is under construction and will open in 2007. It is mission accomplished for Terry Holland, and he now claims that it is time to move on to whatever new challenges are out there, ones that I suspect might have him again on a basketball bench. Holland is only 62 and could very well have some good seasons left in him for some school.
Holland leaves behind a Hoo athletic department that bears his imprint everywhere. His longtime assistant and protégé Craig Littlepage replaced him as AD, and Holland hired both algroh and basketball coach Pete Gillen, brought in after Holland was forced to fire the coach who had replaced him, Holland's former player and assistant Jeff Jones. The results are mixed - algroh is working out rather well, but Gillen seems to be attempting to grimly hang onto his job until he can receive the recruiting boost that will come with the new arena. In any event, a generally successful and well-financed athletic department is the legacy of Terry Holland.
Terry Holland leaves Hooville having established a giant reputation. He and Frank Beamer were the state's two dominant coaches, both achieving great success where little had been experienced before. Holland was the first to win big, and did so with such class and dignity that even this Hokie had to like him. He was very good for college athletics in the state of Virginia. I tip a rival's hat to Terry Holland and wish him well in any future endeavor.