Hanging With the New Commish
by Jim Alderson, 7/6/04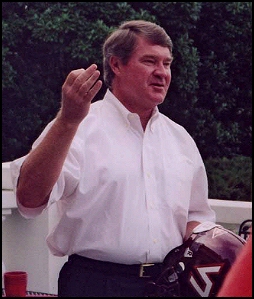 Heading to Greensboro for Joining Day seemed as good a reason as any, particularly to Larry Ramsey, the keeper of our Clubhouse RV. How many times would we be able to be around when Tech joined the ACC? Larry announcing his attentions to pitch camp at ACC HQ seemed to cause some concern among certain Triad Hokies, perhaps envisioning Swofford arriving to work that morning to find our Clubhouse RV parked on the grass in front of the ACC building or worse, in his parking place, with grills going and a bunch of Tech guys standing around consuming adult beverages at 8 in the morning. There was a feeling, perhaps not without some justification, that Swofford might immediately rescind Tech's invitation.
To assuage concerns, we all agreed to be on our best behavior and Larry promised to place the Clubhouse at a respectful distance from the ACC's sacred site, which turned out to be across the street in an overflow lot adjacent to the parking of another tenant of the Grandover office park. This turned out to be the headquarters of the North Carolina Association of Realtors, whose executive director took one look at what was on his side of the street and, adopting an expression last seen on the face of Mr. Drysdale when the Clampetts pulled into Beverly Hills, came running over. He turned out to be a great guy and a graduate of Southern Cal. He stayed for a while and talked football [opposing fans are always welcome at our tailgates], but, since, unlike us, he was actually working, he declined our offer of a Bloody Mary. We did make plans to meet him at FedEx.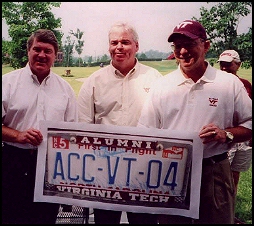 John Swfford spoke at the reception. His remarks sounded eerily familiar. His talk of Tech always belonging in the ACC and his belief that we should have entered the conference long before now sounded a lot like those reported earlier by Bill Roth when Swofford spoke to a gathering at Tech. That he only seems to have one set of comments when speaking to Hokies, along with the perfectly-coiffed hair that never seems to change no matter how many times I see him, whether in person or on television, raises suspicions that under that hair on the back of his head there is a stem to be wound, or perhaps Dr. Noonien Soong created a third android in addition to Data and Lore. In any event, it was a nice welcoming speech that contained no clue of Swofford seeming to feel a bit different about Tech's inclusion fourteen months ago.
Then things got interesting with the Knife Incident.
The Triad Hokies had provided a cake to commemorate Tech's ACC admission. Swofford was invited to cut it, and as he moved to do so Clota Gerhardt of our tailgating group leaped from the crowd surrounding Swofford while brandishing a Virginia Tech pocket knife. The face of the ACC Commissioner registered complete surprise, probably the same as when he found out that Duke and Carolina had changed their original votes. Perhaps he thought there were some Hokies that were still pretty ticked about the expansion procedure. Before Swofford could scream "Assassins! Help" or drop to his knees pleading for his life, "It was all Shalala's fault. She made me leave you out" Clota merely informed Big John that he desired that the Tech cake be cut with a Tech knife. It was a relieved John Swofford that proceeded.
I am not a certified pastry appraiser but would have to think there would have been some value in a Virginia Tech pocket knife used to cut the cake that celebrated Tech's entrance into the ACC and contained crumbs of that momentous occasion. Clota eventually cleaned it, however, so it will probably not be showing up on Ebay. I assume it will become a cherished family heirloom to be passed down to future generations of Gerhardts. Clota's actions will become a great addition to our tailgating lore. I would also think there are few fans of any other ACC school who can claim they once pulled a knife on John Swofford.
The Greensboro welcoming reception was an enjoyable way to celebrate Tech's joining of the Atlantic Coast Conference. I was glad to have been at the historic event. As John Swofford relaxes at the Outer Banks catching up on his Net surfing, I do have one other thing to add: John, I really didn't mean it when I said you were not a visionary……Actually, I did, but it was nice meeting you anyway.