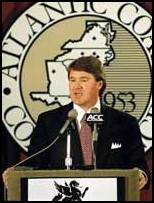 Visionaries? I Beg to Disagree
by Jim Alderson, 5/26/04
The ACC television deal has been signed, sealed and delivered. Willís recent articles on the subject lay out the particulars of the package that will go a long way towards securing Techís athletics future. It was an excellent synopsis of the financial package, but there was one sentence in his most recent article that caught my eye, however. The last one: "They look like visionaries instead of bumblers, after all." With all due respect to the guy at whose pleasure I continue to write these columns, visionaries? I beg to disagree.
Somehow I donít think ACC Commissioner John Swofford was sitting around his posh Greensboro office mulling over his leagueís lousy football television ratings and what to do about them when all of a sudden a light bulb appeared over his head, causing him to stick an index finger into the air and exclaim "Eureka!" He probably didnít have his minions scurry in and announce to them, "Iíve got it. We will set in motion an expansion process that will touch off the biggest conference-related mess college athletics have ever seen, trigger lawsuits, heated denunciations, a series of back-room maneuvers and cause us to be the objects of scorn and ridicule. Get right on it." As revelations go, this was not exactly Paul on the road to Damascus.
To be sure, Swofford had problems. He was presiding over a conference whose football television ratings, among the six BCS conferences, managed to rank seventh, even behind woeful CUSA. Since the addition of Florida State to the ACC in 1991, football things had not exactly succeeded as planned; certainly not as they had in the nearby Big East. No other school in the ACC had managed to jump up and mount a consistently strong challenge to the football hegemony FSU had enjoyed since its first kickoff as an ACC member. Simply put, the ACC had not produced a Virginia Tech.
North Carolina had come close under Mack Brown before he skedaddled for a place where the fans actually care about football. The Hoos had been pretty good under George Welsh, but he had never quite gotten over the Top Ten hump and, in any event, was gone. Nobody else had come close to building a consistent and ranked winner. It was reflected in the television ratings. The ACC had no intra-conference rivalries that came close to matching that of Virginia Tech and Miami, which is played most years before large national television audiences and has much bearing on national rankings. There were no ACC football equivalents to the scintillating Tech-Syracuse games that also often found their way to ESPN. No ACC border war matched the intensity and passion of Tech and West Virginia - the Hoos and Heels game is rarely even televised any more, and game atmospheres for that matchup are quite a bit different from what was always seen in Lane Stadium and Mountaineer Field.
In the ACC, the games that drew the most interest were non-conference ones between Florida State and Miami, Florida State and Florida and whichever OOC teams with whom FSU fleshed out its schedule. As a football conference the ACC played pretty good basketball. To really capture the essence of ACC football, you must sit in Kenan Stadium watching a ranked UNC team [not a possibility these days] while everybody around you discusses whether Dean can win another Final Four, or have a section of Wallace Wade Stadium entirely to yourself while observing Duke again getting hammered. I have done both. This is not conducive to high television ratings in football.
To make matters worse for Swofford, his football bell cow Florida State was slipping. It no longer resides at the very pinnacle of the college football food chain and hasnít since senior staff members Chuck Amato and Mark Richt grew weary of waiting for Bobby Bowden to retire and moved on to NC State and Georgia, respectively. The Seminoles have been the only claim the ACC has had to being a BCS conference and there are questions as to how long Bowden will be around and what happens after he is gone. These were the visions John Swofford had dancing through his head.
Much more than visions was the hard reality Swofford was getting from primary television partners ABC and ESPN as preliminary negotiations began for a new television deal. He was informed that the networks felt they had vastly overpaid for the right to televise the halftime exodus of Scott Stadium, the tirades of Clemson fans demanding that the current coach be fired [the coaches change but never the demand that he be fired] or the looks of puzzlement on the faces of the Maryland fans as they attempt to discern what one does with such a funny-looking ball. Swofford was told in terms that left little room for interpretation that the nearly $6 extra large each ACC member was pulling down every year from the current football deal was in serious jeopardy. This might have been pocket change to the deep athletic pockets of the well-endowed Duke and Carolina programs, but it wasnít to everybody else. Something had to be done.
We all know what that ísomethingí was. It will conclude 7/1/05 when Boston College becomes the ACCís twelfth member. It was the getting there that proved to be a bit tricky. Swofford was told by the networks that he had to have Miami, and in attempting to lure the Canes he surrendered control of the expansion process and allowed Miami president Donna Shalala to dictate which schools would accompany the Canes. This kicked off a brouhaha the likes of which college athletics had never before experienced. Swofford discovered that Virginia Tech was not going to accept getting stuck in the Liíl E without a fight and his presidents had minds of their own when it came to ACC expansion. He created an absolute mess.
Allís well that ends well, and somehow the ACC presidents managed to get it right in the end. This was due to certain of the league presidents, however, rather than the vision of John Swofford that included knuckling under to Shalala. Letís face it: Miami and its enormous television value was the key to the future of an ACC football deal, and as it turned out, Virginia Tech had to be included for any expansion to occur, period. The original expansion targets could have been Tech, the Canes, and any of the remaining BE schools save WVU or Temple - Swofford could have pulled one out of a hat; expansion would have been approved on one vote and a lot of aggravation to a lot of people could have been avoided. This didnít seem to be included in Swoffordís vision. The argument has been made by Swofford defenders that if Shalala was not allowed to dictate expansion terms she would have broken off talks and remained in the BE. Well, she came any way, sans Syracuse and at first Fredo. I suspect that if Swofford had stood up to her from the beginning she would have eventually come around, because she eventually did.
John Swofford and his defenders are feverishly devising a revisionist history that paints him as an all-seeing visionary who has put his stamp on college athletics for a very long time. The way I see it, he was a guy who only acted when forced, then devised a flawed scheme that he could not sell to his presidents. He got caught up in a situation, reacting to events rather than controlling them. He emerged relatively unscathed only through some thoughtful proposals advanced by people other than him. In my opinion, it was a limited vision.