Swofford and the ACC: Visionaries, Not Bumblers, After All

by Will Stewart, TechSideline.com, 5/21/04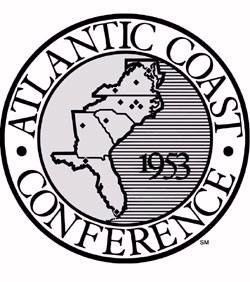 I know that the sentences handed down to Marcus Vick, Mike Imoh, and Brenden Hill have been the hot topic of conversation on the TSL boards lately, but you know what my mind keeps going back to in the last week or so? Those TV contracts the ACC has been signing. Not so much the contracts themselves, but what they say about ACC expansion in general.
First of all, many of you keep wondering when I'm going to say something about the Vick/Imoh/Hill situation. The short answer? I don't know. To be honest, other than policing the message board here and there, I haven't been spending much time thinking about the topic. Not that I haven't been keeping up with the news on it -- I just haven't been thinking about it, beyond gathering the facts. Eventually, something will bubble to the surface of my brain on the topic, but for right now Ö nada.
I'm much more intrigued by the ACC's new TV contracts, which will be around long after Vick, Imoh, and Hill have departed Blacksburg. And every time another news item breaks about the ACC TV contracts, my mind starts working on it and trying to place things in perspective.
The TV contracts are the first step in bringing closure to the expansion process. Last year at this time, ACC expansion was well underway, destroying the stomach linings of many Hokie fans who were rightly stressing about the future of the Big East. Eventually, VT and Miami were added to the ACC last July, with BC being added in the fall. The Hokies and Canes will come into the league on July 1st, 2004, and the Eagles will follow in 2005.
The addition of the three teams put an end to the decision-making portion of the expansion process. Now begins the results phase, where the impact of expansion, and how it reshapes the league, begins in earnest. As lengthy as the expansion process was, the results phase will be much longer. It will extend for many years after BC enters the league, as the ripple effects of expansion continue for years, until the league has fully assimilated all three teams, established rivalries and gotten used to business as a 12-team league.
In the last couple of weeks, three deals that completely define TV rights and revenue for the ACC's major sports -- football and men's basketball -- have been signed, setting the course for the league's TV exposure and revenue for the rest of this decade. Here are the summaries of those three deals (all dollar figures are approximate):
ESPN/ABC football TV deal:
$258 million, for 7 years, through the 2010 season. Increased Thursday night exposures, increased Saturday exposures, plus Labor Day and Thanksgiving exposure. Includes the ACC championship game, starting in 2005, and exposure on ESPN Classic, the Internet, etc.
Raycom/Jefferson Pilot football syndication deal:
approx. $28 million for 7 years, through the 2010 season. Package increases from current 8 weeks of syndicated games to 10 weeks in 2004 and 11 weeks in 2005. Will include split regional telecasts for the first time, since the league has more games to choose from now. Works out to about $4 million per year, versus old deal of about $1 million per year. Old package was just JP Sports, but Raycom has now joined forces with JP Sports (as they have done on the basketball package for many years).
Raycom/Jefferson Pilot basketball syndication deal:
approx. $225 million for 7 years, through the 2010-2011 season. This is an increase from the old deal, which was $210 million for 7 years (per-team take is lower, though, due to 12 teams instead of just 9). As always, the rights to any games not televised are sold to ESPN/ABC.
Related articles:
New ACC TV Deal Vindicates Swofford, League -- News and Notes, 5/13/04
ACC Signs New Syndication Deals -- News and Notes, 5/20/04
In all, those TV contracts will pay the 12-team ACC an average of about $73 million per year, compared to the approximately $53 million they were making as a 9-team league. This increases the per-team take from about $5.9 million to $6.1 million.
That's not much of an increase and doesn't really justify expansion by itself, but beyond the immediate dollars, there's the issue of exposure and reputation, both of which have taken a huge jump for the ACC. For football, the new TV deals include more Thursday night ESPN games, more ABC games, and wider exposure via the syndication package. And the presence of both FSU and Miami in the same football league makes the ACC positively SEC-like in its ability to stage games on par with Florida-Tennessee, Florida-Georgia, Georgia-Tennessee, etc.
Okay, but why does all of this intrigue me so much? It's because I recall all the rhetoric that was flying last summer during the painful expansion process, particularly the anti-ACC rhetoric. Critics said that expansion wouldn't increase per-team revenue or even hold it steady, that in fact it would decline. In an age of dwindling rights fees, they said, the ACC wasn't likely to improve much on its $23 million per year football deal, and in fact would be lucky to hold it steady, even with three more teams added to the mix.
What ACC expansion's critics failed to see that Swofford and the league were aware of were the additional opportunities that expansion would allow the conference to offer to networks. Swofford knew that in order to increase cash flow, his league would have to provide more in return. Obviously, by expanding to twelve teams a championship game could be offered, thereby increasing revenue, but what could also be offered was a willingness to play more games at more unconventional times and days. This is where the ACC's newfound willingness to play on Thursday night, Labor Day, and Thanksgiving weekend entered the picture, giving ABC/ESPN more flexibility and better opportunities to fill those time slots with quality games, instead of Conference USA, MAC, or Mountain West matchups (how many times can you show Colorado State and Southern Miss. on Thursday night in one year?)
As an aside, in the days before VT was formally offered membership, a source clued me in that the Hokies were back in the mix. "Tech isn't just being thrown back in because of UVa's unwillingness to bend," I was told, referring to UVa's refusal to vote yes on expansion if VT wasnít included. "One of the things the ACC really likes about Tech is Tech's flexibility on scheduling games. They'll play on Thursday, Sunday, or even Wednesday." A year later, we see that philosophy was a cornerstone of the ACC's new ABC/ESPN contract.
By the time the ACC started to move on expansion, one other thing was also clear: which football properties in the Big East were valuable -- Miami and Virginia Tech -- and which ones were not -- everybody else. As the Big East is now finding out, if you remove Miami and the Hokies from the mix, the value of their football offerings plummets, and ABC/ESPN is in the process of renegotiating the Big East's $15 million a year deal down to about $7.5 million.
Yes, I acknowledge that the ACC was interested primarily in Miami, and whoever else came along was just necessary to get to 12 teams, be it Syracuse and BC or VT and BC. But the ACC is finding out, in the comments made by TV executives, that not just Miami but the Hokies are highly valued, as well.
Swofford and the ACC also knew one other thing: if you were going to sign a contract that involved increased exposure, it would mean decreased exposure for someone else, namely the Big East. While I donít think ruining the Big East was a major reason the ACC decided to expand, I do think that the ACC put it down on their "Pros" list when making up a "Pros and Cons" list for expansion. From a football standpoint, the ACC has now positioned itself with the likes of the SEC, Big Ten, Big 12, and PAC 10, while the Big East has been relegated to C-USA/MAC territory.
In my mind, the Big East is no longer a true BCS conference. Sure, they've got a BCS bid, but that's the only thing that continues to separate them from Mountain West status. And it's up for debate whether or not that Big East BCS bid will hang around very long.
From an overall standpoint, ABC and ESPN aren't spending much more money than they were before expansion. The old Big East and ACC football contracts with ESPN/ABC totaled $38 million a year (ACC $23 million, Big East $15 million), and the new ones will total about $45 million (ACC $37.5 million, Big East $7.5 million). When you consider that $6 million of the ACC's new contract is for the championship game, the rest of it is $38 million versus $39 million.
In other words, by expanding, the ACC simply removed Miami and VT's money from the Big East and deposited it in the ACC, then added a $6 million championship game. It's no more complicated than that.
As the ACC's new TV contracts and increased exposure and dollars fall into place, it brings closure to the ACC expansion saga, and it vindicates Swofford, who appears to have known exactly what he was doing all along.
"John Swofford was a total visionary of this deal," ESPN executive vice president Mark Shapiro raved in newspaper articles after the new ABC/ESPN deal was signed. "He got from the beginning that we needed to reach the audience from the beginning on various platforms."
Last summer, you would have had a hard time seeing the name John Swofford in the same sentence with the word "visionary," but there you have it.
Upon announcement of the Raycom/Jefferson-Pilot syndication deals, Swofford noted in a follow-up teleconference, "What we ended up with cumulatively is very much where we expected to be through our analysis of expansion. Financially, I think our schools are pleased. I don't know about other people's projections, [but] the projections we anticipated internally have been met and, in some cases, enhanced."
I see Swofford kicking back with a cigar, like George Peppard used to do when he played Col. John "Hannibal" Smith on the A-Team, saying, "I love it when a plan comes together."
Let's face it. The ACC has become a TV and football juggernaut, firmly establishing itself as one of the premier conferences in college sports. They've always had that status in basketball, but now it's true for football as well. It was what we all feared last summer, when we were rooting for the Big East to survive and for ACC expansion to die. As ACC members, we welcome it. It's an odd position to be in, but I'm getting used to it. How about you?
The ACC has strengthened itself at the direct expense of the Big East, for whom there is no happy ending, BCS bid notwithstanding. And although those of us on the outside debated endlessly last summer about where it was all going, John Swofford and the ACC appear to have gotten exactly what they wanted. Sure, they went at it like a gardener cutting flowers with a chain saw, but in the end it worked out. They look like visionaries instead of bumblers, after all.



Copyright © 2004 Maroon Pride, LLC