The Ten Most Important Hokie Football Players for 2004

by Will Stewart, TechSideline.com, 5/10/04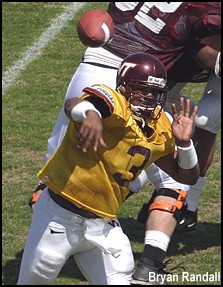 There's a popular school of thought that almost every football game comes down to a handful of plays, just a few moments that determine the outcome of a game that is played for sixty minutes. In the same manner, it's true that every football season comes down to a handful of players. In this article, we're going to name the ten players that we think will make the 2004 Hokie football season one to remember … or one to forget.
With the loss of talent and experience from the 2003 team -- Kevin Jones, Jake Grove, Ernest Wilford, Nathaniel Adibi and DeAngelo Hall, to name a few -- Tech fans are wondering who's going to step into the gap. Some of the candidates are obvious, but it's also true that in order to be successful, the Hokies are going to need one or more surprises, players who come out of nowhere to be stars, a la Corey Moore in 1998.
Players are presented in no particular order, and in fact are listed from the offensive backfield through the lines to the defensive backfield.
1.) Quarterback (Bryan Randall or Marcus Vick)
Seasons hinge on the performance of the quarterback, so this is a no-brainer. Any ten-year-old football fan can tell you the QB is important.
In the case of Virginia Tech, two things stand out about the quarterback position, two things that were a detriment last season that must be corrected: (1) Whichever QB starts, that QB needs to be VT's one and only signal-caller, and (2) that signal-caller needs to limit the turnovers.
The QB derby last year killed the Hokies. Neither quarterback played particularly well statistically last year, but more than anything, the shuffling of the players back and forth, not just from game to game but within the same game, damaged the performance at the position. Most VT fans agree that whatever Frank Beamer decides, he needs to make his choice and not look back.
As for turnovers, one statistic in the last three seasons (2001-2003) that has damaged the Hokies is the touchdown-to-interception ratio of their quarterbacks. After Michael Vick posted a 20:11 ratio in 1999 and 2000, things got a lot worse, with Grant Noel, Randall, and Vick putting up a 47:38 ratio from 2001 through 2003, barely one touchdown per interception.
I've played the "what if?" game in previous articles, in which I have asked what would have happened if VT hadn't had interceptions here and there in the last few seasons. And -- not to sound like Coach Beamer, who I think often puts too much emphasis on avoiding mistakes versus playing to win -- that TD:INT ratio is a big one this coming season.
2.) Fullback John Kinzer
One position the Hokies haven't had to worry about much during Frank Beamer's VT coaching career is fullback. From the time Brian Edmonds took over the position in 1994, the Hokies have had good fullback play, sometimes outstanding. Before that, Joe Swarm and Mark Poindexter were pretty darn good, too.
After Edmonds' departure following the 1996 season, fullback was shaky for a season, as the Hokies moved Marcus Parker from tailback over to the position. Cullen Hawkins and Jarrett Ferguson had a go at it in 1998 and did fairly well, despite Hawkins being too light (listed at 207) and Ferguson being young and small (listed at 196). But from 1999 onward, Ferguson took the position over and for five years, he and successor Doug Easlick were model fullbacks.
Now comes John Kinzer. The Hokies have never had good luck recruiting true fullbacks, and instead have relied on walk-ons and players moving over from other positions. Kinzer, who was recruited as a tight end and was converted after arrival, fits the second category. He's athletic and weighs 246, so his ability and weight are good. At 6-2, he's taller than recent VT fullbacks by two inches or more.
The key for Kinzer is to get low, get leverage, and get mean. The VT coaches have said that he's not consistently mean yet, so concentrating on technique and bringing the lumber every down are Kinzer's top priorities.
I could have listed the tailback position as being one of the ten most important, but after thinking about it, I decided that the tailbacks, if they get good blocking from Kinzer, will be okay.
3.) Split End Chris Clifton
Justin Hamilton moved to tailback from the flanker spot this spring, and there's no indication that he's moving back. After the spring game, Hamilton talked about competing for the starting tailback spot in the fall, and in wide receiver coach Tony Ball's post-spring comments, he made no mention of Hamilton as a wide receiver. The post-spring depth chart on BeamerBall.com lists Hamilton as a running back.
But whether Hamilton stays at tailback or comes back to flanker, it's important that someone step up at the split end position, and that someone is Chris Clifton. Clifton came to VT as a quarterback, lost the QB derby to Bryan Randall and Will Hunt, and was moved to receiver. He has floundered since, failing to garner serious playing time, but next season is his year.
Clifton will be a redshirt junior in 2004, and Ball praised him for showing leadership and making progress this spring. The Hokies would get a big boost if Clifton came out of nowhere for 25 or more catches and five or more touchdowns this fall.
If Hamilton stays at tailback, they'll need even more than that from Clifton, who will be starting opposite flanker Josh Hyman, if the post-spring depth chart holds.
4.) Center Will Montgomery
Jake Grove was very, very good and underappreciated. Tech's third-ever unanimous All-American, Grove joined former Hokie greats Jim Pyne and Corey Moore in that regard.
It was Grove himself who said that he knew Will Montgomery was going to be a great one the first day he saw him in practice. Just a walk-on at the time, Montgomery will take over the center position in 2004. Montgomery is a great athlete and a classic example of a great football player slipping under the radar of college coaching staffs everywhere.
Barring injury, the Hokies are set at tackle with Jon Dunn and Jimmy Martin. At guard, James Miller is a returning starter battling for time with Jason Murphy. The other guard spot is more unsettled, with neither Brandon Gore nor Reggie Butler stepping up yet, so that makes Montgomery's performance at center all that much more important. Will Montgomery will determine to a large extent if the 2004 offensive line is a good one for VT.
5.) Defensive End Darryl Tapp
In 2003, Darryl Tapp was a disrupter. He was third on the team in tackles for loss with nine, behind Cols Colas (13) and Michael Crawford (12). He was second on the team in QB hurries with 17, behind Nathaniel Adibi (19).
And Darryl Tapp was often out of position, giving up huge chunks of yardage to tailbacks that either cut outside of his inside rushes, or inside his outside rushes. Tapp went off like a grenade in 2003, spraying shrapnel everywhere, sometimes hitting his target and sometimes not.
You've heard the phrase "lockdown corner," used to refer to a cornerback who can shut down the passing game on his side of the field. The Hokie defense would be vastly improved if Tapp could become a lockdown defensive end, a guy who shuts down the run and pressures the QB, creating constant problems from his side of the line of scrimmage.
Tapp is currently listed as co-#1 with Jim Davis at the Stud end spot, so why do I pick Tapp as the more important player? Because as a true junior, it's his third season in the program, and that's the season that the light either goes on … or it doesn't. It would be great for VT football if the light not only went on this year for Darryl Tapp, but stayed on next year, as well.
6.) Linebacker Xavier Adibi
Many people pooh-poohed Xavier Adibi's ranking as the #1 recruit in the state of Virginia in 2003, but Adibi has lived up to the promise so far, vying for playing time as the spring came to a close. Listed at a generous 215 when he arrived at Tech last fall, Adibi has bulked up to a linebacker-like 229 pounds, and he may add more before the fall arrives.
Adibi has the body for the position, and he appears to have the instincts, too. But like Tapp, Adibi isn't listed as #1 at his own position, not even co-#1. He's currently on the depth chart, behind rising redshirt junior Blake Warren. But like Tapp, Adibi is important for 2004 because any progress he makes this year, including perhaps cracking the starting lineup, will benefit him and the team into 2005 and beyond. In Adibi's case, way beyond.
With fellow freshman linebacker Vince Hall also earning raves, I gave Adibi the nod as being more "important" this year because he is generally acknowledged as having a better chance at cracking the starting lineup than Hall, who is behind two-year starter Mikal Baaqee on the depth chart. If Adibi can follow through and become the number one "backer" linebacker, it will benefit the Hokies in 2004 and seasons down the road.
7.) Whip Linebacker James Anderson
I will never forget watching the game tape from the 2002 Syracuse game and seeing James Anderson, a redshirt freshman subbing for the injured Vegas Robinson, looking completely lost at the backer position. Syracuse ran a hundred offensive plays in that 50-42 triple overtime loss -- I'm not being flippant, it really was a hundred plays -- and Anderson had six tackles.
Six. A backer should have 15-25 tackles in a game where the opposing offense runs a hundred plays. All game long, Anderson ran from sideline to sideline, seemingly in a fog, always trailing the play. It was like the Hokies were playing defense with 10 players.
After watching that game tape, I wrote James Anderson off. He was lightly recruited out of Deep Creek High School in Chesapeake, a teammate of DeAngelo Hall and Chris Clifton whom the Hokies fell in love with athletically after seeing him at VT's 2000 summer football camp. Anderson was also a smart kid, with an SAT score reported to be in the 1200's. So VT offered him a scholarship, put him at inside linebacker … and he bombed.
The VT coaches agreed, moving him at the end of the 2002 season from backer to whip. At the time, the defensive coaches said that Anderson "operated better in space" and would fit better at the whip position, but to me, it looked like they were burying him on the depth chart for the duration of his career. Brandon Manning was firmly entrenched at whip, and behind him was Aaron Rouse, a young player who routinely drew votes from players and coaches as VT's next rising defensive star.
In the 2003 season, Anderson proved he could indeed operate well in space. Despite playing just 14 snaps from scrimmage during the regular season, Anderson registered 39 tackles for the year. He got almost all of those tackles on special teams, where he was an unbelievable heat-seeking missile that seemed to always find the kick returner.
For Anderson, the last piece of the puzzle came with the offseason tweaks to the defense that removed deep coverage responsibilities from the whip position. That enables a 6-3, 220-pound guy like Anderson to play the whip, which has become more of a true outside linebacker position, instead of a hybrid safety/linebacker.
Anderson tore up the weight room during winter conditioning, reaching Excalibur athlete status -- the only Hokie to do so this winter -- and followed it up with a "lights on" spring to burst into the top spot on the whip linebacker depth chart.
He's big, he's strong, he's athletic, he's smart, and he's primed to play the position. If James Anderson has a breakout year in 2004, you can start calling him Lazarus, because he is one guy who has definitely risen from the dead.
8.) Cornerback Jimmy Williams
We have covered the Vince Fuller/Jimmy Williams switch in detail in previous articles. Williams' performance at corner is critical this year. We know that Vince Fuller can play safety, and the coaches have even said that it's a better position for him than cornerback. If that's the case, then it's important that Williams develop quickly at corner, so Fuller can stay at safety.
Eric Green has the starting field corner slot sewn up. Williams has the starting boundary corner spot in hand. The issue is whether he'll struggle enough that the coaches have to swap him and Fuller back to their positions from last year. The coaches don't want that, because they like Fuller at safety and Williams at corner.
9.) Rover James Griffin
In addition to Williams at cornerback, the other defensive backfield spot that's a little iffy is James Griffin at rover. Griffin has had a year to get his feet wet in the VT program, and if he's going to step up, now is the time. The Hokies got used to great rover play from Cory Bird and Kevin McCadam in the late 90s and early 2000s, and it's a key component of the VT defensive system.
Like some other players in the VT defensive system, Griffin is being described as a guy for whom the system is starting to make sense. It needs to continue to crystallize in his mind for VT to have a good defensive year.
10.) Placekicker (Whoever It Is)
The Hokies were spoiled by Shayne Graham from 1996 through 1999. Graham was accurate and had good range, out to 50 yards and beyond. Carter Warley appeared to pick up the mantle from Graham in 2000, going 7-of-9 on field goals and showing promise.
But Warley became spotty and inconsistent after that season, and just as importantly showed very little range or accuracy beyond 40 yards. As a senior in 2003, he was 12-of-18 on field goals, which sounds good, but he only tried six field goals of 40 yards or longer, and he only made one of those, a 43-yarder.
Frank Beamer was leery of trying field goals beyond 40 yards with Warley, and it negatively affected his game-planning. If you don't trust your kicker beyond 40 yards, that means you've got to penetrate to your opponent's 23 yard line before you feel confident taking a shot at a field goal.
If on the other hand you feel good out to 50 yards, then you only need to get to the other team's 33 yard line. That's a big difference.
At this point, Brandon Pace is listed first on the placekicker depth chart, ahead of John Hedge, Nic Schmitt, and Jud Dunlevy. We don't know which one of them will wind up being the primary placekicker for VT in 2004, but it doesn't take a brain as big as a football to know that it's one of the most critical positions for next season.

Copyright © 2004 Maroon Pride, LLC