Spring Football 2004 Wrapup

by Jeff Ouellet, 4/26/04
College football coaches love to say that no two years are the same, and no two teams are the same. It logically follows, then, that every spring practice is also unique. When reflecting on this spring's theme, I kept coming back to one idea: the Hornets were buzzing in Blacksburg.
For those of you that don't follow recruiting closely, the Deep Creek Hornets had six scholarship members on Virginia Tech's football team last year: Vegas Robinson, DeAngelo Hall, James Anderson, Chris Clifton, Darryl Tapp and Josh Hyman. While I think it is pretty clear that DeAngelo had the best day of all of them on April 24th, the four Deep Creek products with remaining eligibility performed very well this spring and should see substantial playing time for the Hokies next year. In fact, all four may end up first on the depth chart at their respective positions.
There were a lot of pleasant surprises this spring, as tends to happen with a younger team. What follows is my impression of the headliners, surprises and players to watch after spring practice.
Quarterback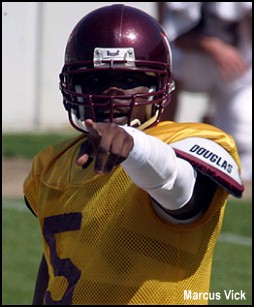 Headliner: Marcus Vick. Most reports out of Blacksburg suggest that Marcus had the better spring, but Coach Rogers indicated both need to continue to improve. If Marcus continues to mature in his understanding of how to run a game and recognize defenses, he should become a very good quarterback before his time is done in Blacksburg.
Surprise: Bryan Randall. It is just spring practice (insert Allen Iverson voice here), but I thought Randall might really step up his play in his final season. Thus far, apparently he has not. He is the consummate leader and a terrific student-athlete, but Randall will have to be efficient this fall for the Hokies to survive a tough schedule.
Player to Watch: Cory Holt. We may not see Holt play a single snap this fall, but some have speculated that after his trial Marcus will be serving a suspension of perhaps two games. Given the talent on USC's defense and their tendency for treating opposing quarterbacks like rag dolls, it is not inconceivable that Holt could be thrust into the most uncomfortable of positions for a true freshman: taking snaps in his first game against the #1 team in the country on an unfamiliar field. Study hard, Cory . . .
Running Back
Headliner: Mike Imoh. Imoh has to take this title by default because of the injury to Cedric Humes. With that being said, I am a huge Imoh fan as I think he's got terrific playmaking ability. I would, however, prefer that VT use him in a manner that can get him touches out in space, as a returner, third down back and 10-12 carry per game guy. Imoh has a little Charlie Garner in him, and it doesn't make sense to pound him straight into the line 25 times a game.
Surprise: Justin Hamilton. The move of Hamilton from wide receiver to tailback was a big surprise to many VT fans, but it probably shouldn't be. Hamilton was a top five recruit in Virginia as a tailback, after all. With the injury to Humes creating uncertainty, and Imoh potentially facing a suspension, VT could be very short at tailback going into USC. Hamilton also may carry the ball some from a slot receiver or "A" back position: remember that VT visited Utah this offseason, and the Utes love to use receivers as ball carriers.
Player to Watch: John Kinzer. Kinzer is the odds-on favorite to win the fullback job, and he has all the physical attributes to be VT's best at the position since Tony Paige. With that being said, he is still adjusting to the position change – he was a tight end in high school – and VT is used to getting exceptional play out of this spot. Neither George Bell nor any of the incoming freshmen would seem to be ready to be every-down players at the spot, and Bell may be needed at tailback or in one-back sets, so Kinzer or a bevy of walk-on candidates will have to do the job.
Wide Receivers
Headliner: Chris Clifton. Clifton has always been a tremendous athlete, but his conversion from quarterback to wide receiver has taken a little bit of time. He has great size (6"4") and 4.33 speed, and the staff has repeatedly praised him for his work this spring. He won the team's most improved award on offense. He will need to fill some of the vacancy, both in terms of leadership and production, left by the departure of Earnest Wilford.
Surprise: Justin Harper. While Harper was viewed as a solid recruit, I don't know that anyone anticipated him playing as well as he did this spring for a January enrollee. He won the offensive newcomer of the year award for his work, and he looks like a solid candidate to play in the fall. He will need a lot of weight room time this summer to add mass and strength to his 6'3", 187 lb. frame, though.
Player to Watch: Josh Hyman. There could be any number of players in this category. Certainly I am intrigued by David Clowney's speed, Harper's feel for the position, Josh Morgan's raw athletic ability and the explosive quickness of incoming recruit Eddie Royal. However, I keep coming back to Hyman as the young receiver that I think will have the biggest impact this fall. Hyman has the size and toughness to be a possession receiver, with 4.37 speed to stretch the field.
Tight End
Headliner: Jeff King. He was the leader of the spring conditioning practices, and his outstanding play carried over into spring practice where he was named offensive MVP. King is a better athlete than you might think, and in addition he has the blue collar work ethic that exemplifies the best of VT football.
Surprise: Jared Mazetta. This really isn't a surprise, as I think many people appreciate that Mazetta is a good football player. He won the hustle award for the VT offense this spring, and he will be an excellent tight end when VT wants to go with their jumbo package.
Player to Watch: Duane Brown. Truthfully, we may not see a lot of Brown this fall because of the solid veterans in front of him. However, Brown has a very big future, as he has some of the best hands on the team and a huge frame. He could be a big factor in the passing game down the line (yeah, I know . . . ).
Offensive Line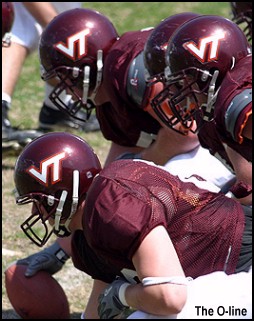 Headliner: Will Montgomery. No program in the nation has produced more NFL centers than VT since 1990, and Montgomery looks to be the next in a long and impressive line. He was playing at a very high level by the end of last season, and he might be the best candidate on the VT offense for an all-league season in 2004.
Surprise: Chris Pannell. Pannell showed some signs of coming around last year, but he was held out of the latter part of spring practice because of academics. VT is very thin at tackle, and his return will be important this fall.
Player to Watch: Brandon Gore. Gore was very highly recruited and is one of VT's strongest players. He has the ability to start and be a road-grader type offensive lineman. However, an injury set him back this spring. Hopefully, he will emerge this fall.
Defensive End
Headliner: Darryl Tapp. The Tappinator was the defensive MVP this spring, and he seems poised for a breakout year this fall. He is up to 264 lbs., and his weight room numbers continue to improve. He made as many negative plays as any defensive end VT had last year, but he was often out of position. If he can be more disciplined this fall, he could have an all-ACC type season.
Surprise: Noland Burchette. Burchette has really come on strong this spring, and his outrageous ten yard split time (1.50 seconds) suggests he can really come off the corner. VT needs to return to the days of dominant pass rushers at defensive end, and Burchette projects as a big part of it.
Player to Watch: Jim Davis. He is about as heavy as any defensive end VT has had in the past decade, now weighing in at 276. He also has consistently demonstrated playmaking ability during his career. However, he is coming off an injury, and he will need to knock off a year of football inactivity.
Defensive Tackle
Headliner: None. The strongest adjective that I have seen to describe the defensive tackle play this spring was "solid." VT needs its tackles to be better than solid this fall with the experience and talent at the position.
Surprise: Carlton Powell. Big things have been expected out of this redshirt freshman, and he capped off a good spring with a notable performance in the spring game. Powell is the strongest of a solid redshirt freshmen defensive line class, and he appears ready to contribute as the third tackle this fall. He needs to push the Lewis brothers for playing time.
Player to Watch: Jonathan Lewis. This category has normally been reserved for young up and comers, and perhaps Kory Robertson would be a more apt pick. However, J-Lew needs to assert himself this year and become the type of dominating presence VT thought it was getting when it nabbed him from the likes of Miami and Florida State. He needs to become one of the top ten defensive tackles in the ACC for the VT defense to become what it should be.
Inside Linebackers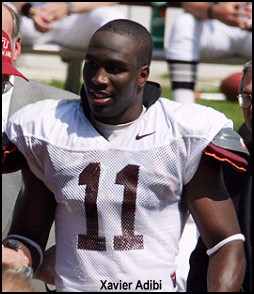 Headliner: Xavier Adibi. Adibi is still running with the second team according to the depth chart, but I would be very surprised if he wasn't the starting backer this fall. He has great speed, terrific instincts, and he knows how to deliver a blow. I have heard rumblings that he might end up being the best linebacker VT has produced during the Beamer era. He was voted the defensive newcomer of the spring.
Surprise: Blake Warren. Currently #1 on the backer depth chart, Blake has bulked up to 246 lbs., retained his speed (4.61) and by all accounts has played well this spring. Even if he ends up ceding the starting spot to Adibi, hopefully he can provide solid depth.
Player to Watch: Vince Hall. Hall, another redshirt freshman who was the Gatorade Player of the Year as a high school senior, shed 15-20 lbs. from his reporting weight and has played very well this spring. He is instinctive, tough and he wraps up well. With a returning starter like Mikal Baaqee, it will be interesting how playing time is distributed this fall.
Whip/Rover
Headliner: James Anderson. Whip is populated with a two-time returning starter (Brandon Manning), a much hyped and very talented prospect (Aaron Rouse), yet when the dust settled rising R-JR Anderson appeared to be the man. Anderson was a special teams demon last year, and he is a truly special strength and conditioning athlete. The light finally clicked this year for him as an every down player, and he will enter the fall as the starter at perhaps VT's deepest position.
Surprise: James Griffin. Griffin came in a very highly touted junior college talent, but not surprisingly he struggled with the adjustment last year. Much like Kevin McCadam and Michael Crawford the past few years, Griffin seems to have had the light bulb go on just prior to his senior season. Hopefully, he will be similarly productive in his last go round.
Player to Watch: Aaron Rouse. Rouse suffered a knee injury which slowed him at the end of the spring, but he is a tough player that should benefit by the decreased passing game responsibility for the whip this fall. He is a talent.
Corners/Free Safety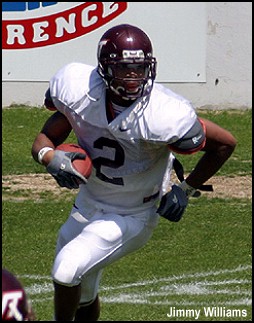 Headliner: Eric Green. An experienced fifth year senior, Green has stepped up his game and received significant praise from the coaching staff. Many of VT's Florida corners, for whatever reason, seem to step up and play their best football as seniors (Larry Green, Loren Johnson, Anthony Midget). Green seems to be following in their footsteps.
Surprise: Vinnie Fuller/Jimmy Williams. The swap of positions for these two appears to be relatively seamless. Fuller was recruited as a free safety, and he has the great range necessary to help with deep coverage. He will be even more effective given the fact the ACC is more of a passing league than the former Big East was. He won't have to enforce against the run quite as often. As for Williams, he has the size that is perfect for boundary corner, and he's big and physical enough to get in the face of the receiver and jam them. Many ACC teams run short, quick passing offenses where timing is everything. Williams, if he can handle the transition, should be terrific at disrupting that timing.
Player to Watch: Roland Minor. He created a lot of buzz with some big hits in the spring game, and he impressed the staff even before the game. Minor and D.J. Parker may end up being on the two deep at corner, and with the speed at WR in the ACC their improvement will be a key this fall.
Specialists
Headliner: Vinnie Burns. He is an experienced player who, despite a huge spring game from Nic Schmitt, appears to have the starting job locked up.
Surprise: Jimmy Williams. Punt returner is a key position for VT, and Jimmy Williams has apparently done very well with the role. This position is far from settled, though, with both Mike Imoh and possibly an incoming freshmen (Eddie Royal, Jeremy Gilchrist) getting a look this fall.
Player to Watch: Whichever kicker ends up winning the job. It is absolutely imperative that VT gets improved production here.



Copyright © 2004 Maroon Pride, LLC