2004 Hokie Draft Preview: A Banner Day Coming?

by Jeff Ouellet, 4/12/04
For as long as I have been a VT fan, the conclusion of spring practice represents the circle of life, college football style. A dual reality is unmistakable - as Virginia Techís young football players show flashes and portend what is to come the following fall, the Hokiesí established stars wait anxiously to hear professional football teams call their name in the annual NFL "selection meeting," suggesting unconditional acceptance of their skills. This acceptance typically lasts until Joe Smith, resident NFL team capologist, MIT grad and avid bowler, informs the playerís agent that they canít afford to pay "market value" for their draftee because there is still some dead money on their cap from a signing bonus given to Jim Plunkett when he was a plucky young quarterback prospect from Stanford. But I digress . . .
On April 24th, there are a lot of Hokies that will begin their chosen professional careers in style. The Hokies will likely have two first round picks, perhaps three, with five players having a legitimate chance at being first day (top three rounds) selections. Both numbers, if they come to fruition, would represent high water marks for the Hokies in the Beamer era.
While the Hokies have recently had significant numbers of players drafted, the number of true blue chip players is probably less than the casual fan would think, given VTís overall success. In fact, VT has only had three first round picks since Coach Beamer became the head man: OL Eugene Chung, QB Jim Drunkenmiller, and QB Michael Vick. That will change this year.
What follows is a preview of the 2004 NFL draft preview highlighting the Hokies that could be playing for pay next season.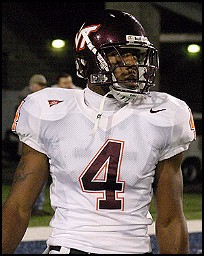 The first Hokie off the board this year will be DeAngelo Hall. His blazing 40 Combine time, along with absolutely SICK shuttle run and three-cone time, has placed him at the top of a cornerback class loaded with potential first round draftees like Dunta Robinson, Chris Gamble, Ahmad "Batman" Carroll and Derrick Strait. Hall is as physically gifted as any player in the draft, and he will be the highest drafted defensive player during the Beamer era. Besides his blazing speed and good hip turn, he has decent height and is solidly built for run support. He also is willing to hit, a trait not all corners share.
The negatives on Hall are that he is overly aggressive, and that he abandons technique both in pass coverage (by baiting throws) and run support (by not squaring up when making tackles) at times because he has so much natural ability. Some people are also turned off by what is perceived as a cocky attitude, although thatís almost a prerequisite for a great corner these days.
Honestly, last year Hall was not as consistently productive as his draft status will reflect. However, Hokie fans need to remember he will only be 20 years old when the NFL season starts (he was born in November of 1983), which is incredibly young to be draft eligible. To provide a basis for comparison, last yearís top corner, Terence Newman of Kansas State, went to Dallas with the fifth overall pick and was 25 when he lined up for his opening game.
Hall is young and has some things to learn, but his natural ability is unparalleled at a position of need for all NFL teams, and he brings the added bonus of being able to return kicks immediately.
My prediction is that Hall is off the board in the top 12, and in a worst case scenario I canít see him lasting past the Broncos at 17. In particular, I would pay attention to the Houston-Pittsburgh-N.Y. Jets triumvirate in picks 10-12. All need corner help, and Hall would be a great fit for any of them. Houston has certainly shown a significant amount of interest in Hall, and he would be perfect for Dom Capers bump-and-run scheme. In that type of defense, Hall would be a Pro Bowl player.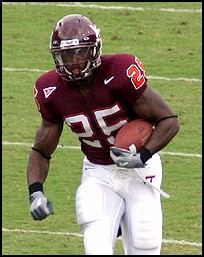 I believe Kevin Jones will also join Hall as a first round pick. Jones has a tremendous speed/strength ratio, very good vision and great moves. He performed like a top ten pick this year for VT. Although knocked for not being a receiving threat as a Hokie, Jones showed in individual workouts that he is a solid pass catching back. He also is much improved as a blocker.
The biggest negative about Jones is that he ran a surprisingly slow 40 in front of the scouts on both of Virginia Techís pro days after gaining 12 pounds or so of muscle. Different teams will have different philosophies on the muscle: a team like New England or Dallas likely would be okay with the added weight, while a team like Denver might want a 210 lb. Jones. I canít explain why Jones ran slower than expected, but I can tell you that there were a lot of games this year where he played like the fastest guy on the field, including Miami.
Most scouts project Stephen Jackson as the first back off the board. Thatís a mistake in my mind, but that seems to be the consensus. It also appears that because of the relative depth of the position and the roster composition of many teams, a lot of running backs are falling in the draft.
My prediction is that Kevin Jones will come off the board somewhere in the early to mid 20ís of round one. Denver, after the loss of Clinton Portis, could be looking for a speed back at pick 17. I would also keep an eye on the 21st and 22nd picks, presently held by New England and Dallas. Both need running backs and both would be crazy to pass on Jones if he is available, as he has all the tools to be a franchise type back. If they decide to trade up (New England) or down (Dallas), there are several other teams that should step up and take Jones, because he will far and away be the best talent on the board if he lasts past the twentieth pick in round one. Jones has the look of a 1,200 yard plus rusher as a rookie in the right situation.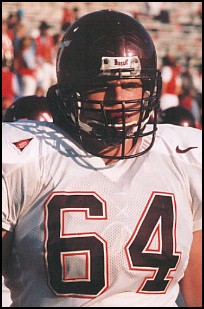 The third Hokie that could go in the first round is center Jake Grove. Every single scouting service of which I am aware rates him as the best center in the draft. He is one of the few prospects in this draft with no true weaknesses. He is a tough guy who works exceptionally hard and has great weight room and functional (on the field) strength. He is also a good athlete as evidenced by his vertical jump (35") and impressive ten yard dash times. For a center, the ten yard dash is far more important than the 40 because centers often are required to go downfield and engage linebackers at the point of attack.
Going into the Combine, there was some concern about Groveís health, in particular his back, and whether that could potentially be a lingering problem for him in the pros. That question was answered. The only reason his stock isnít higher is because many NFL teams do not believe in drafting a center in the first round; in fact, in the last decade only two centers have made it into round one, Damien Woody in 1999 (New England) and Jeff Faine last year for Cleveland.
Grove has the ability to be a long time productive NFL player, and he is going to have a much better career than a lot of the guys drafted in front of him. He could go anywhere from the late first to a team like Philadelphia or New England to the middle of the second round, depending on team needs and how the draft falls in front of him. His stock is helped by the fact that he also is versatile and capable of playing guard.
I am going out on a limb based on historical precedent, but I think Grove is going in round one. He has a great buzz right now, and there are actually a lot more teams that need interior offensive linemen (guards and centers) than in a typical draft. Because there isnít an incredible amount of quality and 9-10 teams could be looking to pick an interior offensive lineman on day one, I think the value at the position will be elevated and it will push guys like Grove and Chris Snee (guard, BC) higher on some draft boards.
One of the swing players in this VT draft class is Nathaniel Adibi. Physically, Adibi is very impressive. He is strong, very fast and plays hard. Adibi is also a leader by example, and he is more than willing to contribute doing the not-so-little things like special teams.
The concern with Adibi in some quarters is the fact that his numerical production in college did not equate to his physical ability. With his size and speed combination, NFL scouts would have liked to have seen more negative yardage plays from him. His injuries clearly slowed him in that regard, however. Another concern is the fact that heís a little bit of a tweener. He is not an every down NFL defensive end, as he weighs under 260 pounds. He can either fit in as a 3-4 rush linebacker, or perhaps a 4-3 3rd down pass rushing specialist. With as many as four NFL teams moving from a 4-3 to a 3-4 at least in some situations, Adibi might very well end up at linebacker in the pros.
This may surprise some Hokie fans, but Adibi could go off the board in the second round. He has great measurables at a position that really is a need area for many NFL teams. He could also slip until the fourth round. My guess is that he falls somewhere in the early third round area, and sees time initially as a situational pass rusher.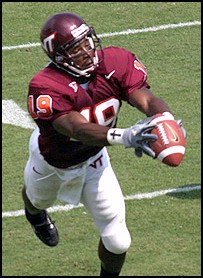 Ernest Wilford is the prototype big NFL wide receiver. He has great size and strength and uses his body pretty well. He also has a terrific vertical leap, which should translate into him being a good goal line option. Wilford is a diligent worker which will endear him to NFL scouts.
The biggest concern with Wilford is his straight line speed. He is no better than a 4.7 forty, and that has scared some scouts. He also has been slightly inconsistent catching the ball, although with a little more technique work, there is no reason to believe that he wonít improve in that area. He suffers from the fact that this is a great wide receiver draft with as many as seven or eight potential first round draftees.
I believe that Wilford will be selected in the middle to late stages of the third round. He has been very productive and has all the measurables NFL scouts, like save his 40 speed. In my mind he carries a similar grade to Billy McMullen, although the two have different playing styles. Wilford should be a solid possession receiver in the NFL for many years.
There are a significant number of VT players that are second day prospects, and their fortunes are slightly harder to project. With fifth through seventh round players, beauty often is in the eye of the beholder.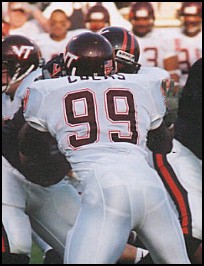 Cols Colas appears to be the highest rated among VTís remaining prospects. Colas is a workout warrior, as he is very strong and has tremendous speed. He is relentless on the field and made more than a few negative plays during his days as a Hokie.
Colas is a projection, however. He will not be a defensive end in the NFL, so he has to demonstrate the ability to transition to linebacker. Colas is a candidate in most systems to play at outside linebacker (that is a less instinctive position than middle linebacker, so converts usually start there), but there are some concerns about him playing in space. His workout numbers suggest he has the ability to make the change, but it will take time.
On the plus side of the ledger, Colas would seem to be an ideal candidate for special teams. He has size and speed as well as the necessary "wild man" mentality (thatís meant to be complimentary). The last few spots on a roster, particularly linebacker, are often determined by play on special teams. Thatís where he might be able to make his mark initially.
I project Colas as a fifth or sixth round pick right now. He is on a lot of draft boards and has playmaker ability, which will intrigue a lot of teams. The position change is something that will concern them, though.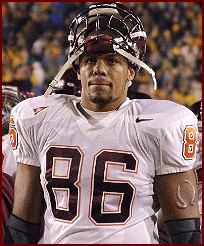 If you wanted to build a tight end from scratch, Keith Willis wouldnít be a bad place to start. He has enough athletic ability to have been a basketball standout, he has a great frame and solid speed. His hands also are above average.
Unfortunately, Willis has not run well for him this spring. He was injured at the Combine and that clearly slowed him. Running a 4.9 as a pass catching tight end prospect is a tough stigma to overcome. Willis has also not overwhelmed NFL people with his blocking ability, and he will need to improve in that area. Generally, there is a feeling that Willis has not yet played up to expectations.
Willis should intrigue a lot of NFL people. If he had run a 4.6, he might have been a first day pick. Instead, he projects as a very intriguing long range prospect that could fit into the fifth-sixth round range. While there are some very good tight end prospects in this draft, the depth is lacking, so Willis will get scrutinized.
The unheralded member of last yearís team, fullback Doug Easlick, has also garnered the attention of NFL scouts. Easlick has very good hands and was used a lot in the passing game this past season. He is a solid blocker who understands positioning and leverage, and he is always willing to give up his body. Easlick also athletically tests better than most fullbacks.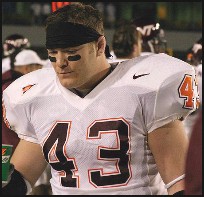 The negative on Easlick is his size. While he isnít small, he also isnít the 260 lb. battering ram that many NFL teams prefer at fullback. Easlick is more Tom Rathman than Darryl Johnston, so he might be a better fit for a West Coast team than a team that lines up in the I formation and pounds the ball.
Easlick in my mind projects as a sixth round pick or so. I do think heíll get drafted, but there is not an overwhelming need for fullbacks this year and that may push him down a round or so. He strikes me as the type of player that will hang around in the NFL for a long time.
Because of his starting experience and measurables, Vegas Robinson is probably the next most likely Hokie draftee. Vegas will probably fit in the NFL as an inside linebacker, as opposed to the backer position he played at VT.
Vegas runs well and is weight room strong. His coverage skills will be better suited inside when he has a well defined area to cover. He projects well on special teams.
The negatives against Vegas are his height (sub 6í0"), the fact that he lacks solid break down technique when taking on ballcarriers, and he is not particularly instinctive. It will be a challenge for him to learn to discard blockers and all the traffic generally during running plays if he plays inside in the pros.
At this point, I do not expect Vegas to be drafted, although it is certainly possible. I would expect him to be given a free agent deal and to have a legitimate chance to make an NFL team.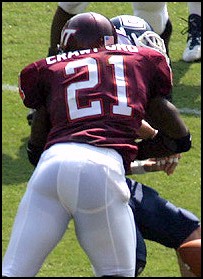 There are several other departing players that will get serious NFL looks and most likely free agent deals: Chris Shreve, Jacob Gibson, Michael Crawford, and Garnell Wilds. Shreve is a real sleeper. He was injured much of this year, but he has very nice speed and might have been VTís second best wideout this year if he stayed healthy.
Gibson was a starter this year on an offensive line that did pretty well run blocking. He also benefits from playing on a line blocking next to Jake Grove and for Kevin Jones, which means plenty of NFL people will be evaluating tapes with him in it. All it takes is one scout to ask about "the guard next to Grove" and that could mean that he gets a camp shot. Gibson lacks ideal size and isnít outstanding in any one area, but heís versatile and experienced, which should get him a look.
Michael Crawford was one of the most productive defensive players for the Hokies this past year, but that doesnít necessarily translate to NFL riches. Crawford is not a physical prototype as he lacks blazing speed and is not particularly big. What Crawford does have in abundance is heart and courage, which cannot be underestimated, and he is pretty instinctive in the running game. A few teams looking for a strong safety will be evaluating him.
Garnell Wilds lacks great straight line speed, and that clearly hurts his pro chances. However, Wilds is a playmaker and he is very smart with understanding schemes and his role in them. He might be a nice fit in a team that likes to sit back in a two deep zone where Wilds can read the quarterbackís eyes and react to the ball in the air rather than trying to run with 4.3 guys in man to man.
When it is all said and done, April 24th should be a very big day for Virginia Tech football fans everywhere. While we clearly will be looking forward to watching a young, exciting team playing in a new conference, letís not forget to wish all of our departing players Ė not just the ones named above Ė the best as they get ready to begin life after Virginia Tech.



Copyright © 2003 Maroon Pride, LLC