Spring Football 2004 Report: The Defense

by Will Stewart, TechSideline.com, 4/1/04
(Editor's Note: All images are clickable for larger versions.)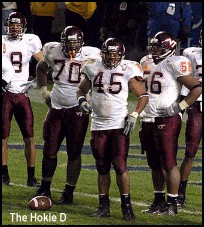 When we last saw the Virginia Tech defense Ö they were nowhere to be seen. In 2003, Pittsburgh drove down the field with ease to win the game, Virginia completed a baker's dozen passes to their tight end, Boston College -- Boston College! -- threw a long TD pass to win the game, and in the coup de grace, Cal quarterback Aaron Rodgers chuckled his way through six straight touchdowns, white jersey, clean pants and all.
It's hard to imagine that the same defense that terrorized Clemson QB Brandon Streeter in 1998 and 1999, the same defense that knocked Miami's Kenny Kelly out of the game and made Ken Dorsey look like a deer in headlights in 1999, the same defense that had Texas' James Brown chucking and ducking in 1995, is the same defense that was laughed at by a sophomore QB in Tech's bowl game last year.
Oh, how the mighty have fallen. Where have you gone, Cornell Brown?
Debate has raged for months now as to whether it's the players or the coaches that have brought about the collapse of the Virginia Tech defense, which gave up 23 points per game, 136 rushing yards per game, 367.5 total yards per game, and 40% third-down conversions in 2003.
To put those numbers in perspective, during the 11-year Beamer Bowl era, only one defense has done worse in one of those statistical categories: the 1993 defense gave up 383 yards per game. Other than that, every defense from 1993-2002 was superior to the 2003 defense in all four of those key statistical categories.
Think about that: four key stats over a ten-year span, 1993-2002. Forty statistical measures. And the four numbers put up by the 2003 defense were worse than all but one of those forty statistical measures.
The 2003 Hokie defense was the worst defense of the Beamer Bowl era, by far.
And that defense, as bad as it was, graduated its two starting defensive ends (Nathaniel Adibi and Cols Colas), one starting linebacker (Vegas Robinson), one key cornerback (Garnell Wilds), and the starting Rover (Michael Crawford). Another cornerback who will be a first-round pick in the NFL Draft left early (DeAngelo Hall).
As you can see, they have a lot to work on, starting this spring.
It's depressing. It seems like the Hokies have a mountain to climb. They faced a similar situation after the 1992 season, a year in which they gave up 25.6 points per game, 176.2 rushing yards per game, 405 yards per game, and 40.8% third-down conversions. The Hokies recovered from that disastrous season, implementing a new defensive scheme, installing a new defensive coordinator, and relying on a passel of young players, headlined by one of the best recruits ever at Virginia Tech (Cornell Brown).
This spring, the Hokies don't have a new defensive scheme, and they don't have a new defensive coordinator, but they do have some new players that bring hope to the program. Oh, the coaches are tweaking the defense a little, making it more of a traditional 4-3, but the scheme isn't "new" like the 1993 attack defense scheme was. And Bud Foster, who will start his tenth year as VT's defensive coordinator, certainly isn't new.
But the names Chris Ellis, Carlton Powell, Barry Booker, Xavier Adibi, Vince Hall, Michael Hinton, Roland Minor, and Corey Gordon are new, and Hokie fans are hoping they can help resurrect a defense that has gone on life support.
Eventually, that 1993 defense grew into the 1995 defense, one of the finest defenses ever to play Virginia Tech football. Note that it took three seasons to happen, though. Donít expect the Virginia Tech defense to return to dominance any time soon.
But you have to start somewhere, and for these guys, it begins now, in the spring of 2004.
DEFENSIVE TACKLE

Projected Starters

Key Backup(s)

Others

Loss(es)

Tackle:

Jonathan Lewis
(Jr., 6-1, 300)
Nose: Kevin Lewis
(r-Sr., 6-1, 288)

Tackle:

Isaac Montgomery
(r-Sr., 6-4, 284)
Nose: Jason Lallis
(r-Sr., 6-0, 250)
Tim Sandidge
(r-Jr., 6-2, 304)

Tackle:

Barry Booker
(r-Fr., 6-4, 295)
Kory Robertson
(r-Fr., 6-2, 317)
Nose: Carlton Powell
(r-Fr., 6-2, 287)

None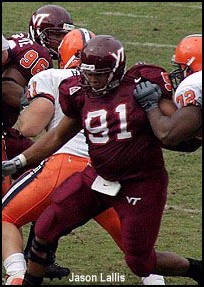 The Hokies have a mess of players here, but the key is getting some of them to step up and dominate, to be disruptors who can bring it every play and cause problems. There are times where the Lewis brothers look as good as any defensive tackle tandem in the country. They'll blow up a running play or a pass play, and you'll wonder why they don't do it every down.
The key is for Kevin Lewis to stay injury free, and for Jonathan Lewis to develop more intensity and better conditioning. Jonathan is one of Tech's biggest D-tackles, and he's one of the Hokies' fastest too, in the forty, the shuttle and the 10-yard dash. If he would just play with intensity and effort on every single down, he could be an all-conference tackle, and the key to a successful Virginia Tech defense.
One indicator of the potential of the Lewis brothers are the four sacks registered by each, a good total from the defensive tackle position, and better than everyone on the defense but Cols Colas (6.5) and Nathaniel Adibi (5.5).
Beyond the Lewis brothers, there's the undersized Jason Lallis, a good bench player that you don't want to have playing too many downs, due to his small size. It's too bad Lallis isn't as big as the other tackles.
After that, there's a bunch of guys who just need to step up. Isaac Montgomery is a big, strong guy who needs work on his technique. Tim Sandidge needs to continue to develop, because the depth chart is going to open up in front of him after this year.
Of the three redshirt freshman -- Barry Booker, Kory Robertson, and Carlton Powell -- Powell appears to be the most advanced at this point, at least physically. He's not the biggest of the three, but he's the fastest and strongest. Robertson is a good athlete who was injured last fall and needs to improve his technique, and Booker is in the process of putting on size so he can work towards being a contributor.
The bottom line is that the defense would be aided greatly by Montgomery and Sandidge stepping up and providing solid options at the fourth and fifth DT spots.
DEFENSIVE ENDS

Projected Starter

Key Backup(s)

Others

Loss(es)

Stud:

Noland Burchette
(r-So., 6-2, 245)
End: Darryl Tapp
(Jr., 6-2, 264)
or
Jim Davis
(r-Sr., 6-4, 276)

Stud:

Chris Ellis
(r-Fr., 6-5, 257)
End: Tapp or Davis

End:

Jordan Trott
(r-Jr., 6-4, 238)

Cols Colas
Nathaniel Adibi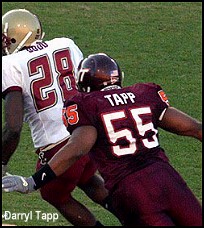 It feels like Cols Colas and Nathaniel Adibi were at Tech forever -- both of them played with Michael Vick, to give you some perspective -- but they're gone now. Neither one of them turned out to be the next Cornell Brown/Corey Moore, so the search continues.
The Hokies have two good candidates for that honor: Noland Burchette and Darryl Tapp. Both players show promise. Tapp is a hard worker and a very athletic player, a guy who finished eighth on the team in tackles, with 58. He was also third on the team in tackles for loss, with nine, and he was third among defensive ends in sacks, with three. Lastly, he was third on the team in QB hurries, with 17. That's pretty good, for a guy who didn't even start, playing fewer than half the snaps at his position.
Tapp just needs to bring the effort on every down, because last year's game film is full of him getting pushed around or taking the wrong angle or getting blocked out of the play.
Burchette played almost as many snaps as Tapp (320 versus 388 for Tapp) but wasn't as fierce, with 41 tackles, 1 TFL, and 1 sack. Athletically, though, Burchette has tremendous potential, with the fastest 10-yard dash on the entire team, at 1.5 seconds flat. Given that the 10-yard dash measures explosiveness off the ball, that's a great stat for a defensive end to have in his repertoire. Burchette also has the fastest shuttle time among defensive ends (4.11, tied with Tapp) by a large margin, so he can change direction quickly, too.
But that's all athletic potential, something that Cols Colas possessed but was never able to apply as effectively as Corey Moore. Burchette, now that he has a year under his belt and knows his way around, needs to work on applying himself better when the ball is snapped.
This spring is critical for Tapp and Burchette, both in their third year in the program. That third year is the year that the light bulb goes on for the truly special players, so this is their time.
None of this is to ignore big Jim Davis, who has used his year off (due to a pectoral tear suffered in spring of 2003) to add a whopping 19 pounds to his frame. Jim is visibly bigger, as you can imagine. I had the good fortune to go out to dinner in a group he was in a couple months ago, and when I asked him how big he was, he said, "275." I smiled and said, "That's NFL size," causing him to chuckle. The only thing that has limited Jim in his inconsistent career are injuries. If he can avoid those, he will make a great DE threesome with Tapp and Burchette.
Rounding out the four-man rotation at defensive end will be Chris Ellis, who shrugged off a shoulder injury, pardon the pun, to get himself up to 257. He is drawing positive reviews from the coaches in the early spring. Ellis has the fasted forty time of all DEs (4.56) and the best vertical leap (35 inches), so he has a lot of potential to be good in pursuit.
With this defensive end group, much like the D-tackle group, the talent and athleticism are there. They just need to play with more consistency. (Really, it's true, it's not just a buzzword!) The big thing that will happen this spring, I think, is the battle between Davis and Tapp for the starting End spot, and for Ellis to apply himself and learn the Stud spot, to back up Burchette.
Meanwhile, Jordan Trott has been moved from LB to DE. Trott's lack of lateral mobility was killing him at the LB spot, where he would fill the whole but often get juked out of his shoes and whiff the tackle completely. We'll see how Trott does with his hand on the ground, charging straight ahead.
LINEBACKERS

Projected Starter

Key Backup(s)

Others

Loss(es)

Mike:

Mikal Baaqee
(r-Sr., 5-10, 225)
or
Vince Hall
(r-Fr., 6-0, 237)
Backer: Blake Warren
(r-Jr., 6-3, 246)
or
Xavier Adibi
(r-Fr., 6-2, 229)
Whip: Brandon Manning
(r-Sr., 6-0, 220)
or
Aaron Rouse
(r-So., 6-4, 210)

Mike:

Baaqee or Hall
Backer: Warren or Adibi
Whip: Manning or Rouse

Mike:

Brett Warren
(Fr., 6-1, 225)
Backer: Chad Cooper
(r-Sr., 6-1, 192)
Whip: James Anderson
(r-Jr., 6-3, 222)

Backer:

Vegas Robinson
Whip: Mike Brown
(dismissed from team)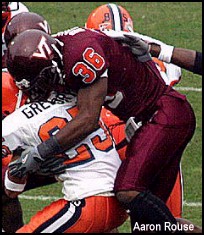 Are the battles for the starting spots really that wide open? Will Hall really challenge Baaqee, will Adibi start over Warren, and will Rouse supplant Manning? We may not know until the Hokies take the field against USC in August.
The linebacking corps has taken a lot of heat in recent years, deservedly so. They ain't what they used to be, thanks to recruiting misses (Ahmad Brooks and Justin London) and players not panning out. If the D-linemen have been inconsistent, then the linebackers have just been disappointing.
There's a desire on the part of many Tech fans to throw out the old -- Baaqee, Warren, and Manning -- and bring in the new -- Hall, Adibi, and Rouse.
Among the old guard, Baaqee has dropped some of the weight that hindered him last year, falling from 240 down to a recently measured weight of 225, which is a better weight for him.
Among the young guys, Vince Hall has slimmed down to 237, from his porky reporting weight of 255 last fall. He and Adibi are ready to get on the field and show what they can do, but no matter how good they are, they're still just redshirt freshmen, and they're going to have to show a lot this spring to get playing time -- or starting spots -- above long-timers like Baaqee and Manning.
The spot most open to the youngsters is Backer. That's Vegas Robinson's old spot, and Xavier Adibi has gotten the most hype of the three younger players, so he may step right in there.
Aaron Rouse has received rave reviews from coaches and teammates the last few years but has yet to live up to the hype. Rouse has great potential but wasn't grasping the position, but if the coaches turn the Whip linebacker spot into more of a true outside linebacker spot, giving Rouse less downfield coverage responsibility, that may be the change Rouse needs to kick start his career. For now, Brandon Manning, who is solid and steady but not spectacular, has the position locked down.
To sum it up: Adibi has the best chance of grabbing a starting spot at Backer, but it will be tougher for Rouse and Hall to replace Manning and Baaqee, and it's hard to say if that would even happen this spring. It may not happen until the fall.
CORNERBACKS

Projected Starter

Key Backup(s)

Others

Loss(es)

Field Corner:


Eric Green
(r-Sr., 6-0, 197)
Boundary Corner:
Jimmy Williams
(Jr., 6-3, 213)

Field Corner:


Brian McPherson
(r-So., 5-11, 189)
D.J. Parker
(Fr., 6-0, 171)
Boundary Corner:
Roland Minor
(r-Fr., 6-0, 196)

Chris Ceasar
(r-So., 5-11, 177)

DeAngelo Hall
Garnell Wilds
Vincent Fuller
(moved to FS)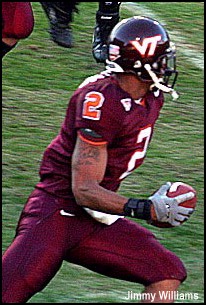 A position that was ridiculously deep just a year ago is now one injury away from starting two players with almost no experience at cornerback. Cornerback was a true four-deep rotation last year, with DeAngelo Hall, Garnell Wilds, Vince Fuller, and Eric Green, but only Green returns to the CB spot this spring.
The big news this spring is the tryout the coaches are giving to former free safety Jimmy Williams at boundary cornerback. Williams is a great athlete but was out of position numerous times last year -- whether he didn't understand the free safety position or was just "free-lancing" is a topic open for debate.
In any event, Williams is being tried at cornerback this spring, with Vince Fuller, a former safety-turned-corner, returning to the free safety spot. At first glance, you think to yourself that cornerback is less complex than free safety, but DB coach Lorenzo Ward had an interesting comment on hokiesports.com. He said, "The boundary corner is a tougher position to play than safety, but we think Jimmy can get it done there."
Whether Ward means boundary corner is physically tougher or mentally tougher is not clear. The switch is an interesting one, but be advised that at the end of spring practice, the coaches may scrap the whole thing and move Williams back to safety. This may be nothing more than an exercise in getting Williams to learn the corner position, so he appreciates the way the DB positions all have to work together Ö making him less prone to freelance.
It's fun to speculate.
Eric Green is a steady, experienced influence at corner. He sat out all of 2002 with a knee injury but returned strong last year, leading the team with three interceptions, two of which he returned for touchdowns (87 yards against Connecticut and 51 yards against Miami). He'll be looked to for leadership and performance.
Behind Green and Williams? Youth, youth, youth. It's easy to sum up the four backups, thusly: two of them, Brian McPherson and Chris Ceasar, face being buried at the depth chart if they don't elevate their games soon. The other two, D.J. Parker and Roland Minor, are guys who are just starting out in the program but represent the taller corners that VT would like to have more of in the future. Minor and Parker are both an inch or more taller than McPherson and Ceasar, and their forty times are slightly better than Ceasar, and a lot better than McPherson. Minor runs a 4.33 and Parker and 4.4, while Ceasar runs a 4.44 and McPherson a 4.6.
To sum it up, Green is holding serve, Williams is trying out a new position, and McPherson and Ceasar are battling against Parker and Minor for their VT careers.
SAFETY AND ROVER

Projected Starter

Key Backup(s)

Others

Loss(es)

FS:

Vince Fuller
(r-Sr., 6-1, 184)
Rover: James Griffin
(Sr., 6-1, 198)

FS:

Mike Daniels
(r-Sr., 6-1, 212)
Rover: Michael Hinton
(r-Fr., 6-2, 202)

FS:

Corey Gordon
(r-Fr., 6-3, 212)
Rover: Cary Wade
(Jr., 5-10, 179)

FS:

Jimmy Williams
(moved to CB)
Rover: Michael Crawford
The free safety spot is in pretty good hands with Vince Fuller, who started his career at the position before moving to cornerback prior to the 2002 season. The concern is that Fuller is not very big and not known for his tackling (see the game-winning TD against Boston College), which are important attributes at the free safety position. But fuller definitely has the speed (4.34 forty) and head for the position.
Mike Daniels started his career at free safety also, before switching to Whip linebacker after his redshirt year. Daniels has finally gotten over the 210-pound mark and should provide good backup to Fuller. But if Fuller is called back to cornerback for depth, Daniels could probably do an adequate job at safety.
At Rover, all eyes are on James Griffin, who came to Tech as a highly-hyped JUCO All-American but had an uneventful season last year. He now has just one year left, and he needs to get his head in the game and learn the position. Griffin and his backup, Michael Hinton (who recently moved from cornerback) are similar physically, and if Hinton can get the position down, you've got to figure the coaches will go with the younger guy. Don't be surprised if the Griffin vs. Hinton question is settled this spring. This is an important position battle, so keep an eye on it.
The third-stringers, Corey Gordon and Cary Wade, are in two completely different points in their careers. Gordon represents the future at free safety, with good size. Wade, on the other hand, is a guy struggling to find a position. He turned out to be too slow for cornerback (4.61 forty), but at his current weight, he's about 30 pounds too light for the traditional Rover role.

Summary
Here's my short take on the defense.
In a holding pattern -- these are players who are solid in their positions and will work on developing themselves and stepping up their games: Eric Green, Vince Fuller, Darryl Tapp, Jim Davis, Jonathan Lewis, Kevin Lewis, Mikal Baaqee, Jimmy Williams, Jason Lallis.
Newcomers vying for big roles -- mostly the hyped redshirt freshmen who have a chance to make a dent on the depth chart, maybe even start: Chris Ellis, Vince Hall, Xavier Adibi, Michael Hinton, Roland Minor.
Trying to get their feet wet -- brand new players trying to find their way: Barry Booker, Carlton Powell, Brett Warren, D.J. Parker, Kory Robertson.
Time to make a move -- players who can, for the first time, lock down a starting spot or make a contribution in 2004, if they have a good spring: Aaron Rouse, Noland Burchette, Blake Warren, James Griffin.
In danger of getting stuck on the depth chart -- players who are at risk of being career backups, if they don't step up: Tim Sandidge.
Long-timers who may never be a big factor: James Anderson, Jordan Trott, Isaac Montgomery, Chad Cooper, Brian McPherson, Cary Wade.



Copyright © 2003 Maroon Pride, LLC