Two Minds Fail to Meet, and a Coach Departs for Greener Pastures

by Will Stewart, 3/30/04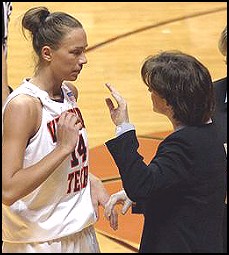 I've spent the last few days scouring the message boards, reading newspaper articles, watching message board posters trade opinions, and thinking about the Bonnie Henrickson situation, and I must admit, it has been quite a learning experience. My thinking on the matter has progressed quite a bit and has become clearer, and I think that I've come to a personal resolution on the matter. Have you?
First of all, let me give you my thoughts before all this started. There was a time when I thought Bonnie Henrickson could do no wrong. Her grasp of the game of basketball, her calm, cool professionalism, her way with the media and fans, and her subtle sense of humor impressed me to no end. While other coaches stomp all over the floor, rant and scream, and berate their players in the press, Bonnie was the picture of class and composure. All one needed to do was watch her just a little bit, and you quickly came away with the impression that she was a rising star.
Her first two seasons as VT's coach sure proved it. Bonnie took a team full of Carol Alfano's recruits that had gone 21-38 in the two seasons prior to her arrival, and she turned them into an NCAA Tournament team. In 1997-98, the Hokies went 22-10, a record that included eight straight wins down the stretch, an Atlantic 10 tournament championship, and a first-round NCAA victory over #24 Wisconsin. That team ultimately lost to #12 Florida in Gainesville to end the season.
The next year, Bonnie blew the lid off Tech women's basketball, with the legendary 1998-99 Sweet 16 team, a team that went 28-3, falling to powerhouse Tennessee in the third round of the NCAAs. That was truly a magical season, one that saw fans show up for women's basketball in full force for the first time ever, recording five crowds of over 8,000 fans, still the top five home crowds in Tech women's basketball history.
The 1997-98 and 1998-99 teams were special, and they brought Virginia Tech women's basketball to the forefront of Hokie fans' minds, just when the men's program was starting to fade.
Starting with the 1998-99 team, we began reporting on women's basketball here on TechSideline.com -- something I never thought we would do -- providing game recaps, columns, schedules, and scores. I watched the careers of Amy Wetzel, Tere Williams, and later Ieva Kublina with great interest.
But over the years, I started to grow frustrated with some aspects of the program. A long line of talented players went through the program without ever seeming to live up completely to their potential: Nicole Jones, Chrystal Starling, Sarah Hicks, Erin Gibson, and Ieva Kublina all seemed to plateau quickly under Henrickson's tutelage, playing inconsistently and often without confidence.
The team seemed to underutilize its offense weapons, insisting on throwing the ball into the paint, to the detriment of some talented perimeter players. Only a couple players on any given VT team under Henrickson seem to have the green light, and the problem is, the others not only seem reluctant to shoot, they seem scared to death to put it up. As I said on the message boards the day after the Penn State loss, if you get Henrickson's teams down by ten points in the second half, they're toast.
After the 1998-99 season, the Hokies lacked mental toughness, with Wetzel and Tere Williams being the exceptions. Henrickson had trouble recruiting and retaining quality point guards, with a long dry spell between the talented and tough Lisa Witherspoon and the talented and tough Carrie Mason.
As noted in many articles in the press, Henrickson's teams could never seem to grab that big victory. They had a landmark win over #3 Duke in Durham in the fall of 1998, but after that, games against Top 5 Connecticut, Notre Dame, Tennessee, Penn State and others never brought victory. Sometimes the Hokies were smoked from the get-go -- in a 2001 game against UConn, they fell behind 24-4 on their way to a 90-38 thrashing -- and other times they were competitive, only to lose at the end -- that same year, they trailed eventual national champion Notre Dame by just two points late in the game, and they were once tied 50-50 with UConn before losing 59-50.
But on balance, Bonnie Henrickson was a very good coach. Her teams were remarkably consistent, winning 20 games every one of her seven years at Tech, and advancing to postseason play all seven years. The Hokies never lost a first-round NCAA game in five tries under Henrickson.
More importantly, Henrickson was a fantastic representative of the university. Calm, cool, and classy all the way, she was liked, if not loved, by everyone who encountered her. The surge in women's basketball attendance and interest at VT during her reign wasn't so much about the wins as it was about the fans' affection for Bonnie and her players. She is, in a word, beloved.
Departure
Then came the news last Friday, seemingly out of nowhere, that she was departing for Kansas. Immediately, the PR war started, with the Bonnie supporters hitting the TSL message boards hard and even sending a letter to Tech's board of visitors, pointing the finger at a lack of support from Tech AD Jim Weaver. If Henrickson is beloved by VT fans, Weaver is somewhere towards the other end of the spectrum, and he's an easy target.
Weaver and Virginia Tech fired their return salvo through the newspapers, where Weaver pointed towards money as the reason for Henrickson's departure, saying that the Kansas offer must be "a ton of money," given that they were buying out her VT contract to the tune of over $500,000.
Weaver turned out to be right. Not only did Kansas pay over half a million to buy out Henrickson's contract, but they offered her a package equal to $530,000 a year, well over double her package from VT, valued at approximately $235,000 per year.
One source tells TSL that Kansas is also offering at least one thing Henrickson craved but couldn't get at VT: charter flights to all away games. Her assistants, who are all going to Kansas with her, get substantial raises, to $90,000 a year, more than what the men's assistants at VT make. There's no question that Bonnie made out like a bandit in financial terms, both personally and for her program.
Bonnie's supporters say it wasn't about the money. Henrickson was upset with a number of things related to general program support. As detailed in a letter from the Hardwood Club posted on this site yesterday, she was bumped off the Hokie Hotline this year, attendance wasn't counted as she would have liked, and Weaver didn't travel to enough postseason road games to satisfy her desire for support, among other things.
And one source tells us that Weaver had also reached the point where he almost never stopped by her office to talk, never told her "good job," and never associated with Henrickson or her team. Things had apparently grown very chilly between Weaver and Henrickson.
Weaver, as usual, boiled it all down to money, saying in a Roanoke Times article that the proper resources were in place, there was no friction between him and Henrickson, and in giving his opinion for her departure, he stated, "The reason in this case is money."
You have to chuckle. That's classic Jim Weaver. He is certainly lacking in people skills, and to him, it is always about the money. He is not one to understand the value of a simple "attaboy," because as long as you're paying someone and not firing them, you're showing your appreciation. It's the classic short-sightedness of the bean-counter, who lacks long-term vision and thinks that balancing the budget is the only thing that matters.
Watching the PR battle brought me to the inevitable conclusion, as I said on the message board, that "Weaver is from Mars, and Henrickson is from Venus." I don't think these two were ever going to see eye to eye on issues that Henrickson thought were important and Weaver apparently didn't even know existed. That doesn't make either one of them right or wrong, that just makes them two blindfolded people touching different parts of the same elephant and perceiving two completely different things.
The Monetary Aspect
Could Weaver have been nicer to Henrickson, showed a little more concern, and been more sensitive to the needs of her and her program? Probably. Could she have been a little less sensitive to the perceived slights from her athletic director? Maybe.
In her press conference remarks at Kansas on Monday, Henrickson gave her reason for making the move to Kansas: "To me it's Lew Perkins -- his vision, commitment and the opportunity for resources in order to compete at the highest level." She obviously felt she wasn't getting the vision, commitment, and resources from her current AD, so she went where she could get them.
In Henrickson, you have a proud coach who wants her sport to be treated equally with the men's basketball program at VT, and in Weaver, you have a fiscally-oriented athletic director who understands, correctly, that the financial upside potential of men's basketball is much larger than that of women's basketball. Whereas the men's basketball programs at most BCS schools are profitable, only a tiny, tiny handful of women's programs make money. Poke through the data at the Chronicle of Higher Education's web site and see for yourself. Only a few teams that average over 10,000 fans per game -- Connecticut, Tennessee, and Texas Tech -- were able to turn a profit in 2001-02, the last year of financial data on the Chronicle's web site.
That #1 seed Penn State team that knocked VT out of the tournament this year? They averaged 6,398 fans per game in 2001-02 and lost $1.5 million. Notre Dame? 7,815 fans and $1.5 million in red ink. Purdue? 8,377 fans and $500,000 in losses. Virginia Tech? 2,577 fans and $800,000 in losses.
Virginia Tech reports paid attendance at basketball games because, not only is that easier, but it makes the men's program look better (paid attendance at men's games is higher than actual attendance, and the opposite is true for women's games). Henrickson was bumped off the Hokie Hotline because the show was reduced to one hour, and ISP and VT wanted Seth Greenberg to have that hour. Jim Weaver has put a higher priority on the men's program, to the detriment of the women's program, and that understandably chaps Henrickson.
So she's going to a place in Kansas where the athletic director, Lew Perkins, is the ultimate architect of a women's basketball program, having built the one at Connecticut. Perkins not only forked over $523,000 to buy out Henrickson's VT contract, but he and his university are now committing that much every year to Henrickson's compensation package. (Granted, a lot of that is coming from media and apparel contracts, not from Kansas itself.) That's serious dough, and I imagine that Henrickson is pleased to get it. Good for her.
Me, I question the sanity of Lew Perkins, given that most women's basketball programs lose hundreds of thousands to millions of dollars a year. Kansas lost over a million dollars on women's hoops in 2001-02. There's no guarantee that hiring Henrickson is going to push his women's basketball program, a program that averaged around 1,500 fans this season, into the black. He's taking a risk and might look silly when all is said and done.
The money that Kansas is dropping on Bonnie Henrickson is money that VT does or doesn't have, depending upon how you view VT's athletic budget, which does run in the black, to the tune of millions of dollars. But it's money that Jim Weaver would never spend, in my opinion, unless his athletic budget ballooned from approximately $35 million to $50 million overnight. So in his opinion, he did the right thing by letting Henrickson go.
In Bonnie's opinion, she apparently would have stayed at Virginia Tech, had Jim Weaver been a little more warn and fuzzy, and perhaps sent just a little more money to the program for another charter flight or two.
I would question her sanity, were she to turn down a huge offer like the Kansas offer to stay at a place where she made less than half as much money and the program wasn't funded as well.
The bottom line is, knowing what we know about the situation and the outlook of the two major players involved, this was the inevitable outcome. Henrickson wanted things from Weaver that are not in his nature, while he felt that he was providing what was necessary, and being financially minded, I doubt he begrudges her the move she made.
Weaver is suffering a political storm from part of his constituency, but that's nothing new for him, and he will survive it, as he has survived many others (the 2000 BCA classic, Beamer-to-UNC, numerous football scheduling issues, and the Derrius Monroe situation, to name a few).
He will survive it, because his bosses will look at the huge package Henrickson got from Kansas and will be satisfied that it was an offer that VT could not meet, and should not have even tried to meet.
Will the VT women's basketball program survive it? Only time will tell. Perhaps the support that the program enjoys really was all about Bonnie Henrickson, and in the wake of her departure, those who have picked up the mantle of Tech women's basketball will lay it down and find something else to do.
Or maybe the next coach, whoever she is, will set the ACC on fire, and the program will pick up some of the momentum it has lost since that special season of 1998-99.
Time will tell. But with Bonnie Henrickson safe in the fold at Kansas, it's over, and it's time to move on and see what the future brings.
Me, I'm pleased that Bonnie Henrickson, whom I admire, is moving to a situation where she's getting more of what she wants, a place where basketball is king, and women's basketball will be queen. In time, I think she'll be very happy, and she'll get to reach her full potential, and what more could anyone ask than that?



Copyright © 2003 Maroon Pride, LLC