And So Bonnie is Gone

by Jim Alderson, 3/29/04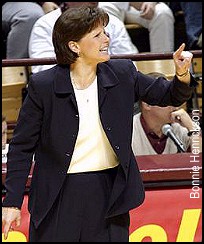 The successful tenure of Virginia Tech women's basketball coach Bonnie Henrickson has come to an end, as Bonnie has moved on to Kansas. I would think most Hokies are sorry to see her go. Hired by Dave Braine, Bonnie brought stability and success to a women's program that had experienced the tumultuous reign of Carol Alfano. Bonnie won and exhibited great class and dignity while doing it. She was a terrific ambassador of the Hokie Nation and fielded teams of Lady Hokies that were credits to the University. It is unfortunate that she left. A question that has dominated much discussion among the Tech faithful is: Why?
There has been a lot of message board activity generated by Bonnie's departure, some of it predictable and generated by the jerking of knees, other a bit more thoughtful. One school of thought says that her program was vastly underfunded, as Tech's Athletic Director chose to take departmental monies home and stuff it under his mattress rather than adequately fund women's basketball at Tech. It is an interesting proposition, one that is worth delving into.
A site I always find useful when the topic turns to the financing of collegiate athletics is: The Chronicle: Gender Equity. It tracks attempts by colleges and universities in complying with the federally-mandated Title IX. Its most recent data is for the 2001-02 academic and athletic year. The Chronicle's data shows that for the 2001-02 year Tech spent roughly $1.5 million on women's basketball. An oft-typed message board comment has been that Tech's Athletic Director budgeted for a fifth-place finish in the Big East. Examining other conference budgets would indicate that is correct.
Another way of crunching the numbers is to calculate Tech's expenditure on Bonnie's program as a percentage of Tech's total budget for that year of $25.4 million. It comes to about six per cent. When compared with the other football-playing members of the BE, the only ones where a valid comparison can be drawn, it can be demonstrated that Tech was spending the greatest percentage of its budget on women's basketball in the conference. The other numbers ranged from a low of three per cent at WVU to a high of five at Rutgers, with all the rest spending about four percent.
It seems to me that it would be difficult to make the argument that Tech is scrimping on women's basketball. In the ACC, Tech will again devote the highest percentage of its athletic resources to women's basketball. In our new league only Florida State spends the same six per cent as does Tech. The others go from a low of three per cent at North Carolina with its massive budget to four and five at all other schools. Bonnie's program at Tech was funded very well, indeed, considering Tech's ability to pay. The numbers from the 2001-02 year do not include the additional revenue generated by the SEZ, but Bonnie's budget was increased after its construction; I suspect she received the same six per cent of the extra cash.
For that fifth-place BE budget we got an eight-place finish. This does not compare especially well with the performance of Tech's football team, which since the departure of Michael Vick has been turning in conference finishes at exactly where it was budgeted in relation to its conference rivals. Nor does it to Tech's basketball team, which until this year was also turning in finishes exactly on a par with its level of funding. Bonnie was winning, to be sure, but considering the support she has received from the administration, not quite at the level as has Frank or, this year, Seth.
At some point the question that would seem to need to be pondered is the possible return on any additional investment in women's basketball. A message board post that really caught my eye over the weekend was one blasting the Athletic Director for running his department as a business. I had to stare at that one for several seconds pondering that line of thinking. Running the department as a business is Job #1 for any AD. Bills have to be paid and budgets met. The line outside the office of any athletic director is a long one and consists of coaches with their hands stuck out for more money. I don't imagine there are many coaches outside of Coach K and Tyrone Willingham who feels his program is funded properly. An athletic director has to weigh the competing requests and do so in a number of contexts.
The overriding concern over any budget consideration is how it will be financed. At Tech, women's basketball spending was ramped up several years ago and at least a partial factor was the hope that it would become a profit center as it has at a handful of other schools, most notably UConn. That hasn't happened. Annual deficets for women's basketball have remained in the $600-800k range, even after seven straight seasons of at least twenty wins. There would seem to be ample evidence that the Tech fan base is not going to support women's basketball. That makes it considerably difficult to justify additional monies for the program. If the men's program were working on a streak of seven straight twenty-win seasons, the basketball support facility Tech so desperately needs to be anything more than another basketball Clemson in the ACC would be under construction.
People can rage about the inequity of it all for a long time, and probably will, but there comes a time when it must be determined whether the returns on additional investment in the women's basketball program will be worth it. Tech's budget for the women's program will be in the upper half of those in the ACC, while its men's one will be at rock bottom. As we ready to watch a Final Four by both genders, guess which one has the highest potential for a revenue growth at Tech that would enable all sports to receive higher budgets. An investment has to be made in a program that has the ability to raise Tech's overall athletic budget, and history would seem to indicate that women's basketball isn't it.
Bonnie is leaving at a time of strong pressures on Tech's budget. Changing conferences is an expensive proposition. Tech is faced with its ACC initiation fee, and at least for a while longer remains the only BCS school simultaneously paying both an entry and exit fee to the same conference. There are a number of sports at Tech in dire need of increased funding, as next year's overall ACC standings are likely to demonstrate. Tech's directive from the ACC was to increase funding on the so-called Olympic sports, not match Duke's women's basketball budget.
The underlying problem at Tech, of course, is its small total athletic budget. The Chronicle's data shows that in 2001-02 Tech's total budget of $25.4 million was below all other BE-football schools except for WVU. In the ACC it would be smaller than all save that of Wake Forest. It is higher, now, to be sure - the SEZ has pushed it into the $29 million neighborhood. That will still be one of the smaller ones in the ACC. There is one boost coming, and it is a big one- conference revenue sharing. In the Big East Tech was the only football school in a BCS conference not receiving a full share of conference revenues. We can thank the BE basketball schools for that. We are already being treated better in the ACC before we are even an official member than we ever were in the BE, and financial benefits of conference membership will show up very soon. Tech will receive a reduced share of ACC monies for the next two years, and then reap what will be an enormous financial windfall, particularly after the new ACC football television package kicks in.
Coupled with the West side addition to Lane Stadium, it is not hard to envision in a few years Tech's total budget approaching the $40 million mark. All budgets will be raised accordingly. That is a few years down the road, however; right now, Tech still has to extricate itself financially from the BE robber barons [how's the coaching search going, Georgetown?] who so emasculated our men's basketball program's ability to compete and get ourselves into the ACC. With all of this to be paid, perhaps it was not the best time for Bonnie to demand more money, if indeed she did.
Bonnie is heading to Kansas. On the surface it would seem to be a lateral move at best. The Chronicle informs us that the Jayhawks spent $1.1 million on women's basketball, considerably less than Bonnie's budget at Tech. It also lets us know that while the total athletic budget at Kansas is $25.7 million, it brought in revenues of $32.6 million, showing a profit of almost $6 million, far above Tech's roughly break-even balance sheet. People seem to be paying dearly for the right to watch games at Allen Field House. They truly do have the money stashed somewhere in Lawrence to fund a considerable upgrade to women's basketball, unlike Tech. The AD at Kansas is Lew Perkins. He was formerly the AD at UConn, and was last seen, when the going got tough during the expansion wars, going straight out the door at a dead run and not stopping until he was half a continent away from the Li'l E. Apart from his tendency to run out on his former school at the worst possible time, the man does know a thing or two about building highly-successful programs, and has the money at Kansas to engineer the construction of a very good women's one. Kansas is also a basketball-crazy place, one of the original basketball schools, a place where Phog Allen was turning out quality teams long before the basketball thing caught on in the ACC. Perkins is betting that the same basketball-oriented fan base that so wildly supports its men's program can be galvanized to provide the same support to a strong women's one, as it was at UConn. Bonnie has bought into that vision and, considering the skimpy fan support even her successful program garnered at Tech, I can see it.
The prospect of building a new program at Kansas would seem to be attractive to Bonnie if the other topic of great message board conversation is to be believed, her dislike of the man for whom she worked. I can also see that. There is a lot of anecdotal evidence around that suggests that the Virginia Tech Athletic Director is a very difficult boss. He has been variously described as arrogant, demanding, overbearing, rude, curt, conceited, haughty, egotistical, big headed, self-important, condescending and all the other words that show up in my Thesaurus. It is probably true. He is also a very good financial manager, far and away the most important job consideration for Tech's or any other school's AD. I certainly have issues with the Athletic Director, but they pertain mostly to what I consider a wrong-headed attitude towards this Web site. I have no problem at all with his stewardship of the Virginia Tech Athletic Department.
The fiscal groundwork laid by Dave Braine and continued by the incumbent has enabled the beginnings of an athletics transformation at Virginia Tech that is truly remarkable. For the first time in its history, Tech now has the opportunity to develop the sort of broad-based athletics department that our neighboring ACC schools have enjoyed for years. Part of that is to be attributed to the excellent financial management that guides the department. All of the political connections in the world would not have helped had the ACC found books that resembled those left by Bill Dooley in 1987. The ability of the Virginia Tech Athletic Director to steer a sound ship through what have been turbulent waters of conference-jumping and reaming far outweigh any personality defects in my book. But, I don't work for him and Bonnie did. When you have a boss you feel you can no longer deal with you do something about it, and Bonnie did. She did not have the clout at Tech to change her working relationship with the AD as did Frank Beamer, so she did the next best thing and quit. Certainly there are differences of opinion among the various constituencies of Virginia Tech as to whether losing a popular coach and other perceived character flaws are enough to cost the AD his job. I respect the opinions of those who feel it should, but I do not.
Bonnie Henrickson is now the women's basketball coach at Kansas. I wish her well in her endeavor. It is unfortunate that conditions at Virginia Tech were not conducive to her remaining here. Life will go on, however, and while Bonnie embarks upon her new job, another coach will be found for Tech's program. The hiring will undoubtedly spark the same cries of dismay and disgust that were heard and read following the hiring of, say, Seth Greenberg. We shall see, but I suspect that Virginia Tech will continue to field a competitive women's basketball team.



Copyright © 2003 Maroon Pride, LLC