Spring Football 2004 Preview: The Offense

by Will Stewart, TechSideline.com, 3/25/04
(Editor's Note: All images are clickable for larger versions.)
Every spring brings with it questions and uncertainty, as coaches and fans try to figure out how departing stars will be replaced and what young players will step up and establish themselves. Spring football is a time for growth, development, and learning, as players fight for positions with competitiveness that matches anything you'll see on the field in the coming fall.
For the Hokies, the huge question marks are on defense and special teams, but the offense has its share of uncertainty, too. Kevin Jones, Jake Grove, and Ernest Wilford leave record-setting legacies as they move on to riches in the NFL. They also leave behind big holes in the offense. Cedric Humes will probably step into Jones' spot, but who will take over for Grove, and who will fill in for Wilford?
As if that wasn't enough, there's the issue of the legal troubles facing Marcus Vick, Mike Imoh, and Brenden Hill. All three players will participate in spring practice -- more on that later -- but will all three be present when preseason practice starts next fall? Hill isn't a factor on the depth chart, but Vick and Imoh are expected to be major cogs in the Hokie offensive machine.
This is the first of at least two articles previewing Virginia Tech Spring Football 2004. Later articles will cover the defense and, time permitting, special teams. In this one, we'll break down who returns on offense, who the likely starters are, and what the key issues will be when spring practice opens this Saturday.
(Editorial Note: We haven't forgotten that our "State of the Program" series isn't complete. But for now, spring practice must take precedence, and we'll wrap up the "State of the Program" later.)
Depth chart information is based on the latest BeamerBall.com depth chart (dated 12/27/03), as well as a bit of speculation and a dab of inside info. Please note that the depth chart info in this article could be rendered obsolete as soon as BeamerBall releases their next depth chart, but as we "go to press," this is the offense as we know it. We'll break it down position by position.
QUARTERBACK

Projected Starter

Key Backup(s)

Others

Loss(es)

Bryan Randall
(Sr. 6-1, 220)

Marcus Vick
(r-So., 6-0, 213)

Cory Holt
(Fr., 6-3.5, 208)

None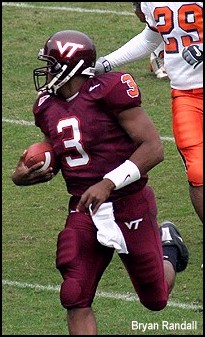 Frank Beamer said on many occasions last season that he had two great quarterbacks, but truth be told, neither Randall nor Vick was "great." The two of them combined for 17 touchdowns and 15 interceptions, and that included a 4 touchdown, 0 interception performance by Randall in the Insight Bowl to pull the ratio above 1:1 just before season's end. For the season, Randall posted a 15:10 ratio and Vick a 2:5 ratio.
Randall completed 150 of 245 passes (61.2%) for 1,996 yards last year, which on the surface looks good, but he had a horrible stretch in the last eight regular season games in which he completed just 52.6% of his passes and threw just 2 touchdowns against 8 interceptions. He rebounded nicely in the Insight Bowl, throwing for 398 yards and 4 touchdowns, including a TD pass to Vick.
Vick showed some great flashes of ability both running and passing the ball, but his passing numbers were pedestrian: 30-57 (52.6%), 475 yards, and those 2 TDs against 5 picks. While Vick appeared to have more athletic potential than Randall, his game was clearly not as polished.
And in the middle of the season, as the Hokie coaches platooned the two QBs in haphazard fashion, the numbers of both suffered.
The last three springs have featured wide-open QB battles. In 2001, it was Grant Noel vs. Jason Davis (though Noel was always named as #1, and Davis never seriously challenged him); in 2002, it was Noel versus Randall; and in 2003, it was Randall vs. Vick.
With Marcus Vick's well-publicized dalliance with the law, and a May 14th trial date looming, it is unknown as this article is written if Beamer will open up the QB battle in the spring for the third (or fourth) year in a row, or if he'll simply name Randall as #1 and not leave it up for debate or discussion. Vick will participate in spring practices -- no action will be taken on his situation until after legal proceedings have been taken care of in May -- but he will not be allowed to talk to the press, according to the latest issue of the ACC Area Sports Journal (March 18-31, 2004).
QB Coach Kevin Rogers indicated in the most recent Kroger Roth Report on hokiesports.com that Randall would be named the #1 QB going into the spring, but he stopped short of saying that he would be #1 going into the fall. "Obviously, he is the starting quarterback and it's incumbent on someone else to beat him out," he told Bill Roth.
Rogers did get specific about the practice reps this spring. As soon as freshman Cory Holt becomes serviceable, meaning that he can take snaps, make handoffs, and throw to a designated receiver, Randall's practice reps will be diminished, and Vick and Holt will get most of the work. After all, Holt might be needed next fall.
This spring, for Randall it's just more of the same: more development, more learning, and polishing his erratic passing skills. For Vick, it's a crossroads. He needs to hit the film room harder, work harder, and hope that his trial, and its outcome, don't seriously derail his career, or his life.
TAILBACK

Projected Starter

Key Backup(s)

Others

Loss(es)

Cedric Humes
(r-Jr., 6-1, 230)
Mike Imoh
(Jr., 5-6, 196)

George Bell
(Fr., 5-11, 226)

John Candelas
(Jr., 6-0, 211)

Kevin Jones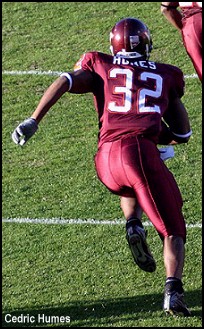 The tailback position is a bigger unknown than it has been since the spring of 2000, when rising senior Shyrone Stith unexpectedly declared for the NFL Draft and left the tailback position open for rising redshirt sophomore Lee Suggs, an unknown quantity who hadn't distinguished himself in the 1999 season.
Four years later, Hokie fans used to a steady diet of touchdown-machines Suggs and Jones are wondering what's going to happen. Cedric Humes is a big, serviceable tailback who rushed for 380 yards on 65 carries (5.8 ypc) in 2003 but hasn't shown any special abilities along the lines of Suggs or Jones -- who, to be fair, are NFL-caliber tailbacks. Humes struggled with fumbling problems last year, with a team-high six fumbles, four of which he lost. Some happened on offense, and some happened on special teams. (But that problem is easily fixed, much as it was with Kevin Jones last season.)
Meanwhile, Mike Imoh (22 carries for 86 yards, 9 catches for 113 yards and 3 TDs) is more of a scatback type whose experience as a receiver, both as a flanker and out of the backfield, makes him more of a third-down or change-of-pace option. And given that Imoh was involved in the mess with Vick and also goes to trial in May, his future isn't secure, either.
Highly-hyped George Bell graduated high school early and enrolled early at VT, but he is still trying to overcome a nasty knee injury he suffered in the fall of 2002, and his recent 4.67 forty in winter max testing indicates that he still has a way to go before being a hundred percent. Few players know what hard work means more than George Bell, though, so it's hard to say where this spring will take him, and he could still be a big factor in the fall.
Look for walk-on John Candelas to get some work this spring as the coaches decide whether he'll become a viable third option at tailback or continue to be a player who gets his reps in blowout wins or losses.
FULLBACK

Projected Starter

Key Backup(s)

Others

Loss(es)

John Kinzer
(r-Fr., 6-2, 246)

Jeff King
(r-Jr., 6-6, 256)
Jesse Allen
(r-So., 6-0, 227)

Mike Perlozzo
(Jr., 5-8, 213)

Doug Easlick
Steve Canter
Fullback is one of the most wide-open positions on the team, after a bevy of recruiting misses and the recent graduations of Jarrett Ferguson and last year's starter, Doug Easlick. Not only did Easlick graduate, but his main backup, Steve Canter, did also.
That leaves the Hokies with, well, nothing in the way of experience at the fullback spot, and that doesn't bode well for the VT offense. Heir apparent to the walk-on fullback throne, Jesse Allen, has barely drawn a sniff from the VT coaches, who didn't give him any time on the field in last year's spring game and didn't play him a single snap, on offense or special teams, in the 2003 season.
To this point, Allen has been a workout and strength and conditioning champion, as many walk-ons are, but the on-field portion of his game has not taken off. So unless Allen explodes from out of nowhere, he's not likely to step into the role vacated by Ferguson and Easlick.
The situation has grown serious enough that the Hokie coaches are looking at two players who were recruited as tight ends, Jeff King and John Kinzer, to take over the fullback spot, and there's even talk of turning it into an H-back combination run/receiver position.
Whew. At Virginia Tech?
Look for King to be moved back to tight end, and for Kinzer, who moves well in space, has good hands, and doesn't carry the height and weight that King does, to be slotted at the #1 fullback position. That's the most likely outcome.
While the QB battles, wide receiver depth chart, and the search for the next Corey Moore at defensive end draw a lot of attention during spring football, this may be the most important position to iron out this spring.
WIDE RECEIVER

Projected Starter

Key Backup(s)

Others

Loss(es)

FL: David Clowney
(So., 6-1, 178)
SE: Justin Hamilton
(r-Jr., 6-3, 219)

FL: Richard Johnson
(r-Sr., 5-11, 187)
SE: Chris Clifton
(r-Jr., 6-4, 205)

SE: Josh Hyman
(r-Fr., 6-0, 191)


SE: Ernest Wilford
FL: Chris Shreve
FL: Mike Imoh (back to RB)
FL: DeAngelo Hall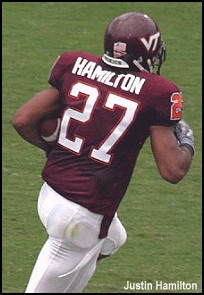 Justin Hamilton has the split end position locked down, so there's no drama there, and the big battle this spring will be trying to decide who enters the fall as the #1 flanker.
As this article goes to press, the latest BeamerBall.com depth chart actually has an empty spot at #1 split end and has David Clowney listed as a backup flanker, so projecting him as the starter at flanker is actually just our prediction, based on Clowney's potential and the fact that he is listed as the #2 flanker, ahead of Johnson. While Clowney is young, he is also the most natural receiver out of the trio of him, Richard Johnson and Chris Clifton.
Speed is not a differentiator here, based on everyone's recent 40 times. Clifton and Clowney both ran 4.33 in winter max testing, with Josh Hyman hot on their heels with a 4.37. Richard Johnson (4.45) and Hamilton (4.51) round out the listed group.
In addition to the battle for flanker, there is a subplot going on as well: determining who will be the primary receiver, the go-to guy, now that record-setting Ernest Wilford is gone. Typically at Virginia Tech, the best receiver gets the most catches, independent of whether he's a flanker, like Andre Davis was, or a split end, like Wilford. The Hokies emphasize the best receiver in the passing game, not one position over the other.
Hamilton, a converted running back who is not a natural receiver, needs to continue to develop and step up. He's a quality kid with the right temperament to be a lead-by-example player. The Clowney/Clifton/Johnson/Hyman group will be wrapped up in a huge scrum for playing time.
Below them, young receivers like Michael Malone, Brenden Hill and Robert Parker look to the future. January enrollees Josh Morgan (a great athlete but raw receiver) and Justin Harper (rail-thin at 6-3, 187) probably won't be factors either this spring or next fall.
TIGHT END

Projected Starter

Key Backup(s)

Others

Loss(es)

Jeff King
(r-Jr., 6-6, 256)

Jared Mazetta
(r-Sr., 6-4, 259)

Duane Brown
(r-Fr., 6-5, 264)
Matt Roan
(r-Fr., 6-4, 255)
John Kinzer
(r-Fr., 6-2, 246)

Keith Willis
Tight end is one of the most talked-about positions on the team, as in, "Why don't the Hokies throw to the tight end more?" That's a discussion for another time, and the Tech coaches have teased Hokie fans before with talk of throwing to the tight end more, only to get the team on the field in the fall and ring up another ten-catch season for the tight end group.
The focus this spring is on figuring out who the heir to Keith Willis' position is. In recent seasons, the Hokies have had two or more tight ends get significant playing time. Look for that trend to continue, and look for the Hokies to install Jeff King as the starting tight end, ending all talk of King playing fullback.
As a rising redshirt junior, it's a critical time for King, a hard working player who is well-liked by the coaches but is a better blocker than receiver. King's hands have been inconsistent, and his concentration and pass-catching ability need to improve for him to add to his career total of 7 catches for 118 yards.
The interesting stuff will be going on behind King, where the battle will be waged to see if rising redshirt senior Jared Mazetta or redshirt freshman Duane Brown will grab the #2 spot behind King. Brown is already Tech's biggest tight end, and is touted as a good athlete for someone who is so big, and who has such big feet (size 18).
You get the sense that Brown is the guy that the coaches want to step up. Mazetta, a career third-stringer with four catches in his first three seasons, will probably continue to be primarily a special-teamer, where he excels and where he got more snaps last season (174 versus 171 as a tight end).
OFFENSIVE LINE

Projected Starter

Key Backup(s)

Others

Loss(es)

C:

Robert Ramsey?
(r-Sr., 6-3, 307)
RG: Jim Miller
(Sr., 6-6, 299)
RT: Jon Dunn
(r-Sr., 6-7, 341)
LG: Will Montgomery
(r-Jr., 6-3, 296)
LT: Jimmy Martin
(Jr., 6-5, 289)

C:

Tripp Carroll?
(r-Fr., 6-4, 325)
RG: Jason Murphy
(r-Jr., 6-3, 301)
RT: Chris Pannell
(r-Jr., 6-4, 296)
LG: Brandon Gore
(r-So., 6-5, 351)
LT: Reggie Butler
(Jr., 6-6, 339)

G:

Danny McGrath
(r-So., 6-2, 294)
G: Matt Welsh
(Fr., 6-4, 289)
G: Andrew Fleck
(r-So., 6-3, 269)
T: Brandon Frye
(r-So., 6-4, 290)

C Jake Grove
G Jacob Gibson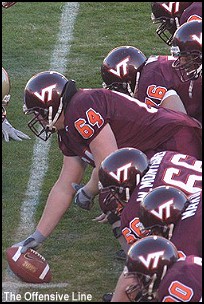 The good news is, the Hokies only lost two offensive linemen, and of those two, the backup for one of them last year played almost as much as the starter. Jacob Gibson departs, but his backup, Jim Miller, played over a third of the snaps at the position.
The bad news is that the other lost lineman was a whopper: Jake Grove, who has the distinction of being just the third unanimous All-American ever at VT (fellow center Jim Pyne and defensive end Corey Moore were the other two).
And unlike Gibson, Grove's departure leaves a huge vacuum in his wake, with no idea who will step up and fill the hole. Will it be senior Robert Ramsey, who played just 72 snaps from scrimmage last season? Or will it be highly-touted redshirt freshman Tripp Carroll? Or will the Hokies move their latest walk-on phenomenon, Will Montgomery, from guard to center?
Stick with me here, because talking about the offensive line can get complicated, so we'll try to break it down for you in easily-digestible terms:
Locks: Jon Dunn and Jimmy Martin. Dunn improved vastly between his redshirt-sophomore and redshirt-junior years. He still needs work on his pass blocking, but he's not the total train wreck he was a sophomore. He's a very good run-blocker at times, and if his pass-blocking gets polished a little more, Dunn is the type of guy who will be very adequate at tackle, maybe even above average.
As for Martin, he beefed up between his freshman and sophomore years, giving him bulk to go with his good feet. Look for more of the same from Martin, who is better in pass-blocking than run-blocking.
The good news (in my opinion) is that the weight for both Dunn and Martin held steady from last season to their winter max testing. That tells you that each player is probably where they'll ultimately end up, weight-wise, and now it's all about continuing to develop strength and working on technique. The coaches will work backups Reggie Butler and Chris Pannell a lot to develop much-needed depth.
Bottom line? Barring injuries, forget about the tackle spots. The Hokies are set.
He'll Play … Somewhere: Just when the VT walk-on factory seemed about to run dry, enter Will Montgomery. Montgomery, from Centreville High School in Centreville, VA, was overlooked and enrolled at Tech as a walk-on. He has proceeded to rocket up the depth chart, and he started last year as a redshirt sophomore. The question this coming fall is not if he'll start, but where.
Montgomery is a strength and conditioning freak. Many walk-ons can push the iron around -- they're known for it -- but Montgomery is also an outstanding athlete. His vertical jump is a solid 30 inches, third amongst the offensive linemen, but where he really shines is in the 10-yard dash, a measure of a player's explosiveness off the ball. Montgomery ripped off a 1.53-second ten-yard dash in winter max testing.
That's better than all the other offensive linemen … and all the quarterbacks, running backs, tight ends, wide receivers, linebackers, whip linebackers, and specialists. Only defensive end Noland Burchette (1.50) and defensive back Eric Green (1.51) did better.
What that means is that Montgomery is well-suited to play as a pulling guard. He can really get down the line. It would be a shame to move him to center, where his explosiveness would still come in somewhat handy, but wouldn't be as valuable.
Which leads us to …
The Center Position is the Key: Tech's two options at center are redshirt senior Robert Ramsey (6-3, 307) and redshirt freshman Tripp Carroll (6-4, 325). Ramsey struggled with his weight and consistency early in his career and was finally starting to put things together when a guy name Jake Grove got moved form guard to center. As for Carroll, he enrolled in January of 2003 and was expected to challenge for playing time last fall as a true freshman, but a leg injury (compartment syndrome, a fancy name for shin splints) that eventually required surgery derailed his development in the fall and ruined his chances for playing time. So the Hokies redshirted him.
Carroll was highly touted coming out of high school, a PrepStar Dream-Teamer and a participant in the Army All-American Game. But don't assume that he's going to step in and play. In his time at VT, the coaches have moved him up and down the offensive line, as they try to figure out where to put him, and his latest destination is the center spot.
If neither Ramsey nor Carroll puts in a sufficient performance at the center spot this spring, and if the Hokie coaches move another lineman -- say, Montgomery -- to center, it will ripple all over the offensive line, as other players are shifted to fill the voids.
To get maximum performance and continuity out of the offensive line, it is imperative that either Carroll or Ramsey or both step up and take control of the center spot. That's the best outcome for the Tech OL.
Summary
Here's how it breaks down for the offense.
In a holding pattern -- these are players who are solid in their positions and will work on developing themselves and stepping up their games: Bryan Randall, Marcus Vick, Cedric Humes, Justin Hamilton, Jeff King, Will Montgomery, Jon Dunn, Jimmy Martin.
Trying to get their feet wet -- brand new players trying to find their way: Cory Holt, George Bell, Matt Welsh.
Time to make a move -- players who can, for the first time, lock down a starting spot or make a contribution in 2004, if they have a good spring: John Kinzer, David Clowney, Josh Hyman, Richard Johnson, Duane Brown, Chris Clifton, Tripp Carroll, Brandon Gore, Jason Murphy.
In danger of getting stuck on the depth chart -- players who are at risk of being career backups, if they don't step up: Michael Malone, Brenden Hill, Andrew Fleck, Chris Pannel, Brandon Frye, Reggie Butler, Danny McGrath, John Candelas, Robert Parker.
Long-timers who may never be a big factor: Robert Ramsey, Jared Mazetta.



Copyright © 2003 Maroon Pride, LLC