Season-Ending Thoughts on VT Hoops

by Will Stewart, TechSideline.com, 3/19/04
Editor's Note: All images are clickable for larger versions.
The Syracuse game was the turning point of the season.
The Hokies' season turned around on January 31st, with 7:22 to go in the first half of the Syracuse game. When Tech visited Syracuse, they were 8-9, 1-5 in the Big East, and losers of six of their last seven. They were coming off a humiliating 96-60 bug-stomping at the hands of Connecticut at home, the worst loss in Cassell Coliseum history.
When Syracuse rolled out to an easy 35-14 lead in this game, the Hokies were in danger of losing their entire season. Then VT coach Seth Greenberg snapped, drawing a technical with 7:22 to go, and Syracuse's Gerry McNamara hit both free throws to put the Orangemen up 37-14.
From that point on, the Hokies woke up and outscored the defending national champions 50-39.
In his postgame comments, Greenberg expressed great disappointment with the character of the team, saying that the team "didn't come to compete" (his favorite word). He pledged to play the players who competed the hardest, "whether they're on scholarship or not."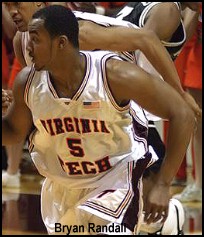 Meanwhile, in the locker room, VT quarterback Bryan Randall stood up and gave a speech to the team about playing hard and not letting chances to win slip away. The seven weeks that have elapsed since then have fogged the details of Randall's speech -- as relayed by Tech radio analyst Mike Burnop -- but Randall basically told the team, "Stop messing around and wasting time. Get after it, because if you don't, you'll just keep losing."
Greenberg had indefinitely suspended guards Fabian Davis and Shawn Harris just three days prior, on January 28th, and in the weeks after the Syracuse game, the minutes of Phil McCandies went down, and the minutes played by Allen Calloway went up.
Greenberg's frustration (evidenced by the technical), his criticism of the team's heart, Randall's speech, the suspensions of Harris and Davis, and the shift in minutes played by McCandies and Calloway all came together to produce a wondrous effect: they galvanized the team. From that point on, the Hokies knocked off nationally-ranked Providence and went 7-4 to finish the season with their first winning record (15-14) since 1999-2000.
Chemistry and momentum are very fickle things. Seth Greenberg could have easily lost this team with his criticism, the suspensions, and the shuffling of minutes, but he didn't. Instead, with the help of a timely speech by Randall, he captured them and got them to believe.
But I think what really got them to believe were the players themselves. Fabian Davis didn't respond well to the suspension, eventually agreeing in a meeting with Greenberg in late February that it was best for him to transfer out. "The basketball program just ain't for me," Davis told the Roanoke Times.
But Harris straightened up and returned several games later with a vengeance, eventually providing some key three-pointers in the home game against WVU that quite possibly kept the Hokies from losing that game. Harris thanked his coaches and teammates for "standing behind me and believing in me." Whatever it was Harris did to get suspended, he straightened up after the suspension.
Freshmen Coleman Collins, Jamon Gordon, and Zabian Dowdell played hard, Bryant Matthews played insanely hard, Randall provided quiet leadership, and Calloway and McCandies both started playing better. The 30-point hammer job at Rutgers notwithstanding, the Hokies held together well after Syracuse.
Of those last seven wins, four of them were by four points or less, and the difference in a game that close is one play. Instead of hitting a two-pointer, if you turn it over and your opponent hits a three-pointer, that's a five-point swing, and you have lost that close game. And the difference in making those little plays is hustle and effort, nothing more. Sometimes it's talent, but mostly, it's just hustle and effort.
Over the last eleven games, the Hokies got hustle and effort, and it all goes back to that game at Syracuse.
Tech's season flew in the face of Seth Greenberg's record at USF.
One of the criticisms levied at the hiring of Seth Greenberg last year was his record at South Florida. Greenberg had had some good seasons at Long Beach State, but at South Florida, he posted a mediocre 108-100 overall record and a record of just 47-63 (.427) in Conference USA.
But more important were these crucial numbers: 0-20 against ranked teams, 17-33 in games played after Valentine's Day, and 4-15 in the month of March.
This year, the Hokies ended Greenberg's long string of futility against ranked teams, toppling #23 Providence 69-57. (The Friars ended the season ranked 21st in the AP.) Tech was 5-4 in games played after Valentine's Day and 3-1 n March.
Modest numbers to hang your hat on, but improvements in the short-term to Greenberg's tenure at South Florida, nonetheless.
Blame ODU's Troy Nance and Seton Hall's Marcus Toney-El for VT being snubbed by the NIT.
Virginia Tech's failure to get invited to the NIT was by the thinnest of margins. Rutgers, West Virginia, and Villanova, who all either tied VT or finished behind them in the Big East, were invited, but Tech was not. Rutgers, who went 1-2 against VT, and WVU, who went 0-2 against VT, were invited, but Tech was not. Villanova, who finished 6-10 in the conference to VT's 7-9 got in, but Tech didn't.
Who to blame? How about Old Dominion's Troy Nance? Back on December 4th, with the Hokies leading ODU 85-82 and the clock winding down, with Tech playing stellar defense, Nance retrieved a loose ball at half court and heaved it towards the bucket as the clock expired.
It went in. ODU went on to beat Tech, 94-92 in overtime. In the last six seconds of OT, Philip McCandies missed two free throws, Jamon Gordon missed a shot, and walk-on Mykhael Lattimore missed a tip-in for the Hokies.
Had VT won one more game, they would have been 16-13, and perhaps they would have made the NIT then. So blame Troy Nance.
Or how about Seton Hall's Marcus Toney-El? The Hall played Villanova in the first round of the Big East tournament, a Villanova team that was 14-15 at the time. Had Villanova lost, they would have finished under .500, ineligible for the NIT.
Toney-El stepped to the free throw line with 16 seconds left and Seton Hall leading 60-59. Toney-El missed both free throws, airballing the second one, and Villanova's Randy Foye hit a shot in the lane with 3.6 seconds left to give Villanova the win. The Wildcats won their second round game, too, to push their record to 16-15 and make themselves eligible for the NIT.
Sure enough, Villanova got the bid. Maybe that was Tech's bid. So blame Marcus Toney-El.
Statistically, Bryant Matthews had a once-in-a-decade (or longer) year.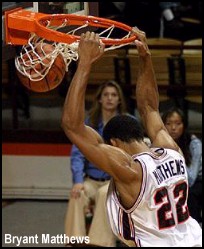 Matthews led the Big East in scoring with a 22.1 points per game average. That's the first time a Hokie has led a conference in scoring since Bimbo Coles did it in 1989-90 (25.3 ppg), and it's the first time a Hokie has averaged over 20 points a game since Coles did it back then.
Here's the list of Hokies who have averaged over 20 points per game in a season since 1970 (34 years): Matthews (once), Coles (3 times), Dell Curry (once), Dale Solomon (once), Russell Davis (once), Allan Bristow (twice), and Lloyd King (once). Three of the four retired jerseys in Cassell belong to those players.
But Matthews also led Tech in rebounds, at 8.9 per game, third in the Big East. The last Hokie to lead the team in scoring and rebounding was Ace Custis in 1995-96 (13.4 ppg/9.5 rpg) and 1996-97 (14.7/9.0), and before that Perry Young in 1984-85 (18.5/7.4), but their combined averages donít approach the 22.1/8.9 put up by Matthews.
Curry led the Hokies in steals both times that he led them in scoring, but guess what: Matthews led the Hokies in steals this year, too. He had 72 steals to 66 for Gordon, though Gordon's per-game average was higher.
Granted, Matthews didn't have the supporting cast that guys like Young, Curry, and Solomon did, perhaps leaving more room for him to shine and score (like Coles). But from a sheer numbers standpoint, don't underestimate the season Bryant Matthews just had. No one in the 15 years since Bimbo Coles left has been able to put up big numbers like Bryant Matthews.
Matthews set the bar high for Carlos Dixon.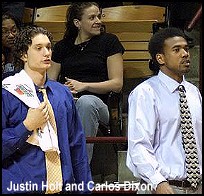 Woe to Carlos Dixon. Dixon sat out this year because of a foot injury, and in so doing, now has to live up to the high standards set this season by Bryant Matthews.
Dixon will provide important senior leadership next year, but it's not fair to expect him to provide the same kind of leadership and production that Matthews did this year. As noted above, Matthews had a truly special season, one that only occurs every decade or so.
Dixon, a streaky shooter from the outside, will hopefully bring something that Matthews didn't: an outside shooting presence that will loosen up defenses and prevent Hokie opponents from playing the zone defense that often confounded Tech's offense. Dixon should also be a strong defensive presence, with his lankiness (he's 6-7) and decent quickness. But he won't be the relentless, pogo-stick presence on the glass that Matthews is.
That task will fall to junior college transfer Justin Holt, who is already on campus, practicing with the team, and will be eligible to play in December of 2004, at the conclusion of fall semester. Holt is reputed to be quick off the floor and a good leaper, with good offensive skills. He'll be the Matthews type for this team next year, freeing Dixon up to be himself.
Coleman Collins is an ACC-caliber post player.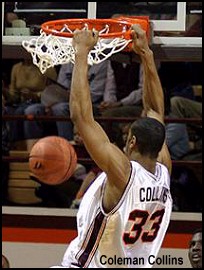 The player that surprised me the most this year was Coleman Collins. The Hokies haven't signed a post player with the potential of Collins since they inked Dennis Mims back in 1998.
What surprised me was that the Hokies managed to grab a guy with the athleticism and smoothness of Collins out of Georgia, right out from under the noses of the ACC and SEC.
Collins is spotty and erratic, but the ups are beautiful to behold. When he goes to the rack with authority, it's impressive. His second-best play of the season, in my opinion, wasn't even successful; it came when he drove from the top of the key down the lane against Rutgers, only to have Herve Lamizana block his layup attempt with 12 seconds left. The shot didn't fall, but the move was aggressive and eye-opening.
Collins' best play came in the first half of that same game, when he drove the baseline and did a twirling, spinning, up-and-under reverse dunk that left observers aghast. It all happened so fast that I donít even really recall it all that well, I just know it was amazing.
Much has been made of how young Collins is. He won't turn 18 until this July and will only be 20 when he completes his senior season in March (April? Heh-heh) of 2007. Compare that to going up against seniors who are 22 and 23 years old, as some of Pitt's seniors were in the Big East Tournament.
Despite his youth, if Collins continues to work hard and develop, he will easily grow into a competitive ACC post player in the coming years. His confidence this season grew by leaps and bounds, and if it too continues to grow, he'll be a good one. The one concern with Collins is his back. It needs to stay healthy, though he proved late in the season that he can be effective even when it's not a hundred percent.
The students need to be at courtside.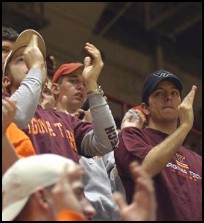 Some time within the last few seasons -- I missed it when it happened -- the Hokie students were moved from their courtside seats in sections 7-13 to occupy the corner (sections 13 and 15) and many upper-level seats. (Click here for a seating chart.)
This was a bad, bad move. It was done, of course, to give donors those prime courtside seats, but what it has resulted in is the isolation and reduction of the effectiveness of the most vocal fans at the game: the students.
Sitting the students down close and having them encircle the court, like many schools do, accomplishes two things: (1) increases the noise level and homecourt advantage, and (2) makes the game look more exciting on TV. And TV sells the program to recruits.
Cassell Coliseum has a pretty good atmosphere, but sticking the students over in sections 13 and 15 makes Cassell look positively stale on television. Contrast that with the appearance of nearly every ACC venue on television, with raucous students encircling the court and bouncing up and down, and you have two totally different impressions.
If you don't think that completely ringing the court with students is workable in Cassell, then at the very least they ought to be returned to courtside in sections 7-13. If you look around the ACC, that's how most or all of the schools in the conference do it, and in my opinion, that's the way to go.
The media machine that is the ACC is unbelievable.
Speaking of the ACC, one of the biggest benefits to league membership is that the Hokies will now benefit from the incredible media presence that the ACC has in the mid-Atlantic region.
Well, duh. But hear me out.
If you caught the basketball message board discussion the last few days, you read an exchange in which we talked about how the radio networks of nearly every single ACC school broadcast the entire ACC tournament, not just games involving their own school. Residents in the Triangle in North Carolina report being able to spin the dial and land on a station broadcasting the ACC tournament.
(I know you young people, with your digital tuners, don't know what the heck "spin the dial" means, much like you don't understand the phrase "a broken record." But hang with me as I talk about such things as dinosaurs and carburetors.)
The sports media in this region is set up to cover the ACC, period. Having to cover the Big East must have been a major annoyance for Roanoke and Richmond media (the only ones who bothered), and now they can put that annoyance aside. Imagine being the sports editor at the Roanoke Times, for example, and no longer having to manage sending writers to both the Big East and ACC tournaments, as they had to this year, or figuring out how much space is going to be allocated to Big East coverage, versus ACC.
Tech's in the ACC now. Problem solved. And that includes being a part of the media-savvy marketing machine that is the ACC.
Example: The ACC organizes a media gathering every year in late July to kick off football season. Coaches, a few players from each team, and media descend upon a resort-like setting, such as Pinehurst, NC, or Reynold's Plantation in Georgia, and for several days, the media get to interact with each other, coaches and players in preparing preseason material.
By contrast, the Big East gets the media together Ö for a couple of hours at Ö Giants Stadium in the Meadowlands. Woo-hoo. It's party time!
Not only are large media organizations in the region dedicated to covering the ACC, but major sponsorship and marketing contracts are tied up in the ACC. The ACC is threaded into this region like Hokie fans can only imagine, and VT gets to be a part of it now.
That will have its downsides, as well. This monolithic media structure, accustomed so long to covering the ACC as it has existed for 50 years, may not be kind to the upstarts from Virginia Tech, Miami, and later Boston College. Not till those teams earn it, anyway. Be prepared for those columnists from Durham and Chapel Hill to carve the Hokies up, especially during basketball season.
Which nicely turns the conversation back to basketball, where it's supposed to be. Sorry I got carried away.
The style of play in the ACC versus the Big East benefits Tech some ways, hurts them in others.
The Big East has a well-deserved reputation for physical play, and that was evident in Tech's Big East tournament loss to Pittsburgh. The Panthers were allowed to bump, body up, and grab Tech's players, all the way out to the three-point line and beyond. But when Tech tried to counter by playing defense that was a little more hand-check and hand-slap oriented, tweet! the whistle blew.
Like basketball at any level, the ACC can get physical inside, as well, but out around the perimeter, bodying up will get you whistled for a foul. This is good for the Hokies, who are not a team that can play physical basketball yet. What Pitt's perimeter players did to Tech's guards and Bryant Matthews was ludicrous and guaranteed from the opening horn that VT wasn't going to win that game.
One area where the Hokies have a huge disparity relative to the ACC is shooting, especially from the perimeter. Every team in the ACC shot better than 32% from three-point range, whereas the Hokies finished dead last in the Big East at 30.4%. Tech made just 140 three-point field goals, and in the ACC, only Clemson made fewer, 134. Every other ACC team 154 or more, and of the nine teams, five of them made over two hundred.
Wake made 214. Duke made 230. Georgia Tech made 232. NC State made 242. Florida State made 274.
With the guards freed up from the physical play of the Big East, the three-pointer will be more of a factor in the ACC than it was in the Big East. And the ACC teams can drill it, all of them better than the Hokies. It was a problem for Tech in the Big East, and it will be a bigger disparity in the ACC.
Nevertheless, I'd rather be the worst-shooting team in the ACC than the worst-shooting team in the Big East any day, wouldn't you?



Copyright © 2003 Maroon Pride, LLC