Beware the Snub, Indeed

by Jim Alderson, 3/16/04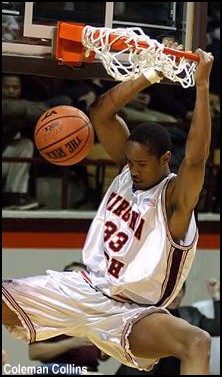 Well, they did it to us again. The Virginia Tech menís basketball season ended rather abruptly Sunday night when an expected and anticipated bid to the NIT did not materialize. It was dťjŗ vu all over again. This was not the first time the NIT has left Tech bid-less. The NIT selection committee got good practice at snubbing Tech back in 1994. Oh, well, thatís the way it goes. I have paid virtually no attention to the NIT since 1995 and wonít have to interrupt my NCAA bracket calculations to give it a look this year, either.
Tech had seemingly fought their way into the NIT through a remarkable run during the latter part of the season. The Hokies, picked to finish dead last in the fourteen-team Big East had astounded everyone, including perhaps themselves, by finishing eighth and topping that off with an opening-round win in the previously-unfamiliar atmosphere of the BE Tournament. It was a good run that will leave our permanent Big East Tournament record at .500, but it would seem that it was not quite good enough.
It is infuriating, but not exactly unexpected for several reasons. Techís post-season qualifications were skimpy at best, far below those of the '94 team. The late-season surge mostly consisted of narrow victories over teams from the BEís second division. Techís only win of note for the entire year was the one over a Providence team that generally found trips to Cassell as distasteful as Techís football team did to the Carrier Dome. This lack of marquee victories was not lost on those who compile the Ratings Percentage Index [RPI]. Techís was a paltry 108. Every team that qualified for the NIT had a higher one. It seems odd that the line would be drawn at #107, the spot occupied by a Purdue team that is in, but that was the cut-off. A fairly strong case can be made that a team with that weak of an RPI has no business in post-season play, and apparently was.
Villanovaís run in the BE Tournament that brought them to .500 was probably the single most damaging blow dealt to Techís NIT hopes. It also didnít help one bit that UTEP, or Richmond, or whatever team selected last for the NCAA Tournament knocked Notre Dame out of the Big Dance. Tech just might have nudged UTEP out of an NIT bid. I suspect both Nova and the Irish are teams the NIT brass would very much like to see in Madison Square Garden in a couple of weeks. They would sell quite a few tickets, many more than would a Tech team whose basketball fan support is still on the puny side. Tech has benefited from that economic-based thinking before, such as the 2001 bid to the Gator Bowl that left Syracuse screaming bloody murder. This is the other side of that coin.
Still, it is very hard to look at the NIT snub and not see the influence of what will very soon be our former conference, so I will. The NIT is the epitome of Eastern basketball. It is largely run by St. Johnís, meaning that the Big East has a heavy sway. These people have never done us any favors and from their point of view there certainly was no reason to start now. We are headed out the conference door and the way the whole expansion thing went down did not exactly endear us to the remaining BE members.
After the unsuccessful attempt at holding the conference together was made at last springís BE meetings, Tech made it perfectly clear that we considered being stuck in the conference a horrifying prospect. The Tech administration went to some rather extraordinary lengths to make sure that didnít happen. Making it perfectly clear we no longer desired to associate with the rest of the members did not sit particularly well. Big East Commissioner Mike Tranghese can wax eloquently until the geese come home about wishing us well, but there were hard feelings, and still are. You donít announce that your number one goal in athletics is to get as far away from these people as possible and still expect them to possess warm and fuzzy feelings about you, or lift a finger to assist your post-season chances.
Connecticut coach Jim Calhoun publicly stated that he harbored no ill will towards Tech and then proceeded to leave his first string on the Cassell floor far longer than was necessary, inflicting some serious RUTS on Tech. Yeah, they are peeved about the ACC thing. Perhaps enough to, after having hung us out to dry in the '94 all-sports expansion and then when they finally did allow us in to extract a kingís ransom designed to transfer a chunk of our football money into the coffers of the basketball schools as well as cripple our competitive abilities in basketball, feel the need to deliver one final parting shot. If that were indeed the case, so be it.
The '95 Tech basketball team used the '94 NIT snub as motivation and went back in '95 and won the whole thing. Perhaps the same can happen a decade later and Tech can go back and capture yet another NIT championship in '05, and do it as ACC members, because that is where we will be. Techís ACC invitation was not contingent upon this yearís basketball team making the NIT. At the end of the day, specifically the last one in June, Tech will be in the ACC holding a secure athletics future, and they will still be the Liíl E, the most dysfunctional athletic conference ever devised by man.
If the NIT snub is the final price, I will gladly pay it. Not being allowed to participate in what is basically an insignificant tournament, at least when Tech is not part of it, is not a very big deal in the overall scheme of things. Tech still wins, and wins big. If the Big East did indeed have anything to do with Techís NIT snub, and I think they did, I would say: enjoy your basketball conference, and be sure and check out the BCA Classic this August.




Copyright © 2003 Maroon Pride, LLC