These Guys Grow on You

by Jim Alderson, 3/8/04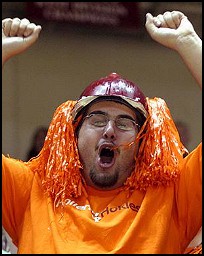 The Virginia Tech men's basketball team completed its late-season run last Saturday by knocking off Georgetown on what was ostensibly the Hoya's home court, the MCI Center. The Hokies, who had already qualified for their first and last Big East Tournament, gave Georgetown a conference going away present and almost caused Georgetown to join the BE's other basketball fair-haired children, St. John's, in sitting out the upcoming tourney. They would have, too, had Perry Clark not given Miami Athletic Director Paul Dee yet another reason to fire him.
Tech zoomed up to the eighth seed for this week's Madison Square Garden outing, dizzying heights for a program that had only known numbing defeat during its first three years in the Big East, a time most noted for Tech's non-participation in the tournament. It is very nice to discuss something about Tech basketball other than the amount of the latest loss.
Tech was picked to finish dead last in the Big East. The only reason they were not picked fifteenth is there were only fourteen teams in the league. It was a prediction based entirely on merit. Tech ended up losing four starters from a team that had finished last in '03 in its seven-team division, losing their way out of a tournament spot down the stretch. The team looked to have nothing.
At times this team can look downright awful and give solid evidence as to why it was picked to prop up the rest of the league. It has no inside game, freshman guards that often demonstrate why coaches are loath to play freshmen, it clangs shots off of the rim with alarming regularity, trips to the free throw line are always an adventure, and what depth there is had to be manufactured out of whole cloth and the football team. Most of the time, this is not a recipe for the winning regular season record Tech sports. This team has turned winning ugly into an art form.
What this team does do fairly well is play defense. There is some quickness and athleticism among the perimeter players, enabling Tech to overplay the passing lanes and come up with a goodly number of steals. The coaching staff made the correct decision back in January to build for the future by establishing Tech as a team that will play solid man-to-man defense. It is where the foundation is being laid. Defense wins games, and few teams not named Syracuse or Temple consistently win big playing zones, and even Temple doesn't these days.
The main thing this Tech team has going for it, however, is character. This is a bunch that does not care to lose, Tech's recent lack of basketball success notwithstanding. They will scratch and claw and do most anything necessary to win. Tech has done pretty well in close games this year, contests that in the past could almost always be counted on as losses. This team is learning how to win, a concept that eluded last year's veteran team and is pretty remarkable for a program that has relied so much on freshmen and other unproven commodities. It doesn't happen that often.
The success of this Tech team can be primarily attributed to two people, Bryant Matthews and Seth Greenberg. Matthews is a solid success story. A lightly-regarded recruit from the middle of ACC country who received no interest from that conference, Matthews is what coaches love: a guy who develops. In an era when entirely too many college players consider it an insult to be forced to spend even a junior year in collegiate ball rather than dragging down the general level of play in the NBA, Bryant did it the old-fashioned way. He worked his butt off at Tech, adding something new to his game each year.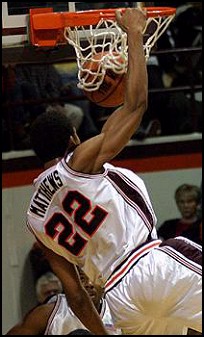 This year, his senior season, Matthews added the most important element, that of leader. On the court, Bryant has been there when most anything is needed, a big shot, rebound, defensive stop, what have you. He leads by example and did it while laboring under marked man status on a team that had few other scoring options. Due to the revolving door nature of the basketball roster under Ricky Stokes, Tech rarely has had a senior who has spent his entire career in the program. This is what can happen when you do. Matthews led by example, and his solid work ethic should echo through the program for years. Guys like Coleman Collins, Zabian Dowdell and Jamon Gordon have gotten a good first-hand look at what can be accomplished with hard work. Let's hope it takes.
The contributions made to Tech basketball by Bryant Matthews may show up again down the road when the three freshmen are seniors. A team loaded with blue-chip recruits certainly doesn't hurt, but hopefully there will always be a place for guys like Bryant Matthews who will work hard and develop their game.
If I had a vote for Big East Coach of the Year it would, not surprisingly, go to Seth Greenberg. There is not a coach in the league who has done more with less. Coaching is easy when you inherit a roster loaded with talent as did Pitt's Jamie Dixon, or have established a recruiting network that rivals Coach K's at Duke, as has Jim Calhoun at UConn. It is a little tougher when you take over a moribund program like Tech's.
Seth has fashioned a winner out of one proven player, a lot of mirrors and large quantities of smoke. I knew very little about Seth Greenberg when he came to Tech other than many folks at South Florida were glad to see him go. I wonder how they feel about that now? Enjoy being the BE's stepchild, Bulls.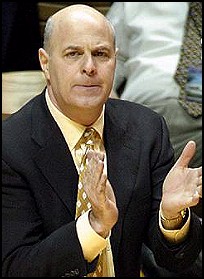 Despite his rather modest pedigree, Seth has become a hit at Tech. He has tirelessly worked to cultivate the school's long-dormant basketball fan base and has done it through the best way, winning some games. Greenberg paid little attention to Tech's lousy recent history because he had nothing to do with it. He set attainable goals for this program and they were met. It is quite refreshing for a Tech fan base that recently has endured constant underachieving from its over-hyped football program.
Greenberg is making a connection with the fans, something that always eluded Ricky Stokes. He also offers evidence that he can do something else that proved so difficult for Ricky: coach a basketball team. Seth displays a much different sideline demeanor than that of the hapless Stokes, who often appeared to be overmatched in the coaching box. Greenberg constantly preaches maximum effort. He doesn't always get it, as the trip to Rutgers showed, but more often than not the last month of the season he got it. The Tech teams of Ricky Stokes were often criticized for what looked to be their lack of intensity. That has not been the case for a good part of this year. The jury is very much still out on Seth Greenberg. After all, it wasn't too long ago that many were hailing Stokes as the next great basketball coach. Seth is off to a good start, though.
The last time Tech had a winning record in basketball, they were under a first-year head coach and playing a lame-duck year in their conference. Optimism abounded, but headed south in a hurry. Four years later we are at the same place. Hopefully things will turn out a little differently this time around. Tech still appears to be woefully unprepared for the rigors of an ACC where this year even perpetual league doormat Clemson was better than about half the teams in the Big East, but they seemed that way this year in the BE, too. Things worked out pretty well.
The future is the future, however, and right now Tech is preparing to enjoy New York City while work productivity around this part of the country will nose-dive come noon Wednesday. I will be watching, because these guys grow on you.

Copyright © 2003 Maroon Pride, LLC