Wide Right: And the Oscar Goes To ...

by Jeff Cockey, 3/5/04
Sunday night marked the 76th time Hollywood patted itself on the back and celebrated its own success. Everyone was out on the red carpet for the main event and all were looking beautiful as usual. Yes, I enjoy the Oscars . . . or at least I think I do. You see, every year I look forward to the show and make plans to watch – and every year, about an hour into it, I find myself wondering why in the hell I am wasting four hours of my life. Really, the only entertaining parts of the show are the opening (now that Billy's back), and the very end, when we find out who wins Best Actor, Best Actress and of course, Best Picture.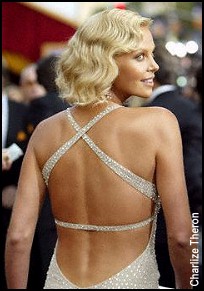 Take out all of the in-between crap, like "Best Sock Knitting for 18th Century Costumes in a Major Motion Picture." And all of the celebrities who feel that their stardom gives them some divine right to ruin our evening of movie homage by turning Oscar's stage into a political pulpit. Not that I'm pointing fingers but Tim Robbins and your partner in crime Susan Sarandon, and Sean "WMD" Penn, give me a break. Take issue with politics on a political stage. Don't ruin a night when Charlize Theron came with a pacemaker warning. Look away if you've got a weak ticker. And did you hear her [Theron] thank her boyfriend for sticking with her? Really, is that even necessary? "Hey no problem Charlize, just remember you owe me big time for sticking by your side." If I were he, she would have to thank me for leaving her side every now and then. You know, maybe like when she has to use the ladies room or something. Has she seen herself?
Anyway, with a few tweaks here and there, you might have yourself a decent hour-long show that, come Monday morning, people wouldn't be cursing themselves for staying up and watching. So with all of this in mind, I thought it might be nice to offer the First Annual Wide Right Red Carpet Review.
We won't be handing out Oscars to those who make the best college uniforms, or to those who paint the straightest lines on the gridiron. Nor will you see a Best Stadium Lighting award or a Best Supporting Actor's Second Cousin Twice Removed Playing the Part of a Deaf Pianist in a Foreign Film Directed and Produced in Eastern European Countries Beginning with the Letter "S" and Ending in "Pain" (which, coincidentally, is what we all feel when we are made to sit through these types of awards year after year) Award. Let's all take a breath . . .
OK, here we will be handing out awards for Best Actor; Best Actress (if applicable, this award will go to, well let me give you a for instance: if he were smart enough to have chosen Virginia Tech, then Kellen Winslow Jr. would be an excellent candidate for this award); Best Supporting Actor; Best Director; the Lifetime Achievement Award; and of course the grand-daddy of them all, Best Picture. And now onto the show . . .
I had prepared a short Billy Crystal-esque song and dance routine to perform before I handed out these awards but with this medium, there is no way I could show it. Trust me, that's a good thing.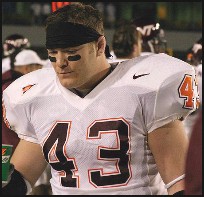 Our first award of the evening is Best Supporting Actor, which will be presented by the truly lovely Ms. Jennifer Garner. The nominees for Best Supporting Actor in a VT football season are . . .
Marcus Vick
Ernest Wilford
Doug Easlick
Jake Grove
Nathaniel Adibi
And the Oscar goes to . . . Doug Easlick for his amazing contribution to the success of Kevin Jones and thus, the entire offense of the Virginia Tech Hokies. This is Doug's first Oscar nomination and win. He is surrounded on stage by his offensive line and he is thanking, first and foremost, Kevin Jones, for making all of the runs look so easy that Doug hardly got any credit at all – which is just the way he likes it, a behind-the-scenes guy who grinds it out and gets his job done. Congratulations, Doug.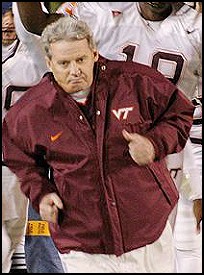 Ladies and Gentlemen, it is my pleasure to introduce to you our next presenters, Jake and Elwood Blues. (Cue Spy Hunter music.) "Tonight, folks, we are on a mission from God." The nominees for Best Director during a VT football season are . . .
Mr. Frank Beamer
Mr. Bud Foster
Mr. Jim Weaver
Aah, three is plenty.
And the Oscar goes to . . . Frank Beamer. While not Frank's best year at Virginia Tech, it may have been his most challenging role yet. We laughed, we cried, we screamed, we sat silently stunned (BC game comes to mind), and all due to the directorial talent of one man. But the crowning achievement during this year's performance was the Ernest Wilford head slap. I will continue to say this again and again: it is about time we see some emotion. And that emotional break-through earned him the hardware in this category. As a true Hokie should, Frank accepts his award, hands the ball to the ref, and jogs off to the sideline.
Ladies and Gentlemen, we have a truly special treat for you this evening. Presenting tonight's Lifetime Achievement Award, live via satellite from a Los Angeles interstate in his white Bronco – you either love him, hate him, or were murdered by him – Mr. Orenthal James "if the glove doesn't fit you must acquit" Simpson, along with his new best friend, Scott Peterson. "Please hold your applause until we find the real killers."

Photo of Will Stewart's Press Credentials arriving at this year's Oscars.
There really isn't a need for words when it comes to this year's recipient. He has done some bad in his tenure at Virginia Tech, but he has also done some really bad. All of those fond memories, however, are trumped by the one, simply fantastic maneuver, which he was able to so deftly and surprisingly pull off. Yes folks, I am speaking of admittance into our rightful home. Our place at the table is now set, so let the dinner bell ring. We are headed to the Atlantic Coast Conference. Thank you so very much Mr. Jim Weaver. Unfortunately, Jim was not able to join us tonight as he is in Richmond, kissing the feet of Governor Warner. Accepting on his behalf are Will Stewart's press credentials. Hey Jim, you'll see your Oscar when Will sees his credentials. Until then, "no soup for you."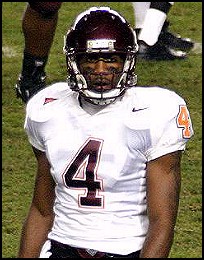 I give you our next presenters of the category Best Actress of the VT football season, all of the Coyotes from Coyote Ugly. Ah the Coyotes, a shameless attempt to keep the male demographic tuned in to the program. And the nominees for Best Actress in last year's Virginia Tech football season are . . .
Ernest Wilford (For getting b-slapped by Franky boy and not taking it like a man.)
Our entire defense (For letting Pitt's offense, on their last possession, treat us like a posh Denver, CO resort employee when the Lakers are in town – allegedly.)
Kellen Winslow Jr. – I know, I know, but come on! What a performance.
And the Oscar goes to . . . wow. Here's a shocker: None of them. It goes instead to DeAngelo Hall. While his performance on the field was nothing short of spectacular in so many ways, it was all tied up in a nice little package by his sideline tantrum late in the season. Truly a performance worthy of Best Actress.
Ladies and Gentlemen, and any Hoos that happen to be reading, we now have a special treat for you. Presenting the Oscar for Best Actor is none other than Antonio Banks and his long time friend Coach Joe Gleck's tripping leg. The nominees for Best Actor during this past VT football season are . . .
Kevin Jones
Kevin Jones
Kevin Jones
Bryan Randall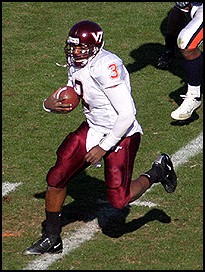 And the Oscar goes to . . . Bryan Randall. Never before have I seen such maturity in the face of adversity. Such grace at QB knowing that a controversy is a-brewin' and his position might be at stake. Oh wait a second, actually I have seen it. Bryan Randall, you are college football's equivalent to Drew Bledsoe. I contend, and I will challenge anyone who may disagree, that the Patriots would not have won their first Super Bowl if not for the ultimate team player and true gentleman, Drew Beldsoe. And while VT didn't win any championships last year, Bryan Randall handled himself like a true team player behind center. Congratulations Randall, you deserve it.
And finally, the moment we have all been waiting for: Best Picture. You all know the nominees: Rutgers, West Virginia, Pittsburgh, Boston College, Temple, UVa, Cal, etc . . . and with a list of nominees like that, is it any wonder that tonight's big winner for Best Picture of the year goes to the absolute thrashing delivered COD to Shalala's girls? Congratulations Tech on winning probably the toughest game of the season. I can still picture in my mind the Miami fan who rang my doorbell the morning after, dressed head to toe in all black, holding the morning paper with a headline about the game. He muttered the word congratulations as he turned and walked away. Simply beautiful!
And what is an Oscars column without movie trivia? I was scorned, a la Passion of the Christ style, by a number of you for phoning it in last column. So chew on this one:
"Why didn't I think of that while I was knocked unconscious and bleeding from the head?"
Questions, comments, and insults are always appreciated . . . [email protected].



Copyright © 2003 Maroon Pride, LLC