The Marcus Vick Conundrum

by Will Stewart, TechSideline.com, 3/3/04
Note: All images are clickable for larger versions.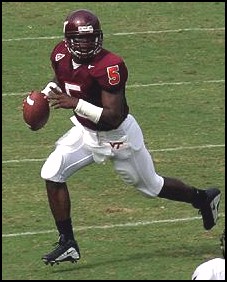 Ever since Marcus Vick's apartment was searched on Thursday January 29th, leading to his arrest on Tuesday, February 17th on charges of four misdemeanor counts of contributing to the delinquency of a minor, the debate has raged about what should be done about it. While arguments and message board posts often paint the picture in black and white, the fact is that there are many shades of gray to this situation.
In trying to figure out how to handle this situation, Tech football coach Frank Beamer and Athletic Director Jim Weaver have to consider the viewpoints of many different factions of varying degrees of influence. Trying to satisfy all concerned parties complicates the matter immensely, as does the fact that Vick's trial isn't even until May or June, and the final resolution of this situation must wait until the outcome of the trial.
Weaver and Beamer are being pushed and pulled from all different directions, and it's a tightrope act to navigate the next few months and satisfy as many critics as possible, while also doing the right thing for the Virginia Tech football program and yes, Marcus Vick. Whatever they do -- and to date, they have done very little, if anything -- will not please everyone, but ultimately, they must do what's right for the program and for Virginia Tech athletics.
The Situation
As you know, Marcus Vick, Brenden Hill, and Mike Imoh were each charged with three misdemeanor counts of contributing to the delinquency of a minor by providing alcohol to three girls, ages 14, 15, and 15, in January. Vick was hit with an additional charge for allegedly having sex with one of the 15 year olds.
There is never a good time for stuff like this, but these transgressions come at a time when a talented VT football team limped to the finish line in 2003 in the midst of statements that they suffered from a lack of discipline, both on the field and off.
On January 19th, Beamer gave the football team an impassioned speech in which he talked of a return to the focus on the team, and not the individual, and he threatened strong disciplinary actions if players didn't adhere to team rules. (For the full text of the speech, see Jan. 19th's Football News update on BeamerBall.com.)
A mere week after that speech, the incident with Vick, Imoh, and Hill occurred, and on January 29th, Vick's apartment was searched, ultimately leading to the arrests of all three players. While Hill and Imoh are involved, very little conversation has centered around the two of them, with most or all of the commentary being about Vick. For that reason, we'll stick to the Vick issue here, as well.
As noted, these charges are misdemeanors, and under the terms of Tech's 1997 Comprehensive Action Plan, which covers student-athlete behavior:
Any student-athlete who is arrested, charged and/or convicted of a misdemeanor charge (other than gambling or game fixing which are addressed above and other than minor traffic infractions) will be subject to a review process. The Athletic Director will review the charges and all the surrounding circumstances. The Athletic Director may then impose sanctions ... Sanctions imposed by the Athletic Director can include, but shall not be limited to:

A. Warning
B. Probation
C. Restricted use of athletic services or facilities
D. Suspension from play and/or practice for a stated period of time
E. Dismissal from the team (only available for a conviction or if the student-athlete pleads guilty or no contest to a misdemeanor). In the event of dismissal from the team, the student-athlete shall retain her/his grant-in-aid for the balance of the academic year. The Athletic Department shall recommend to the Scholarship Committee in the Virginia Tech Office of Financial Aid that the grant-in-aid not be renewed for any succeeding academic years.
So at this point, Jim Weaver has the ball in his court. According to an Associated Press report the day Vick was arrested (2/17/04):
Weaver said Tuesday night he plans to let the case run its legal course.

"I'm going to operate within the guidelines of the Comprehensive Action Plan," he said when reached at home by The Roanoke Times. "I'm not commenting before the legal system takes its action."
Just a few days ago, in a statement released on the official Virginia Tech web site, VT president Charles Steger addressed the issue of the arrests, and among other things, he said,
The university's Comprehensive Action Plan (see http://www.hokiesports.com/policies/cap.html) places on the athletic director the responsibility for disciplinary action when an athlete is charged with a crime. Our plan works, and I have faith in it and in our athletic director's intention to enforce it fairly. This current incident is under his review, and he will take appropriate action at the appropriate time.
So that's where we stand. Vick has been arrested, and at this point, Tech officials, most notably Jim Weaver, are taking a wait-and-see approach.
The Factors at Work
That's the prudent course of action, because it's important to let the trial play itself out and let all the facts come to light before rendering final judgment. But the problem is, that doesn't address the concerns of many among the Tech faithful, who feel that something must be done now, not later.
There is a large faction of Hokie fans who take into account the team's self-professed need for discipline, coupled with Vick's prior one-game suspension for the JMU contest last year, and cry out for some sort of action to be taken, perhaps even Vick's dismissal from the team. For a team that needs discipline, letting an athlete get away with misbehavior, particularly in the wake of Beamer's impassioned speech about discipline, sets a dangerous precedent.
We can get into all sorts of debates about actual misbehavior, alleged misbehavior, innocent before proven guilty, etc., but those arguments are beside the point. The point is, there is a vocal faction of VT fans -- some with large, influential checkbooks -- who are demanding that something be done, and that it be done right now.
In addition to the concerns of some fans, Weaver and Beamer must consider what the right course of action is for Vick the person. I keep thinking about the cases of Derrius Monroe and Michael Hinton.
Monroe, as you'll no doubt recall, was arrested for cocaine trafficking a few years back. Against the protests of many Hokie fans, and in danger of gutting Tech's CAP of all its power, Jim Weaver and Frank Beamer took a course of action that brought them under immense criticism, but which ultimately resulted in Monroe staying at Virginia Tech, being reinstated to the football team, and even earning his degree.
When many advocated jettisoning Monroe for the good of the program, Weaver and Beamer stuck by their guns, and ultimately, Monroe got his life back on track and graduated.
As for Hinton, a cornerback from Hargrave Military Academy, he arrived as a freshman last fall and proceeded to get into, according to sources, "multiple" fights with other players on the Tech team. Hinton was dismissed from the team, but he was also given the possibility of returning, if he fulfilled some requirements laid down by Beamer, including anger management counseling.
Hinton has returned to the team in time for spring practice, and in a recent BeamerBall.com interview, sounded very aware of his mistakes and was determined to do better. The interview left one wishing for the humble and contrite Hinton to succeed in his second try at being a member of the team.
Much like Monroe and Hinton, Vick is at a crossroads. He enrolled at VT in the fall of 2002 with the Vick name and a bright future, but to this point, he has not buckled down and applied himself fully to learning the quarterback position and serving as the team leader he must be. In short, he has been outworked by Bryan Randall, who has worked harder at the game and has stayed out of trouble off the field.
The comment that Randall has worked harder is not a vicious swipe at Vick -- it's merely fact. This is not to call Vick lazy or anything along those lines. It's just a fact that Randall has outworked him.
Vick will be at Virginia Tech for a maximum of five years, and the first two years are already gone, with the third now in danger. With QBs Cory Holt and Sean Glennon entering the program, it is rapidly becoming time for Vick to fish or cut bait.
While releasing Vick from his scholarship would send a strong statement, one that would resonate around Blacksburg for years, it doesn't give Vick the chance to treat this as his watershed moment and turn around his playing career, maybe even his life. It doesn't give him the second chance that Monroe and Hinton both got.
But by keeping him around and not taking any action, Weaver and Beamer fail to satisfy the "do something now" crowd, and that emotion continues to fester and boil.
There are other factors here at work, of course -- one being the presence of Marcus's famous and influential brother, Michael, and another being the university president, who is no doubt very unhappy about feeling the need to release statements about athlete behavior.
But the biggest factors affecting Weaver and Beamer right now are alumni and donor pressure, the need for team discipline, and the desire to help Marcus Vick turn things around in the same fashion that Derrius Monroe and Michael Hinton were allowed.
Recommendations
We're talking about two time periods here: pre-trial and post-trial. It's difficult to address the post-trial aspect, though I'll try later. The pre-trial aspect consists mostly of the high-visibility, high-profile spring practice period, starting later this month and leading up to the spring game on April 24th.
When handling the Monroe and Hinton cases, Weaver and Beamer sat down with the players and laid out a course of action for them to get back into the good graces of the university and the football team. The same thing is required here. They need to sit down with Marcus Vick, explain to him the crossroads he is facing, and tell him in no uncertain terms what is required of him for the next few months, leading up to his trial.
That to-do list would consist mainly of one item: work your butt off in the coming months and stay out of trouble.
At the opening of spring practice, I would announce to the media that Bryan Randall was my starting quarterback, that it would remain that way all through spring practice, and that the quarterback position is not "open" as it has been the last two springs. (It was Randall versus Noel in 2002, and Randall versus Vick in 2003.)
I would also not allow the media to speak to Vick at all, from the opening of spring practice all the way through the spring game.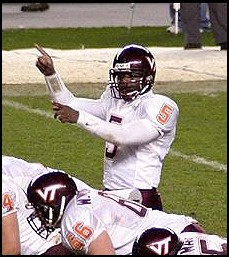 Locking Vick in at the #2 quarterback spot would send a message to media and the fans that the football program takes the issue of player behavior very seriously, and that for now, Bryan Randall has excelled in that area, from avoiding suspensions to not being arrested.
Keeping Vick away from the media serves the purpose of not allowing him to be viewed as a public face of Virginia Tech football or to enjoy his celebrity status with the media (perhaps "enjoy" is a stretch here), enabling him to focus on the task at hand. It will also hopefully satisfy angry alumni and donors who do not want to see Vick representing Virginia Tech at this moment.
As for the post-trial scenario, how you handle that depends upon the particulars of the trial and its outcome. There's the issue of Vick's innocence or guilt, and there's the issue of the facts that will come out during the trial, and what sort of publicity they will generate, independent of the verdict.
I'm not sure what I recommend in the case of an acquittal or a plea-bargain, because that would depend highly upon the facts that come out and the nature of the acquittal. Justifiable punishments in that case could range anywhere from doing nothing to suspending Vick for a game or two.
But I do have a thought about what to do in the case of a conviction. If Vick is convicted, assuming he doesn't do significant jail time and faces perhaps "just" a fine and community service, my response would be to suspend him for six games, half of the 2004 regular season. During that time, he would not be allowed to talk to the media, and upon his return to the gridiron halfway through the season, he would serve only as a backup QB, barring injury to the starter.
This essentially trashes Vick's redshirt sophomore year, leaving him just two years to develop into Virginia Tech's starting QB and perhaps an NFL QB.
The pre-trial and post-trial punishments outlined here might sound harsh to some, and I admit that they are not soft. They serve the dual purpose of being harsh, but also putting some responsibility in Marcus' hands for his own future. He can either respond by transferring out, or by buckling down, working hard, and driving towards the goal of developing himself into a team leader and NFL prospect. Not to mention continuing to work towards his Virginia Tech degree.
If you simply dismiss him from the team, that may satisfy those who thirst for justice and discipline, but it removes the possibility of a happy ending from this story, an ending in which both Virginia Tech and Vick prosper … together.
Those are just my thoughts and recommendations from the outside looking in, and they may or may not be the correct course of action, depending upon the facts that only Marcus Vick, Jim Weaver, and Frank Beamer know, and depending upon the facts that will come to light in Marcus' trial.
The bottom line for me personally is that I believe Vick must be punished in some fashion, to satisfy the alumni, donors, university and football team that demand it, but he must also be allowed the opportunity to take this experience, which is unpleasant when viewed from any angle, and turn it into a positive motivating force. If he chooses not to, and decides to transfer out to start anew elsewhere, that's his business, and VT should not let it occupy their collective thoughts. But if he gets things turned around for the better, then VT can benefit from it, as well.
You can slice and dice the particulars up any way you want to, but I think the key is to take some sort of punitive action at this point, and perhaps later too, but to ultimately leave a measure of control, or at least a decision to be made, in Vick's hands as well.



Copyright © 2003 Maroon Pride, LLC