Grinding Towards the Garden

by Jeff Ouellet, 2/26/04
Note: All images are clickable for larger versions.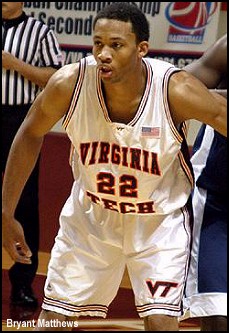 The state of the Virginia Tech basketball program at the beginning of the Seth Greenberg era was such that in the preseason the teamís articulated goal was to finish twelfth in a fourteen team conference. Even more remarkable, given the existing "win big and win now" culture among college sports fans, particularly alumni, an overwhelming number of Hokie basketball fans embraced Coach Greenbergís modest goal and looked towards the season with emotions ranging from optimism to trepidation.
Entering March, nothing is assured for the Hokies. However, they are presently on the inside of the Big East Tournament looking out, a new position for the menís basketball team. That fact alone is encouraging to many Hokie fans. Others, however, look at the team and see a mostly downward trend the last four games (a horrific loss to Rutgers, an expected defeat at Villanova, a less than sterling performance versus St. Johnís, then a loss at BC, though the Hokies almost pulled off the win) and wonder if VT has already won its last game as a member of the Big East. While ultimately for some Hokie fans the relative success of this season will be based in large part on whether a trip to MSG is forthcoming, count me in the camp of individuals that believe that this season is a success, regardless of the final Big East win tally
This season was going to be difficult regardless of the coach. The Hokies only returned two players that averaged more than five points per game, Bryant Matthews and Carlos Dixon. The loss of Terry Taylor inside was even more significant than his statistical value, and the numbers Taylor provided were very good (15.5 points, 7. 3 rebounds per game).
Then the fall began with the most experienced inside player for VT, Dimari Thompkins, leaving to return to his native Florida. While Thompkins could be source of frustration, as this team didnít need a 6-9, 245 lb. shooting guard, he also had the body to at least play position defense with some of the bigger post guys in the Big East. Without him, VT was left with no player on the roster heavier than 215 pounds until our starting quarterback came out for the team in January.
Although the Hokies have suffered through a bevy of injuries this year, the most damaging had to be the redshirt season of Carlos Dixon. Dixon would have been our second best player this year and provided some much needed experience and scoring. Dixon is also a very solid defender because of his length. While the decision to hold Dixon out this year was both necessary and advisable, it meant that VT had almost no experience in the backcourt.
Coleman Collins, a post player with the ability to score inside, also was lost for seven games early in the season with an injury, time that was especially valuable for him because he entered college at only 17 and needed experience with handling bigger and stronger players inside. Then, in the midst of what has been a very solid freshman season, shooting guard Jamon Gordon (arguably our second best player at that point) was lost for five early conference games in January because of a knee injury. Both of those losses were felt by the team.
Injuries and suspensions also short circuited the most heralded member of the recruiting class of 2002, Fabian Davis, and his classmate Shawn Harris. Harris had his moments in January while Gordon was out, and played some significant minutes during that stretch, but he has not been a consistent contributor. Davis has been missing in action all season and has not given the Hokies the athletic wing player he was touted to be. And now he's transferring out.
Given these obstacles, I have been pleased overall with the progress shown this season. Both freshman guards have played well in spots. Their decision making has been good, given their youth, and both seem to possess the ability to be solid (Zabian Dowdell) to very good (Gordon) defensive players. Offensively, they have been inconsistent, but that is to be expected.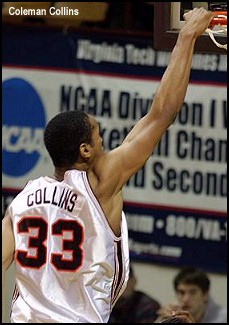 Collins has really started to emerge as the season has progressed, and his skill set is extremely impressive, given his youth and size. He has a nice shooting touch (4 of 9 from three point land, despite his free throw struggles), and if he plays aggressively and spends some time in the weight room, he will be a significant factor down the road.
In fact, I believe all three of the scholarship freshmen will be ACC caliber players with time and continued work. There arenít too many Division I teams in major conferences that will have three true freshman averaging double digits in points as may happen this year at VT, although admittedly all three had to play because of the state of our roster.
In addition, Coach Greenberg has been very active and very visible with the media and on the recruiting trail. He was fortunate to fall into ACC membership, but he immediately capitalized on that break by aggressively recruiting in-state big timer Marquie Cooke and two 6-7 players Ė Justin Holt and Deron Washington Ė who have, by most accounts, a high ceiling. While none of the incoming recruits satisfies VTís need for a big man, I think at this point in the programís development, Coach Greenberg made a wise decision by recruiting the best available player (Washington) rather than just taking a big body. Everyone in college hoops needs a big man Ė heck, even UNC is looking for an inside guy to pair with Sean May Ė but VT needs to build depth rather than recruiting the next Damion Grant or Byron Sanders.
Another positive from this season is the experience VTís younger players have had by playing with Bryant Matthews and Bryan Randall. Matthews is consistently praised by Coach Greenberg for his attitude and unparalleled work ethic. Offensive rebounding is all about desire, and there are few players in the country as tenacious as Bryant on the offensive glass. Having your best player be your hardest worker undoubtedly makes an impact on the younger players on the team.
Randallís contributions also have been immeasurable. Randall is coming off a three year competitive layoff from basketball and a football season in which he went from Heisman candidate to splitting time at quarterback, so he has seen the roller coaster ride that is big time college sports. Yet in spite of his success on the gridiron, he has come to the basketball team and gladly accepted a limited role. His skills arenít where they once were, or could be if he played continuously since high school, yet he makes all the plays that winners make. He plays great defense, comes up with more hustle plays and 50/50 balls than anyone on the team, and he has been a vocal leader. Much like teams, there are certain players whose value to a team is much more than the sum of their collective individual skills. Bryan Randall is one of those players.
Another positive is the fact this team is playing slightly better to close the season than they did last year with four experienced starters in Chase, Dixon, Matthews and Taylor. After playing well in early February of 2003, the Hokies tanked down the stretch, losing seven of their last eight. Included in those seven losses were two defeats to Miami (4-12 overall in conference), one loss to Georgetown (6-10) and one loss to West Virginia (5-11). So, four of VTís last seven defeats were to the bottom four teams, other than the Hokies, in the Big East.
While this yearís late-season slate is hardly murdererís row, there doesnít appear to me to be a significant difference in the quality of the schedules from last year to this season (other than the fact St. Johnís is clearly worse than any conference team last year). As of the day I am writing this, VT has won three of their last six conference games and appears to have a shot at claiming a couple of other wins before the season is done.
Now I understand this praise may be premature, given the pounding Rutgers administered and Saturdayís ugly win over the Red Storm, but the fact is that VT is playing better at the conclusion of this season than it did last year with a much younger team.
I donít have a clue how the season will end, but regardless of whether the VT menís team gets to play in the Big East Tournament, I think the Hokies have taken some baby steps on the path towards building a competitive menís basketball program.



Copyright © 2003 Maroon Pride, LLC