A Red Storm -- and Opportunity -- Blows Into Blacksburg

by Jim Alderson, 2/20/04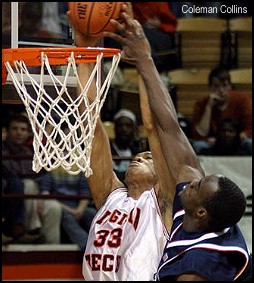 The Virginia Tech menís basketball team continues its youth-inspired habit of matching every forward step with at least as many backwards. The progress shown in the home victories over Georgetown and Providence were matched with the regression of the road losses at Rutgers and Villanova. Such is the nature of things around Cassell these days. Now, however, things are about to get very interesting.
Tech enters the home stretch of the season with what looks to be some very winnable games against St. Johnís, WVU and Rutgers at home and Georgetown on the road. Only the game at BC looks to be a reach beyond this Tech teamís grasp. Breaking even against the Red Storm [or whatever their nick is these days], Mountaineers, Knights and Hoyas would probably put Tech in jeopardy of ending its record of never having lost a Big East Tournament game. Seth Greenberg and his Hokies will take it, as it would mean achieving their modest pre-season goal of actually making the gala at Madison Square Garden, a feat that had eluded all of Techís previous BE teams.
Despite the last two losses, Tech retains a solid shot at reaching the BE tournament. This would be quite an accomplishment for a team that finished last in its seven-team division in '03 and was picked to finish dead last of all fourteen this year. It also indicates that those doing the picking greatly underestimated the program-wrecking capabilities of Mike Jarvis [formerly of St. John's] and Craig Esherick [currently at Georgetown]. The downfalls of what were once the BEís two flagship programs is not our problem, of course, only a source of hilarity.
The Big East Conference was shattered in part due to a desire by entirely too many people to maintain a national stage for St. Johnís and Georgetown; look at them now. A St. Johnís team stripped before the season of anybody resembling a BE-caliber basketball player has been meandering through a lost season. Jarvis is no longer around, having earned by sheer merit the distinction of being the only BE coach ever fired during the season, leaving the Red Storm to be coached by apparently the assistant who drew the short straw.
But, while St. Johnís is enduring a season so miserable that it makes Techís look like a potential NCAA team in comparison, Esherickís Hoyas found a way to one-up them. Georgetown became the first BE team this year to actually lose to St. Johnís. Way to go, Craig. Esherick was given a contract extension during the off season, a move so popular with the Georgetown players that about half of them abruptly transferred or quit the team. The rest seem to have done the same while electing to retain their scholarships. Esherick could teach Pete Gillen a thing or two about receiving the big bucks and then leading your team straight to the bottom. Craig certainly did it faster.
It is great fun gloating about the tribulations of Georgetown and St. Johnís and taking every advantage of the rare opportunity these years of observing someone in worse basketball shape than Tech. These two schools did everything they could to keep Tech out of their basketball conference and then went out of their way to let us know we were not wanted. A good chunk of Techís basketball problems stem from the years of A-10 purgatory decreed by, among others, Georgetown and St. Johnís. Now that they have joined us in the BEís kennel club, at least for a few more weeks after which they can have it to themselves, letís see how they like it. I can only hope that they remain just as lousy for the next five years, or until the BEís contrived sixteen-team conference, designed in large part to accommodate Georgetown and St. Johnís, comes up for review and probable dissolution. Hopefully the BE football schools will ask the question: "Why are we keeping these stiffs around?"
On a more immediate note, Tech is hosting St. Johnís this weekend and it has become a very big game for Tech in its quest to make the BE Tournament. Heading into this weekendís action the BE standings look like this:
BE Standings (as of 2/20/04)

Team

BE

Overall

Pittsburgh

9-2

23-2

Providence

8-3

17-5

Connecticut

8-3

20-5

Notre Dame

7-5

13-9

Syracuse

6-5

16-6

Seton Hall

6-5

16-7

West Virginia

6-5

14-8

Villanova

6-5

14-10

Boston College

6-6

17-8

Rutgers

6-6

15-8

Georgetown

4-7

13-9

Virginia Tech

3-8

10-12

Miami

3-9

13-13

St. Johnís

1-10

6-16
As I view things, it seems that a Tech win would send SJU to 1-11 in the BE, thereby clinching the bottom spot for the Red Storm. They have lost to Miami, and even if they both finished 3-13, the Canes would own the tiebreaker. St. Johnís clinching the bottom of the BE would occupy one the two spots Tech does not care to find itself occupying come March 8th. It would improve Techís record to 4-8, tying Georgetown for 11th in the win column and hopefully in the loss one as well, if the Hoyas continue to stink things up against Syracuse Saturday.
It would be greatly to Techís benefit if Georgetown and Miami keep losing games at their present clip, which is most every time they take the floor, but Saturday is a tremendous opportunity for Tech to seize its own destiny and win their way up the standings. Letís hope the importance of the game is not lost on Techís young team and they can continue to build on the Cassell home court advantage that saw the foundations laid in the wins over Providence and Georgetown. The game against St. Johnís is a huge one for Techís BE Tournament hopes and about as big as games have gotten around Tech recently.
The goal of making both debut and farewell appearances at Madison Square Garden was the goal set for this Tech team. The chance to do so is now at hand. These have not been the salad days of Tech basketball these last few years, with both players and coaches entering and exiting on a far too regular basis, and the only constant has been one dreary losing season after another. The St. Johnís game offers a chance to begin the process of reversing Techís recent history of basketball misfortune, to make the BE Tournament, and to start laying the groundwork for Tech to be known for something in basketball other than road kill. The St. Johnís game is a big one.



Copyright © 2003 Maroon Pride, LLC