The State of the Program, Part 5: Discipline, Attitude, and Leadership

by Will Stewart, TechSideline.com, 1/29/04
Much has been written and much has been said about the discipline, attitude, and leadership that were shown -- or more accurately, not shown -- by the 2003 Hokie football team. While this team was a collection of good players, particularly on offense, they were often undisciplined, were accused of having me-first attitudes, and suffered from a lack of leadership, both from the players and the coaching staff.
These are difficult topics to write about, because for the most part, they are not things you can capture statistically, and unless you're around the team every day and can see practices and meetings and the like, it's hard to say who the leaders are, or should be. But from our seats in the stands, or from our living rooms as we watch on TV, or from what we read, we can draw some conclusions.
Discipline
To write about discipline, we need to first understand what it is. My dictionary, a 1980 Oxford American Dictionary, isn't the greatest dictionary in the world, but I thought its definition of discipline -- the noun -- was interesting:
Dis-ci-pline: n. 1. Training that produces obedience, self-control, or a particular skill. 2. Controlled behavior produced by such training. 3. Punishment given to correct a person or enforce obedience.
I'll never forget what a former co-worker with four (well-behaved) children once said to me: "Discipline is about self-control. Having it yourself, and teaching your children how to have it."
Sure, he was talking about children, but I think it applies to a football team, as well. An athlete with self-control (discipline) executes his assignments, is focused, and doesn't commit penalties or mental errors. Definition #2 above refers to "controlled behavior," and that's the key to success on the football field. For all the violence and unpredictability in football, it's the team that best controls its behavior that often wins.
When viewed in that light, you can see that this year's Hokie football team suffered from a lack of discipline. They showboated, they committed numerous personal foul penalties, and they broke the rules and got suspended from games.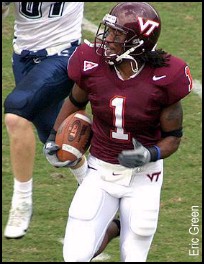 Showboating: After returning an interception 84 yards for a score against UConn, Tech cornerback Eric Green threw the ball into the stands, drawing a 15-yard penalty. The following week, as Jimmy Williams returned an interception 55 yards for a TD against Rutgers, he dove into the end zone, drawing another 15-yard penalty. From that point on, the team was well-behaved on TDs, but they had to be educated not to do those things, after the fact.
Unsportsmanlike and Personal Foul Penalties: There are penalties that are more or less excusable on the football field, such as face masks, interference, holding, and the like, penalties that are drawn in the heat of battle by a player who's trying to make a play. Then there are penalties like unsportsmanlike conduct and personal fouls, which usually occur after the whistle and are usually dumb penalties that stem from a lack of discipline: taunting, fighting, celebrating, etc.
I went through the stats packages on hokiesports.com and counted the number of personal foul and unsportsmanlike conduct penalties called against the Hokies this year, and it was astounding: 18 times in 13 games, the Hokies were whistled for either unsportsmanlike conduct (four times) or a personal foul (14 times), including a staggering six times against WVU.
Those totals do not include personal fouls like roughing the passer, roughing the kicker, or an illegal block. We're talking strictly the out-of-control, undisciplined, after-the-whistle stuff. I donít have numbers from other seasons to compare it to, but that number sounds huge, and it sounds like a symptom of a team playing with little discipline or self-control.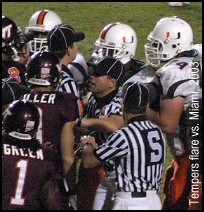 Game Suspensions: Jon Dunn was suspended for the UCF game, and Brandon Manning and Marcus Vick were suspended for the JMU game, for the ever-popular unspecified "violation of team rules." DeAngelo Hall was suspended for the first half of the Pittsburgh game because of a scrape he got into on the Miami sidelines, after the whistle, late in Tech's blowout of the Canes.
In a year in which the Hokies boasted experience and talent on both sides of the ball, the lack of discipline, as evidenced above, was disheartening and pointed to a team that wasn't focusing completely on the task at hand, and on putting the team before themselves. The Hokies showed a lack of self-control -- a key component of discipline -- throughout the season.

Attitude
During the 1990's, as the Hokie football team rose to prominence, we got used to seeing a certain attitude from them. We called it the attitude of the underdog, the team playing as if they had a chip on their shoulder and had something to prove. They pinned their ears back and went after it, because they were trying to achieve something and make a statement.
That's probably romanticizing things a bit. If you watched the Hokies at the end of the 1997 season, for example, you know that that team, which was fading and getting whipped late in the year, didn't have much of an attitude by season's end. But there's definitely something different about the last few Hokie football teams, something missing.
Prior to this year's Boston College game, I sat down and watched a tape of Tech's 1996 victory over the Eagles in Chestnut Hill, a 45-7 wax job. That Hokie team, if you'll remember, was led by Jim Druckenmiller on offense and Cornell Brown on defense. In that BC game, a true freshman tailback by the name of Shyrone Stith started because of injuries (Ken Oxendine) and a suspension (Marcus Parker), and a redshirt freshman named John Engelberger got his first two collegiate sacks.
But I digress. What struck me about that game was the attitude of the Tech team. Early in the game, Druckenmiller completed a simple 15-yard flanker screen to Cornelius White. White caught the pass, juked a defender, and ran up the sideline for a tidy gain.
No big deal, right? Well, you should have seen the players on the Tech sideline. They jumped up and down, hooted and hollered, and slapped White on the helmet like he had just scored a go-ahead fourth quarter TD.
These days, can you imagine the Hokie football team getting that excited over a simple 15-yard gain against Boston College? I pondered what's different between now and then, and one thing you have to remember is that back in 1996, BC was a team that had defeated the Hokies two out of their first three meetings, in 1993 (48-34) and 1995 (20-14). It turns out that the 1996 version of the Eagles weren't that good (they went 5-7), but the Hokies respected and feared them, and they were excited to play them and do well against them. You don't see that attitude these days, against, well, Boston College, for one.
I was struck by a couple other things in that game. One was Cornell Brown's interaction with his teammates. When a Hokie made a sack or a nice tackle, Brown was the first one there, pulling him off the pile and slapping him on the helmet. If you remember Brown's days in Blacksburg, you remember that he was an excitable guy who loved his teammates and loved to celebrate a good play with them. He almost never taunted opponents or celebrated to draw attention to himself -- he just celebrated with his fellow Hokies. His enthusiasm was infectous among the fans and players. Brown had his problems off the field -- he refused to talk to the media and was involved in the famous Blacksburg Brawl of 1996 (see below) -- but he was a gem on the field.
Another thing I noticed was Tech middle linebacker Myron Newsome, a JUCO transfer in his senior year with Tech. Newsome, a 5-9, 216-pound fireplug, played with aggression and intensity. He was all over the field and was the true definition of what you look for in a middle linebacker. He slashed from one side of the field to the other and was in on almost every play, to the point where the announcers were laughing about how often they were calling his name.
Then there was the swagger. Fullback Brian Edmonds scored on a 21-yard run, and when the ESPN camera showed him on the sideline afterwards, I could swear I heard him say, "I am the greatest!" Early in the game, after Druckenmiller had thrown a TD pass to TE Bryan Jennings (one of two on the day, yes, I said two TD passes to the tight end), ESPN came back from a commercial and showed Druckenmiller sitting on the bench, wearing the head phones and talking through the microphone to VT offensive coordinator Rickey Bustle, up in the booth.
Druckenmiller turned to the camera, smiled, and winked. Just another day on the football field, just another win in progress for the Hokies.
Attitude. Aggression. Swagger. Excitement. Passion. Leadership. I was struck by how that team showed all of those things in that game, and they proceeded to destroy the Eagles by 38 points, on the road.
As I said, that's probably romanticizing it. That team had its problems. Parker was suspended from that game for shoplifting, and the team was coming off an embarrassing offseason that saw a bunch of them get arrested for various infractions, including one campus brawl that would eventually see six players, including Edmonds and Brown, get charged and suspended for one game, a key matchup with ECU.
That same team that looked so marvelous at BC had played a horrible game on the road at Akron the week before, nearly losing to the Zips in a game in which the Hokies played poorly on special teams, committed stupid personal foul penalties, and played uninspired football in a ho-hum 21-18 win.
But nevertheless, Hokie teams of the past, most notably the 1995, 1996, 1998, and 1999 editions, had a fire and a swagger to them that hasn't been seen in Blacksburg since, well, 1999. It shows its head every now and then, this year's Miami game being the best example, but VT hasn't maintained that attitude over a long period of time for a while.
The simple answer is to say that the Hokies have gone from the hunter to the hunted, and they're not very good in that role. There's probably some truth to that.
Frank Beamer himself is an underdog. Hailing from the small town of Fancy Gap, Beamer was badly burned at age seven on the right side of his face, neck, right arm, and right shoulder. He recovered from that and eventually played football at Virginia Tech, where he jokes, "I wasn't big, but I made up for it by being slow." Nonetheless, he had a feel for the game and was successful at Tech, becoming a team captain as a senior.
Frank Beamer built the Hokies to success in the underdog role, a role he understands, but publicly, he commented that it was easier to climb the mountain than it was to stay at the top.
The Hokies do indeed appear to be having trouble "staying at the top." They are at their best when the least is expected of them, and when they can sneak up on people. They have not been at their best since nearly reaching the very top of the mountain in 1999. The low expectations going into next season -- collegefootballnews.com, for one, picked them eighth in the eleven-team ACC -- are a good thing, from that standpoint.
Why are the Hokies better as underdogs? I don't know. Like I said, I'm not there every day to try to figure out what's going on. But at this point, the Hokies to appear to be better at overachieving than they are at living up to lofty standards.

Leadership
Of all the topics in this article, leadership is the most important, because good leadership can lead to improved discipline and an aggressive, winning attitude. Attitude and discipline, on the other hand, cannot be maximized unless there is good leadership.
Leadership is all about equipping the team with proper instruction, strategies, and tactics, and then inspiring them to focus and maximize their effort during the game. It's pretty simple: make sure the team knows what is expected of them, make sure you have given them all the tools to accomplish what you're asking, and then inspire them to execute.
To draw a military parallel, the coaches on a football team are like the generals. They devise strategy, they prepare and equip their team, and they direct the action, but they don't actually do the fighting.
The players are like the sergeants, captains, colonels, and infantry that head into battle. And like a military structure, where a soldier's level of authority is defined, a football team has its captains and playcallers. The quarterback is the natural leader of an offense, and the middle linebacker typically takes the signals from the sideline and calls them out in the defensive huddle.
And like a military unit, sometimes leaders emerge on the field of battle, a figure around whom people can rally. Ideally, on a field of battle, this person is the commanding officer of the unit, and on a football field, one looks to the quarterback on offense and the linebackers on defense to be the leaders.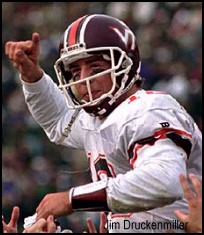 The quarterback analogy is accurate for VT. The Hokies' best teams in the last ten years -- the 1995, 1996, 1999, and 2000 teams -- were spearheaded by great quarterbacks who were great leaders. Jim Druckenmiller and Michael Vick could be counted on to make a play in crunch time, and when the chips were down, the rest of the team looked to them to make things happen.
Al Clark (1997 and 1998), Grant Noel (2001), and Bryan Randall (2002 and 2003) have not been as successful in that regard as Druckenmiller and Vick. Clark was inspirational in his ability to play through pain, but he was inconsistent in his ability to make a play in the tough games. Al was money against the Miami Hurricanes, but he couldn't manage more than six first downs in the painful 1998 Syracuse loss, and his interception for a TD in Virginia's 1998 comeback win over the Hokies was a critical mistake in that game. Grant Noel had five turnovers in his signature game (Miami 2001), and Bryan Randall threw two game-ending interceptions against WVU and Syracuse in 2002.
In 2003, the quarterback shuffle between Randall and Marcus Vick ruined any chance either of them had of becoming a leader.
Defensively, the linebacker position has never really been the leader for the Hokies. The leaders have come from the defensive end spot, manned most successfully by Cornell Brown and Corey Moore. The only notable defensive leader from the linebacker spot was Ben Taylor, who headed the 2001 defense, and perhaps George Del Ricco of the 1995 defense.
The bottom line is, although everyone likes to talk about "vocal" leaders (like Corey Moore and Cornell Brown), what player leadership really means is that there's a guy on the field who will make a play when one is needed. Your true player leaders don't disappear or play poorly in big games or at crunch time. They relish the spotlight and the pressure, and they perform their best in it. Corey Moore was like that, Jim Druckenmiller was like that, Cornell Brown was like that, and Michael Vick was like that.
When those guys stepped up their games, they inspired others to do so.
The Hokie teams that have faded down the stretch the last three years and in 1997 and 1998 have not had that player leadership, have not had a guy who can "will" them to win. Guys like Bryan Randall and Al Clark and Nathaniel Adibi are great leaders off the field -- class acts who work hard and set a good example -- but they have either been unable or inconsistent in their ability to will the team to win by making plays when they are needed.
Meanwhile, leadership from the coaches is of a different nature, since they don't play. Leadership from a coach takes many forms, everything from being a firm disciplinarian, to calling the right plays, to putting the team in position to win, to setting a good example, to making inspiring speeches.
Not being around the team and coaches all the time, it's difficult for me to comment effectively on the leadership the coaches provide, but there is one thing I've seen that's disturbing: Frank Beamer's demeanor on the sidelines.
Some coaches, like Rich Rodriguez of West Virginia and Jeff Tedford of California, are what I call "clipboard guys." They are tacticians who are usually former coordinators, and they know the X's and O's of their teams inside and out. When the QB comes off the sidelines, guys like Rodriguez and Tedford are there to talk to him, go over formations, reads, and plays, and explain things.
Then there are guys like Frank Beamer and FSU's Bobby Bowden, "figure head" guys who leave the heavy-duty X's and O's to their coordinators and stick to major decisions like whether to attack or be conservative, when to punt, when to go for it on fourth down, etc.
When you're a clipboard guy, you have the opportunity to lead by instruction and by helping the players work through problems directly. When you're a figure head guy, the way you carry yourself, and how you manage your team's emotions and how you motivate them becomes more important.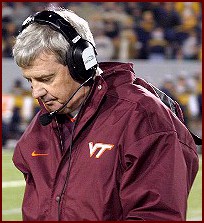 In the last couple of years, we have seen Frank Beamer many times show a face that is much too frustrated and confused, a face that says that a game is getting away from him and he doesn't know what to do about it. Watch your 2003 WVU game tape, if you can tolerate it, to see this face. It's a face that instills not determination in his players, but fear and worry, because their head coach looks like he's not in charge and doesn't understand what's going on or how to fix it.
Contrast that face with the steely resolve Beamer showed standing in the tunnel prior to the Miami game. With the Lane Stadium crowd rocking with an electric frenzy, the ESPN cameras cut to Beamer, waiting to lead the Hokies out onto the field, and his jaw was set with determination. He looked like he wanted to run out on the field and knock some 'Canes over himself.
I think Coach Beamer needs to watch some tape and think about the example he's setting when he's on the sidelines. When the going gets tough, people look to their leaders, and the team's attitude mirrors what they see in their leaders' faces. If the leaders are worried, confused, or out of control, the team becomes that way, just as the Hokies did against West Virginia.
On-field demeanor is just one very small part of a coach's leadership of a team, but to those of us who aren't around the team all the time, it's one of the only things we see publicly and can comment on.
In many other ways, Frank Beamer is a great leader. He almost always speaks about his players publicly in a positive manner. Positive accomplishments are credited by calling players out by name, whereas failures and shortcomings are referred to in a group manner, not pinned on an individual player. He's loyal and won't trash you or call you out in public, and people respond well to that. Beamer understands the value of togetherness and chemistry, and he fosters unity and loyalty in his coaching staff and on his team.
In these ways and in many other ways, Frank Beamer is a good leader. But how he responds to adversity, and what he does when things start to go wrong, is something he needs to examine and improve upon, in my opinion, because that's when true leaders are forged. Anyone can lead when things are going well. It's how you lead when things are going poorly that says what kind of leader you are.
If Frank Beamer shows confidence in the face of adversity, and if he finds a few on-field leaders who will step up and make plays for him, many other peripheral issues this team has, such as chemistry and discipline, will quickly snap into place.

Up Next: Recruiting
The State of the Program, Part 6 will concentrate on recruiting. Under Frank Beamer, the Hokies have relied on in-state players, supplemented with out-of-state players, and they rely on their connections and relationships with high school coaches to identify players for Virginia Tech. We'll take a look at this strategy and whether or not it can be improved.

Others in the Series
The State of the Program, Part 4: Special Teams
by Will Stewart, TechSideline.com, 1/15/04
The State of the Program, Part 3: The Defense
by Will Stewart, TechSideline.com, 12/18/03
The State of the Program, Part 2: The Offense
by Will Stewart, TechSideline.com, 12/11/03
The State of the Program, Part 1: The Season
by Will Stewart, TechSideline.com, 12/5/03



Copyright © 2003 Maroon Pride, LLC