For the Hokie Women, a Long Way to Reach the Top

by Will Stewart, TechSideline.com, 1/28/04
Editor's Note: All pictures are clickable for larger images.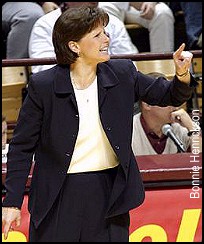 Tuesday night in Cassell Coliseum, there couldn't have been a more symbolic event than the lights going out, because at just about the same time, the UConn Huskies were turning the lights out on the Virginia Tech women.
By now you've heard the story: with 14:34 to go in the first half and Connecticut leading 11-2, a lighting system that had flickered sporadically during warm-ups and early in the game finally went out completely, as a town-wide power outage took out Cassell's sodium lights. The emergency lights came on for 20 minutes while the sodium lights recovered, and once everything was brightly lit again, UConn finished the job of taking out the Hokies.
The Huskies ran their lead to 26-8 with 9:09 to go in the first half, before the Hokies figured out what was going on and recovered, but by then it was too late. Though not sharp and not dominating, UConn still had way too much firepower for the Hokies to think about overcoming an 18-point deficit.
Tech fought back, and with the help of the seventh-largest crowd in VT women's basketball history (7,211), they trimmed the lead down to 41-30 with 14:03 to go. UConn tacked on a free throw and then buried Tech with three 3-pointers in two minutes, pushing the lead to 51-32 with 9:22 to go, all but ending this one.
"They will break -- your -- heart!" Tech radio announcer Tony Luftman groaned over the air waves as UConn poured in three-pointers. Yes, they will. Rally all you want, they're UConn. They're not the overpowering UConn team of the past -- even star Diana Taurasi looked human on this night, shooting 4-of-10 and scoring just 13 points. But they still play with swagger and confidence, and if you don't bring your "A" game, they'll put you away.
So what went wrong? Despite the Hokies' 12-0 start, 15-4 record, and #20 RPI rating, this Tech team has serious flaws, and UConn exposed them and used them against the Hokies.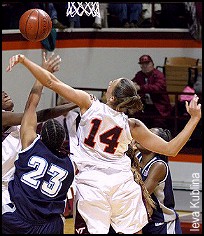 For starters, this Tech team isn't a tough team, and it often doesn't respond well to adversity. Early in this game, they had the look of a basketball deer in the headlights, turning the ball over on their first three possessions and six times in the first ten minutes. Connecticut came out and played physical basketball, and the refs let them get away with it, playing right into the Huskies' hands and against Tech's type.
The Huskies came out, hit Tech in the mouth, and the Hokies fell down.
This Tech team is also young, starting three sophomores in Carrie Mason, Dawn Chriss, and Kerri Gardin. Senior forward Ieva Kublina, who often plays soft, was the only Tech player to show up for the full 40 minutes. She was fierce, battling for 19 points and 5 rebounds.
But Kublina got no early scoring help, either from inconsistent junior center Erin Gibson (2 points and just three shots in 35 minutes), or from the duo of Chriss (2-of-8, five points) and Gardin (1-of-12, 2 points). The 5-7 Mason played a commendable game, with no turnovers in 38 minutes of action that saw UConn consistently guarding her with players six feet tall. But her scoring didn't kick in until the second half, when she poured in 11 of her 15 points.
This Tech team lacks three-point shooters and offensive confidence. Time and again, despite being down by double-digit margins, they patiently and methodically worked their offense, striving to get the ball inside, until the shot clock wound down and something off-balance or ill-advised had to be hoisted up.
Twice, after UConn knocked the ball out of bounds, the Hokies faced an inbounds play with just one second left on the shot clock. Both times, VT threw the ball in bounds and the receiver caught it … and dribbled before trying to shoot. Buzzzzzz, out of time.
The Hokies have just three players who are allowed to shoot from behind the arc: Mason (29-of-79, 36.7%), Kublina (14-of-49, 28.6%), and little-used reserve guard Fran Recchia (6-of-24 in just 10 minutes per game). Only two other players have even attempted three-pointers all season long for the Hokies, Chriss (1-of-2) and Gardin (2-of-3).
So despite desperately needing some three-pointers to come back, the Hokies took just five for the entire game, making just one. By contrast, the Huskies -- who shoot 38.5% as a team from behind the arc for the year, better than any single Tech player -- sank 8 of 16 threes … and broke Tech's heart. UConn made almost as many three pointers in that two-minute stretch of the second half (3) than Tech has made in the last two games (4).
So the book is out on the Hokies: hit them early, hit them hard, and defend the paint. Leave everyone but Kublina and Mason open beyond the arc, because no one else has the green light to put it up.
It's a testament to Bonnie Henrickson's coaching abilities and the competitiveness of the Hokies that they have been able to fashion a 15-4 record, despite youth and the lack of a perimeter game. But talented teams such as UConn have no trouble exposing Tech's weaknesses and bludgeoning the Hokies with them.
The schedule for the Hokies gets softer from here on out. Tech has their toughest remaining game, a battle with #11 RPI-rated Miami, at home on February 14th. The swing games for Tech could very well be their two remaining games against RPI #90 Seton Hall. If the Hokies win those two and take care of low-rated Syracuse (#160), Providence (#220), Pittsburgh (#174) and St. John's (#151), that will give them a record of at least 21-6, the seventh 20-win season of Bonnie Henrickson's seven-season tenure at Tech.
21 wins would lock up an NCAA bid for the Hokies, who boast three wins over teams in the Top 25 of the RPI ratings, a key measure for NCAA Tournament worthiness. It would also put the Hokies in the upper half of the Big East, a tough league that currently boasts a whopping seven teams in the RPI top 21 (but thanks to its lower-level teams, is only ranked #5 among conferences).
But they must be careful to not drop any games to teams currently outside the RPI top 100, or it might be the WNIT for this team, which would be a shame. Despite their obvious weaknesses and shortcomings, this team should be playing in the two opening rounds of the NCAA Tournament that are going to be hosted in Blacksburg in March.



Copyright © 2003 Maroon Pride, LLC