Hokie Fans: Thanks for the Support of Advance Auto Parts

by Will Stewart, TechSideline.com
TechSideline.com is pleased to have Advance Auto Parts as a sponsor. Advance Auto Parts is the TSLMail sponsor, as you can see from their logo at the top of this mailing. The partnership between Advance Auto Parts (TSL's first-ever sponsor) and the TechSideline.com web site has been a great one, and we thank you for supporting Advance Auto Parts and giving them great feedback.
Started in 1932 in Roanoke and Lynchburg, Advance Auto Parts has grown phenomenally over the years and now includes the Western Auto/Parts America, Carport Auto Parts, and Discount Auto Parts chains. Advance Auto Parts now operates more than 2,400 stores throughout the country, with a heavy concentration in the Atlantic region, from Florida to Maine.
Visit the Advance Auto Parts store near you, or visit their web site. Advance Auto Parts' web site includes a store locator to find the location nearest you, an on-line store where you can shop for parts and performance accessories, and information about their latest sales, special offers, and rebates.
Support TechSideline.com by purchasing all your automotive needs from Advance Auto Parts online. Their web site has all the great parts and services you've come to expect from Advance Auto Parts while utilizing the convenience of the Internet.
Don't forget Advance Auto Parts' offer of $5 off any on-line order of $25 or more!
Click here to find out more!

"Orange Effect" for the Texas A&M Game
by Will Stewart, TechSideline.com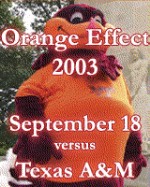 Next Thursday's game is being promoted as "Orange Effect 2003," which means that it's time to cart out any orange Hokie gear you've got, and wear it to next Thursday's Texas A&M game.
The thousands of Hokie fans who wore orange to last year's game at Texas A&M were very visible on television, and the idea this year is to once again really stand out. If a large number of Hokie fans wear orange, it will be very noticeable on TV.
If you look around the stands on any given Saturday, particularly the hot early-season games, no particular color stands out. A lot of Hokies wear maroon, but a lot also wear white, with a few wearing orange, and it creates a non-homogenous mish-mash of color that doesn't really stand out.
I'm more of a maroon guy, but I'll play along with the Orange Effect. If you're like me, you don't have an orange coat or pullover, and it might get a little chilly the night of September 18th (night temperatures have been in the 50's in the New River Valley lately). But I do have an orange T-shirt, and I figure I'll wear it over top of a white long-sleeve T-shirt (2000 Gator Bowl T-shirt, to be exact) for warmth.
The Orange Effect is very popular among the students, as it is promoted heavily by the SGA (Student Government Association). If memory serves correctly, last year's Rutgers game was the Orange Effect 2002 game, and the student sections were filled with orange.
We are working on an orange T-shirt design and will send out a special TSLMail mailing as soon as it's prepared. We should be able to get them out in time for the game, so look for a special TSLMail by Monday at the latest.
In other fashion news, the football team will be wearing all-maroon for the first time since the 1998 UVa game (a forgettable affair). Yours truly hopes that they DON'T wear the throwback jerseys with the maroon pants, because that's not a combination I dig. (I'm not a fan of the throwback jerseys.)
It's unknown at this point if A&M will wear maroon pants with their white road jerseys, or if they'll go all-white. If they go with the all-white Stay-Puft Marshmallow Man look, then those all-white unis locking horns with VT's all-maroon unis, with both teams sporting maroon helmets, might just mean the end of civilization as we know it. But at least it'll be easy to tell the two teams apart.

B-2 Flyover Scheduled for A&M Game
In other A&M game news, a B-2 Stealth bomber will fly over the stadium prior to the game, the second such flyover in the last two seasons. Last year's Temple game featured a B-2 flyover, and if you missed it, man, you missed one of the creepiest things I've ever seen.
I've always been amazed that those awkward-looking wedges actually fly, but what I was totally unprepared for was how quiet they are. They're massive, of course, but they come from the horizon in total silence, and even when directly overhead, they generate no more noise than a small airplane. It's eerie to have one of those things fly over you, and all I can think is, if you're one of America's enemies, then be afraid ... be very afraid.
Here's the press release on the flyover:
The Virginia Tech Corps of Cadets is proud to announce that, barring weather or operational factors, the 509th Bomb Wing from Whiteman AFB, Missouri will conduct a military aircraft flyover during the National Anthem prior to the Virginia Tech vs Texas A&M game. The B-2 Spirit, also known as the Stealth Bomber, is the world's premier strike aircraft. Only 21 exist in the Air Force inventory, and this is the second visit to Lane Stadium by this technological marvel.

The B-2 will fly over Lane Stadium in conjunction with the 2003 Senior Military College Conference which is being hosted by the Virginia Tech Corps of Cadets. Cadets and staff from VMI, the Virginia Women's Institute for Leadership, Texas A&M, the Citadel, Norwich University, and North Georgia University will join the Virginia Tech Corps of Cadets on the field during the pre-game march-on.

The aircraft will be flown by Lieutenant Colonel Bruce Adams, VTCC Class of '82. LTC Adams is the Staff Director of the 509th Bomb Wing.
The flyover should occur at roughly 7:30, so be alert. Like I said, this thing can sneak up on you.

This Week in Recruiting
by Chris Horne
Jerod Mayo remains open, but said he will definitely take an official visit to both Virginia Tech and Virginia. He recently received an offer from Tennessee, who looks to be a strong contender for him as well. Kecoughtan will need a top performance from Mayo this week, as they hope to defeat defending state champ Phoebus.
Butler (NC) safety Jamar Adams returned from an official visit to Michigan without giving a verbal commitment. Adams, who is one of the top safety prospects on the East coast, is considering which other schools he will visit. Virginia Tech is still in the mix.
Virginia Tech is taking a look at two Landstown (Virginia Beach, VA) players – QB TJ Mitchell and WR Jeremy Gilchrist. Neither have an offer from the Hokies. Mitchell and Gilchrist are lighting teams up so far this season, leading Landstown to blowout victories in the first two games. Mitchell may attend prep school following his senior year.
A new name on the Virginia Tech radar is Northern Durham HS linebacker Chase Bullock. Bullock, who has received offers from Virginia, Wake Forest, Maryland, Duke, and Marshall, lists UVA and Wake as his leaders. Virginia Tech has called but has not extended an offer.
Two top targets for the Hokies attend Hargrave Military Academy – WR Justin Harper and DB Meko Watson. Tech will likely be among the finalists for both players. Harper is a 6-4, 200 pound wide receiver while Watson is a 5-11, 185 pound hard-hitting defensive back.
Basketball Recruiting News
Nansemond River point guard Marquie Cooke will take an official visit to Virginia Tech for next week's football game versus Texas A&M. Cooke, who is 6-3, 175 pounds, would be a huge get for Seth Greenberg and company, as he is one of the top point guard prospects in the country.
Coach Greenberg paid a visit to Hargrave Military Academy to take a look at 6-7˝, 215-pound power forward Emanuel Willis. Willis is an excellent athlete with good low-post moves. He has no favorites at this point.
For updates and information on all these players and more, subscribe to TechSideline Pass. Information on how to subscribe follows.
TechSideline Pass - $34.95 a Year
(Monthly and Quarterly options also available)
Feature Articles
Interviews with recruits
Editorials
Flash recruiting updates from Chris Horne, our in-house specialist
Recruiting prospect and class evaluations
A subscribers-only Recruiting message board (only accessible to subscribers)
A subscribers-only message board for general discussion
As an additional bonus, all subscribers will receive a 10% discount on all purchases made at Techlocker.com, our online store providing Hokie-related apparel and gift items. If that's not enough, you should know that your subscription will help support your favorite website, TechSideline.com.
For more info on TechSideline Pass, and to subscribe, click here. To give TSL Pass as a gift (one-year subscriptions only), click here.
-- Will Stewart