PDF Version - Website Version - Download the Cover
Back Issues - Get Adobe
Issue 7: May 16, 2001
Printable TSLX - Adobe PDF Format (243K)
This format is a printable publication that can be easily opened, saved and printed so that you may take your TSL Extra with you wherever you go. We suggest this method, rather than trying to print each page from the web. You will need the free download version of Adobe Acrobat Reader 4.0 or above, but it's worth it. Previous versions of this software will not work.
Website Version
For people who only like reading on the web, this version makes the complete TSL Extra available on the web. We've set this up as an extra for your convenience.
Download the Cover (280K)
Want the cover? If you've downloaded the TSL Extra, use this link to get the printable full color cover. Making the Extra cover optional helps to speed up the download process for the people who have slow connections. If you're on a higher speed connection (56K or above), the cover shouldn't take more than a minute to download.
Back Issues
Click here to access all of the great TSL Extra archives, arranged in an easy-to-browse index page. Your TSLX subscription grants you access to all of the TSLX back issues -- what a deal!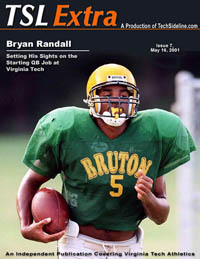 In This Issue
Bryan Randall
The Money Makers, Pt. 2
The Big East at 10
Danny McGrath
Inside the Numbers: Bowl Ratings and Attendance
Inside TSL
And More!

The TSL Extra is a registered trademark of Maroon Pride, LLC. Copyright © 2001, Maroon Pride, LLC, with all rights reserved.
Any duplication or redistribution of this newsletter in part or in its entirety, without expressed written consent of
Maroon Pride, LLC, is strictly prohibited.

Copyright © 2001, Maroon Pride, LLC