News With Commentary by TSL Staff
Wednesday, July 31, 2002
by Will Stewart, TechSideline.com
Football Notes
Catching up on the goings-on around Hokie football:
Freshmen report: Tech's 2002 recruiting class reported yesterday, 29 players in all. The group includes 17 scholarship players and 12 walk-ons. The scholarship players include the twenty members of Tech's 2002 recruiting class, except for the following players:
DL Lamar Veney, who will enroll in January 2003;
CB Demetrius Hodges, who is attending Georgia Military College this year;
DT Jimmy Williams, who is at Tech finishing up his junior college classes via the Internet. He'll join the team in late August.
DB Antoine Rutherford, who was previously targeted for January 2003 enrollment, has progressed nicely from a high school knee injury and reported with his fellow freshmen.
The late arrival of defensive tackle Jimmy Williams to the team is not good news for the Hokies. Williams is a key cog of this year's defensive line and is expected to shore up a defensive tackle position that was gutted by graduation. As things stand, he won't be able to get in any practice time with the team before the season starts and probably won't be eligible for the Arkansas State game (press releases were not clear on exactly what date Williams can join the team, and the exact date may not even be known yet).
On the positive side of the ledger, sources tell TSL that the incoming group of freshman are very impressive. They showed up in relatively good shape, and during workouts Wednesday morning, did well. In previous years, for example, the series of 110-yard sprints that the players are subjected to at the end of a workout would leave several of them depositing their lunch on the practice field sidelines, but no such occurrences happened this year. We even hear that Marcus Vick and Mike Imoh were getting stronger at the end of the sprints.
Coach Beamer was quoted on hokiesportsinfo.com as saying that anywhere from eight to twelve of the new recruits (including scholarship players and walk-ons) could see playing time this fall. That list of possible true freshman players is headlined by QB Marcus Vick, ATH Jimmy Williams, OL Brandon Gore, and DL Jonathan Lewis.
The recruited walk-ons that arrived with the scholarship freshmen are also making waves, with WR Michael Malone (6-2.5, 190, Friendswood HS, Friendswood, TX, and the son of former NBA great Moses Malone), FB Jesse Allen (6-0, 225, Pathfinder HS, Palmer, MA), and K Brandon Pace (5-10, 185, Kellam HS, Virginia Beach, VA) standing out amongst the walk-ons.
Malone is said to be smooth running routes and adjusts well to the ball, although it must be noted that he was measured at 6 feet, 2-1/2 inches, shorter than the 6-5 that had been reported during the off-season when his intention to attend Tech was announced.
Allen is very impressive-looking, posting the third-highest bench press (370 pounds) of all 29 players and showing a lot of will and desire. Pace, along with scholarship kicker Schmitt, is showing a strong, accurate leg.
CB Eric Green suffers season-ending knee injury: Cornerback Eric Green, who was pushing incumbent Ronyell Whitaker for playing time this fall, suffered a freak knee injury while working out independently. Green was running a sprint, heard a pop, and was diagnosed with a torn ACL. He'll have surgery when the swelling goes down and will miss the entire 2002 season.
Green will take a redshirt this season. He was one of just two players from the 2000 recruiting class who played as a true freshman (defensive end Jim Davis was the other), so he can redshirt this season and not lose a year of eligibility.
The problem is that the loss of Green thins out the cornerback positions for the Hokies. Incumbents Ronyell Whitaker and DeAngelo Hall are still available, as is backup Garnell Wilds, but there is no fourth "pure" corner with anywhere near the experience of Green. The Hokie coaches will give safety Vince Fuller some practice time at cornerback to shore up the position and will think about using true freshman ATH Jimmy Williams at safety to backup Willie Pile.
OL Curtis Bradley hospitalized: Backup offensive lineman Curtis Bradley fell ill after a voluntary workout the other day and had to be hospitalized. While in the hospital, Bradley developed complications with swelling his legs. No other details are available, but Tech sources tell us that it is highly unlikely that Bradley, who has already used his redshirt year, will play this season.
Traveling to the Texas A&M Game?
Texas Alumni Chapters Offering Commemorative T-Shirt
Commemorative
VT/Texas A&M
T-shirt Offered
by the Texas VTAA


Back Design
(covers full back)
(click to enlarge)


Front Design
(left crest)
(click to enlarge)
Click here to order
The three Texas chapters of the Virginia Tech Alumni Association have combined to offer a special commemorative T-shirt for this year's Virginia Tech-Texas A&M game. If you're going to the game, the Texas VTAA chapters want you to wear this shirt, pictured to the right.
The idea is simple: Texas A&M's dominant color is maroon, just like Virginia Tech, and the Texas VTAA feels, rightly so, that wearing an orange VT T-shirt, instead of maroon VT gear, will make the Hokie fans in the crowd stand out.
The Texas VTAA (consisting of the Austin/San Antonio, Dallas/Fort Worth, and Houston chapters) would like to sell a bunch of these T-shirts and create a "sea of orange" in the Virginia Tech fan section.
Proceeds from the sales of the T-shirt will go into the Texas VTAA scholarship fund and serve as scholarship monies to be awarded to high school students from the state of Texas who have chosen to attend Virginia Tech.
The shirts can be ordered in Youth and Adult sizes, and they cost anywhere from $10 (for Youth sizes) to $15 (for Adult S, M, L, and XL) to $17 (for Adult XXL and 3XL).
VT Launches "Baby Hokie Bird" Logo
The Virginia Tech Licensing Department launched a new Hokie bird logo Tuesday, dubbed the "Baby Hokie Bird." The logo is intended for use on clothing worn by infants and toddlers (and yes, the crack staff at TechLocker.com is all over it).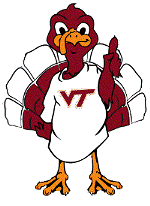 The new Baby Hokie Bird
gives us the #1 sign with
his index finger
Licensing Director Locke White unveiled the logo, shown at the right, at Montgomery Regional Hospital in Blacksburg yesterday. The hospital will outfit every child born in the hospital through Nov. 25 with a Baby Hokie T-shirt and provide an "It's a Hokie" certificate ... which probably won't sit well with UVa fans whose children are born at the hospital, but that's part of the price of living in Hokie country.
To build some hype around the new logo, the Licensing Department is sponsoring a Crazy for the Hokies sweepstakes, with a top prize of a $5,000 education investment that will be awarded to a child.
Anyone can enter this year's sweepstakes. Here are the rules:
Entries will be photographs of children up to 12 years of age who are wearing or holding a Virginia Tech product, such as a hat, tee shirt or stuffed Hokie Bird.
Photographs must be entered by relatives.
Entries can be dropped off from August 1 to November 25 at sponsor locations: Montgomery Regional Hospital, Wal-Mart stores in the New River and Roanoke valleys, University Bookstore and Volume II, or by mail to Virginia Tech's Licensing and Trademark Office.
The child who wins the "Crazy for the Hokies" Sweepstakes will receive a $5,000 investment in a Virginia Education Savings Trust (VEST) account. VEST, a program established by the Commonwealth of Virginia, enables parents to open tax-deferred savings accounts for their children's college education.
In addition to the $5,000 Other prizes will include 50 shares of Wal-Mart stock, donated by the company, with an estimated value of $3,000; a $1,000 gift certificate from the University Bookstore; and 20 Michael Vick limited edition autographed prints from the VT Licensing and Trademark office.
The winners will be chosen by a random drawing and will be announced at halftime during the Virginia Tech-University of Virginia football game on November 30. Winning photographs will be shown on Lane Stadium's video scoreboard.
For more information, contact Locke White (540 231-3748 or [email protected]) or go to www.CrazyForTheHokies.vt.edu.