News With Commentary by HC Staff
Wednesday, August 9, 2000
by Will Stewart, HokieCentral.com
As the football season approaches (incredibly, it's only 18 days to go before the BCA game) and the message board traffic picks up, a number of noteworthy items have come across the newspapers, TV, and the Web in the last few days. Here's a look that will bring you up to speed on Hokie sports and Hokie football in particular:
Monroe Pleads Guilty to a Reduced Charge
On Friday, August 4th, defensive end Derrius Monroe pled guilty to a reduced felony charge of cocaine possession. Monroe had originally been charged with distribution of cocaine, but he plea-bargained the charge down to possession in exchange for testifying against former Hokie Manny Clemente, who is charged with being the trafficker who brought the cocaine into Blacksburg from New York.
The question now is, what happens to Monroe? Does he stay on the football team, or is he off the team? According to Tech's Comprehensive Action Plan (CAP), which specifies policies for dealing with athletes who run afoul of the law, if Monroe had bargained down to a misdemeanor, the matter would be in Tech Athletic Director Jim Weaver's hands to decide.
With regards to felonies, the CAP is clear-cut. The February 14, 1997 revision of the CAP says, "Any student-athlete convicted of or pleading guilty or no contest to a felony charge or game fixing charge under Virginia law or any other jurisdictional equivalent shall be permanently dismissed form the team."
So Monroe is gone, right? Not quite. Not yet, anyway. Weaver is still mulling it over.
See, the judgment is deferred for two years, during which Monroe is on probation, must remain alcohol- and drug-free, and must perform 100 hours of community service. He must also testify against Clemente. My understanding is that if he fulfills those requirements and doesn't violate his probation, then the guilty plea will never appear on his record, and he won't have a criminal record relating to this situation.
Therein lies the rub. Although the CAP appears to be very clear on what Jim Weaver needs to do (kick Monroe off the team), the CAP does not specifically address deferred judgments/convictions. I'm sure that Mister Weaver is just being careful that he doesn't set his athletic department up for a lawsuit if he dismisses Monroe from the team, since it can be argued that the CAP doesn't adequately address Monroe's situation, and there may be a loophole here.
For me, the choice is clear cut. All CAP issues aside, Monroe should not be allowed back on the team. He pled guilty to a felony charge of cocaine possession. Being a relatively old-fashioned person, and a proud Tech alumnus, that's all I need to know. You can argue all the fine points you want to, but the simple fact is, he was walking around with little baggies of cocaine in his possession, and he got caught.
And I find it interesting that when I've seen them speaking publicly over the last few months at various functions, the Tech coaching staff appears to want Derrius Monroe back on the team. They'll talk about certain players who have been dismissed or suspended from the team for not going to class, but when it comes to dealing with a player who has now pled guilty to a felony drug charge, they're not drawing as hard a line. I find that odd.
I don't know Derrius Monroe, and I have nothing personal against him. And obviously, the coaches know more than I do about this matter, but from where I sit, knowing as much as 99.9% of you know, it simply looks bad to have him on the team. Period.
Rolan Roberts is Gone
In case you missed it, Rolan Roberts's appeal of a JR Board conviction for assault and sexual misconduct has failed, and he will transfer out of Tech.
That completes the decimation of the freshman men's basketball class of 1997, which included guards Jenis Grindstaff (transfer), Kenny Harrell (kicked out of school for firing a gun on campus), Clinton McPherson (transfer), and Roberts (suspended, transfer).
With the exception of McPherson, all of those players were talented players, and not one of them made it to his senior year. Look no further than this class, plus the recent coaching changes, for clues as to why the Tech men's basketball team is scraping bottom, and Ricky Stokes is having to build from the ground up.
New Magazine Features HokieCentral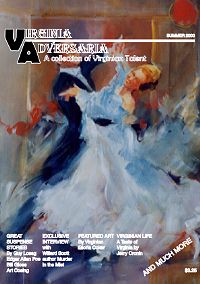 HokieCentral is featured in a new magazine that just launched this month. Virginia Adversaria contains a four-page story about the web site's life titled, "The Voice of HokieCentral." The following is an excerpt:
Sandwiched between the two most successful seasons in Virginia Tech football history - both of them culminating in Sugar Bowl berths - lies the life story of HokieCentral. Born on March 12, 1996 as Will's Hokie Sports Home Page, HokieCentral started out as a simple web site so that Will could learn some fundamentals of the Internet. "I figured as a software engineer I needed to know how to do web pages," says Stewart. "I really couldn't be ignorant to something related to my field. I read a piece of advice that said if you are going to do a web page, do it on a topic you like and update it frequently. And for me, that was Tech Sports." From such humble beginnings emerged the largest and most widely read unofficial Virginia Tech athletic site on the Internet, featuring an abundance of Hokie Internet links, free-lance articles from guest columnists and fans, recruiting information, player profiles, future opponents, and much more.
Get your own copy of Virginia Adversaria to read the rest of the article. You can order a copy by clicking on the e-mail link below. In addition to the HokieCentral interview, Virginia Adversaria features stories, poetry, and book excerpts from Virginian writers, past and present, including a rare tale from the father of the short story, Edgar Allen Poe.
Virginia Adversaria provides a venue to showcase new talent, giving the reader the opportunity to discover the stars of tomorrow before they become household names. In pursuit of these fresh new voices, Virginia Adversaria also sponsors the Virginian Student Short Story Contest, which is open to high school and college students throughout the state.
Anyone wishing to order copies of this magazine can do so simply by sending an e-mail to Empire Publishing ([email protected]). State whether you want to purchase a single copy (at $4.95) or order a full year quarterly subscription ($15.00). Enclose your mailing address and the magazine will be sent directly to you. You will be billed later.
Click the link and enclose the following information:
Empire Publishing
Name
Address
Single Issue or Subscription

Tech Bytes
Split end Terrell Parham and tight end Derek Carter have both been reinstated to the team after being suspended for the spring. Carter has slipped down the depth chart (reportedly to #3), and I'm not sure about Parham's depth chart status.
The Hokies are ranked #11 in the preseason AP poll. Miami is #5, East Carolina is #28, Virginia is #35, Georgia Tech is #38, Syracuse is #40, and Boston College is #43.
The Dallas Morning News ranked the Hokies #2 in their preseason poll. This is notable because back in 1995, as the Hokies prepared to play Texas in the Sugar Bowl, a DMN sportswriter whose name escapes me wrote a very insulting article about how the Hokies weren't fit to occupy the same stadium as her Texas Longhorns. The rest is history (28-10), and the sportswriters and talking heads in Texas are still trying to recover.
The official capacity of Lane Stadium next season will be 55,075, which means that the first time the Hokies pack a sellout crowd in the stadium, it will finally, after all these years, break the record of 54,157 set in 1990 against Virginia. Will that happen against Georgia Tech, in the BCA game August 27th? It's hard to say, because although all other Tech games are sold out, tickets still remain for the GT game (call 1-800-VATECH4 to order, hint-hint).
The 2000 football media guide is on-line at hokiesportsinfo.com (click the link to get it). It is broken up into fourteen downloadable PDF files, and all together, they total a whopping 117.6 Megabytes (I thought that many megabytes deserved a capital M). If you've got a modem that will download files at 3.3k per second, and my math is correct, then it would take nearly 10 hours to grab the whole thing. So why don't you just be a 20th-century Neanderthal and order the real thing? Call 1-800-VATECH4 (there's that number again). In the past, they have been $10, plus $4 shipping and handling, and I believe the price is the same this year. It's well worth the money.
Michael Vick is the cover boy for the college football issues for both Sports Illustrated and ESPN the Magazine. The SI Cover is on-line, but the ESPN the Magazine cover is not available for viewing yet.
There has been a slight renaming of a couple of the HokieCentral.com message boards. The Tickets and Tapes board is now called the "Ticket Exchange" board, and it is intended to be used for buying, selling, and trading game tickets, parking passes, and any other thing Hokie that you can think of. The Gatherings and TV board has been renamed the "Community" board, and it is intended to be used for organizing get-togethers, announcing Hokie Club functions, etc.