Randall's Performance Highlights Third Scrimmage
by Will Stewart, TechSideline.com, 8/21/04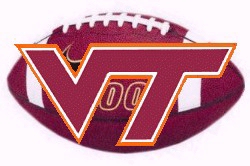 With the Hokies one week away from playing #1 Southern California, Bryan Randall played well in fall scrimmage #3, going 14-of-22 for 154 yards and throwing one touchdown and one interception. The touchdown went to true freshman Eddie Royal on a short slant pass, and the interception was by redshirt freshman Chris Ellis on a screen pass.
The scrimmage featured the #1 offense against the #2 defense, and the #1 defense against the #2 offense. Backup QB Sean Glennon was 5-of-14 for 77 yards, including a 39-yard TD to David Clowney that came not against the first-team defense but against the reserves. Clowney beat his man in coverage on a fly pattern down the middle of the field, and Glennon got the ball to him just as help arrived, and Clowney snared it in the end zone for the touchdown.
On Royal's TD reception, Randall stood up and fired a short slant to him. Royal got inside true freshman cornerback Brandon Flowers and grabbed the ball cleanly for the TD.
Much of the credit for Chris Ellis' interception goes to redshirt freshman defensive tackle Kory Robertson. The Hokies set up the middle screen, and as Randall backpedaled, Robertson came charging hard up the middle. Randall threw the ill-advised screen, and Ellis, who was controlled at the line of scrimmage, broke off of Jon Dunn's block and picked the ball off cleanly. It was a nice play by Ellis, but it was the pressure from Robertson, a gifted athlete who has struggled with his technique but has improved lately, that created the play.
Cedric Humes played in the scrimmage, running for 11 yards on 3 carries and making a nifty one-handed catch on a screen play that he converted into a 10-yard gain. Justin Hamilton carried 5 times for 29 yards, and George Bell had 6 carries for 19 yards.
Royal was the leading receiver with 4 catches for 48 yards. Defensively, Darryl Tapp had two sacks, and Mike Daniels led all tacklers with 8 stops.

INDIVIDUAL STATISTICS (per hokiesports.com):
RUSHING: Hamilton 5 carries-29 yards, Bell 6-19, Humes 3-11.
PASSING: Randall 14-22, 154 yards, 1 TD, 1 INT; Glennon 5-14, 77 yards, 1 TD, Holt 2-3, 9 yards.
RECEIVING: Royal 4 catches-48 yards, 1 TD; Harper 3-30, King 2-40, Hyman 2-25, Malone 2-18.
TACKLE LEADERS: Daniels 8, Griffin 6, Minor 6, Adibi 5, Ellis 3.
SACK LEADERS: Tapp 2, Ellis 1, Adibi 1.